From meal kits to faux diners, here are a few emerging trends in the local and global dining scene since the dawn of the global pandemic.
As lockdowns begin to ease, many of us are hungry for experiences dearly missed throughout the quarantine period. One simple pleasure most look forward to enjoying again is dining out at restaurants.
Nevertheless, social distancing practices should not be taken loosely as we're still not out of the woods yet with COVID-19. Restaurants and eateries are doing their parts to adhere to social distancing measures even as they get back to business and try to stay afloat.
Aside from ensuring good hygiene, proper sanitisation, contact tracking and that service frontliners wear the necessary protective gear, social distancing has led restauranteurs and F&B operators to employ innovative models and strategies.
From meal kits to faux diners, here are a few emerging trends in the local and global dining scene since the dawn of the global pandemic.
Do-it-yourself meal kits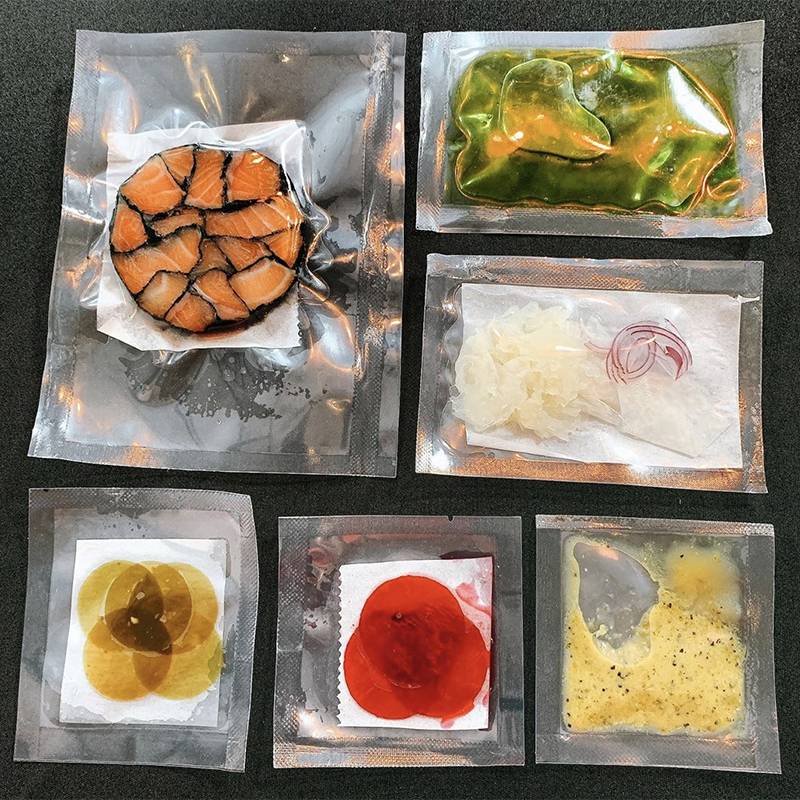 Though some local restaurants such as Skillet @ 163 and Bref are starting to reopen their outlets, one service that they will continue to offer is their DIY meal kits. Each kit typically comes with a set of fresh ingredients and easy steps to prepare a complete meal at home. This allows seasoned and amateur homecooks alike to recreate familiar flavours from their favourite establishments, without the fear of risking the health of others and themselves. To keep things customers coming back for more, these restaurants will also frequently change the menu for their food kits.
Chef Raymond Tham, who helms Beta and Skillet @ 163, was among the first to introduce meal kits since the second week of MCO. "We actually had plans to start something like this even before the MCO was announced, so that's why we could quickly adapt to the situation," he reveals.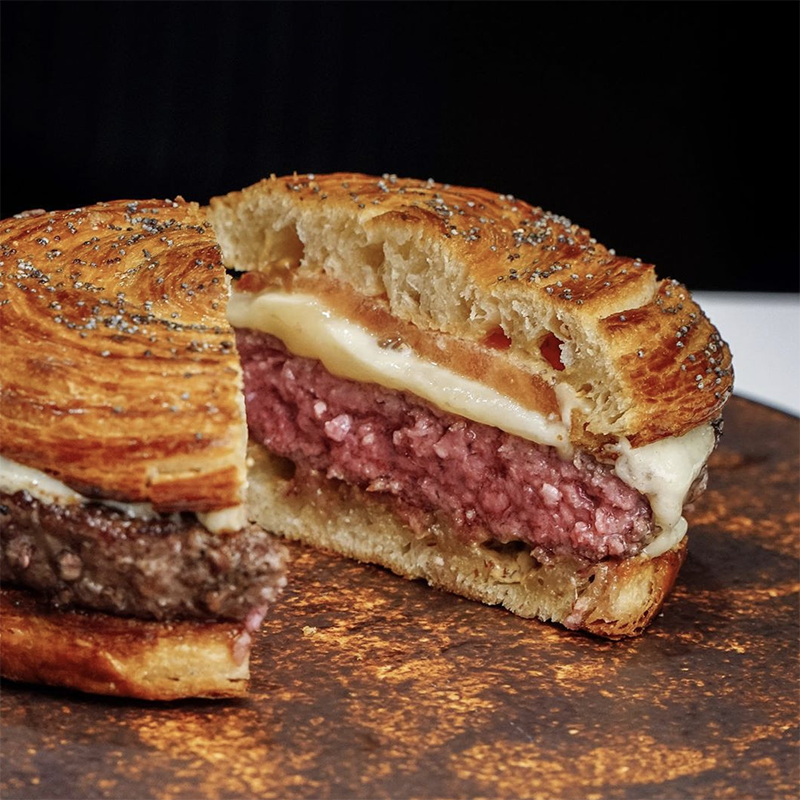 On the other hand, locally-founded Korean food chain MyeongDong Topokki introduced MDT Apron, a subscription-based meal kit with a menu and ingredients sufficient for 3 lunches and 3 dinners. This differs from other single meal kits, making meal-planning easier for those of us who are running out of ideas of what to order by now.
Read more: Recreate restaurant-style dishes at home with these DIY food kits
Gift cards and dining bonds
Prepaid vouchers aren't exactly a novelty for the industry, but they aren't as common among fine dining restaurants. However, the times have allowed for higher end restaurants to reconsider their strategies, which includes gift cards and dining bonds that customers can use once the outlets are reopened. Gift cards are available at a preset value like any other prepaid cards, whilst dining bonds are sold at a lower price than its actual value (usually between 10 to 30 percent off).
This gives restaurants a stream of revenue during the MCO/CMCO, while offering would-be diners something to look forward after restrictions are lifted. Babe, Dewakan and Soleil are among the local establishments that have implemented this approach. (View more on platforms like Umai and Tableapp).
Singaporean restaurant Preludio also came up with a special initiative called "Tough Time Tickets" to help promote a collective of restaurants (Dewakan included). The initiative lets customers purchase exclusive meal tickets plus additional offers to be enjoyed at a later, safer date.
Faux diners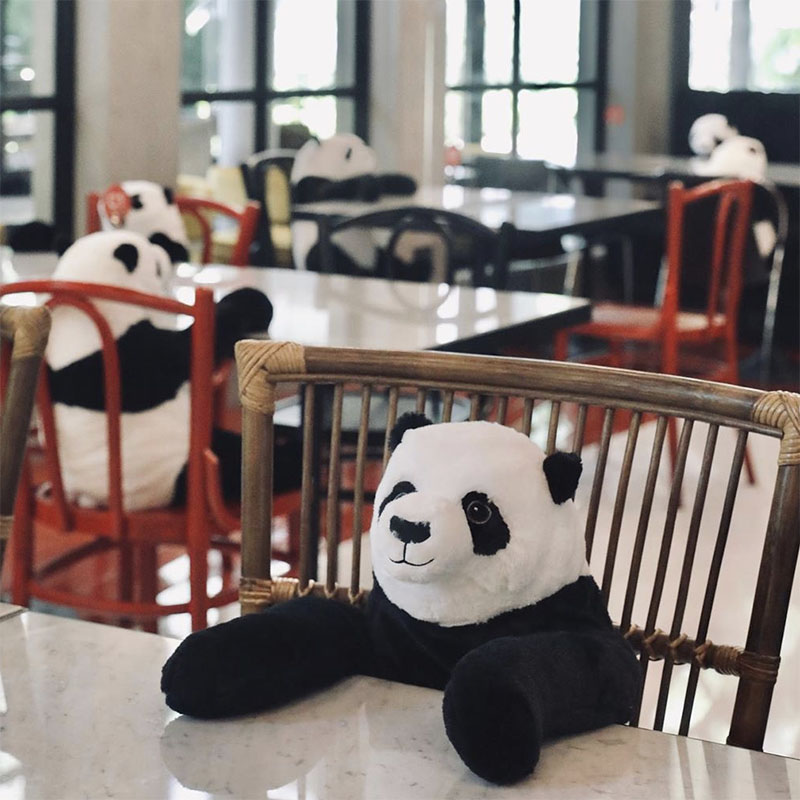 Here's where things are really getting creative – eyebrow-raising even. In an attempt to make social distancing less weird for dine-in patrons, restaurants are planting "faux diners" at empty tables. These inanimate guests include everything from adorable soft toys to life-sized cardboard cut-outs of celebrities to mannequins.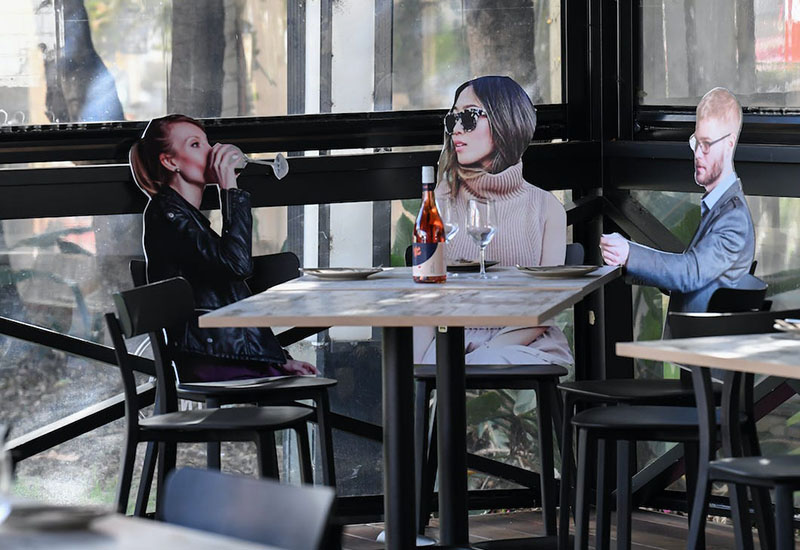 A Vietnamese restaurant in Thailand, Maison Saigon, used plush pandas (not unlike those you can find at IKEA) to accompany guests at their tables. New South Wales' Five Dock Dining has cardboard cut-outs of celebrities like Celine Dion Aimee Song occupying seats. The latter, which only allows 10 diners at a time, even plays background chatter to make up for the quieter ambience.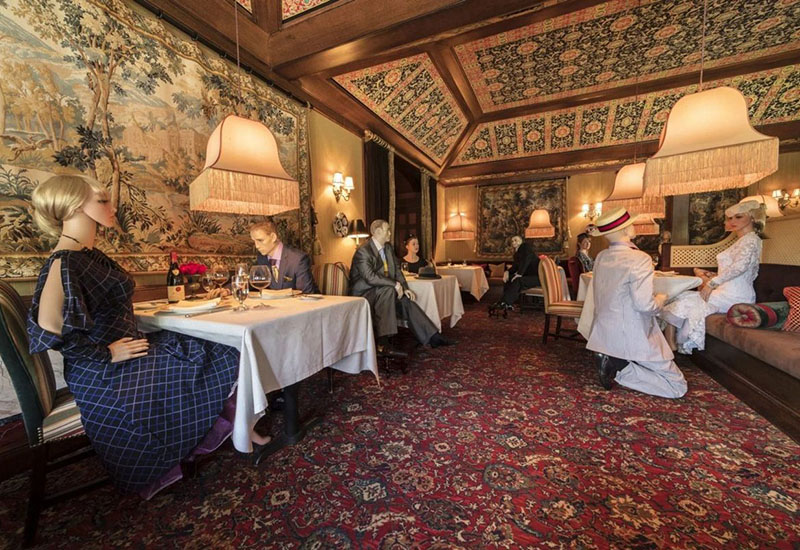 Meanwhile, mannequins are filling up the spaces between tables at Little Washington's one and only 3-Michelin starred restaurant, The Inn, as well as Hotel Haase's restaurant in Germany.
Modified table arrangements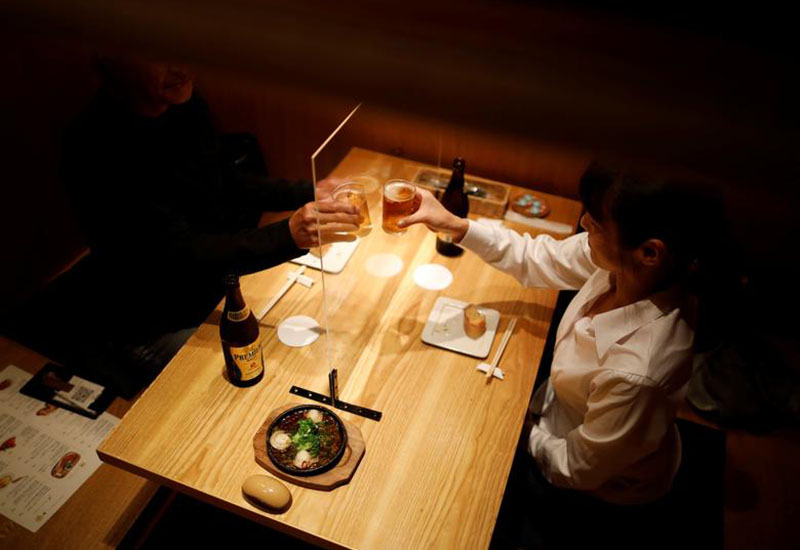 Kichiri Shinjuku, Tokyo, Japan
Kichiri Shinjuku, Tokyo, Japan
(Photo: Issei Kato/Reuters)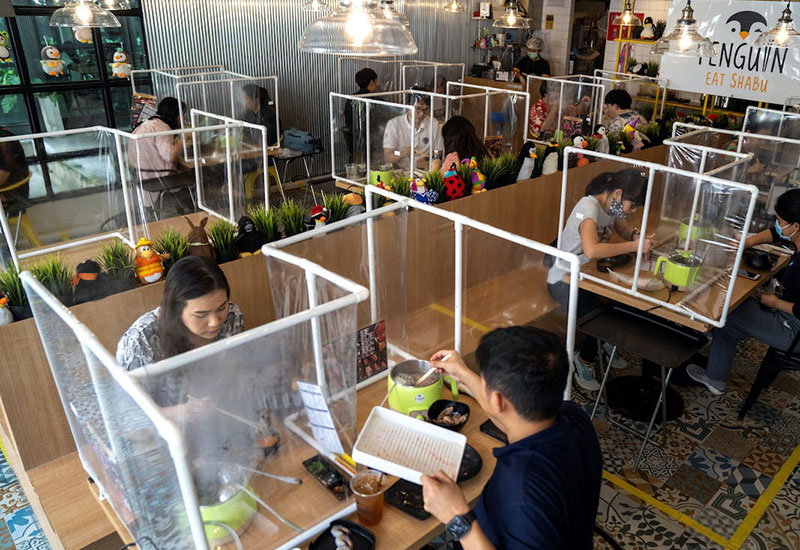 Penguin Eat Shabu hotpot restaurant, Bangkok, ThailandPenguin Eat Shabu
Penguin Eat Shabu hotpot restaurant, Bangkok, ThailandPenguin Eat Shabu
(Photo: Athit Perawongmetha/Reuters)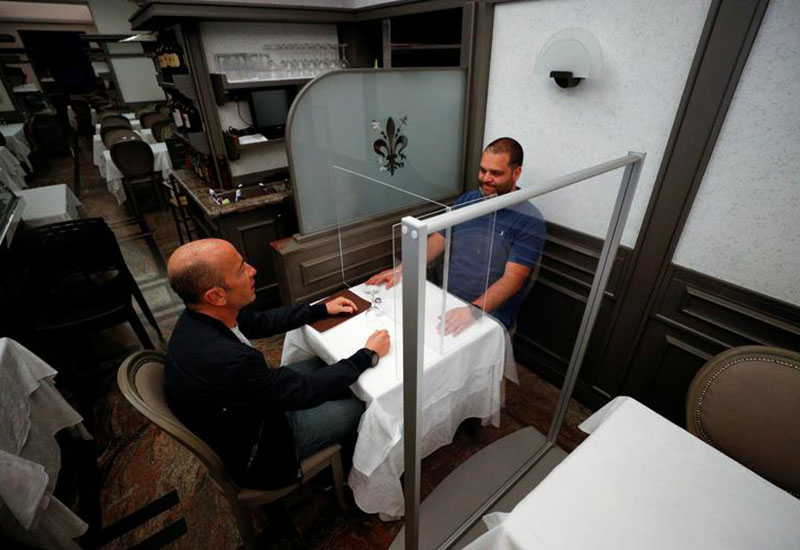 Nuova Fiorentina, Rome, Italy
Nuova Fiorentina, Rome, Italy
(Photo: Guglielmo Mangiapane/Reuters)
(swipe left for more)
Besides planting fake diners, some restaurants and cafes have added plastic barriers to avoid physical contact between patrons.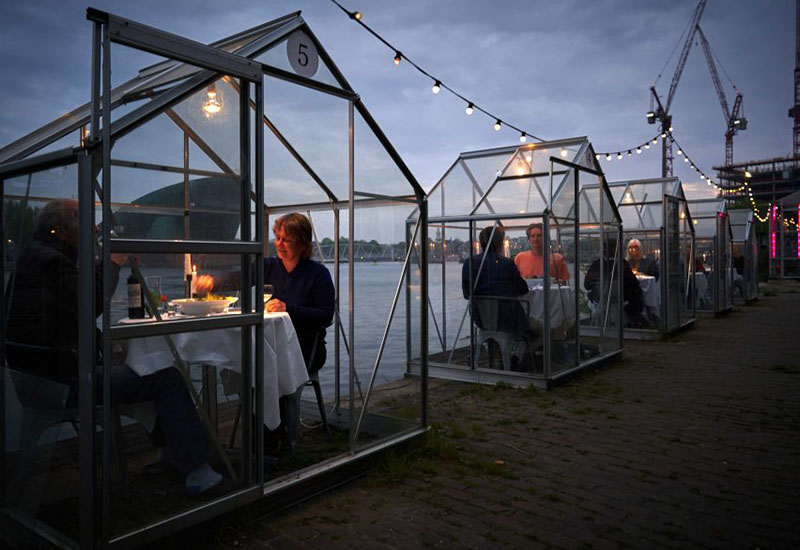 Meanwhile, a waterside restaurant in Amsterdam known as Mediamatic ETEN has made headlines for setting up separate greenhouses per table of two to three. Known for its vegan food, the romantic setup was so well received that the restaurant has sold out reservations until the end of June.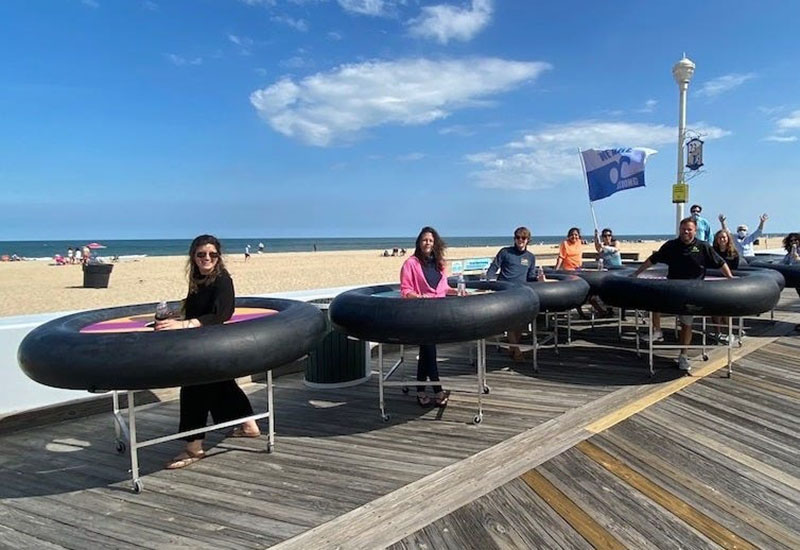 Elsewhere in Maryland, bayfront restaurant Fish Tales plans to introduce individual bumper tables using giant tubes to ensure customers remain six feet apart at all times.