'Tis the rebirth of Dewakan: now equipped with NASA-technology appliances by Sub Zero & Wolf, serving up novel, unapologetically Malaysian dishes with a side of unparalleled views.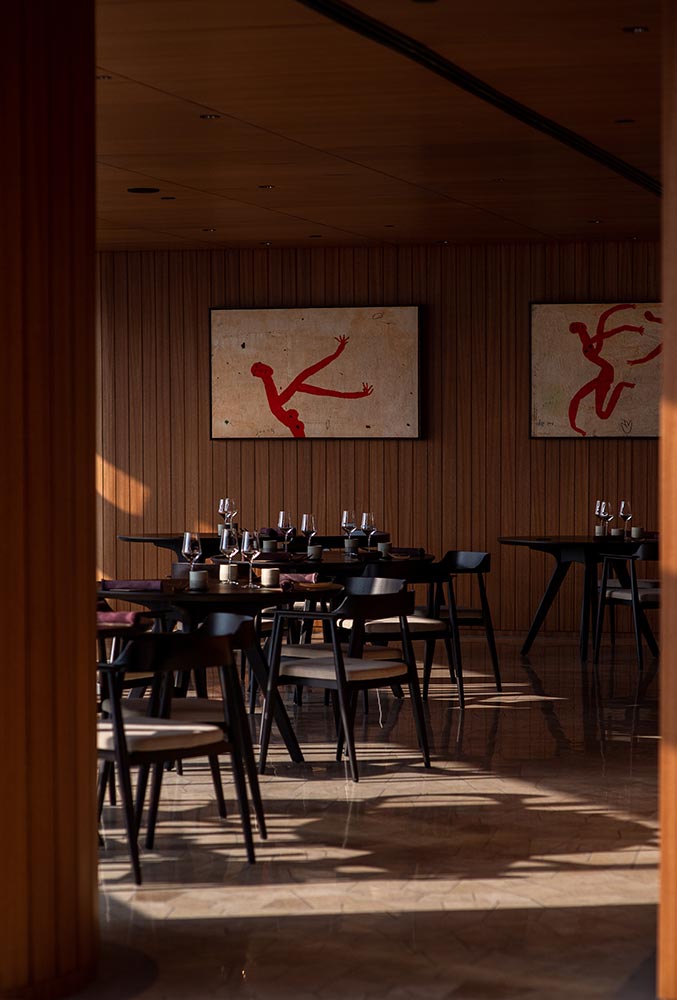 When Dewakan was named one of Asia's 50 Best Restaurants and simultaneously, the Best Restaurant in Malaysia 2019, Executive Chef Darren Teoh had been more than halfway through planning the restaurant's relocation to Platinum Park in the heart of KL.
It was a plan that took over a year and a half to come to fruition, much longer if you count the time he surveyed and deliberated over site options. Then came the big move, which in itself, the candid chef calls "a pain in the a**".
But it happened – Dewakan finally reopened in its swanky new setting on the 48th floor of Naza Tower last December. And you can bet it's better than ever.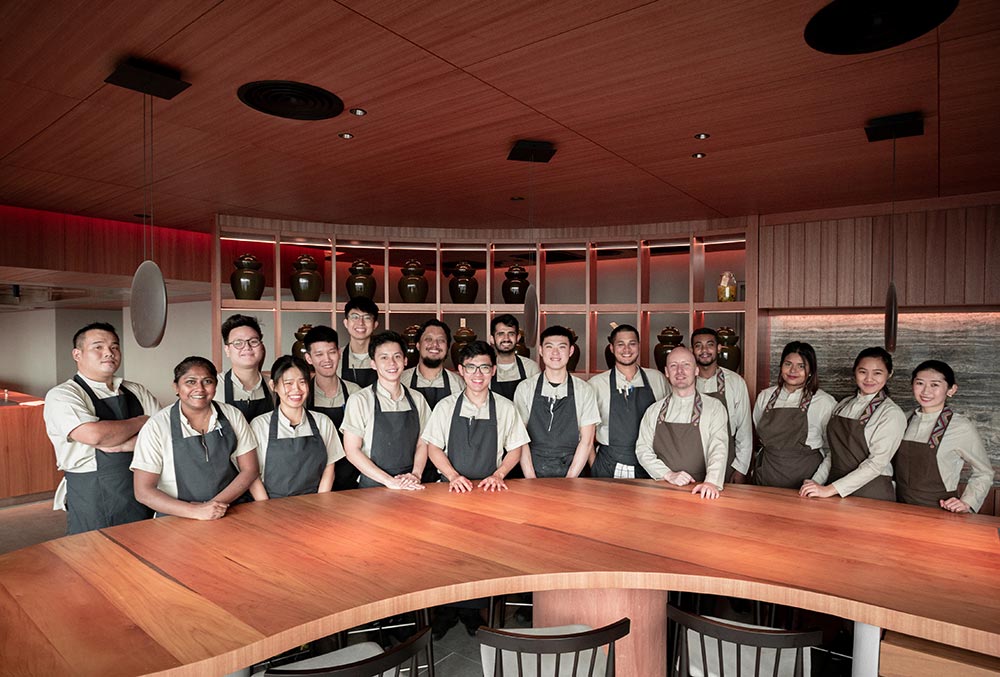 "For the past few months, we've been putting the final touches on our new space with a new menu which expands on our use of Malaysian indigenous ingredients. At the same time, we are also creating and curating a fresh Dewakan dining experience, from the format a meal is served, to experimenting and exploring different ways of cooking to enhance the ingredients we have on hand," Teoh revealed during our recent visit, courtesy of the guys at Sub Zero & Wolf.
"Our decision to move to the city centre allows us to challenge and change the way we express our cooking, while strategically positioning ourselves to be more accessible to a wider audience."
We'll go as far as to say toss what you remember from the original out the window. 'Tis the rebirth of Dewakan – now equipped with NASA-technology appliances by Sub Zero & Wolf, serving up novel, unapologetically Malaysian dishes with a side of unparalleled views.
Clean, contemporary and cutting-edge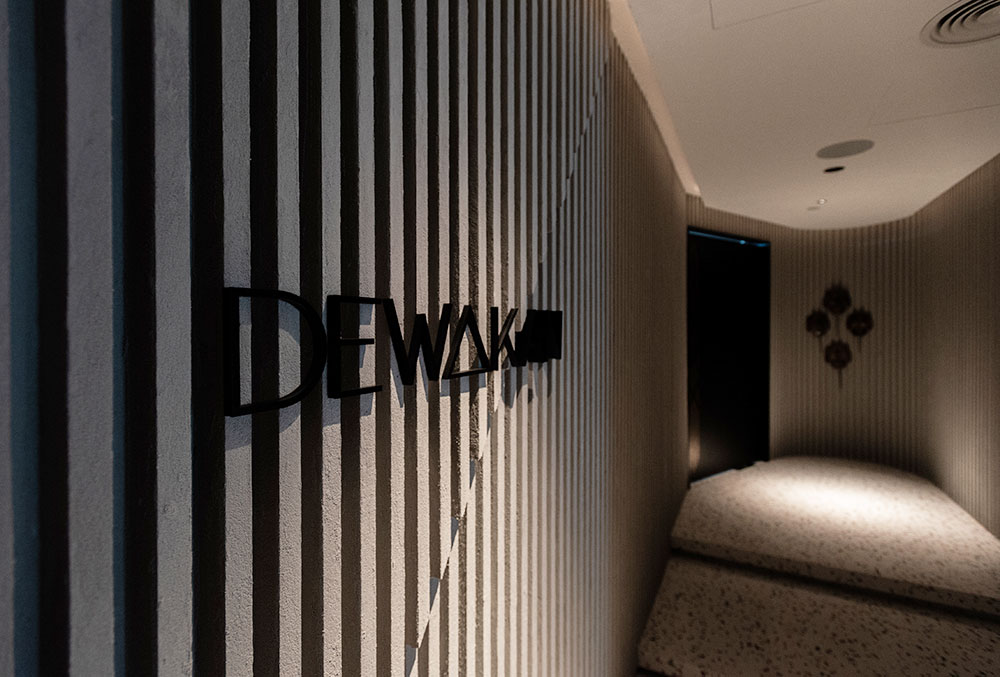 The Dewakan 2.0 experience begins the moment you walk pass its signage and a school of belangkas (horseshoe crabs – symbolising an old Malay folklore of casting evil spirits way) hung on the entrance feature wall, and through its enormous songket-ornamented veneer door. Up to this point, you've already been acquainted with two subtle Malaysian references – and you're barely inside.
Step in and the first thing that greets the eye is a vast open kitchen that allows you to see the chefs hard at work at their respective stations, painstakingly carving, torching and garnishing away.
"The idea was to have the kitchen up in the front because it's very central to the home I grew up in," Darren explains. "It recalibrates the idea that the kitchen is the central part to a restaurant. It also differentiates our values about food and the people producing the food. It's important that people who walk through our doors see the people who are producing their food."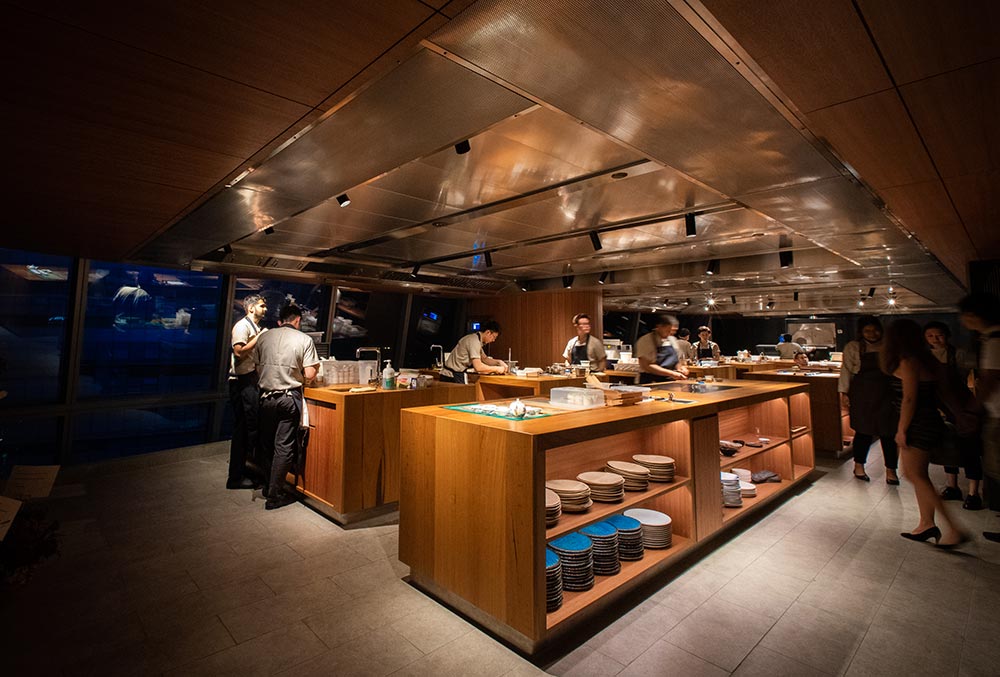 Chengal batu, a type of local timber, furnishes the kitchen from the countertops to the cabinetry. Stainless steel ceiling panels complement the sleek look and feel of the space. State-of-the-art Sub Zero & Wolf induction cooktops and built-in double ovens complete the kitchen, ensuring the precision demanded of Dewakan's standards – which we would affirm later that evening.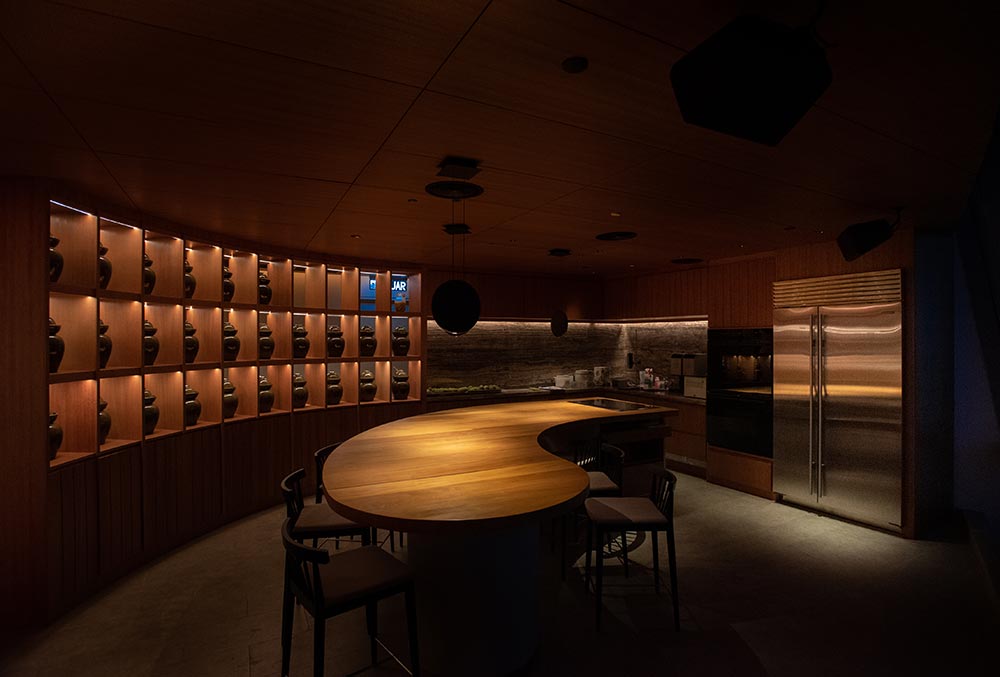 On the opposite end of the open kitchen is the test kitchen – an invite-only space which seats eight. A shelf unit displaying large pickling jars formed a partition on one side of the curved room, whilst a jelly-bean shaped table (where exclusive tasting sessions would be held) stood in the centre.
Joining us in the room was Yam Churn Meng, Director of SZ&W (Southeast Asia) Pte Ltd, who kindly divulged the efficacy of the Sub Zero & Wolf refrigerator located at the end of the table. Designed with inspiration from NASA technology, it has the ability to "keep your food fresher for a longer period with the most advanced food preservation technology available".
With that bold statement, it was time to put the new, more technologically-advanced Dewakan to the taste test.
Malaysian through and through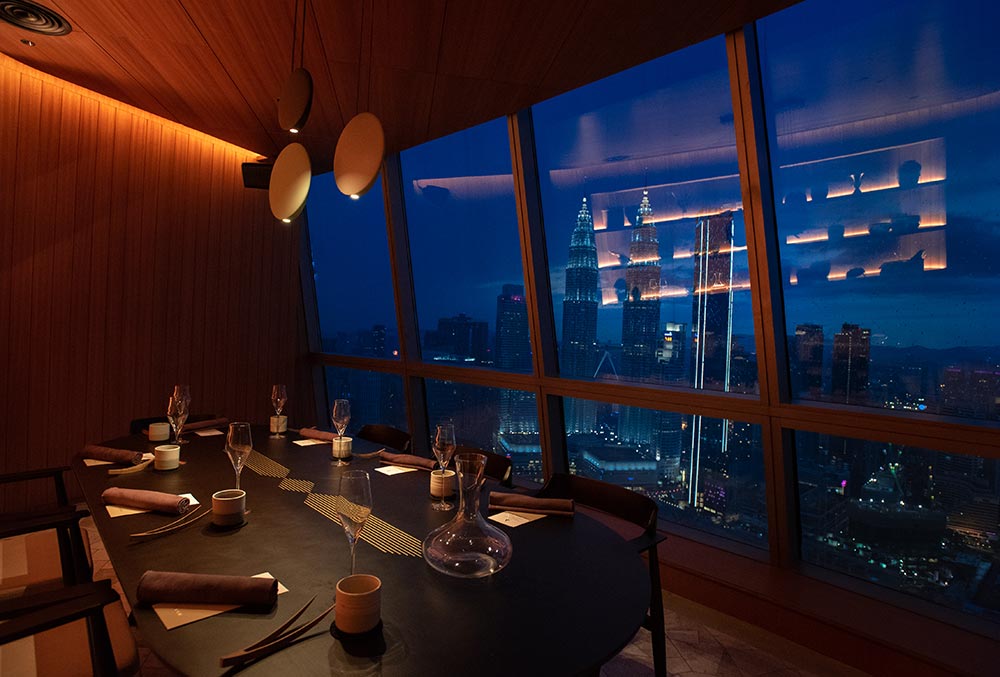 We managed to squeeze a quick peek at the private dining room first – an intimate room that seats up to 10 and boasts an upclose, breathtaking view of the Petronas Twin Towers – before making our way to the main dining room where we're hit by panoramic vistas of KL's skyline once again. We daresay it's got the best views of any fine dining restaurant in the city yet.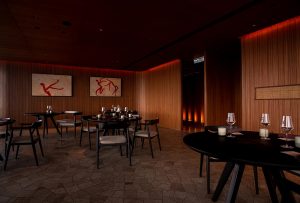 Familiar Malaysian tunes were next to catch our attention, echoing throughout the room and reflecting off other local touches. There were customised tables with a pinwheel design carved on the top as a tribute to the nostalgic chef's childhood, and a songket strip feature on the wall behind where we were seated, for instance.
If we delved into the details of every artistic element in the room, we could very well end up with a design handbook. Suffice to say, Chef Darren's perfectionist ideals are imbued in every facet of this reincarnated establishment, right down to the menu.
On that note, we were pleasantly surprised to find out that Dewakan now serves an assortment of three to six plates at one go, rather than one after another like in its previous home. With 20 dishes to tackle on the sampling menu, this seemed a more logical way of approaching service.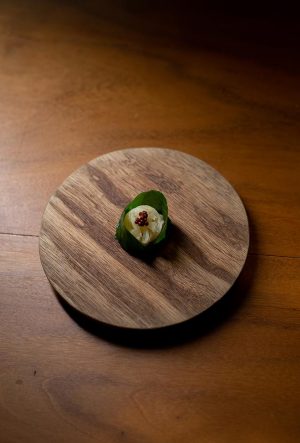 A customary basket of rice bread (a Malaysian take on the French ritual, if you will) started the meal on a conversational note. Karen Gonzago, director of marketing and communications at SZ & W SEA, whom we had the delight of sharing a table with, raised the subject several times through to dessert: "Can we restart the meal again, starting with the bread?"
Had we not sat through a 3-hour long meal with flavour-rich dishes, we'd have nodded in agreement. Althought admittedly, we'd excuse the extra calories for another taste of the creamy, melt-in-your-mouth Smoked Tapai Ubi in the first serving (presented alongside Black Banana Sambal, Sardined Cured in Kuaci Miso, Dried Root Vegetables and another favourite, Salted Mackerel & Mushroom).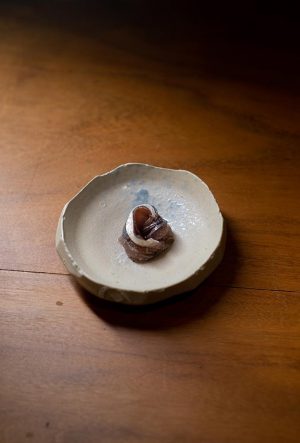 Then there was the Steamed Squid, Herb Bouquet and Jamu in the second round: a sight for admiration, especially upon lifting the herbaceous bouquet to find a piece of squid scored delicately to form a floral shape. The combination was no less satisfying on the palate, offering bitter, earthy hints mixed with fresh, sweet flavours from the squid.
Another winner in terms of presentation was the Tofu & Crab Broth. A testament to both Sub Zero & Wolf's refrigeration system and the skills of the kitchen team, the tofu is stored between temperatures of 2℃ and 10℃ to prolong its shelf life and maintain its light texture. It is then finely sliced by sous chef Wayne Wong using a Chinese cutting technique to resemble a chrysanthemum floating in a pool of mouth-watering crab broth.
Other standout savoury dishes included a juicy Roast Crab Claw, coated in aromatic Seafood Butter; an unassuming Guava, Black Fruit and Crabmeat dish that's served on a crab shell; and a Goat Tartare Rice Foldover that provided a nice crunch to go with the well-cooked game.
Coming back to the point of Karen's tongue-in-cheek remark, we obliged the final round of our meal: desserts. Once again, we witnessed Sub Zero & Wolf's pinpoint climate control claim in action as we each attempted to crack the chocolate shell enclosing our Smoked Banana & Mulberry afters. Despite taking unusually long to break through, the banana ice-cream didn't melt one bit – allowing us to fully savour its deep, smoky flavours accented by a nutty trace of keluak and acidic mulberry sauce.
By the time we concluded our meal at a quarter past eleven, we couldn't help but feel a sense of pride at the quality and technicality of Malaysian ingredients, service and dishes presented to us.
We were already fans of the former Dewakan, but we'll say this: the Best Restaurant in Malaysia just got better.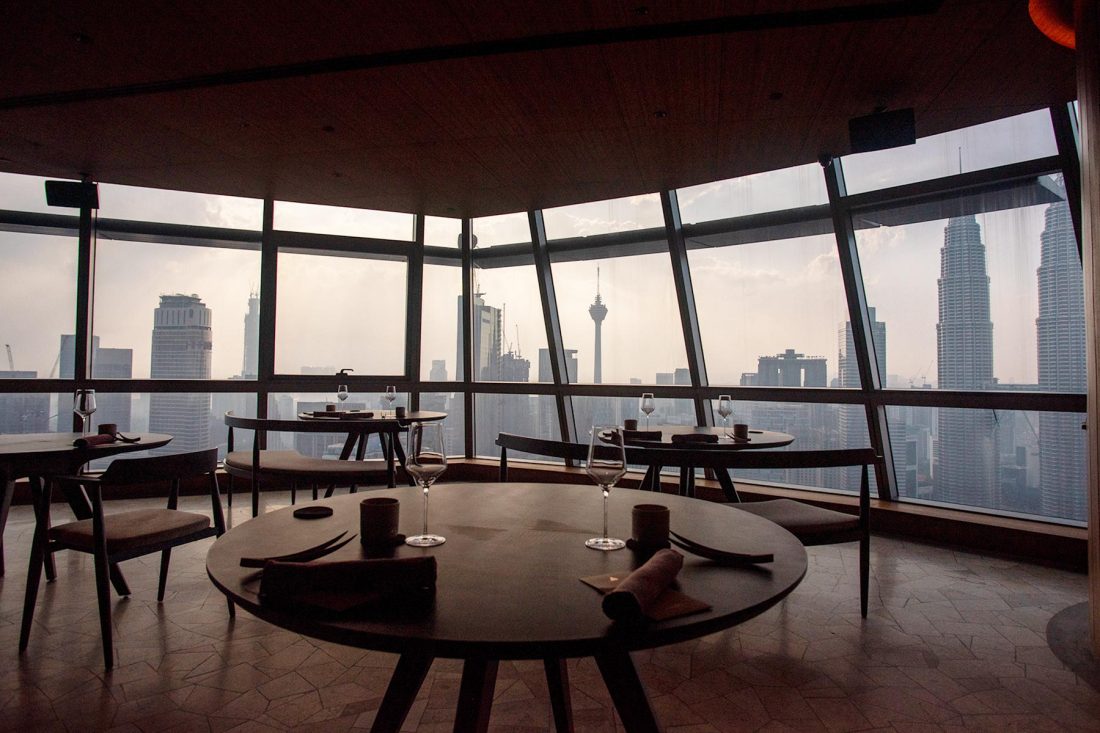 Recommended for you:  6 modern Malaysian restaurants that redefine local flavours
Photos: Dewakan