Chef Raymond Tham is back from South America and cannot wait to share all that he tasted in his colourful two weeks there with his new menu.
Think summer and a few staple flavours come immediately to mind – robust berries, juicy peppers and sweet, delectable seafood as the temperatures warm, lending everything an extra punch of intensity.
Such was exactly what Chef Raymond Tham found in South America during his two weeks there, and which inspired him to create Skillet @ 163's spring/summer menu upon his return. Crunchy cauliflower is painted colourful with bell pepper puree and artichoke is lent a refreshing zest with pineapple.
Here's what his full menu entails if you drop by the restaurant anytime within the next few weeks.
Amuse bouche
Of course a South American menu will start with salsa – and this time on a taco no less. The tartness of the tomato cuts through the brine of the smoked salmon atop in just the right amounts to lets its natural sweetness shine. The cauliflower on sour dough bread with bell pepper puree rounds off the palate profile with fresh crisp sweetness to balance our the sour and salty.
Appetiser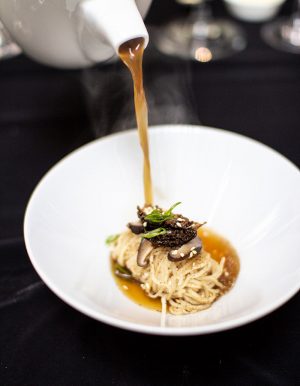 Flavours unmistakably build as you go down the menu. The Umami noodles with mushroom broth lives up to its umami name, with an earthy mushroom consomme that packs a lot more flavours than it lets on. The egg noodles provide a satisfying chew, each bite bursting with the fragrance of sesame oil, which only further lengthens the tail of the broth.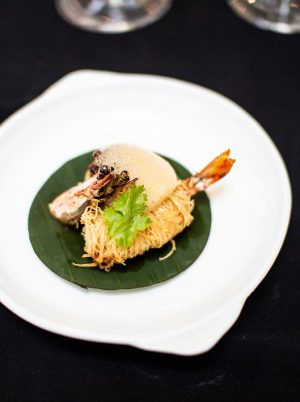 The tomyam prawn is another winner. The tomyam is disguised in the foam so its spicy tartness only lightly veils the the shrimp without stealing the attention away from its juicy sweetness. The shellfish itself is wrapped in deep-fried popiah skin for extra crunch. Tying everything together is the bed of eryngii mushroom for a grounding of flavours.
Entree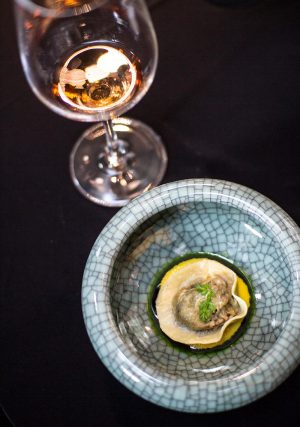 One of the things Chef Raymond fell in love with the most on his trip is the Latin Huancaína dish of potatoes boiled and served with a spicy, creamy sauce. Instead of just potatoes, he swaps it out and replaces it with a slow-braised Guinea fowl ravioli of sorts for something meatier. The result is a juicy dumpling with the thinnest skin that lets the meat burst with juiciness in your mouth. We can see why he liked the Huancaína sauce so much – it is peppery yet sweet, slightly sour but with a zest that leans more towards the fruity side, and all in all envelopes the ravioli with a mouth-watering sweet, sour, salty and spicy profile. The parsley oil adds a green herbal touch for extra dimension.
Balancing out all that chewiness is a crunchy entree next – a duck croquette with foie gras. Golden and crunchy on the outside, the inside is a warm and soft pillow of duck meat with foie gras for flavours that match its indulgent textures. Lifting all the heavy flavours is an uplifting cherry sauce that draws out the sweetness of the meat and liver as much as it cuts through its oiliness. Fresh raspberries give a delightful burst of juiciness too while the small pearls of sour cream tame flavours so they're not overly contrasting.
Main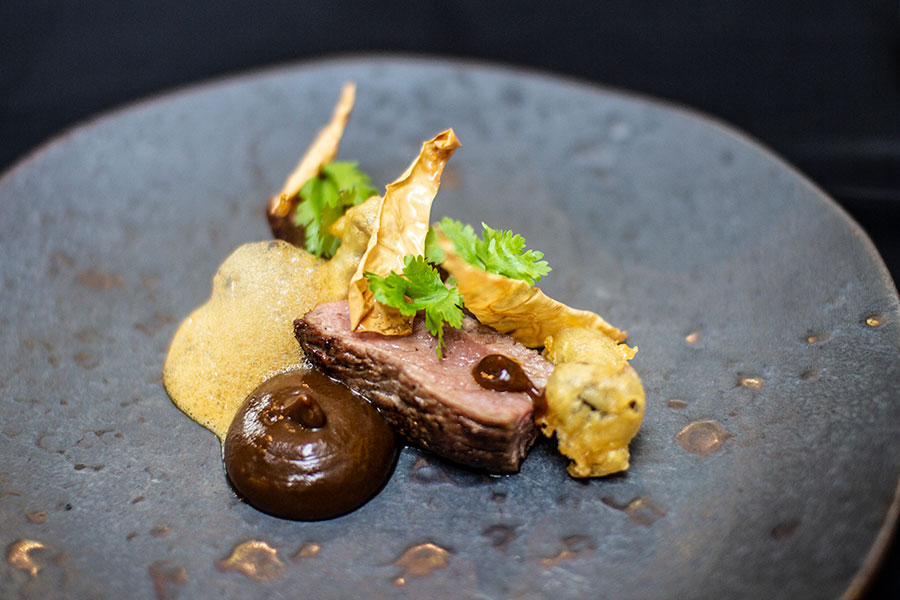 After such an expansive exploration and  introduction of South American flavours, Chef Raymond returns home with his main, with a lamb dish dressed up with our local pride bak kut teh flavours. The herbal accents of the soup every Malaysian is well familiar with and fond of explodes with every dollop of the accompanying sauce as well as in the foam. The flavours are authentic and true, and comes complete with fried beancurd skin like you would find in the streetfood version. The lamb itself proves a strong substitute for pork with its juicy medium-rare tenderness and strong game intensifying the complex flavours.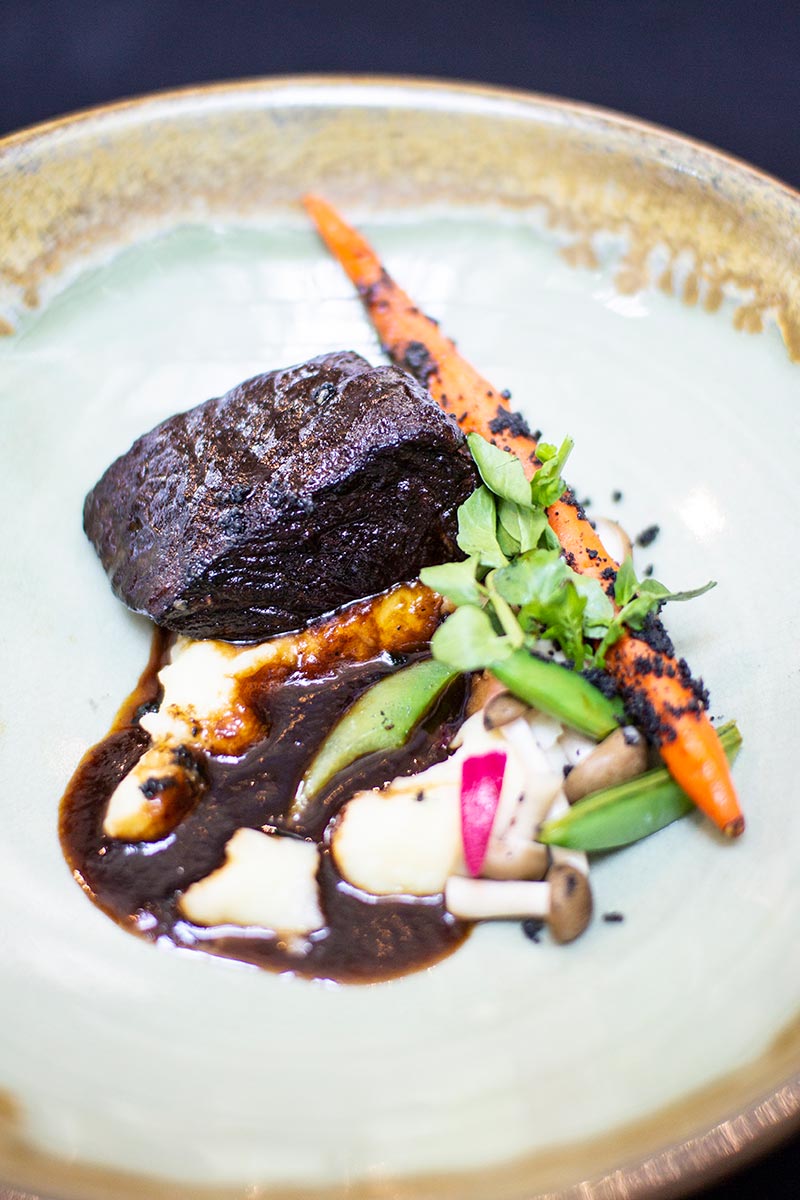 Another option is the braised beef short-ribs with an equally strong-flavoured and -willed sauce: coffee. Red meat lovers will appreciate the slight bitter end the coffee sauce lends to the game of the meat, which in itself is otherwise bold, meaty and very well done, so much so that it falls clean off the bone in chunks.
Dessert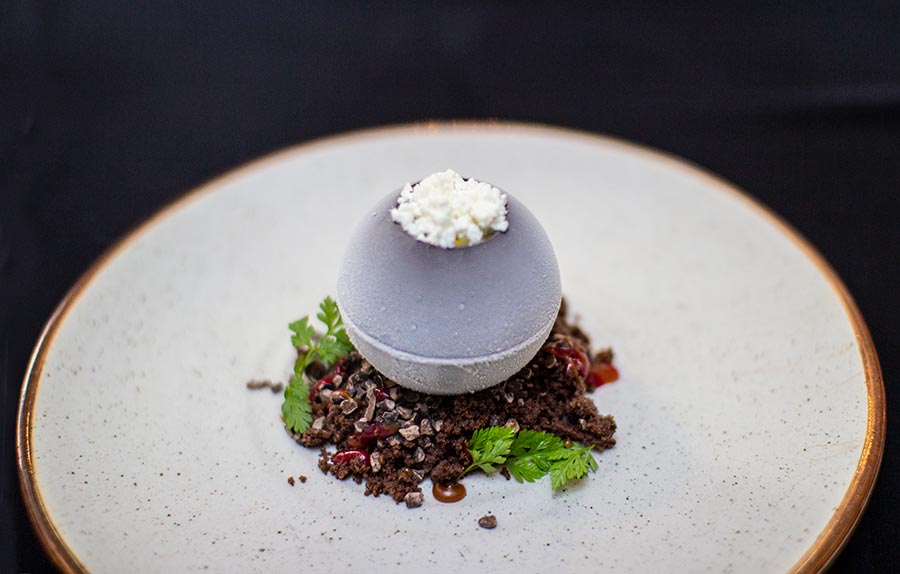 A classic makes a return on the spring/summer menu for dessert – Skillet's messy chocolate dream of an affair. Chocolate mousse of all kinds (white, milk and dark) explodes from a shell made so brittle with liquid nitrogen that it shatters at the lightest tap of your spoon. More cocoa textures and dried fruit lend bite to the whole thing for an ending that is spectacular on the eyes as well as on the lips.
The spring/summer 2018 menu is available now at Skillet @ 163 priced at RM300+ per person. Add RM250+ and you get a full set complete with champagne and wine pairings. An additional RM30+ is chargeable should you like cheese with you dessert.
For more information or reservation enquiries, call 03-2181 2426 or log on to the official website here.