True to Nobu's signature dining style, it is an enticing omakase menu, this time of 6 auspicious dishes.
Chinese New Year is arriving in a matter of days now. If you're looking for something different from the usual 8-course sit-down Chinese dinner, Nobu Kuala Lumpur's chef Philip Leong and team has crafted a Japanese style omakase six-course meal that will make this year's reunion dinner surely memorable.
Do not be surprised if you do not find the signature CNY dishes of nian gao (rice cake), tang yuan (sweet rice balls) and chicken (you did ask for something different). Nobu makes up for it instead with sea-fresh sashimi and its signature fusion cooking style of Japanese-Peruvian flair.
Here's the lowdown:
Zensai moriawase
The dinner starts off on a medley of flavours and textures with the Zensai Moriawase, a platter of 8 different selections from sour dragonfruit ceviche topped with coriander and quinoa, prawn with creamy spicy sauce, beetroot chip with tuna garnished with coriander, onions marinated with Amaru sauce (Japanese sweet and sour sauce), octopus carpaccio comes with jalapeno dressing, ohitashi, Whitefish roll topped with yuzu lemon juice and Nobu's salmon new style. A mix of sweet, sour, salty and everything in between, it is meant to warm the palate up by stretching your tastebuds from one spectrum to another.
Yee Sang Nobu-style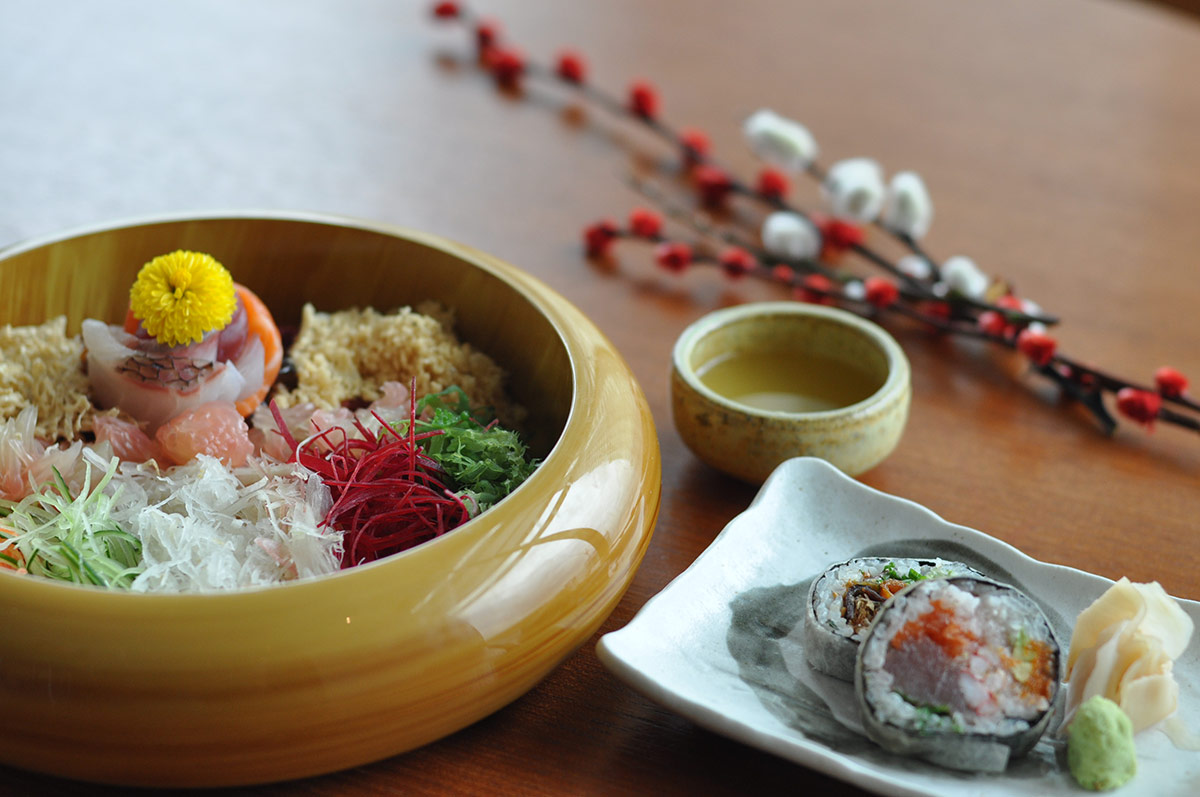 True to Chinese New Year traditions, a yee sang is next but done Nobu Style. Swapping out some Chinese elements for Japanese, the bowl of prosperity in this case features thick generous slices of fresh sashimi, drizzled with yuzu honey sauce  instead of the Chinese sweet plum sauce and comes with a side of Japanese sushi rolls for extra bite. This here is globalisation in a bowl, where cultures cross and we reap the best of both.
Steamed Chilean seabass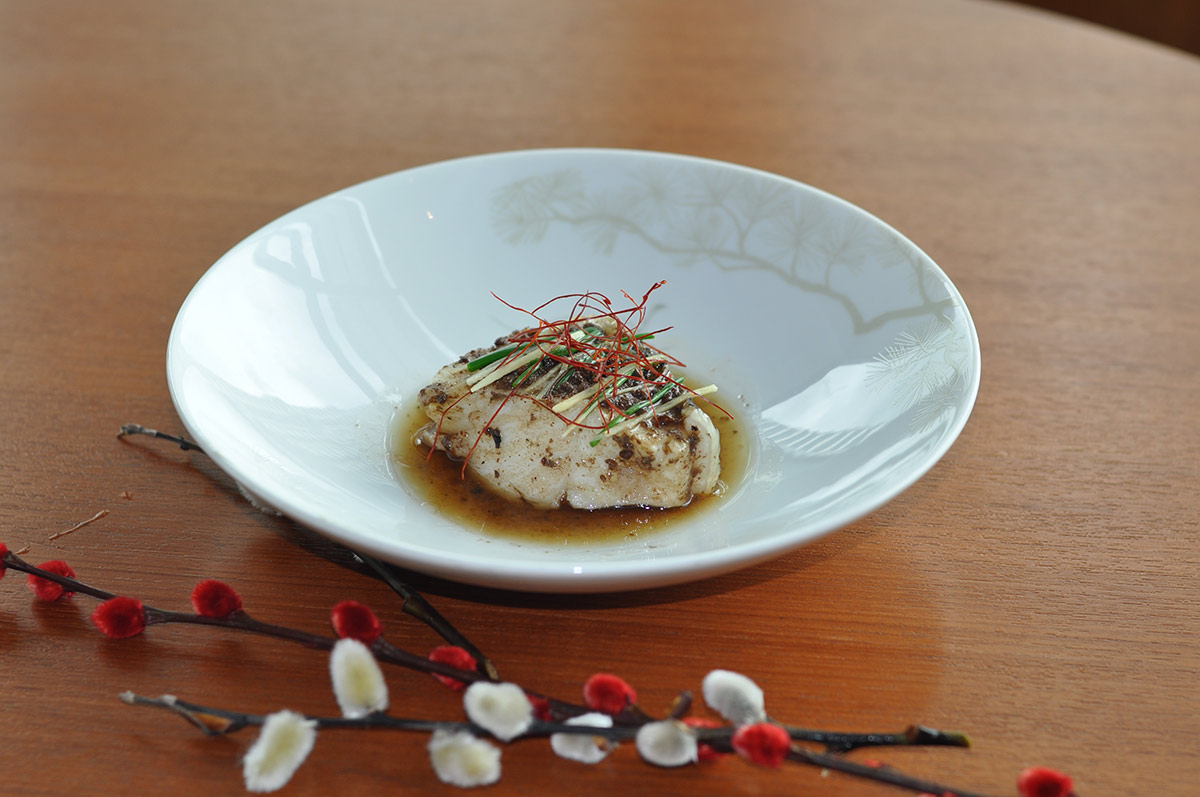 If there's one thing the Chinese share with the Japanese, it's the love for fish and seafood. Steamed Chilean Seabass is next on the menu, so delicately prepared that the flesh is just the right amount of tender and flakey. The trick lies in its light searing in screaming hot olive and sesame oil; the fish is so fresh that its sweetness needed nothing more than a dash of truffle sansho pepper soy to carry you through the flavour profiles and layers.
Pan-seared duck breast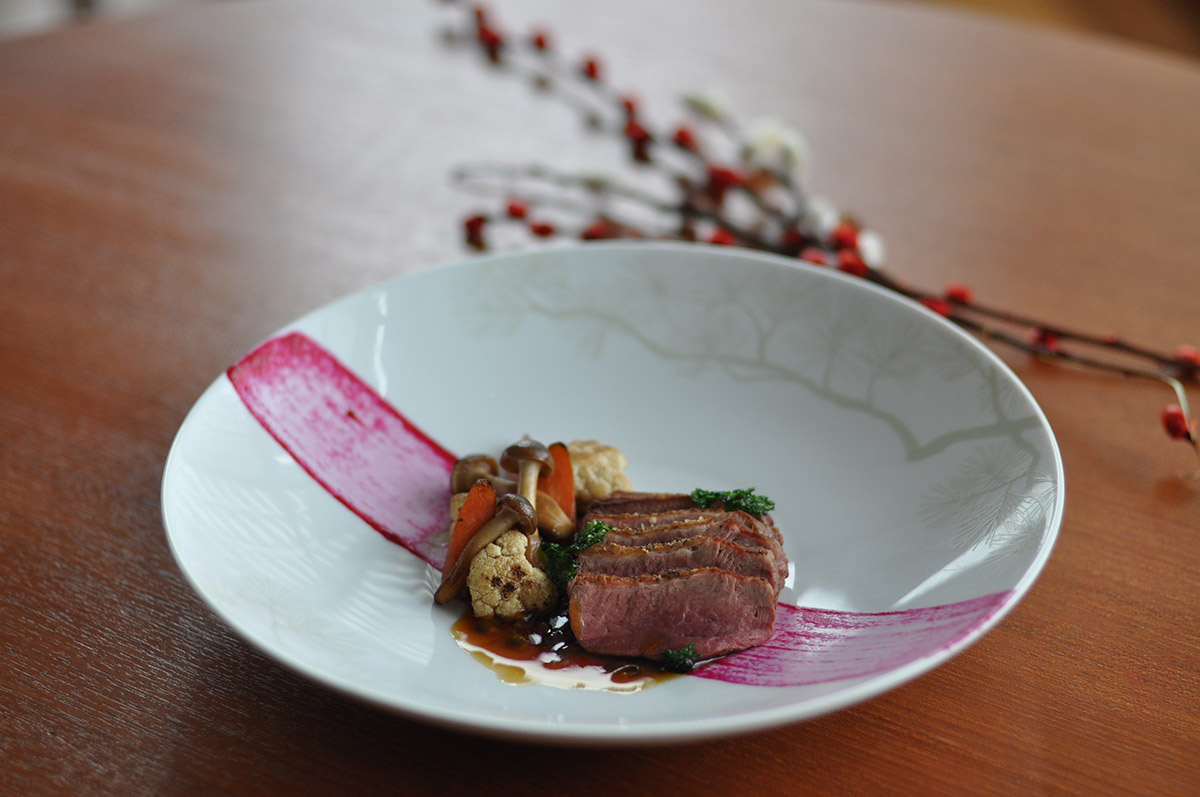 The third course proves to be our favourite of the night. Slices of tender duck breast is simply surface-seared to retain its juiciness and game. Its natural flavours are enhanced with the lightest veil of passionfruit teriyaki sauce and beetroot puree so it takes on a fruity, almost floral top note. It is accompanied by a side of mushrooms, carrots and cauliflower to add a bit of crunch to the chewiness.
White fish dumpling and mushroom soup
After all the intense flavours of the fish and duck, our palates were allowed a break with this clear white fish dumpling and mushroom soup. But do not be fooled into thinking 'clear' means 'bland' — this one bloomed with the earthiness of mushrooms (both the black and asparagus variety), naturally sweetened by the white fish dumpling so it's punchy and soothing at the same time.
Goma Bavarian & Almond Sponge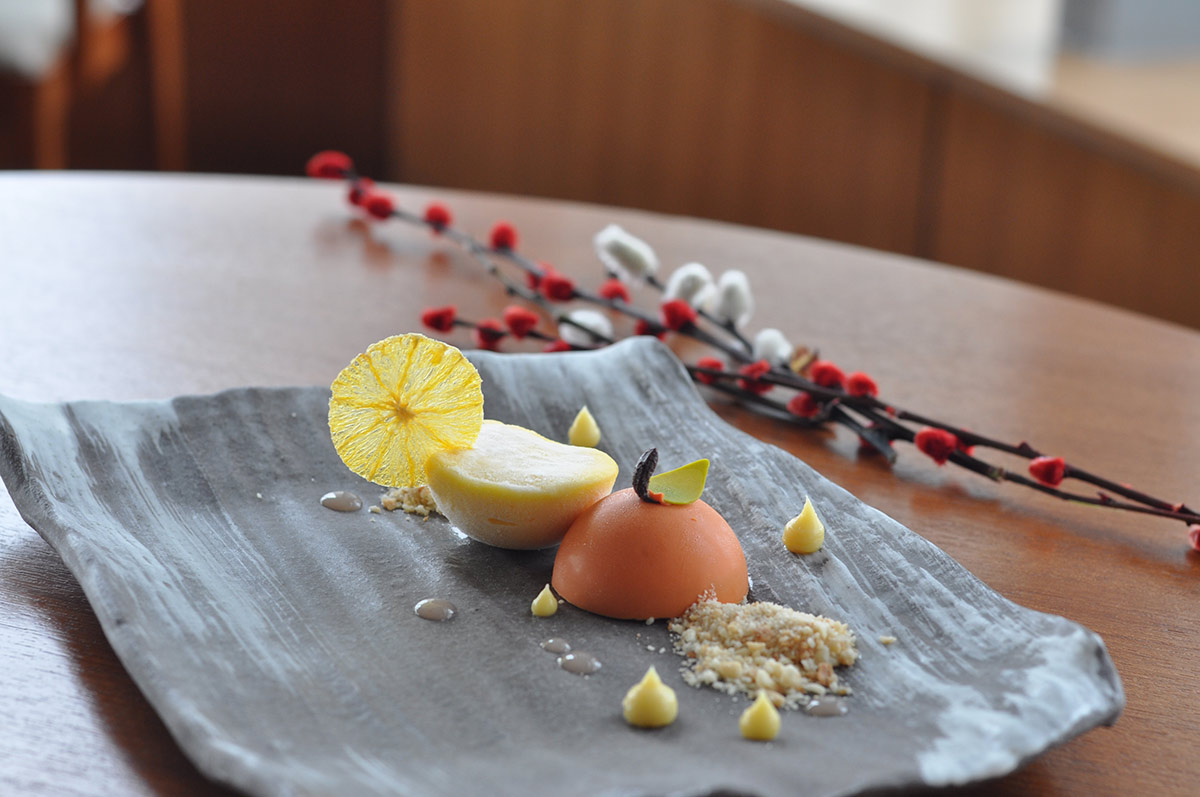 Ending dinner on an equally festive note are sweets based on and shaped after the season's most popular fruit – the mandarin orange. Refreshing to the palate and adorable on the eyes, it features a Goma Bavarian and almond sponge cake, served alongside a Mandarin orange sorbet, white peach sauce, yuzu curd and miso crumble. It is sweet enough to leave you satisfied, citrusy to lift flavours so things don't get too cloying, and cute enough to gain you a few followers on Instagram.
Available from January 23rd to February 13th, the Chinese New Year Omakase dinner is priced at RM488++ and comes inclusive of a special Chinese New Year cocktail, Satsuma or mocktail. For reservations and inquiries, call 03 – 2164 5084 or Whatsapp 019 389 5085.
Images: Nobu KL