Chef Raymond Tham returns to his roots with Beta KL, offering quasi-authentic, elevated Malaysian gastronomy based on distinct flavours from all corners of the country.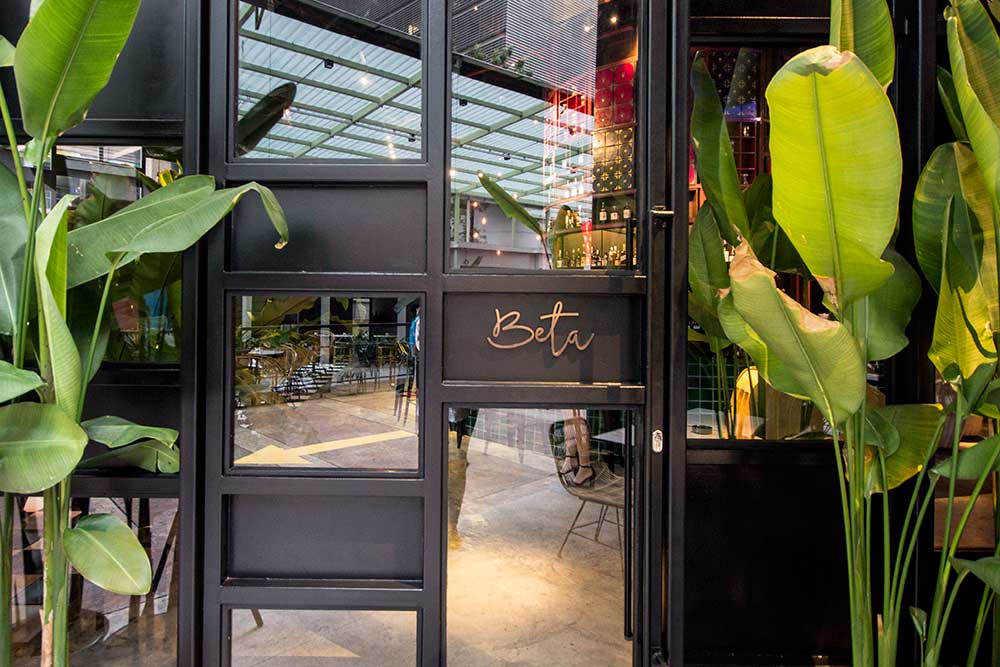 It's ironic that many Malaysians find pleasure in foreign fine dining cuisines, yet never explored the potential of local delicacies in that same context. Perhaps it's the contentment with hawker stall offerings or the lack of standout local fine dining spots that contribute to the picture, but in any case, Chef Raymond Tham wants to see that change.
That's why he is returning to his roots with Beta KL, offering quasi-authentic, elevated Malaysian gastronomy based on distinct flavours from all corners of the country. The name "Beta" itself holds dual meanings – first being the Greek sense of the word, representing the second outlet by the same team at Skillet at 163 (helmed by Chef Raymond); and second being the royal pronoun for kings in Malay, subtly referencing the restobar's premium quality offerings.
The menu further highlights its unique concept through shareable portions of North, South, East and Central Malaysian-inspired dishes. For example, the northern states of Perak, Kedah, Pulau Pinang and Perlis are known for more bold, zesty flavours with hints of Thai influence; and Beta KL emphasises these ideas with dishes like salted fish and lemongrass fried chicken.
Are these contemporary reinterpretations worth trying, even for Malaysians? We dropped by the new haunt in town to find out.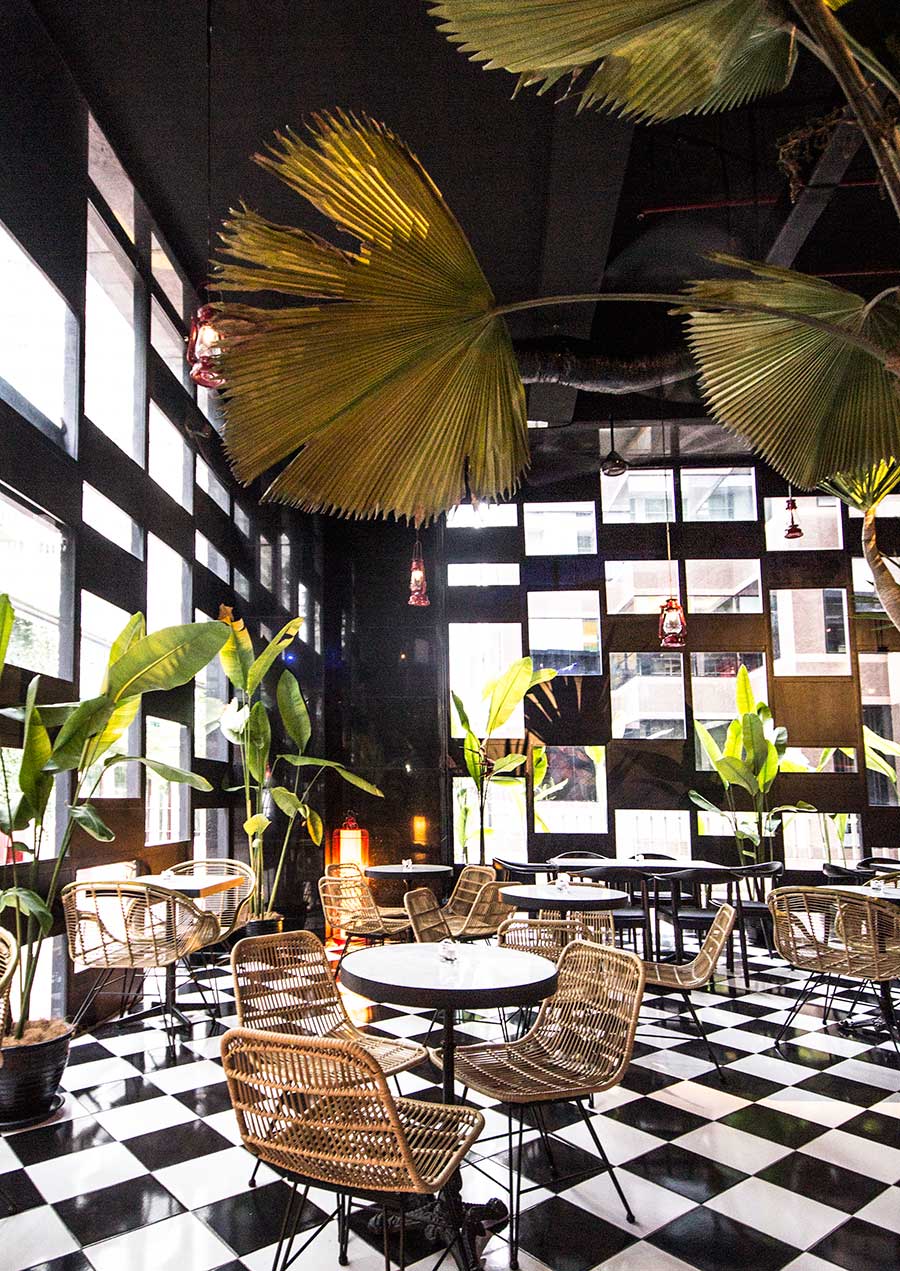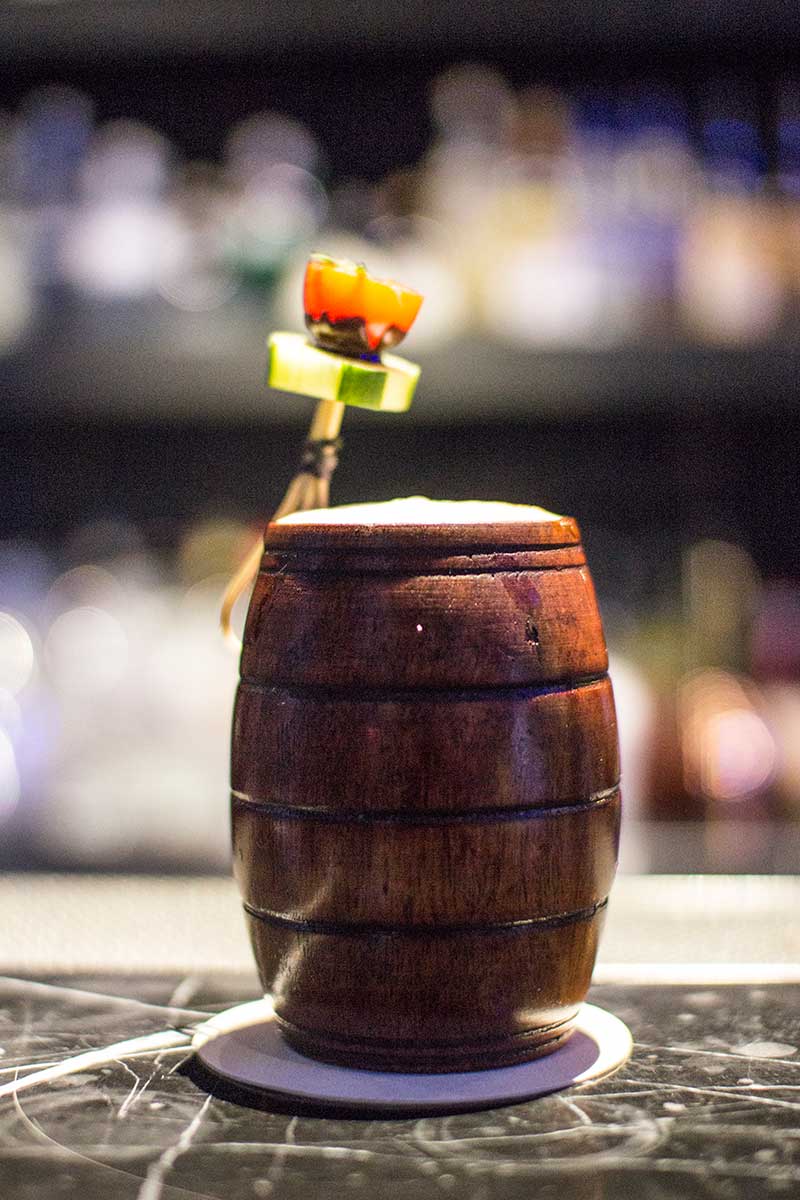 Harvest Sour
Harvest Sour
Beginning our journey in East Malaysia, where the Harvest Festival is celebrated, we are presented with a clever tribute to the region's most popular drink – rice wine, or locally known as tuak. Mixed with a concoction of genever, rambutan, grapefruit, curry leaf and egg white, the result is a malty drink that's refreshingly sour. It's not too heavy on the alcohol too, making for a good starter drink.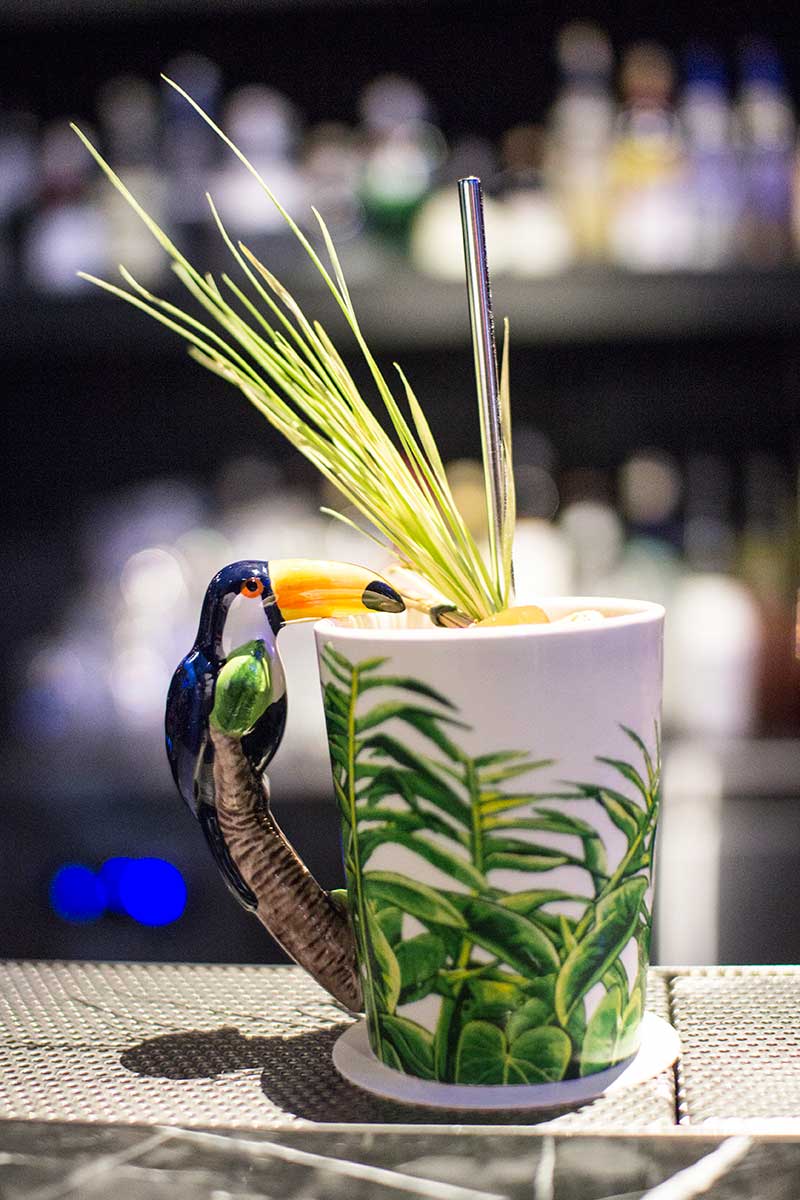 Jungle Colada (South)
Jungle Colada (South)
It's easy to tell that our next cocktail is a remake of the staple Pina Colada, given its name. As expected, we get similar flavours of coconut and pineapple, except the former is derived from cachaça instead of the usual rum. It's also slightly more aromatic than the prototype, thanks to the allspice, which our bartender attributes to Melaka's history as a trading port.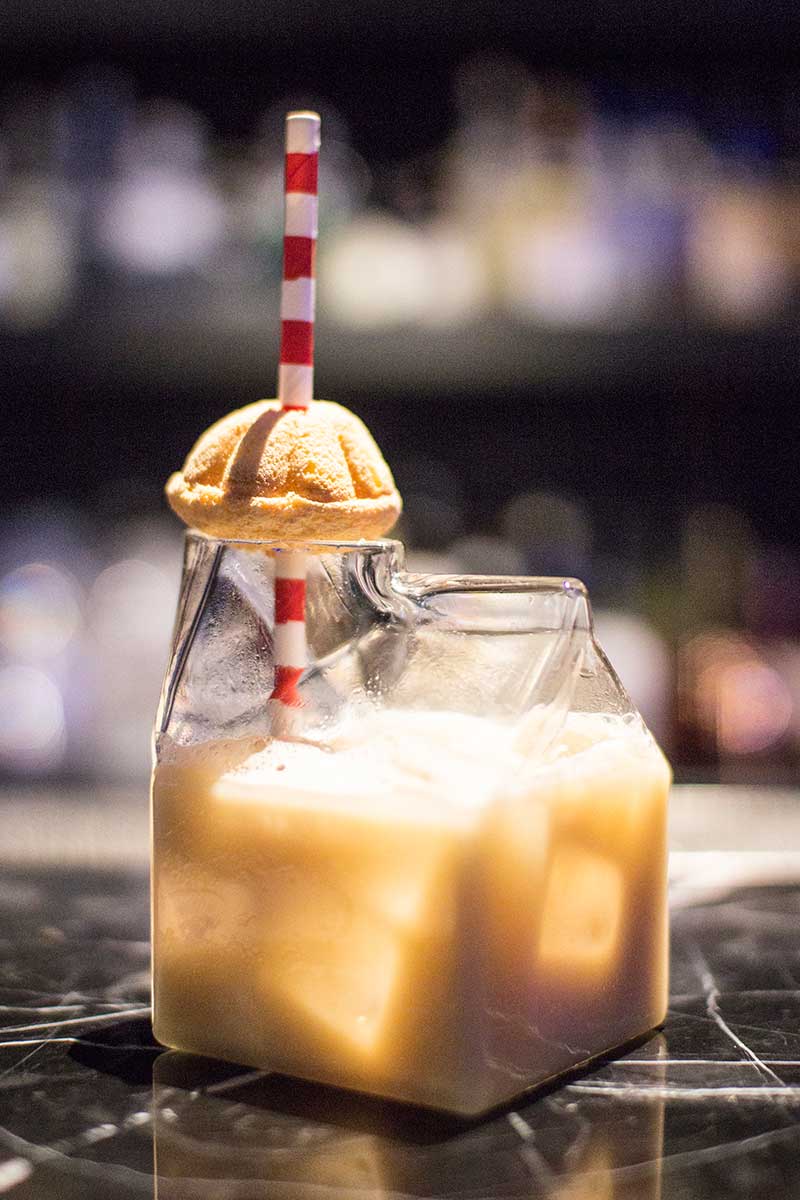 Malaya Milk Punch (North)
Malaya Milk Punch (North)
Our third drink arrives in an adorable milk carton container to match its name – that's full marks for presentation from us. Taste-wise, it's definitely unlike any cocktail we have tried. The ghee-washed whiskey and cardamom bitters immediately brings to mind Penang's Little India, while the combination of Pedro Ximenez Sherry, ginger and corn milk adds to its sweet, aromatic flavour and milky consistency (well paired with the madaleines/kuih bahulu). Try only if feeling adventurous.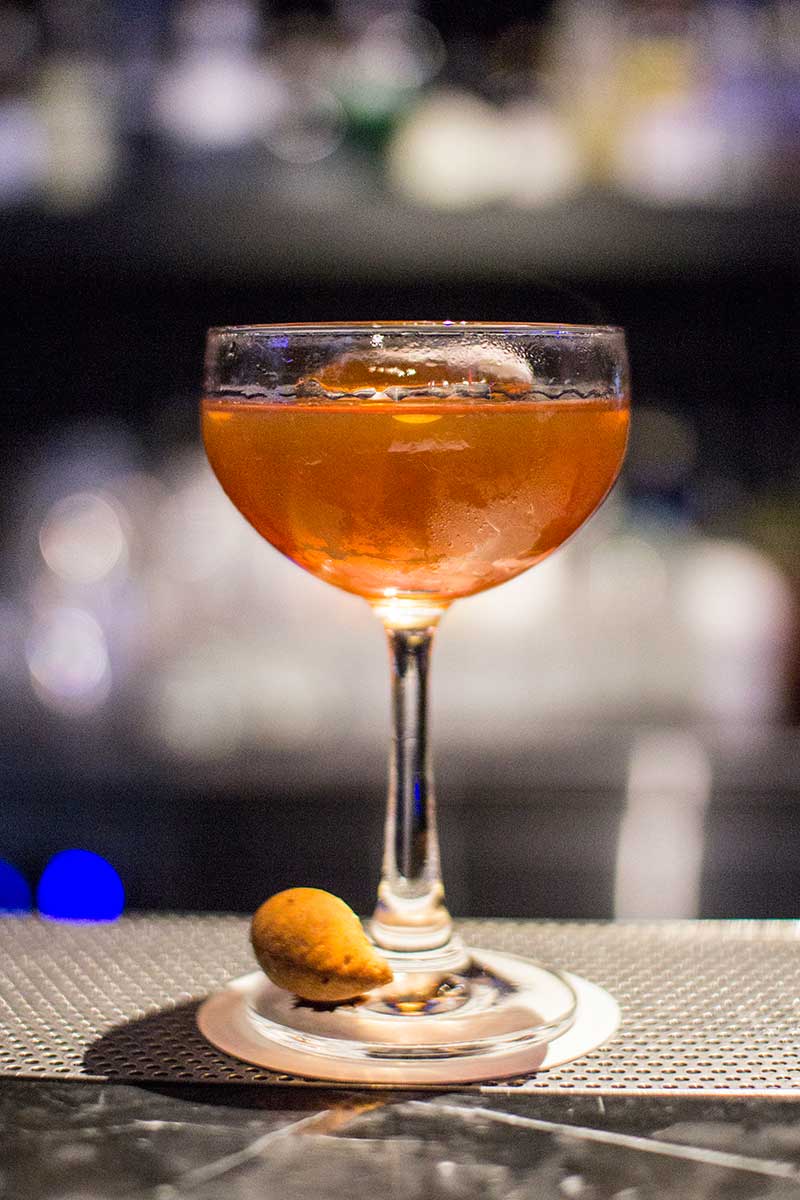 Nut-groni (Central)
Nut-groni (Central)
Ending our journey in the central city is another playful take on a classic favourite, Negroni. This version comes with a nuttier base, namely peanut butter-washed brandy, as well as pumpkin seed apertivo and vermouth rosso. It has heavy, bitter sweet notes to reflect the city's busy atmosphere – great for days when you're in that mood.
(swipe left for more)
After an impressive round of drinks, we eagerly wait for dinner to be served.
Inverted Karipap (South)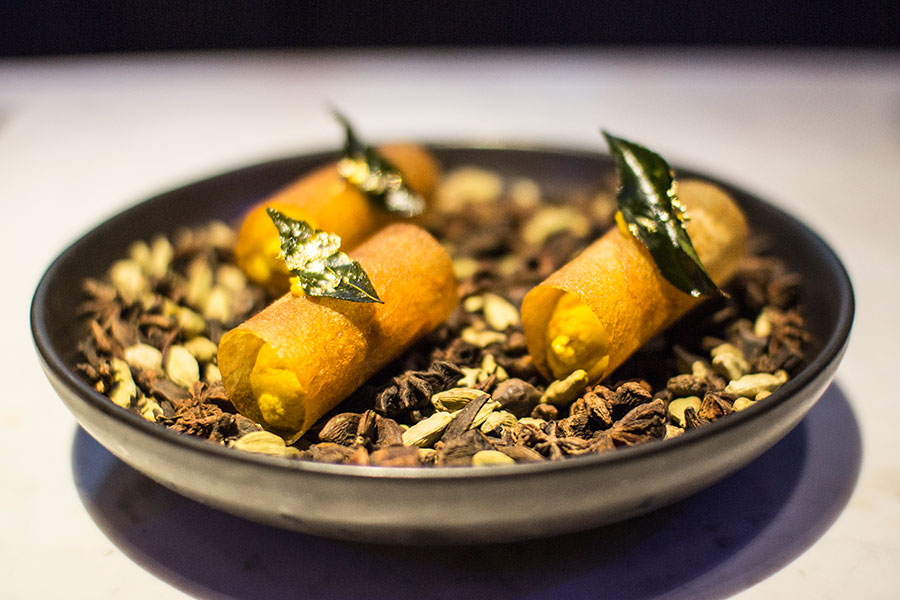 Our first dish is an intriguing adaptation of curry puffs. Like the original version, it's made from potatoes and curry, but the surprise factor is that the puff itself is made from a thin layer of potato (in lieu of pastry), deep fried to form a crispy wrap around its curry filling. A brilliant idea followed with excellent execution, the Inverted Karipap makes an addictive snack to enjoy before a meal or on its own.
Sago (East)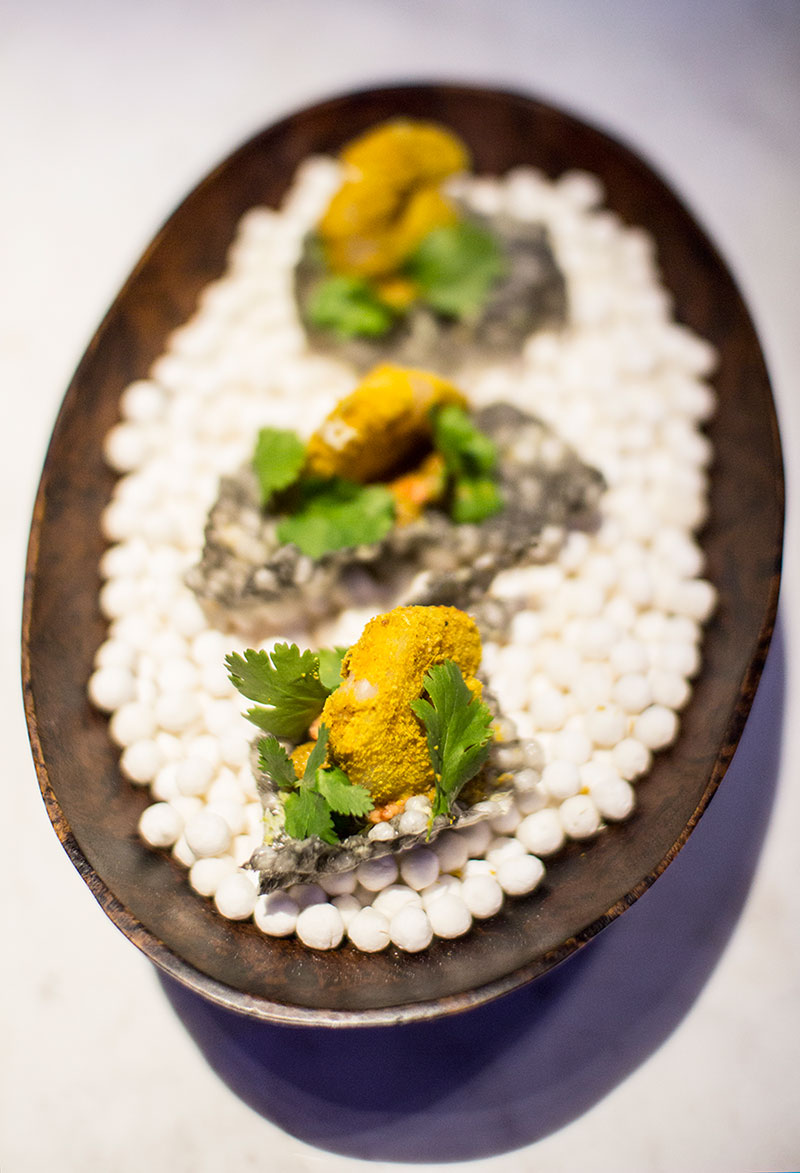 The next starter proves as visually appealing as the first, and equally well-thought out. The round, white pebbles mimick the shape of sago just as the star anise referenced curry spices earlier – sharp on presentation. As for the taste, we like the combination of shrimps and dehydrated sago infused in squid-ink, but it's the Sarawak laksa aioli that really uplifts the dish with the Malaysian factor we know and love.
Spicy Garden (North)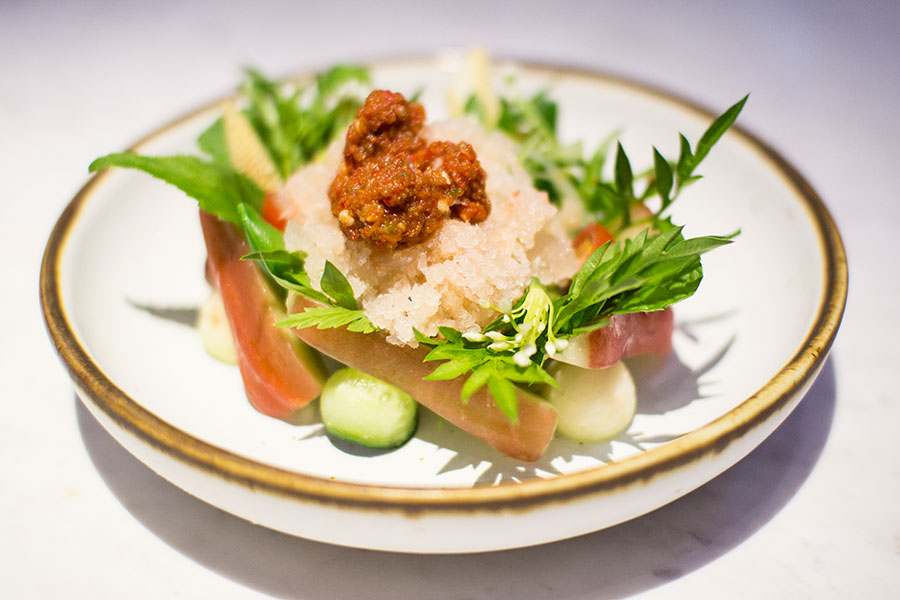 To be honest, we aren't fond of fermented shrimps, so it's a pleasant surprise that this dish fits our palate. Despite its distinctive, piquant aroma, the cooling granite form makes it less overpowering and more enjoyable, especially with the fresh turnips, jambu and vegetables. Fans of the traditional Malaccan cincalok will absolutely love this.
Chicken (East)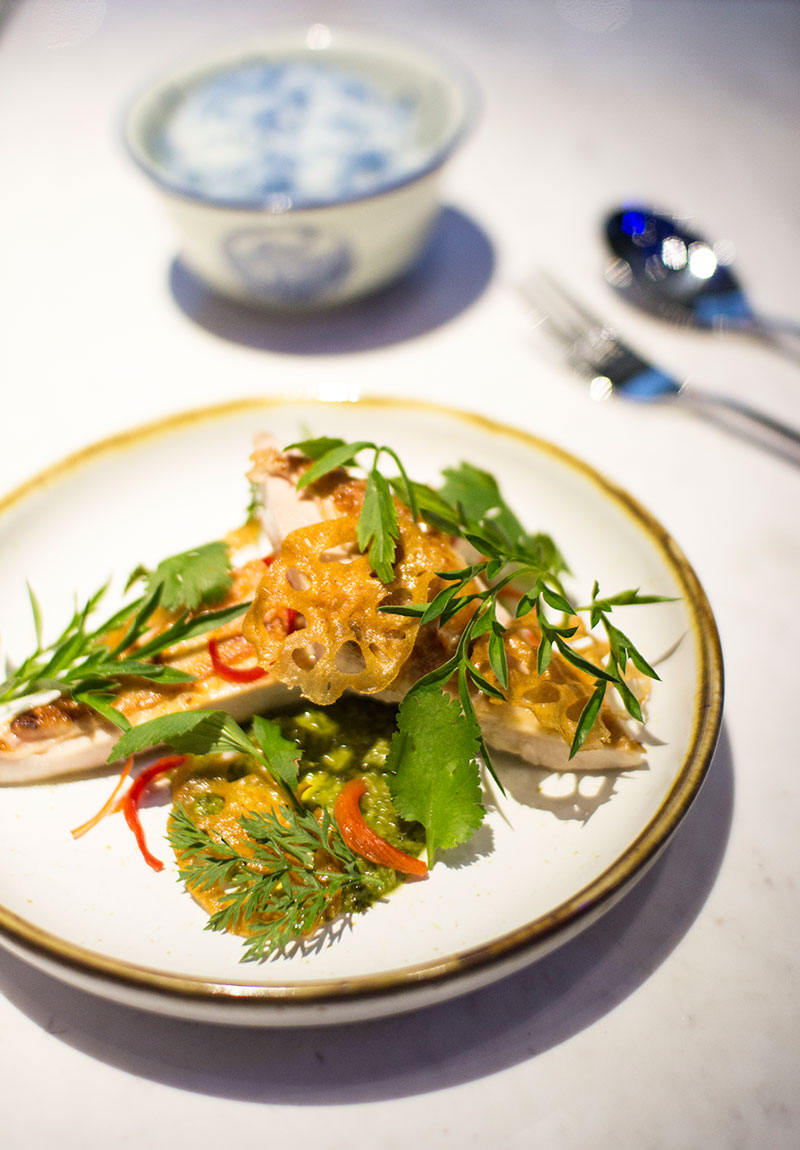 For poultry, Beta looks to Pahang for its famed Bentong ginger to give this chicken dish its fragrant, earthy aroma. The generous, thick cuts are tender and well-seasoned to taste. Meanwhile, the lotus crisps add a nice crunch and the herbs balance off the dish overall. Eat it with rice for a truly Malaysian/Asian combo.
Soft Shell Crab (South)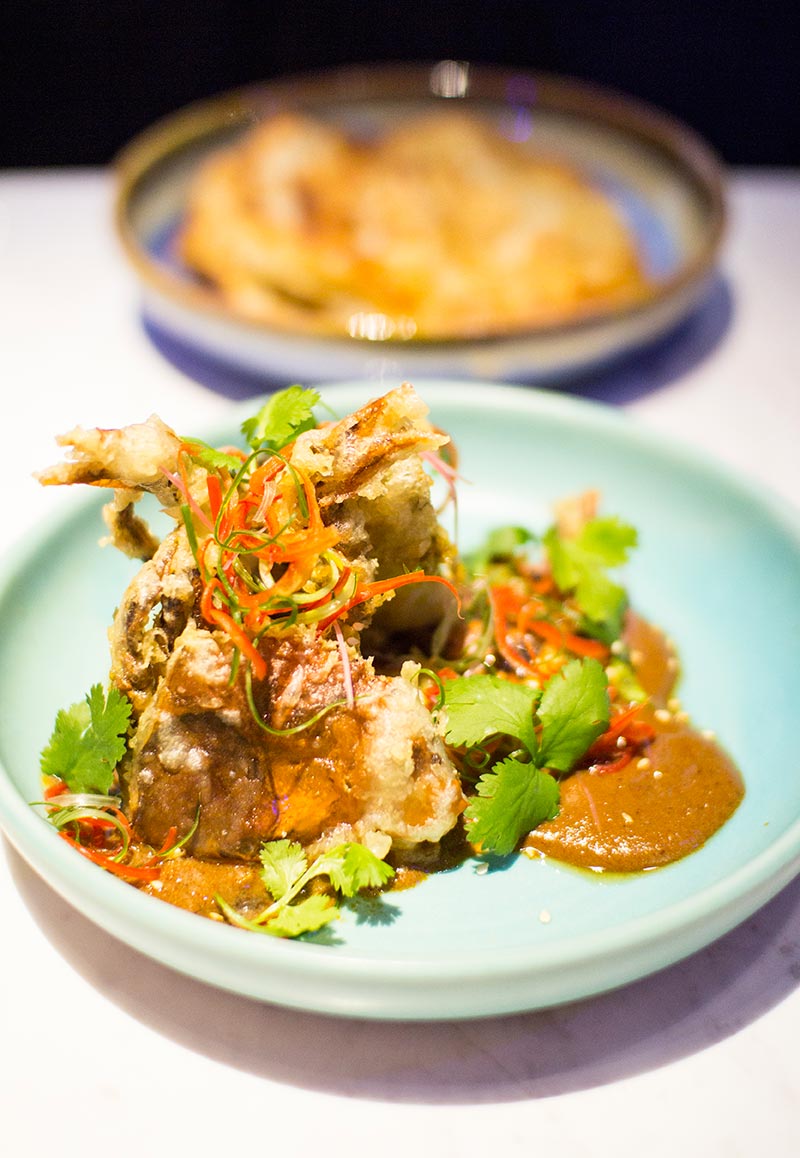 "Where did the chili soft shell crab originate from?" need not be a topic of debate here as Beta makes its own rendition from scratch. Served with chili (of course), coriander and ginger, the sauce packs a flavourful punch to complement the crispy-on-the-outside, soft-on-the-inside crab meat. We'd prefer it to be spicier, but it's mild enough for those who can't handle much heat. It can also be enjoyed with a bowl of rice or crispy roti prata (we opted for the latter as seen above).
Banana (North)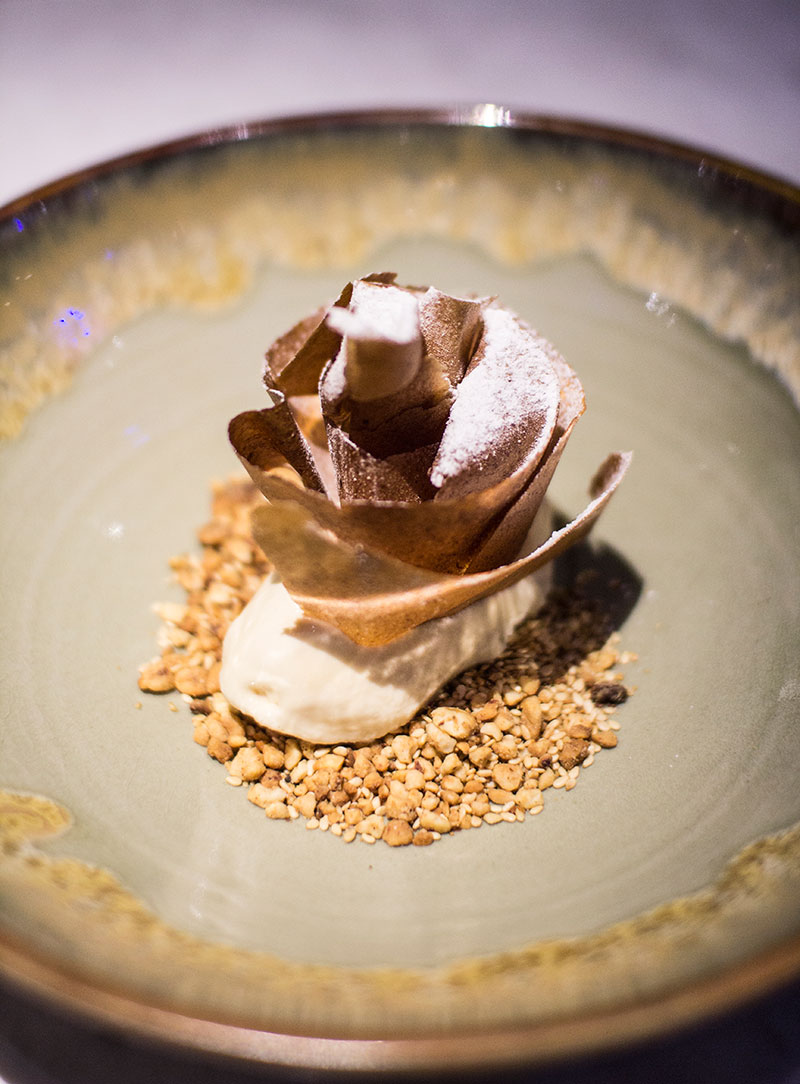 For dessert, we have something inspired from our childhood favourite local delight – banana fritters or pisang goreng. Instead of deep fried batter, the crispy layer is shaped from a dehydrated banana, served with condensed milk ice cream, roasted peanuts and sesame. The result tastes more like apam balik in our opinion, but it's uniquely Malaysian and comforting all the same.
Bird's Nest (Central)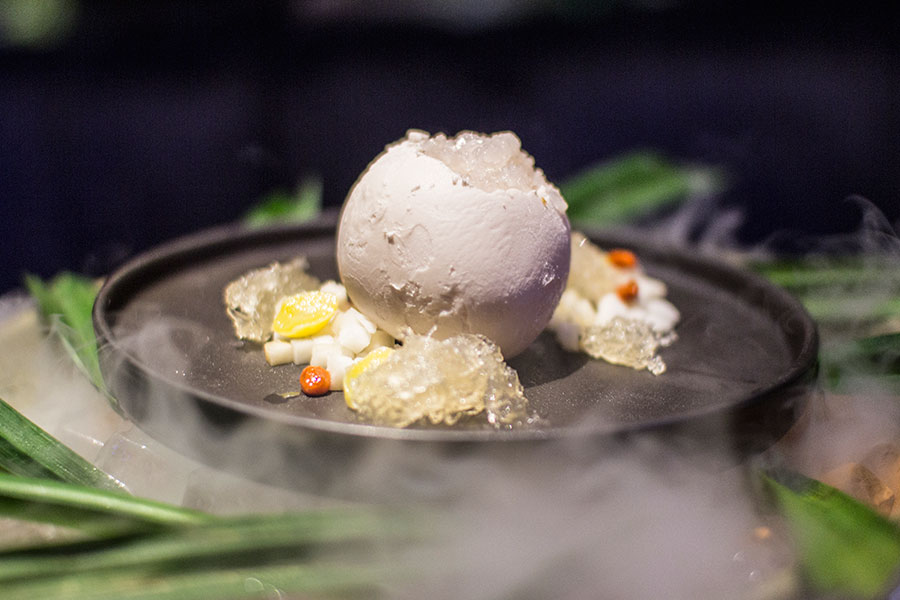 Our second dessert makes a smoking entrance for the finale: bird's nest arriving in an enormous bowl filled with ice, liquid nitrogen and pandan leaves. At the heart of the dish is a hardened coconut sphere encircled by chunks of bird's nest, water chestnut and lychee. Cracking open the sphere, we find – surprise! – more bird's nest. A luxurious end to a meal for the health-conscious, though not the most satisfying for sweet tooths.
Overall, Beta's cool, jazzed-up atmosphere, thoughtfully curated dishes and unique drinks altogether make it a must-visit dining spot in Kuala Lumpur. There's plenty to offer tourists seeking to try fine Malaysian fare as well as locals looking for a new place (that's not another bar or café) to drink and dine. So here's our answer to whether it's worth trying: Definitely and again.
Location: Fraser Place, Jalan Perak, 50450 Kuala Lumpur
Opening hours: 12pm to 3pm; 5pm to 1am (Closed on Mondays)
Photography: Gan Yew Chin