It was a symphony melding together both chefs' best strengths that kept us on the edge of our seats anticipating the next course.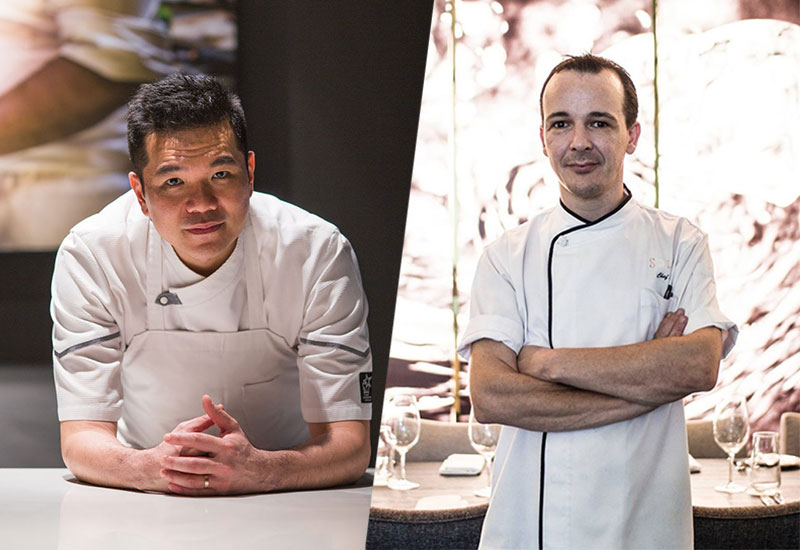 If food is best shared with loved ones over warm camaraderie, imagine the magic that takes place when it is prepared by and of the same union in amity and friendship. Such was the case when our Chef on Chef alumnus Chefs Evert Onderbeke and Darren Chin came together for a four hands 'Les Copains' dinner on 26 and 27 September 2019.
Literally translated to mean 'friends' in French, the Les Copains dinner was served at Soleil at Damansara City Mall for a night and then DC Restaurant for the next. It was a symphony melding together both chefs' best strengths – Chef Evert's mastery of seafood and Chef Darren's dexterity with umami flavours – that kept us on the edge of our seats anticipating the next course.
Starter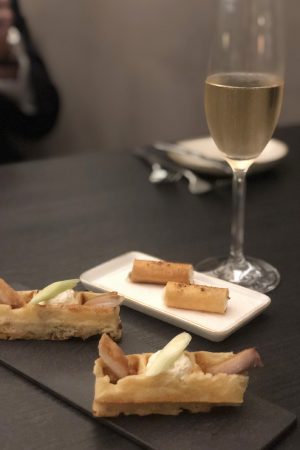 To start, Chef Evert brought us all a taste of his home Belgium, with Brussels style buttermilk waffle. A personal childhood favourite of the chef, it was light and airy with the most delicate crispy outside, made savoury with smoked mackerel. Argan oil chantilly cut through the brine of the cured fish and a slice of spring onion tied the over all dish together with a touch of crisp green freshness. It was a starter of clean flavours at its best.
Chef Darren met him halfway with the amuse bouche, with bite-sized rolls of crispy brick pastry filled with salted cod cream. Paperthin, the pastry melted upon contact with our lips, before the cod cream spread into a rich veil of fragrant cream that enveloped our palate. Pickled kohirabi, a biennial German turnip, and black lime powder cut through the fattiness with the perfect levels of acidity.
Caviar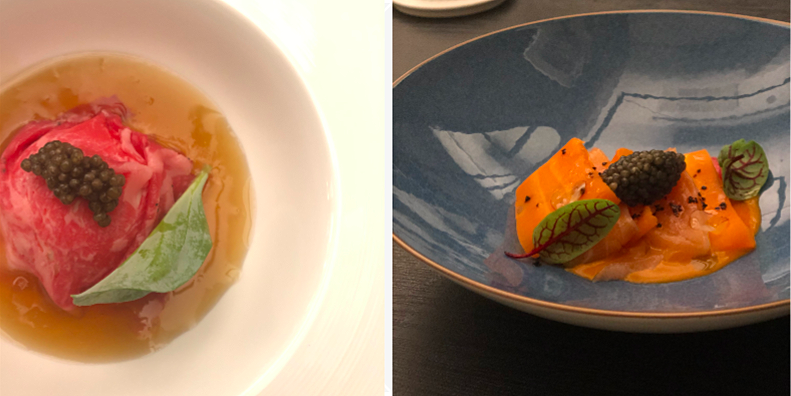 Both chefs found two very distinct ways to serve the universal favourite ingredient of caviar. Chef Evert served it with Wagyu carpaccio and a smoked eel sorbet. The savoury sorbet hit the tongue as an unexpected cold start, but soon warmed into a full-bodied umami treat, lengthened by accompanying umami consommé and a single leaf of ice lettuce, prized for its distinct property of tasting like oysters. Chef Darren folded it into slices of carrots and Tasmanian wild salmon for bite and sweetness. Adding to the fragrance was a dash of orange oil and fermented carrot jus with 2% salt that lent the well-loved bittersweetness to home-made creme fraiche.
Seafood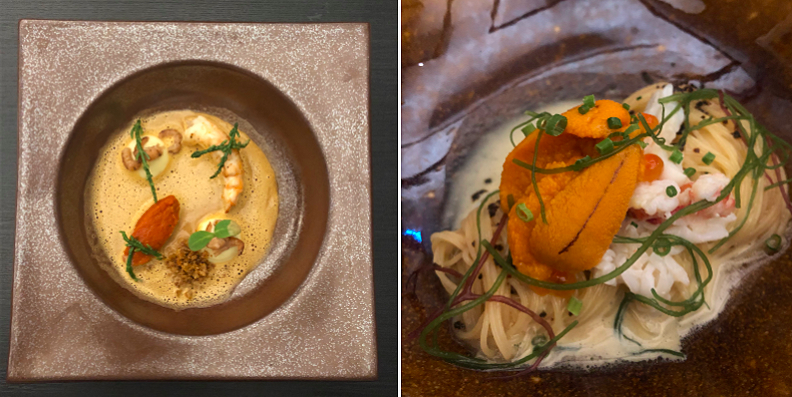 Both chefs are known to have extraordinary prowess with seafood and both of the lined up seafood courses proved that true. Chef Evert opted for langoustine for his seafood entry, served poached, shelled and juicy in its own brown shrimp jus. Soft shell crab crumble added crunch to a dish that is rich with sea sweetness. For a touch of acidity to cut through the richness, he turned to an Indonesian bumbu sauce to cleverly lift flavours with tartness veiled with a spicy punch. Chef Darren let his signature cold capellini with bafun uni perform its unaided show – topped as per usual with generous amounts of Hokkaido bafun uni for umami-ness, sweetened with shreds of King crab, intensified with savoury seafood sabayon and lent a herbaceous crispness with truffled celeriac cream.
Red meat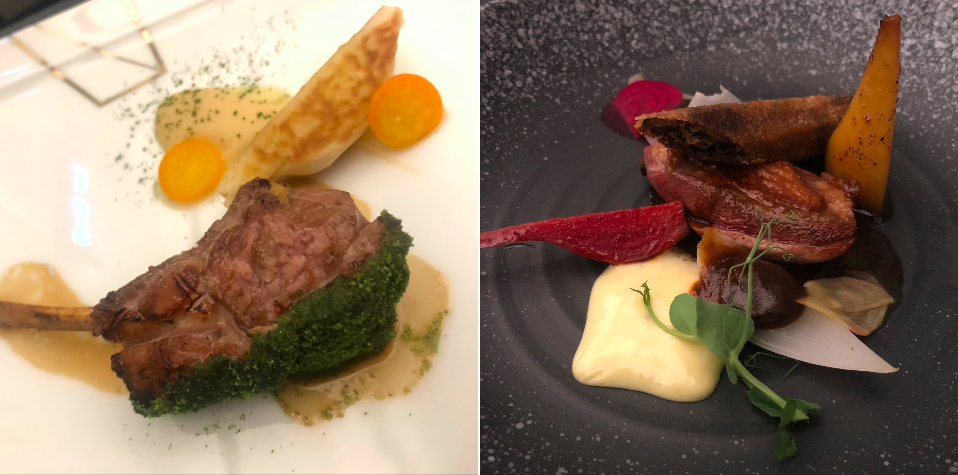 Both chefs proved they're just as good with the bolder profiles of red meat. Chef Evert impressed with tender as butter pigeon, cooked sous vide before lightly seared to fully release the game of the bird. Beetroot added an earthiness to the depths of the flavour while Sichuan pepper emulsion lent a punch that was then rounded off with sweet onions. Chef Darren presented a Pyrénees milk fed lamb, grilled over binchotan charcoal for the perfect caramelisation of its fat. Apple butter sauce brought out the milkiness of the young lamb, that is sweetened with slices of fresh kumquat.
Dessert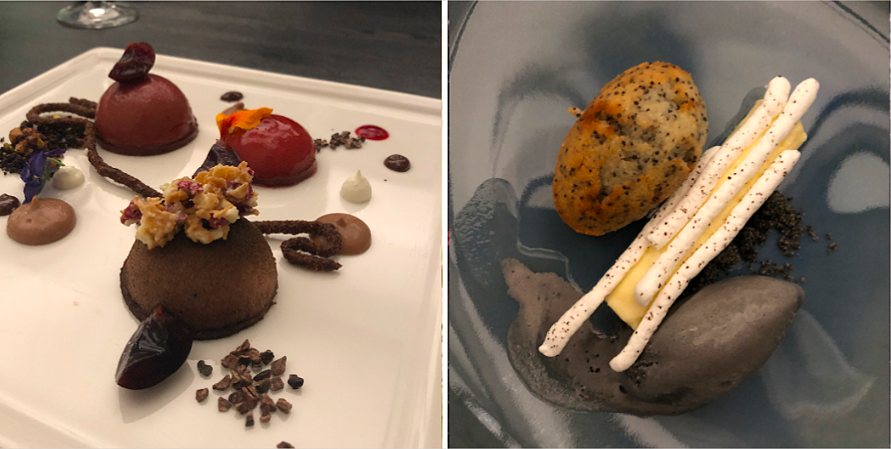 Dessert came in both sweet and sour. Chef Evert shone the spotlight on cherries, but served as three different sweets – a rich Valrhona Jivara chocolate fudge, a light and airy chocolate mousse and refreshing jelly. The three presented three different taste profiles in three different textures for a clever variety to keep things from becoming too cloying. Chef Darren reinterpreted the classic lemon curd into a small log of lemon curd cream. Buttery yuzu cake balanced out the tartness while meringue sticks wrapped it with sweetness before black sesame ice cream mellowed everything down with its nuttiness.
In one seating, it was a dinner that showed the best skills of both chefs across different genres of cooking using different ingredients, offering precious insight to the growth of both who are considered among the pioneers of Kuala Lumpur's dining scene. Interestingly, it wasn't so much a competition as it was – as we knew from the start – a show of camaraderie.
Watch out for more four hand dinners like this coming up in the coming months from both Chef Evert Onderbeke and Chef Darren Chin.