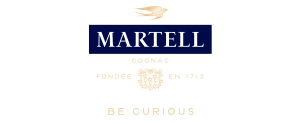 Like its fresher setting, Soleil continues to whip up new experiences with innovative food and dessert creations enlivened by artistic presentation.
See what Chef Isadora Chai of Antara Restaurant thought of Soleil, along with guests Bryan Loo and Ryan Yeoh of Loob Holdings.
Stepping into Soleil's newer home in Damansara City Mall tells us not to expect the same dining experience as that of its previous establishment in Section 17, Petaling Jaya.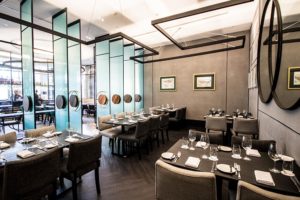 Furnished with floor-to-ceiling glass panels, contemporary furniture and rounded elements that nod to the shape of the sun (Soleil means 'sun' in French), the larger space presents a more casual setting than before, yet remains unmistakably classy. Multiple private rooms allow for group functions, a bar counter readily offers pick-me-ups throughout the day, and the bigger wine cellar now boasts a wider selection of wines to satisfy any palate.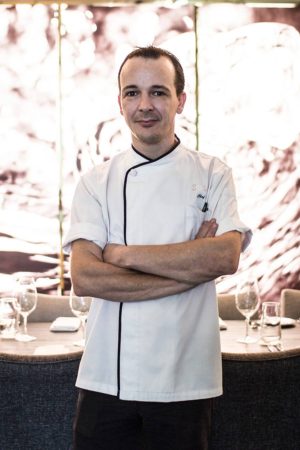 Natural lighting permeates through the mall into the restaurant – something we particularly appreciate as we drop by for lunch; but what we are really looking forward to find out is what's new in Chef Evert Onderbeke's kitchen.
The soft-spoken Belgian chef specialises in modern European fine dining and has worked with Michelin chefs in that region, injecting Asian influences picked up from his eight years in Malaysia into his creations at Soleil.
"We decided to make the new space more casual to be more accessible to a wider market. The food might look more casual too, but we use the same quality ingredients," Chef Evert divulges. "We're always changing our menu every few months so people can keep coming back to try new dishes and experience something different."
A way with seafood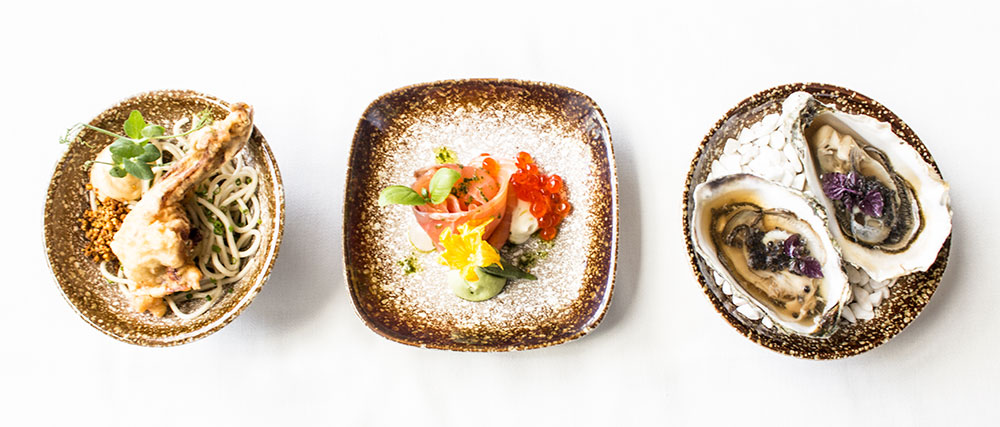 Since his days as Head Chef at High Tide, Chef Evert has gained popularity for his seafood dishes. On how he upholds that same quality of seafood at Soleil, he says, "It all starts with good ingredients. We work closely with our suppliers to maintain the high standards.
"Consistency is very important too, therefore a good team is necessary. Hiring, motivating, and training the kitchen team are all part of the process, but that's one of the challenges of my job."
We get a prevue of his forte in our first appetiser – a trio of Irish oyster, soft shell crab tempura and Scottish oak smoked salmon. Taking the dishes in that order, we get a fresh briny oyster made slightly sweeter with ponzu dressing, followed by crispy tempura that is complemented well with curry crumbles and kombu noodles, and a classic smoked salmon highlighted by refreshing yuzu sauce and juicy bursts of ikura.
What sounds like a simple medley on the menu keeps us in eager anticipation for more to come thanks to the brilliantly paired garnishes. Sometimes, it's in the little details.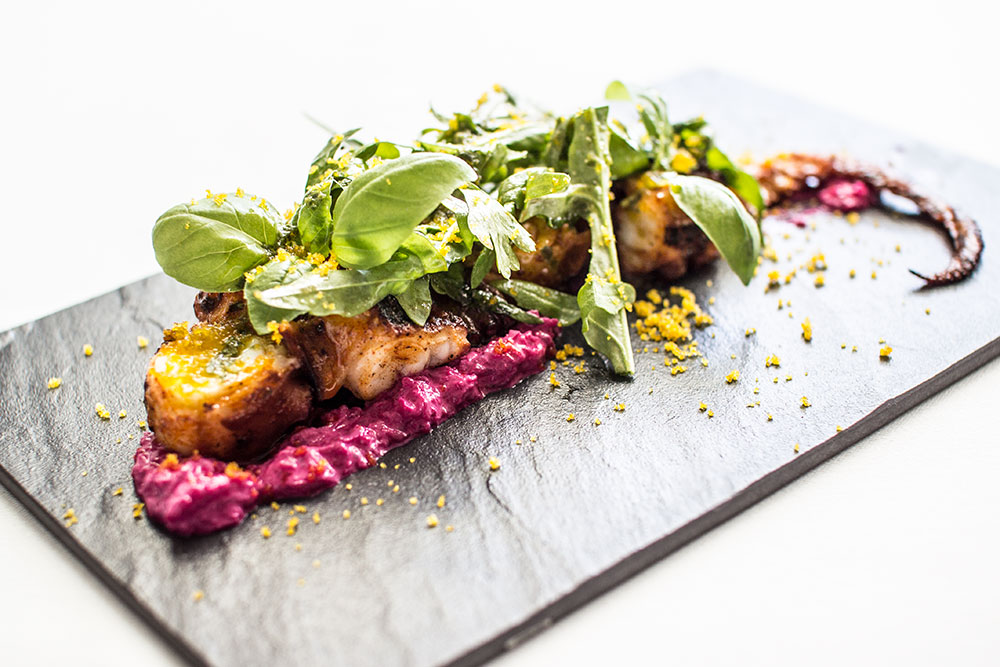 Emphasising his strong suit again in our next course is this Grilled Spanish Octopus, served with not-so-subtle relishes this time. Our first thought is how we love the plating – the octopus sits on a bed of striking pink beetroot tzatziki, topped with salad greens and botarga (salted fish roe) on a rectangular slate. It simply catches the eye and begs for a taste.
And when we do take a bite, we are truly impressed. The octopus is prepared just how we like it – not too chewy nor too tender, charred on the outside but still moist in the middle – perfect. But it's the beetroot that takes the dish to the next level, adding a creamy texture and a hint of tanginess that works surprisingly well with the octopus.
A sear to perfection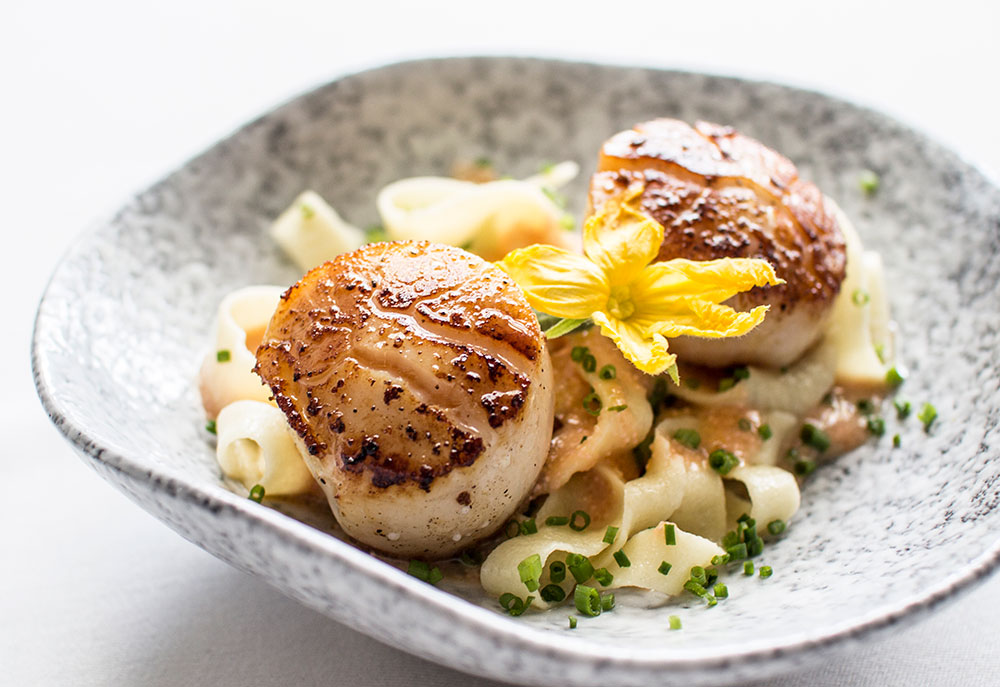 It's with our third appetiser that we begin to see Chef Evert as a searing guru, and we're sure the many fans of his Seared Hokkaido Scallops would agree.
"The scallop is one of my favourite dishes because of its popularity with our customers," he proudly says. "It is a bit adjusted to Asian tastes, that's why I didn't use cream. I used butter to make it lighter so the focus is on the Hokkaido scallop and cod roe."
Like the octopus, the searing of the scallops is just nicely done to a beautiful golden brown. The buttery pasta helps to underscore its flavours without overpowering the cod roe nor the star of the dish, which is rightfully the scallops.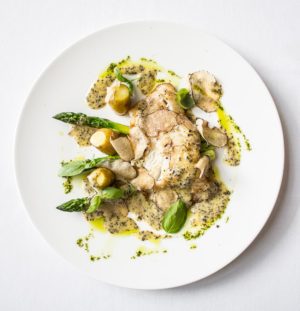 Our first main course, the Grilled Greenland Halibut is yet another testament to his flaming techniques. Though grilled rather than seared, it has a uniform "crisp on the outside, soft on the inside" texture that's tough to achieve for a delicate fish. The truffle mousseline tastes lighter than the usual rich, creamy consistency, serving to boost the dish's flavours without stealing the limelight from the Greenland catch.
A work of art
By now, Chef Evert has demonstrated more than his mastery of seafood and handling of fire, he's also captivated us with thoughtful plating, whether minimal or elaborate.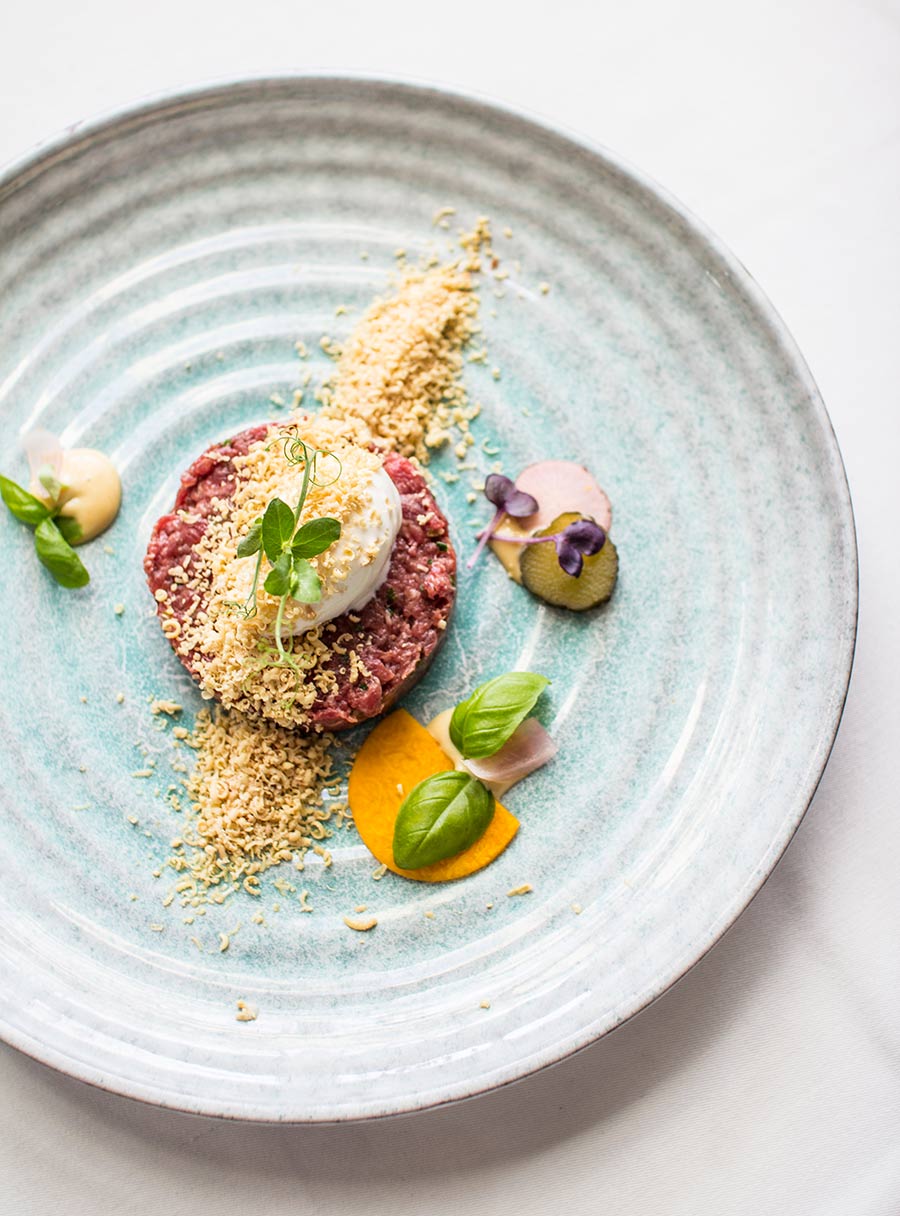 On the minimal side, there's the Beef Tenderloin Tartare topped with parmesan sorbet and duck liver snow. The raw pinkish tartare is suitably contrasted by the turquoise plate, and liven up with pickled vegetables on the side. No less outstanding taste-wise, the meat has well-seasoned flavours heightened by the intriguing parmesan sorbet. The duck liver snow and pickles add more dimension and help to balance the salty and sour flavours, making the dish appeal both to the eye and palate.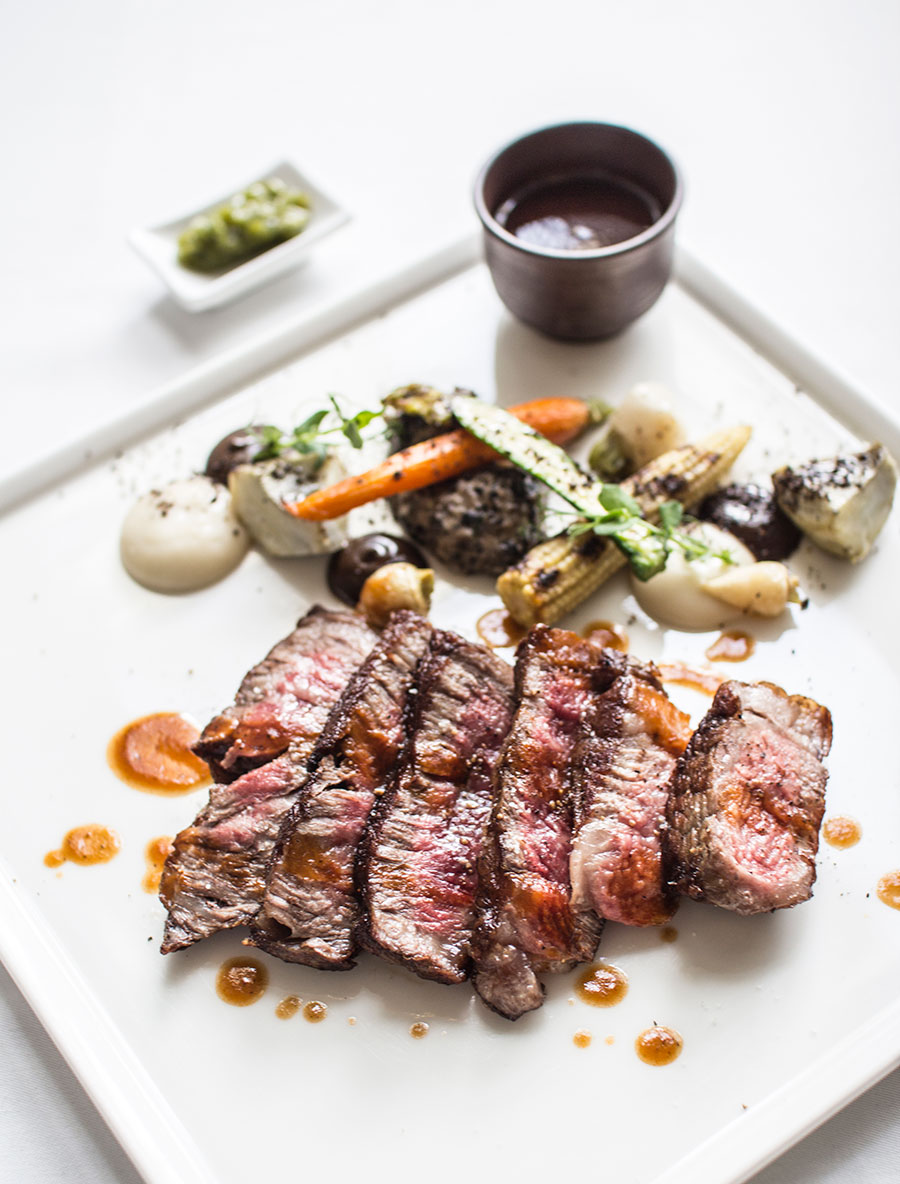 Being a main, the Japanese Wagyu Sirloin is more extravagant in its plating. As soon as it arrives, the wagyu's bright red middle translates into a spot-on medium rare doneness. The vegetables and garnishes on the side not only enhance its appearance, but complement the meat's gamey taste too. Whether enjoyed with the red wine sauce, mushroom tapenade or garlic aioli, the cuts are simply succulent to the last bite.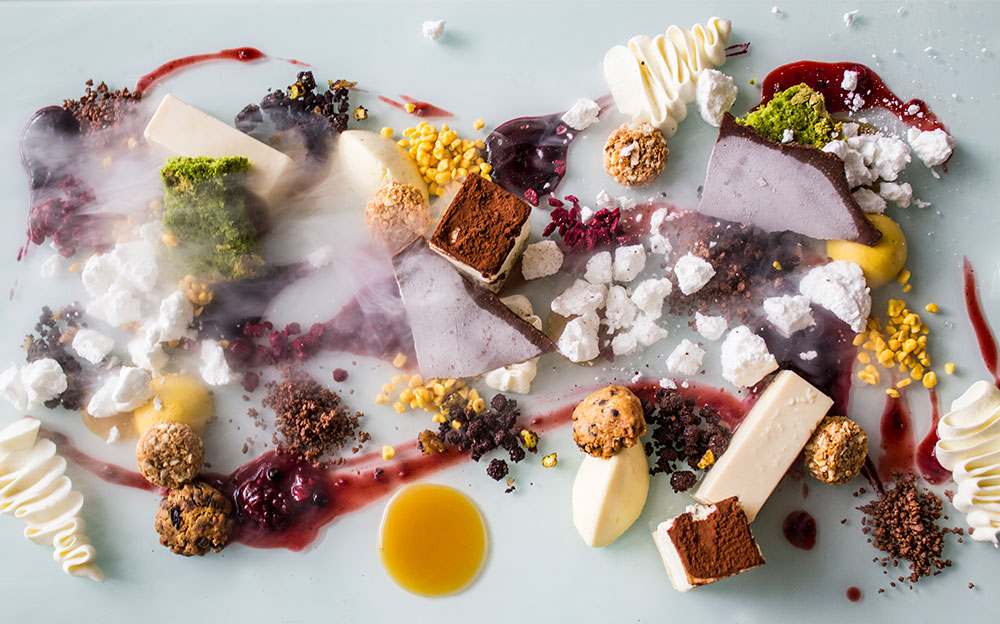 The most appealing presentation of our meal, however, goes to our last course hands down. Planet Soleil promises to excite with an interactive display of desserts and sweets plated right before you, even calling for your hand in breaking the ice (meringue) as the final touch. Expect colourful decorations and nostalgic bonbons such as popping candy, as well as the classic sweetmeats like tiramisu cake and yuzu sorbet. It's a winner for Instagram, for sure!
Watch the making of Planet Soleil in the video below.
Log on to Soleil's official website here for reservations and enquiries. Follow their Facebook here and Instagram @soleil_restaurant for more updates.
Photography and videography: Gan Yew Chin