Kick back with a drink while waiting rush hour traffic out at PJ's highest rooftop bar.
From the team behind Marini's on 57, Marble 8, M Marini Grand Caffe & Terrazza and MariGin Gin Bar comes a new themed bar overlooking the Petaling Jaya skyline. While rooftop bars are no longer a wild concept, Marimbar's position on the 35th floor of Pinnacle PJ Tower A sure affords it the honour of PJ's loftiest.
Its name may be the first clue to the theme, but nothing quite prepares you for the this space. It's almost like entering an actual rimba (jungle) – loud, bold, and led by a sense of adventure. Green foliage lends a tropical vibe right off the bat, rivaled only by the central tiger-print bar with matching stools. Additionally, fibre ball pendant lamps dangle above the bar like perfectly symmetrical weaver bird nests.
Beside the bar, you'll find wide couches decorated with palm and lobster claw plant motifs. Add to that the deejay booth disguised as a pseudo stone-ruin, and you have the building blocks of Marimbar's aesthetic.
View this post on Instagram
Expect cocktails and bites The Marini's Group is known for – the latter executed with fun Italian flair, the former playing along to the tropical theme. Furthermore, the liquor & wine list is extensive, with all the staple beers and bottles to fuel your party.
In terms of cocktails, our favourite was the sweet concoction of chrysanthemum-infused Pisco, lychee liqeur, lime juice, lychee juice and pandan syrup called Pisco Disco. Other colourful offerings include Red Rimba (with lemongrass-infused gin) and Blue Moon (also gin-based, but with pineapple juice and Blue Curaçao).
With all that said, Marimbar's strength is its location and position. You can kick back with a cocktail while waiting rush hour traffic out, or grab a quick bite with friends. It aims to create a tropical retreat in a concrete jungle – to let your city woes fly, even if just for a moment.
Here's what Marimbar has going on throughout the week:
Perfect Mondays – Enjoy Connor's Stout Porter at Happy Hour price all night.
Sassy Ladies' Night (Thursday) – Dance the night away to Latin hits featuring a DJ and percussionist from 8pm. Ladies drink gin & tonic for free after 9pm.
Marimbo (Friday) – Ring in the weekend with hits old & new from Reggie & Nazz.
For more information, call 03 2386 6030 (before 8pm) or 012 935 2098 (after 8pm), or visit the official website.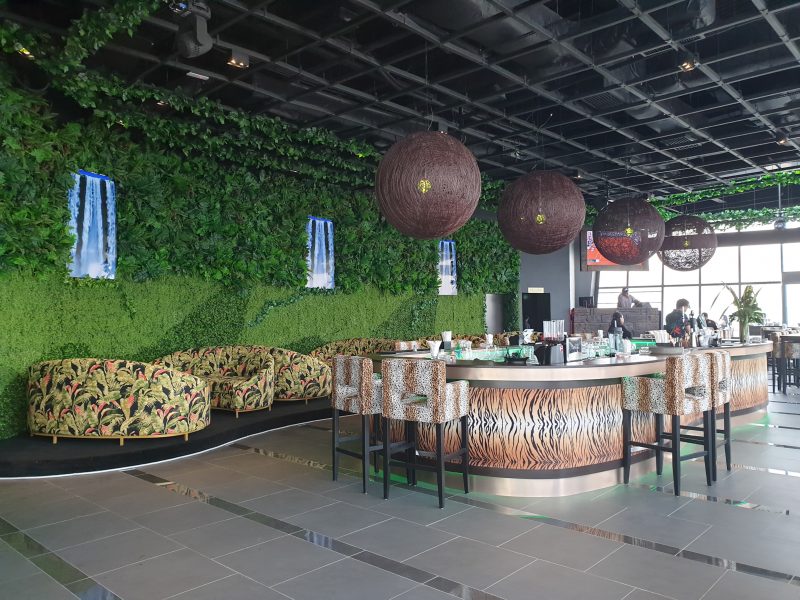 Address: 35th Floor, Pinnacle PJ Tower A, Lorong Utara C, Pjs 52, 46200 Petaling Jaya, Selangor
Opening hours: 5 pm till late every day
Images: Xcess Communication