It brings to the table the group's signature Italian food but dressed down with laidback charm and an easygoing menu.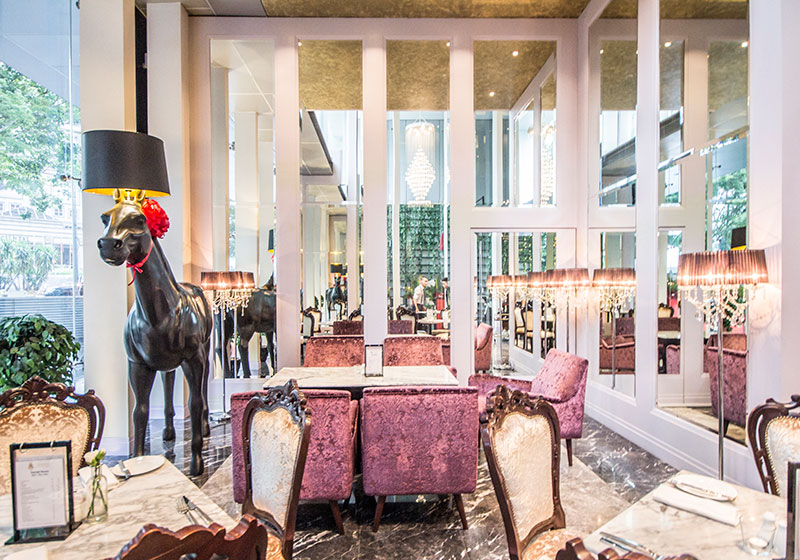 Unlike most F&B groups that make the mistake of churning out outlets of different names but continue to serve food of the same line, Marini's Group has always managed to clearly distinguish its restaurants.
Case in point: its new M Marini Grand Caffé & Terrazza, now relocated to ONE KL from its previous lot in Suria KLCC.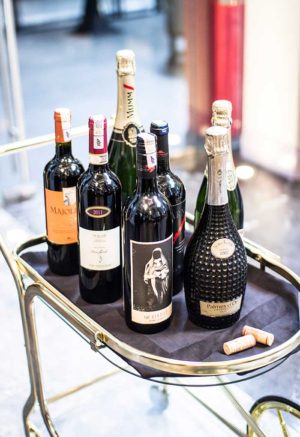 It proudly lives up to its name as a café, which tells us to not expect the haute Italian cuisine of it sister restaurant Marini's on 57. The terrazza part of its name (which means terrace in Italian) lets you know it's a lot more casual than its other sister restaurant, Marble 8, known for its steaks.
In that, M Marini successfully brings to the table the group's signature Italian food without cannibilising into its other restaurants for a casual dining spot of its own that spills over with laidback charm and an equally easygoing menu.
Here's a peek into said menu:
Minestrone soup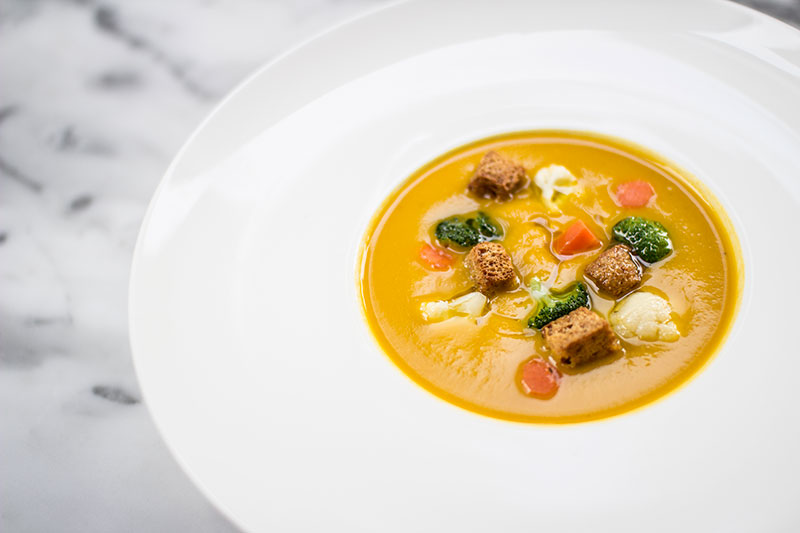 Don't be confused if at first you find a purée soup instead of the typical clear one when served your minestrone. To  make it that little bit more indulgent, M Marini blends its minestrone into this thick creamy broth you see before serving it with the vegetables carefully arranged on top. Flavour-wise it still retains all the crisp fresh sweetness underlined by a fragrant herbal stock signature to the classic Italian soup, but presented with a smooth buttery texture that truly warms the palate and stomach.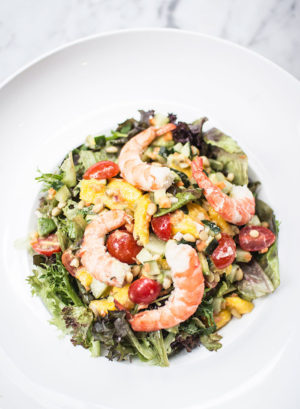 Mango, avocado and prawn salad
Crisp and fresh yet taken up a notch in texture continues with a salad that explodes with sweetness in the form of this mango, avocado and prawn mix. The crunch of the fresh greens is well balanced by the creamy avocado, the sweetness of the generous prawns is weighed well out by a slight tartness of the mango and cherry tomatoes, resulting in a medley of sweet and sour that's refreshing and appetite awakening. The dressing is just a colourful mix of sweet and sour – honey mixed with lemon and olive oil. Refreshing!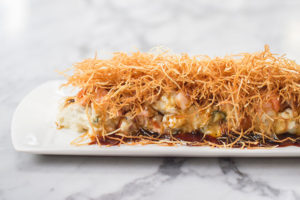 Potato salad with salmon
Deviating a little from its Italian roots, this potato salad dish stirs intrigue in just the right amounts, before rewarding you with even more powerful flavours. An unassuming bed of mashed potato is served stuffed chockful with chunky torched salmon, Japanese cucumber and carrots. It is silky smooth thanks to a whipping with Japanese mayonnaise, while a drizzle of teriyaki sauce lends a mouthwatering savouriness to things. While you're still processing all the many layers of ingredients and flavours, you are rewarded with a delightful crunch from the top coat of potato crisps. If you're a fan of carbs, this one is immensely satisfying.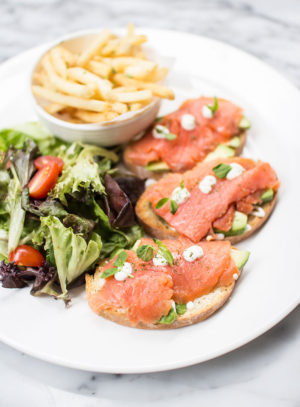 Smoked salmon sandwich
If you're looking for something safe, the smoked salmon sandwich can't go wrong, with generous slices of salmon layered with avocado and horseradish mayo for extra creaminess and kick. A nice touch is how it is served open-faced so you get to properly savour the prized oiliness of the salmon and rich butteriness of the avocado before the horseradish mayo cuts through it all with its sharp spice and saves things from getting too cloying.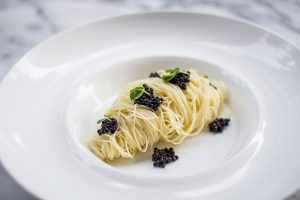 Cold angelhair pasta with truffle butter and Avruga caviar
Some signature dishes from the old M Marini Caffé makes it to the new menu, like this cold angelhair pasta, lest one forgets this cafe carved its name from its renowned champagne and caviar brunches.
But more notable is the angelhair pasta with crabmeat and bottarga – a rich and complex flavoured cured Bluefin tuna roe. It starts off sweet from the crabmeat before maturing into the earthy powerful muskiness of the cured roe for mouthfuls that pack a punch in texture and flavour.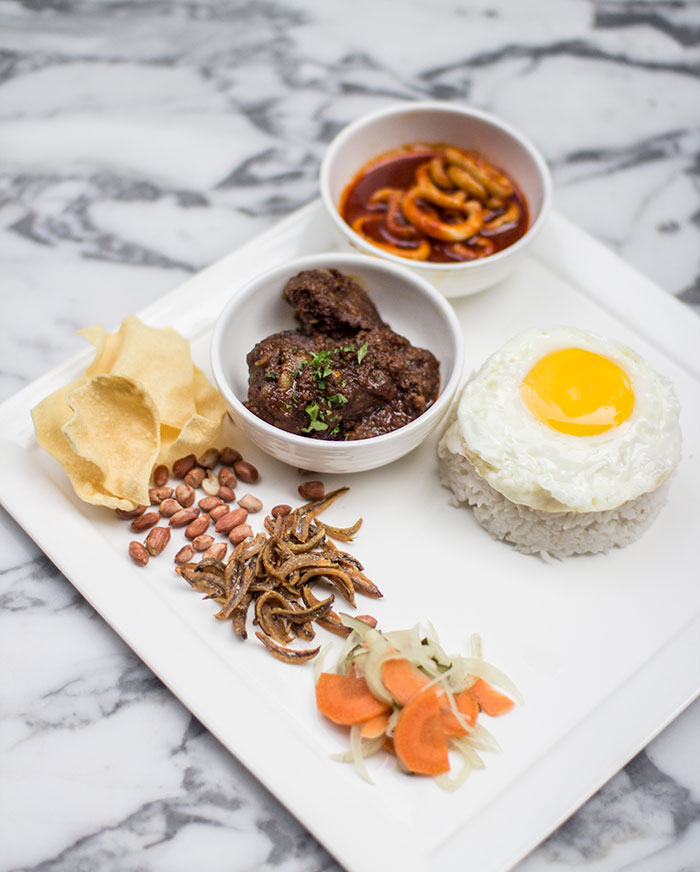 Nasi lemak with wagyu beef cheek rendang
M Marini's may be Italian but our national dish makes a special guest appearance. What we appreciate is how the cafe kept true to the essence of the dish – the sambal squid retains a spiciness any Malaysian would be proud of and the rendang, served as thick generous chunks of Wagyu beef cheef no less, proves tender and juicy. The thick gravy boasts the best of our local herbs and spices – fragrant and intense with just enough kick to match the punch.
Tiramisu
The desserts here are perhaps one of its biggest strengths, as it should be in any self-respecting Italian cafe. The tiramisu is layers of different delicate textures and rich flavour profiles that come together to sing a bittersweet chorus of the coffee angels. Coffee and cream greet your tastebuds first in an embrace of sweet and bitter before kahlua soaked sponge cake comes in and gives the flavours an uplifting, almost fruity, boost.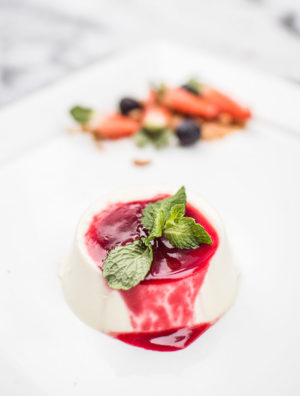 Panna Cotta
For something lighter in flavour but just as satisfying, the panna cotta hits all the right notes. Milky, mildly sweet and borderline refreshing thanks to the mixed berry sauce drizzled atop it, it coats the mouth with a soothing pleasantness only panna cottas are capable of. Its melt-in-the-mouth texture also makes it the perfect end to a meal for a fuss-free dessert that's as delightful on the lips as it is pretty on the eyes.
M Marini Grand Caffé & Terrazza is located at Ground Floor, ONE KL, No.6 Jalan Pinang, Kuala Lumpur City Centre, 50450 Kuala Lumpur. For more information or reservation enquiries, call 03-2386 6030 or log on to the official website here.