The renowned 56th-floor steakhouse extends its warm charm to gourmands seeking a satisfying lunch – here's what to add to your must-try list.

When Marble 8 relocated to KLCC from Binjai, it lost one iconic view only to gain a loftier one.
Making our first visit to its new location, we were greeted by familiar, heavy, dark leather and wood in equal measure. The bar stands out in what looks like marble cow-skin motif (go closer and you'll realise it's not), while steel cow heads command attention among lush furnishing.
Sharing the skyline view with its sister-restaurant/bar one floor up,  Marble 8 affords a feast for the eyes before it reaches anywhere close to the palate. Attentive service, warm ambiance, and a privé for whisky and cigars tucked away at a corner complete its charm.
We dropped by to check out its lunch menu – these are what we'll be going back for.
Marble 8, now serving up satisfactory bites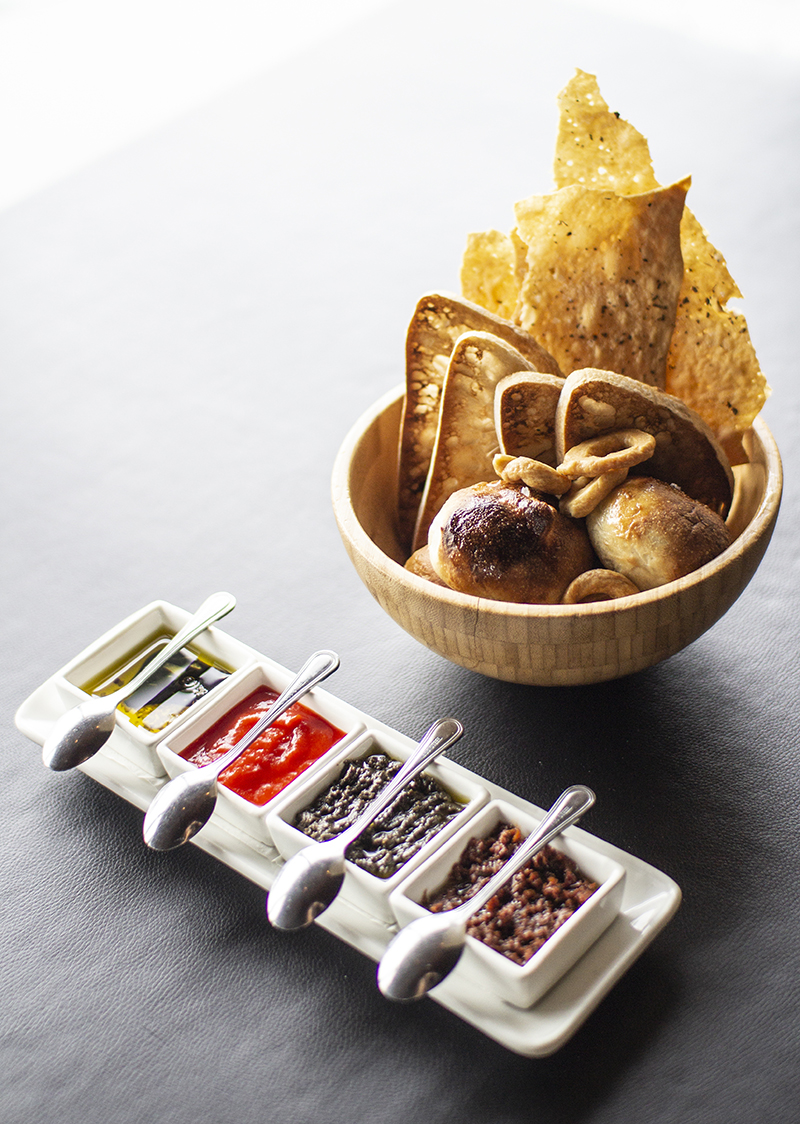 Cavalier Modesto Marini chooses each Angus and Wagyu served at his steak house. They are dry-aged in Marble 8's own cellar, becoming a point of pride that earned its reputation in Kuala Lumpur.
While it has made its name as a steakhouse, Marble 8 is now proving that it is not opposed to fuss-free dining trends. Options on the Grab & Bite menu (RM 56++ per pax) allow solid lunch hour meals that retain the quality and skill displayed in its fine dining fare. Each meal comes with a virgin mojito or iced lemon tea.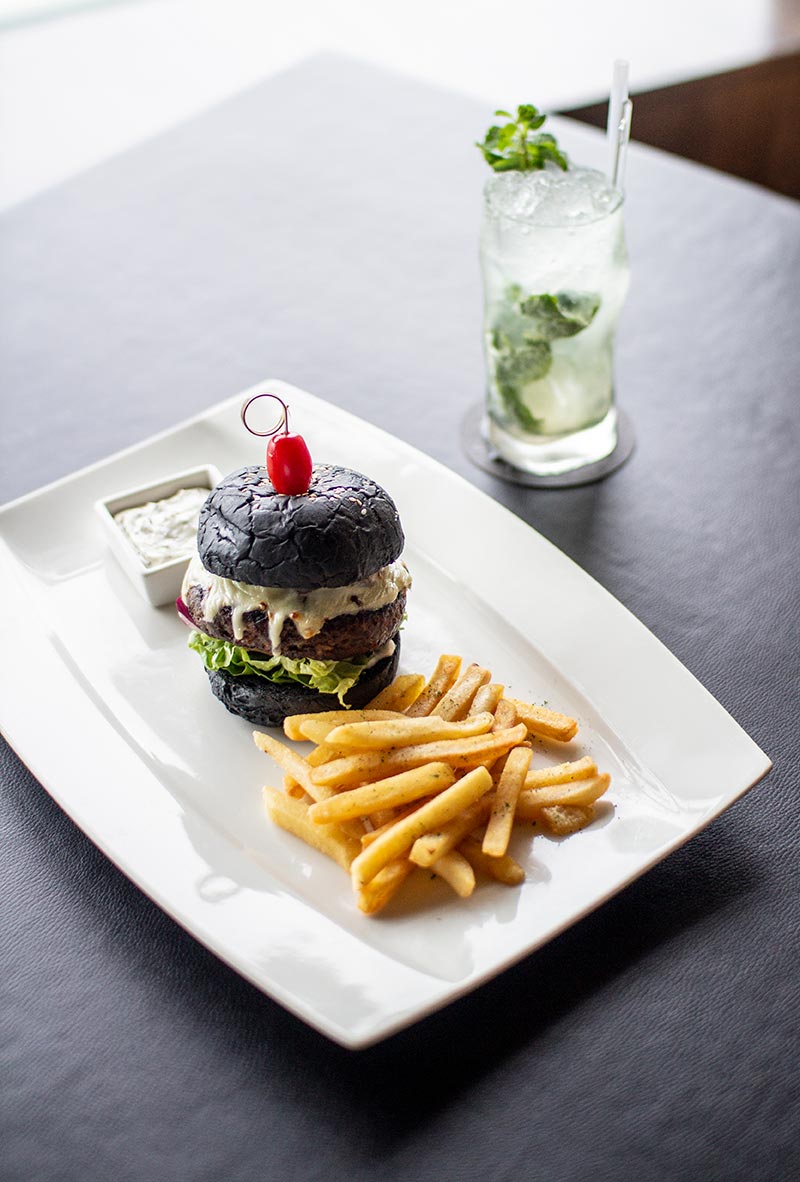 For a taste of that which earned Marble 8 its fame, choose the Wagyu beef burger – though we don't expect you'd much convincing after that mouth-watering depiction. Vintage cheddar melts off a light, nutty, sweetness onto the generous patty, served with lots of caramelised onions and a side of steak fries – just the way a good ol' burger should be. Match this hearty preparation to well-curated meat, and you have a burger that lingers on your mind long after the day is over.

Another one for Marble's 8's presentation Hall of Fame, this earthy plate is decorated with a swipe of beetroot pesto. The polenta sticks are fried to crumbly-soft perfection, while the accompanying chicken financier is rich and buttery courtesy of truffle. Together, they make a light and easy meal – but few can attest to a cornmeal-chicken lunch ever looking this good.
Elite Gourmand Lunch
(RM 118++ for 4 courses of appetiser, pasta, main, and dessert, or RM78++ for 3 courses, without main)
Marble 8's lunch set provides the right fill and pace for a sit-down lunch with an old friend or potential client. Whether you opt for three or four courses, the sweet ending comes in the form of in-house specials: cakes, financiers, or panna cotta.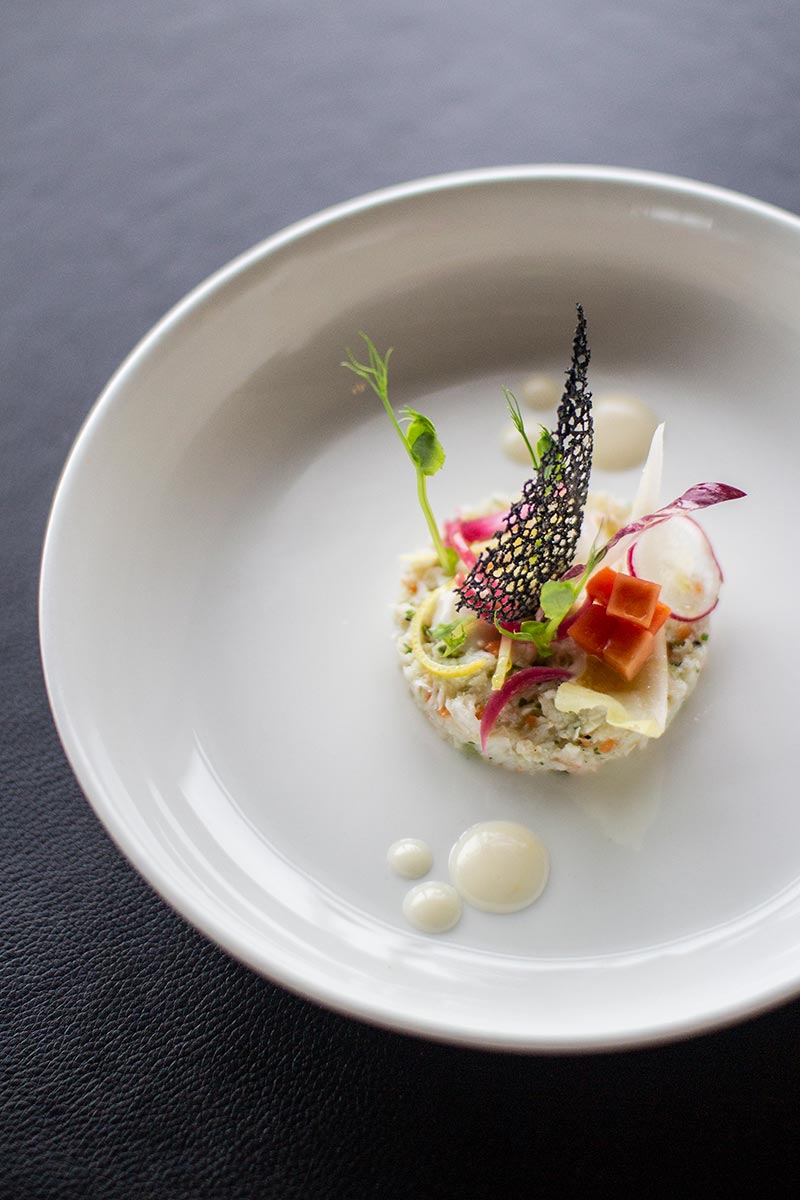 Crab salad with fresh papaya & lemon mayonnaise
Crab salad with fresh papaya & lemon mayonnaise
We're happy to report that its presentation is not the only impressive thing about this appetiser. Lemon mayo lends a zesty tang, while papaya brings a tropical crunch to the soft bits of crab meat. As far as seafood salads go, the freshness of the catch is crucial to the outcome - here, the entire plate is fresh and bright both in appearance and taste.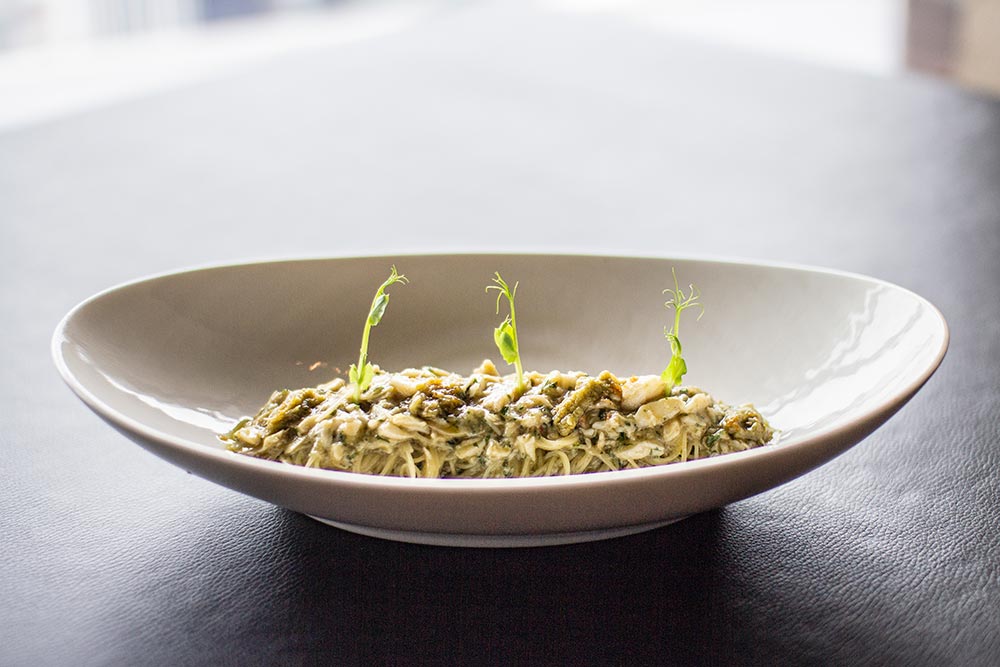 Angel hair aglio olio with crab meat
Angel hair aglio olio with crab meat
Naturally, this lunch menu isn't short on Italian comfort food. Our favourite, though, packed an unexpectedly spicy punch that rang truly Malaysian. This fragile-thin pasta is coated in more of delicate crab, which we found to be refreshingly light to balance out the spiciness of the dry sauce.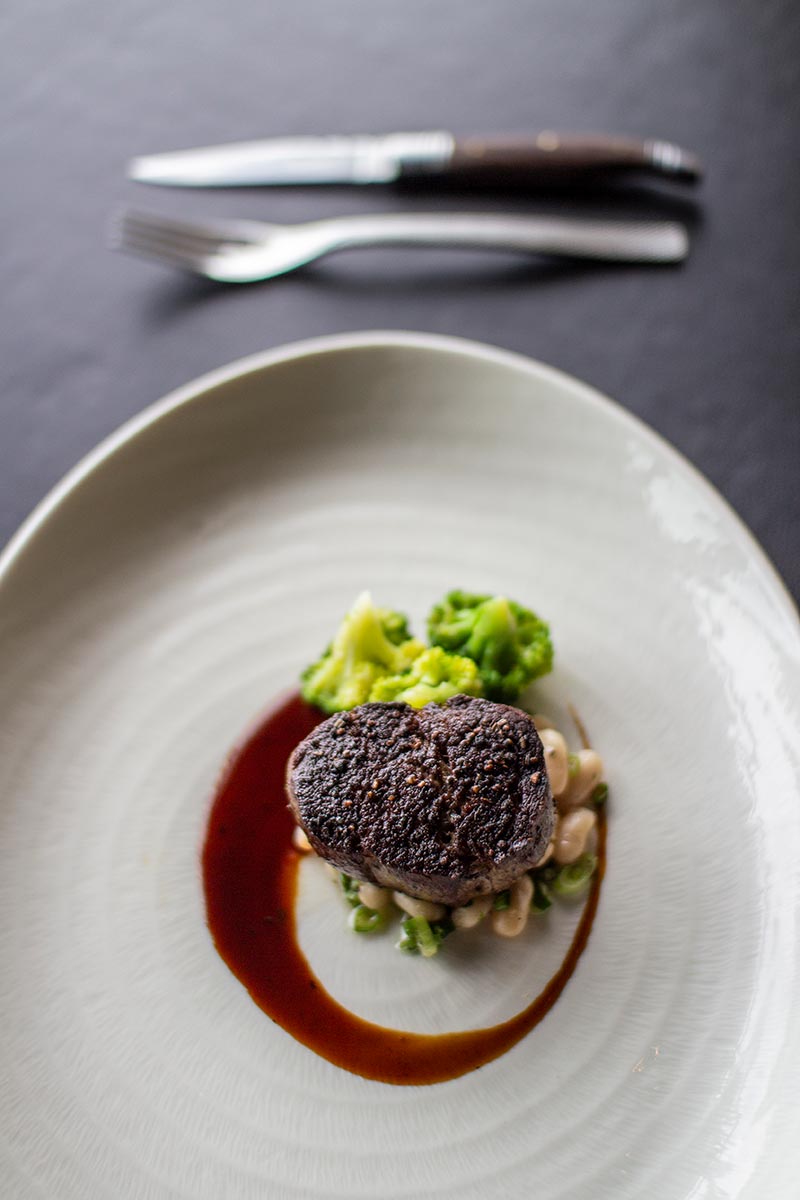 Grilled Black Angus fillet with cannellini beans, spring onion & beef jus
Grilled Black Angus fillet with cannellini beans, spring onion & beef jus
It's a steak house after all, so pardon our proclivity to this juicy main. Flavoured only by salt, pepper, and beef jus, its bare seasoning allows the character of this medium-rare game to shine through. It helps that this particularly dark cut sits on a bed of cannellini beans that even out the strength of the Black Angus.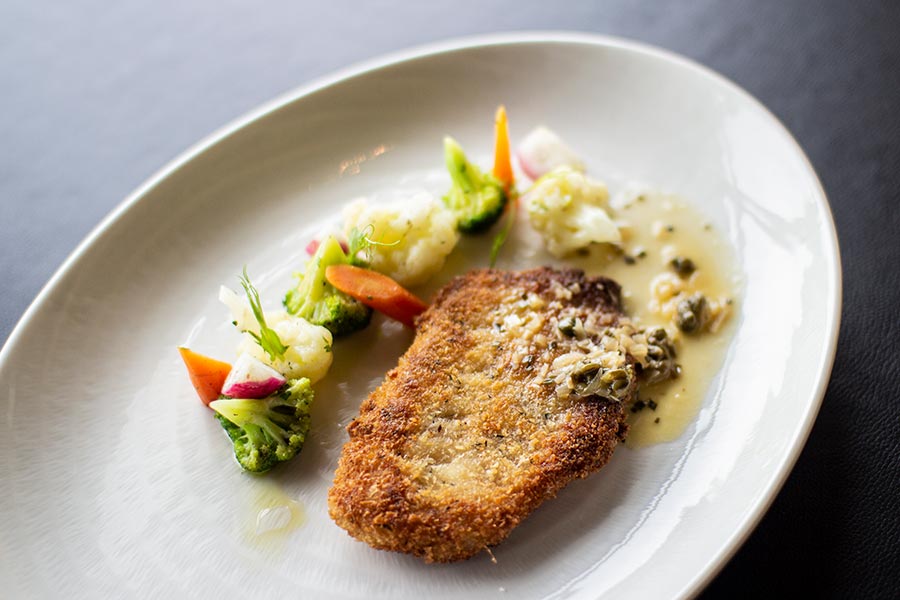 Lemon sole fish Milanese style served with sautéed vegetables & lemon
Lemon sole fish Milanese style served with sautéed vegetables & lemon
Wafts of citrus-tinged herb greet us before this fish main is set on the table. While the lemon sole is crumbly-soft, it was its accompanying lemon-rosemary sauce that we really enjoyed. If you're staying away from red meat, this one's a no-brainer on the new lunch menu.
(swipe left for more)
Desserts are a celebration at Marble 8, so we suggest you take your time and order outside the lunch menu, like we did.
Dark chocolate fondant with raspberry purée and banana gelato (RM 48)

As fans of molten dark chocolate cake, we were thrilled to discover this combination. While the decadent fondant itself is enjoyable alongside fresh berries, it was the creamy banana gelato that had us going back for more. Banana has always played well with chocolate, so while this pairing may seem obvious, we can't say we've seen it executed this memorably at many restaurants. The same can be said for the preparation of another house special below.
Crêpe Suzette (RM 38)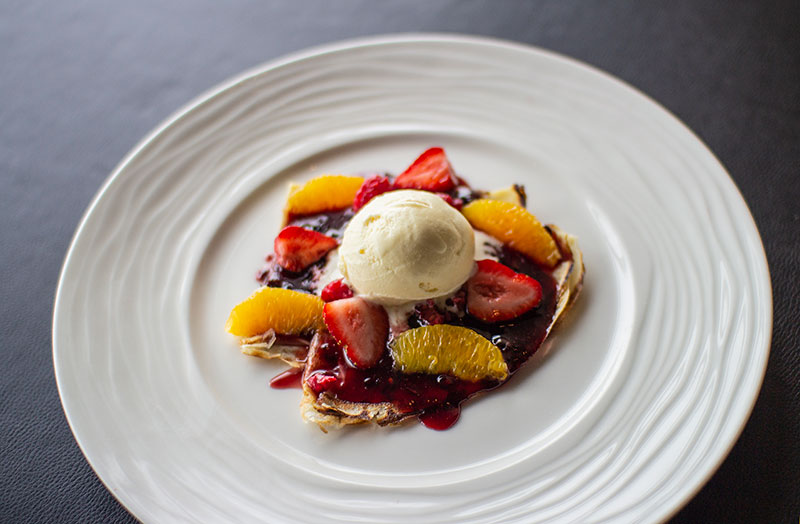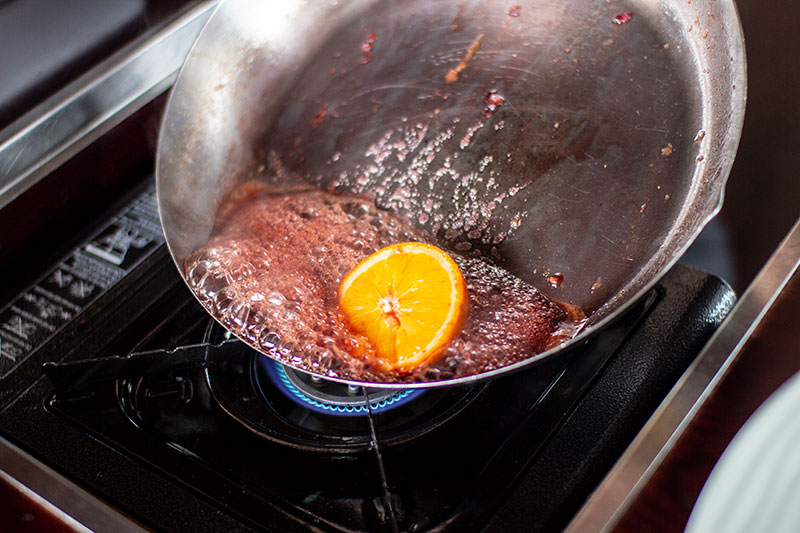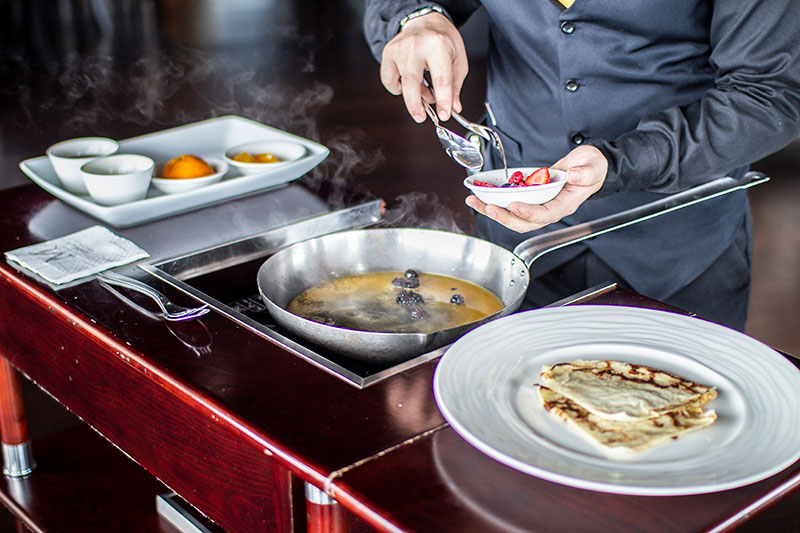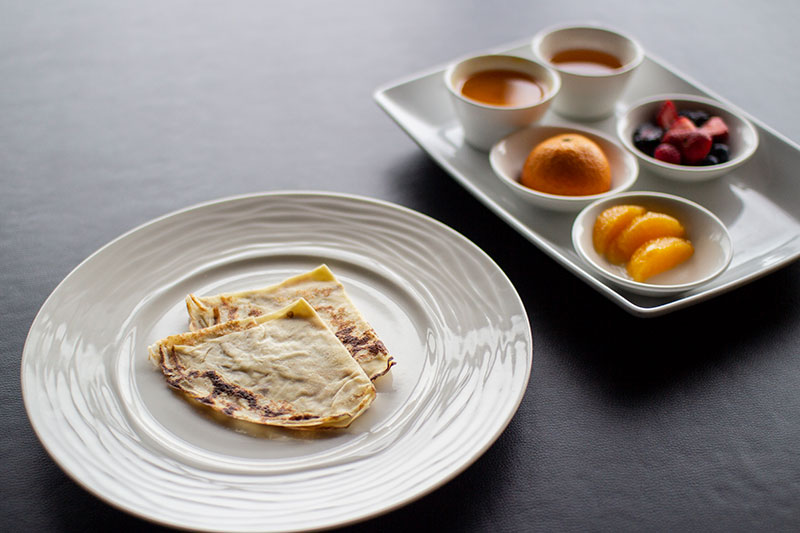 (swipe left to view process in reverse)
Live flambé may have had its 15 minutes of fame, but experiencing it now isn't any less enjoyable. Marble 8's table-side preparation allows you to immerse in the visual, aural, and olfactory experience. If you ask us, that's half of the appeal of the Crêpe Suzette.
For reservations and enquiries, visit the official Marble 8 website.
Address: Level 56, Petronas Tower 3, Persiaran KLCC, Kuala Lumpur City Centre, 50088 Kuala Lumpur
Opening hours: 12-2.30 pm, 7-11 pm
Photography: Gan Yew Chin
Recommended: M Marini Grand Caffé & Terrazza: Relocated and refreshed with new bites