I once read a quote saying "men's manners, like their clothes, should be unobtrusive.'' And sometimes the best quote is one that stings, like a door being abruptly shut in one's face. The evolution of modern society has led to a perspective shift in gender. 
One would think that practising chivalry and politeness would be considered 'boring' or 'old-fashioned'. Then comes influences from social media which propagate harsh opinions on gender roles. This raises the question: Is chivalry dead? Has the younger generation totally abandoned the responsibilities and values that were once cherished by our forefathers? With that, I'd say it has become highly difficult to find men who would still prioritise good traits. 
But amidst these doubts and concerns, our November cover star, Hadri Hashim, emerges as a beacon of hope. With an unwavering mindset, entrepreneurial vision, and a deep appreciation for old-fashioned values, Hadri Hashim restores our faith in the existence of men who still carry themselves with manners and respect for others. A perfect fit for our Gentleman Issue.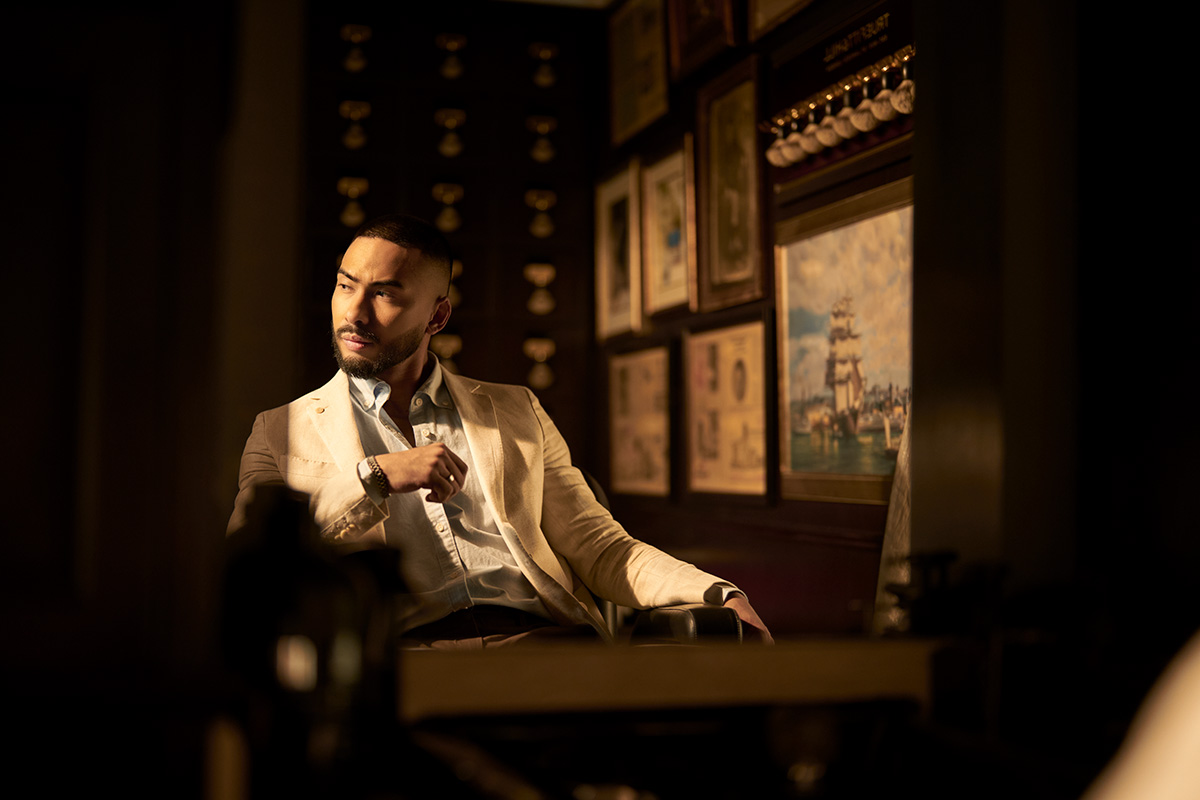 "My late father used to call me Jack… Jack of all Trades,'' said Hadri as we sat on the patio of Truefitt and Hill, Bangsar. The sounds of our crew preparing for the shoot can be heard at the bustling around us. Speaking softly yet assuredly, Hadri Hashim carries an allure of gentleness around him. "We live in the 20th century. As a man, you will need to pick up a lot of skills. You can't just have one thing that you are able to do. So, I think we all need to be Jack.'' 
The moniker given by his late father remained firmly attached to his identity throughout his life. Hadri Hashim, better known by his online persona, Hvdri, is a man of multifaceted talents. He's the owner of TTDI's hipster cafe Thursdvys, and co-Founder of Top Boi Citizen—a top modelling agency in Malaysia where he also graces the lens as the agency's model. When asked about the challenges of managing his boys in the F&B industry and the modelling agency, Hadri said with a laugh: "Both have their own unique set of difficulties. But I tell you what, both places are filled with men who are on a self-discovery journey, trying to navigate their place in this society. So I help to identify and develop their skills.''
"Most of them come from broken families, who have somewhat kind of lost their identities. And then after two or three years, with the right leadership, they regain that confidence. I witnessed that firsthand. I'm proud of that."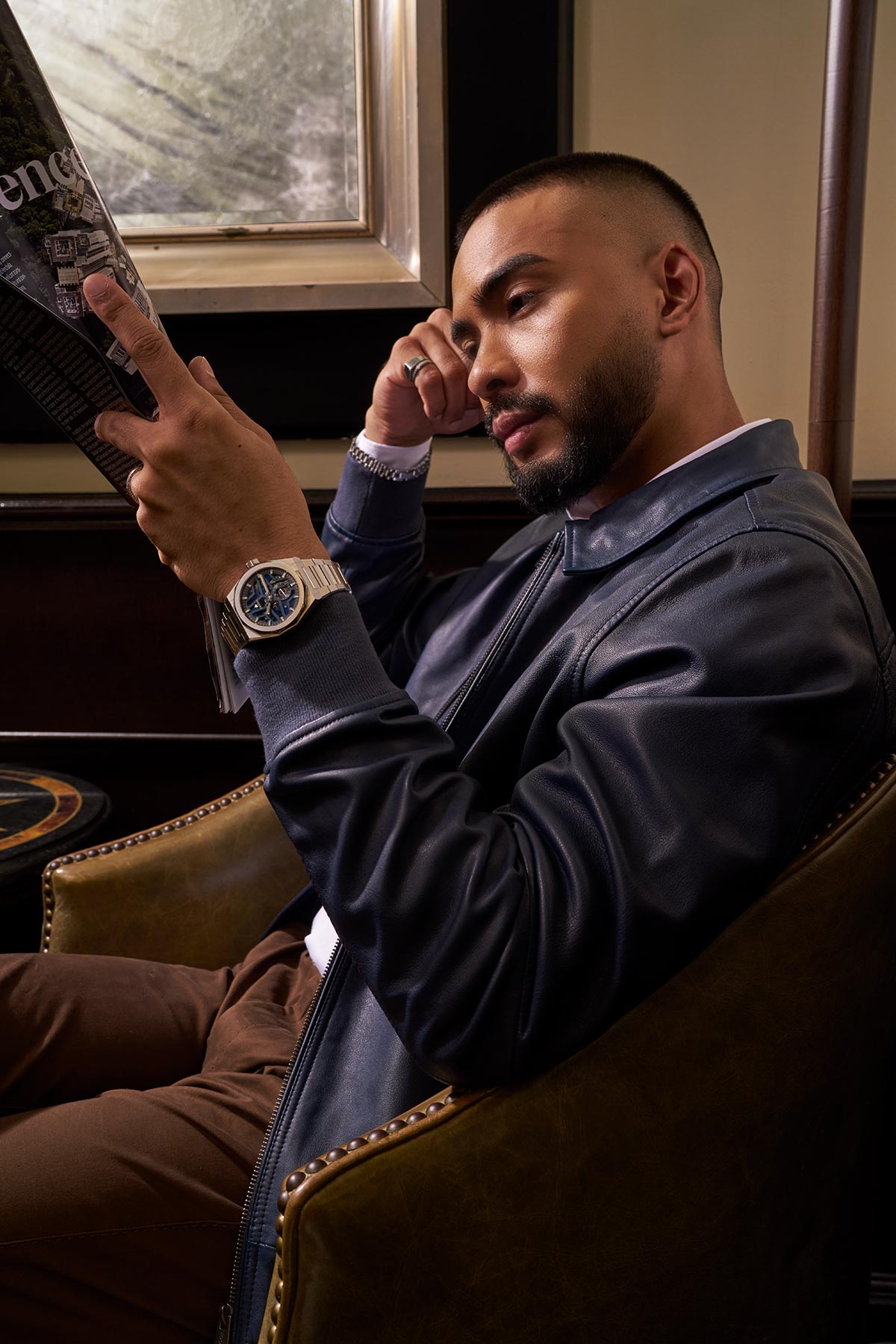 Despite it being a Monday, Truefitt and Hill was unexpectedly busy. While waiting for the crowd to gradually subside, I decided to broach the oft-traditional expectation that 'men are born to provide' topic… It's true, isn't it? But the evolving dynamics of the modern workforce has played a significant role in shaping men's attitudes towards their role as providers, in contrast to the time of our grandfather's generation. 
Hadri, in agreement, astutely observes that boys have become demanding. "They don't want to go to this 'boot camp', we call it. And people are getting soft. They want to skip the hard work (…) to actually put their energy out there to hussle. They want it easy." 
"But I also believe it's not entirely their fault. I blame social media and what we've been fed on. Everything is more adverts now. Rapid-fire content blasted our way every single hour, compared to the 50s or 60s. Now, it's in your pocket, it's on demand. Half of their brain is being occupied with all these media influencers which leads to a lack of motivation to work hard. Back to where I said, as men, we'll need to pick up a few talents in order to survive in the long run. There's nothing wrong with becoming content creators, but when the buzz fades – where do you go?" 
The term "Jack of all Trades" gradually started to make sense.
Masculinity is not about nailing all the 'strong man' traits; it's also about how you accept your emotions. What good is a man if you can't have a healthy relationship with your emotions?
And while there are drawbacks, there are also perks. Thanks to the powerful medium of media like podcasts and vlogs, men are becoming more comfortable in expressing their emotions publicly—engaging in open discussions about mental health, relationships and other topics that were once considered taboo.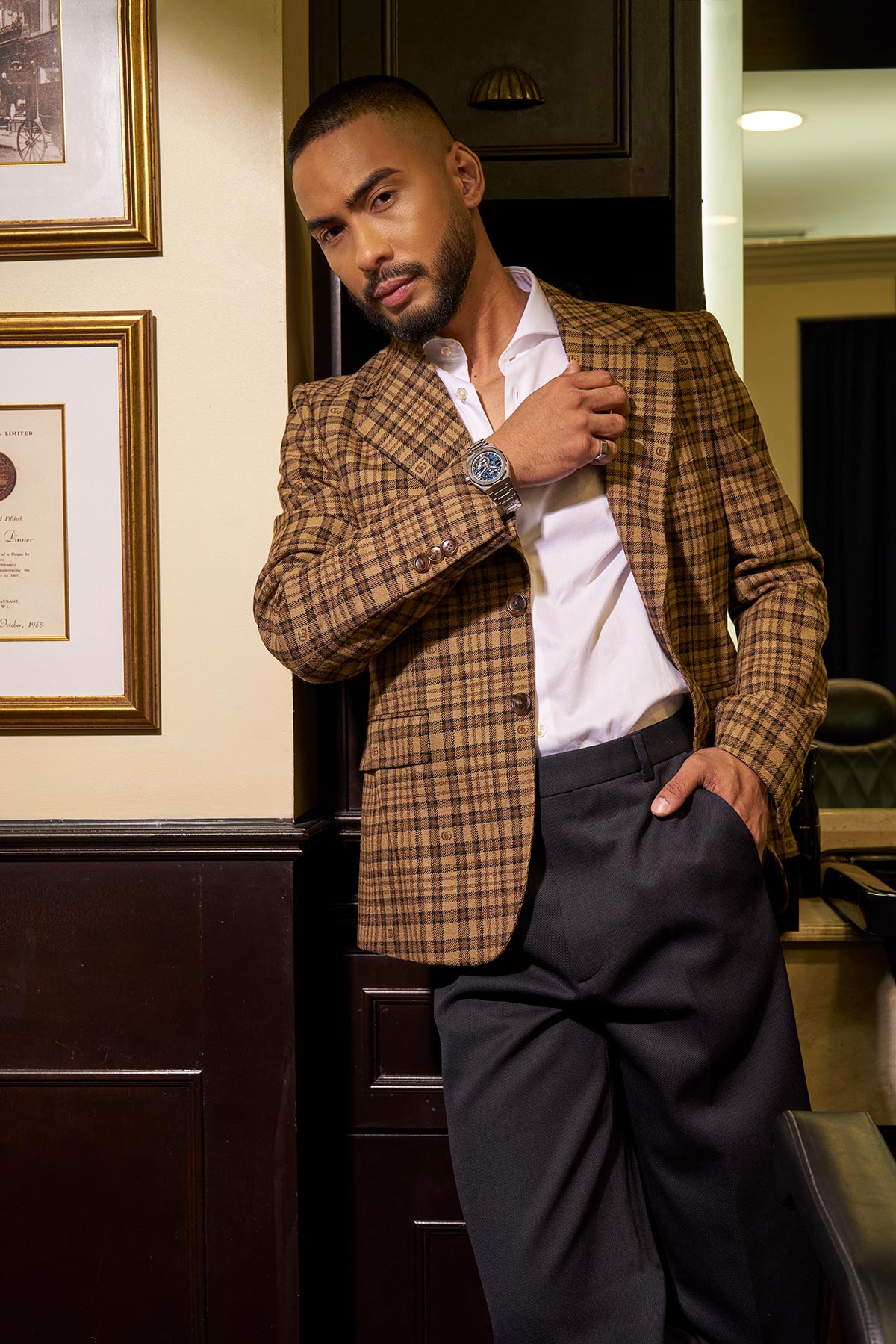 As silly as it sounds, I couldn't help but ask if he thought men were capable of crying. In which he laughed saying, "Of course! Men are humans, too. Masculinity is not just about nailing all the strong man traits, it's also about how you accept your emotions. What good is a man if you can't have a healthy relationship with your emotions?"
For this, Hadri expressed his gratitude to his close friends, who had helped him be more honest with his emotions. He refers to this group as his 'gym-bros' and elaborates that the group rarely shies away from sharing personal anecdotes with each other, "You need to find a good circle to be able to open up." 
Hadri also admitted that men are having it tough compared to women, as they are often expected to suppress their emotions. This societal stigma is something that Hadri hopes will change in the future. As a husband, he feels an added pressure for the need to appear strong and be a protector to his wife. In which, he believes that all marriages should create a safe space for emotional conversations. 
We live in the 20th century – we need to pick up a few talents in order to survive in the long run.
Hadri and his wife, Sharmaine Arissa, have monthly meetings where they discuss any issues that have arisen and check in on each other's feelings. "We start with the bad stuff first, then we close off with the good stuff: 'How are you feeling? How am I feeling? What recent arguments or actions may have caused unhappiness?' It's very straightforward, which I believe men these days should be open to do so with their wives. If you cant't build an inner connection with your own spouse, how do you ensure a strong foundation for all other areas of life? As a man, you need to lead the tango.''
He went on to add that growing up, he had seen how gently his late father treated his mother. It made him realise that a man's true success is defined by how he treats his family at home. "Ever since my dad passed, I had to be the man of the house. I would be quick to manage women. I had learned all these traits even before I got married," he said after a little pause. "As a man, you can't just pretend to understand. You need to learn from women in order to understand women. And there is no shame in that."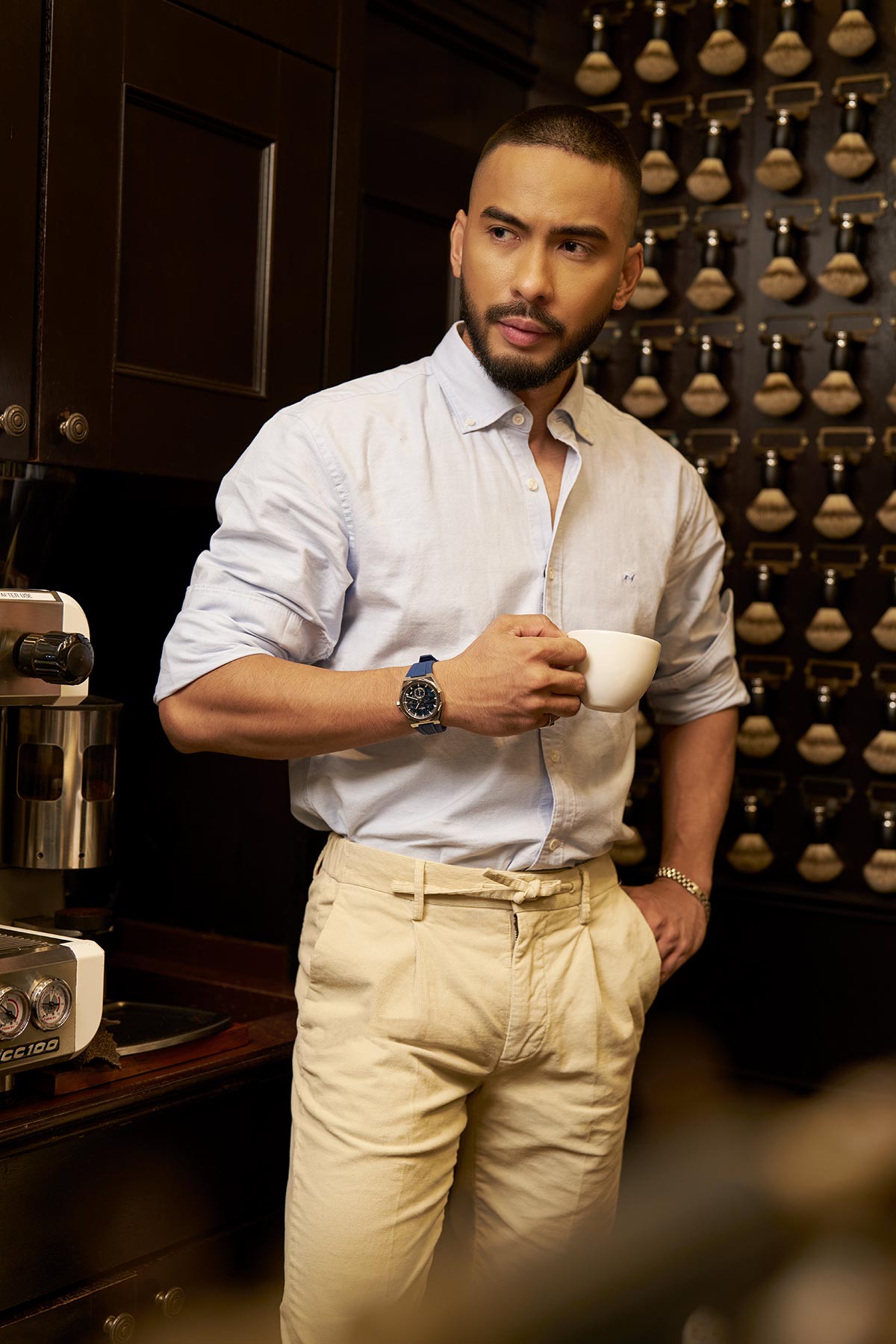 As the sounds of clippers and chatter began to fade in the barber shop, it was time for our crew to prepare for action. At this point, Hadri had begun to share the tale of how he met his amazing wife. She was the one who made the first move, and such confidence truly caught him off guard, "I wasn't used to that, but she's always been this cool girl, and that piqued my interest. I called her my Hollywood Wife," he said, with a sense of admiration. 
You can't just pretend to understand. You need to learn from women in order to understand women. 
As our conversation drew to a close, I asked whether he and his wife are planning to have children in the future. When he confirmed with a resounding "yes'', the question on what he would wish to pass down to his son arose.
"As a man, I want him to grow up and have a plan – like my father," Hadri made it clear. "He didn't just have a plan A or B, but rather extended his aspirations to plan E. This is the legacy I carry within me, and I hope for my children to do the same. See, it's all about being Jack, right? You need to have skills and plans in different areas. And when you have the right tools, you go on and build the tree."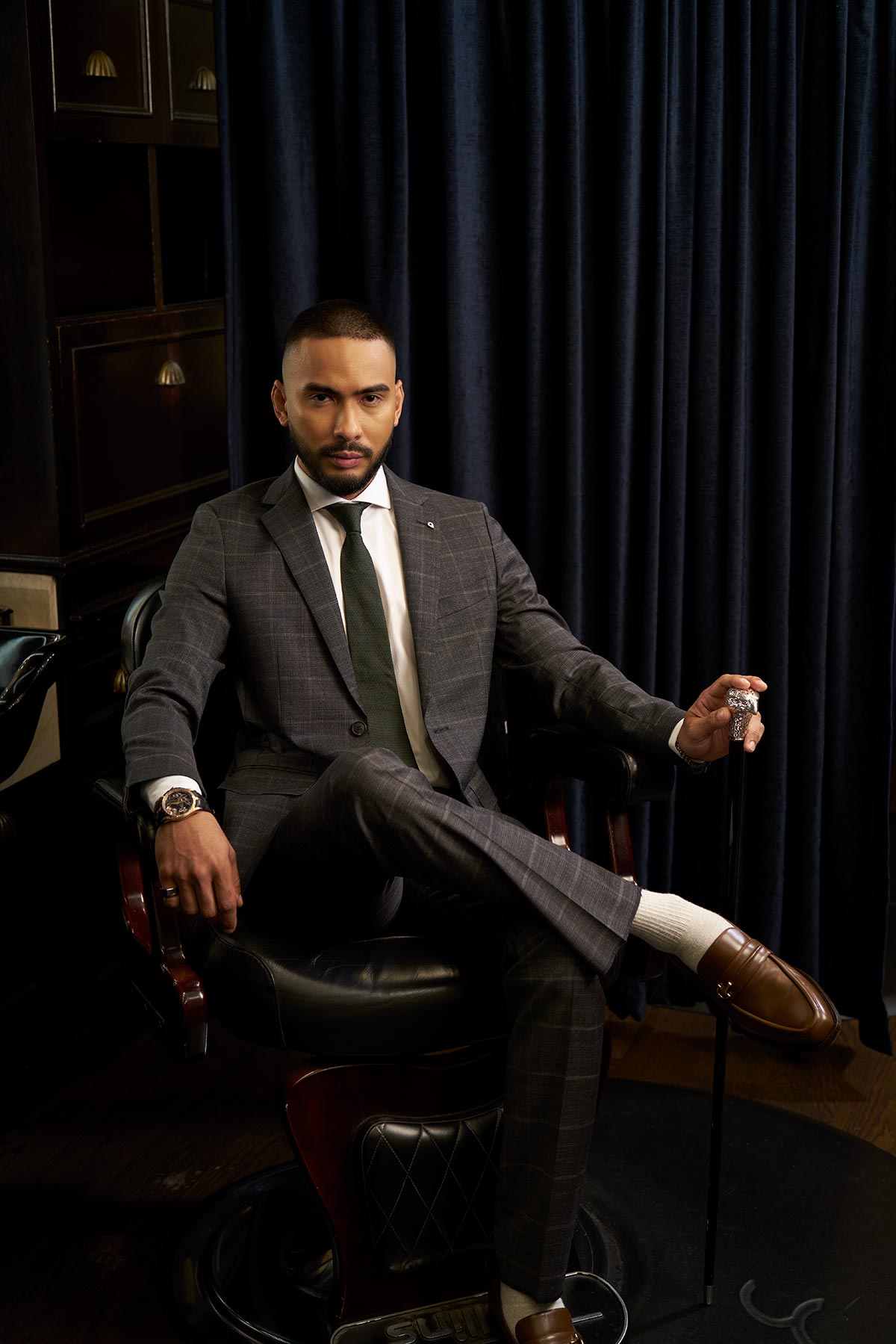 When the conversation ended, Hadri gently rose from his seat, a polite smile graced his lips as he said thank you, and proceeded to follow our stylist to the back of the room for a wardrobe change. 
There, I finally collected my verdict: 
No, chivalry is not dead. It is alive and well. As long as you know where to look. Look for a man who possesses multiple talents in life. The Jack of all Trades — someone who has a good level of broad knowledge. Versatility at its finest. But in order to meet societal standards and thrive in healthy relationships, men should seek the benefits from the right influences and good values, especially men of the millennial generation. Never shy away from learning to understand women. Embrace your emotions. And most importantly advocate the value of leadership. It is time for men in this generation to pick up that etiquette once more. 
And with that, I said, hats off to you, Hadri Hashim. 
Featured image: Hadri wears outfit from Sacoor Brothers and Excalibur Monobalancier watch from Roger Dubuis.
Contributing Editor: Mabel Ho 
Photographer: Delvin Xian
Photographer's Assistant: Dave and Syafiq
Styling Assistant: Mon Kai Siong
Art Direction: Anson Siau 
Makeup and hair: Asaki 
Location: Truefitt & Hill, Bangsar Shopping Centre