Almost anything can be done online, and shopping is easily the top activity on anyone's browser history. In the local fashion scene, FashionValet by Vivy Yusof is leading the way.
If you're an avid Instagram user, you would know FashionValet (@fashionvaletcom) and dUCk (@ duckscarves). Thanks to entrepreneur, social icon and full-time mother Vivy Sofinas Yusof, the reputable shopping website has every fashionista's most immediate needs for stylish and quality clothes provided for, all available at the click of a mouse of tap of the tablet.
"I'm so grateful for the support I get from our loyal FashionValet customers as well as my followers," says pint-sized founder.
Vivy is not your average career woman — she works hand-in-hand with husband Fadza Anuar, who sees to the business development and financial side of things.
"To be honest, I personally felt that a husband-wife team was very risky," Vivy divulges. "If things went downhill, you would have a lot more at stake, like children for example. On the contrary, if you managed to do it right, it would strengthen your relationship, having gone through the good and bad together."
From their personal Instagram feeds and how well the business is doing, their relationship and journey has clearly taken the latter path of success.
At the start, it was just you, setting things up. What did people around you think of the business idea at the time?
Whilst studying in London, we were introduced to online shopping and e-commerce was pretty much an untouched territory in Malaysia in 2010. Even though we had very little capital, I had a big following from my blog so I knew that the least I could do was market it there. Plus, it was free.
It was an idea that my husband, Fadza, and I couldn't sleep without thinking about it, and that excitement and passion just grew and grew, to the point that no one could tell us 'No'. Fortunately, our family and best friends were very supportive of the idea! What I needed from them was input about thing that could go wrong or the downsides to running a business. From there, Fadza and I improved on the ideas we had and sought to find solutions to potential problems and challenges.
To show how determined we were, the FashionValet website was up and ready to sell in November 2010, despite the idea being initialised only a month before. Throughout October 2010, Fadza and I signed on brands, spoke to website designers, processed stock, did photoshoots, edited and uploaded items, set up the company, rented and renovated a small office space and fixed up furniture from IKEA. We were on full steam and I think this gave our loved ones more confidence in us, considering that we were so serious about it. Back then, we started with three people and 10 brands signed on; now we have a team of over 80 based in Malaysia, Indonesia and Singapore as well as 400 brands from Asia! Little did we know that we'd be one of the largest e-commerce websites in Asia in a span of years… Thank God we never gave up!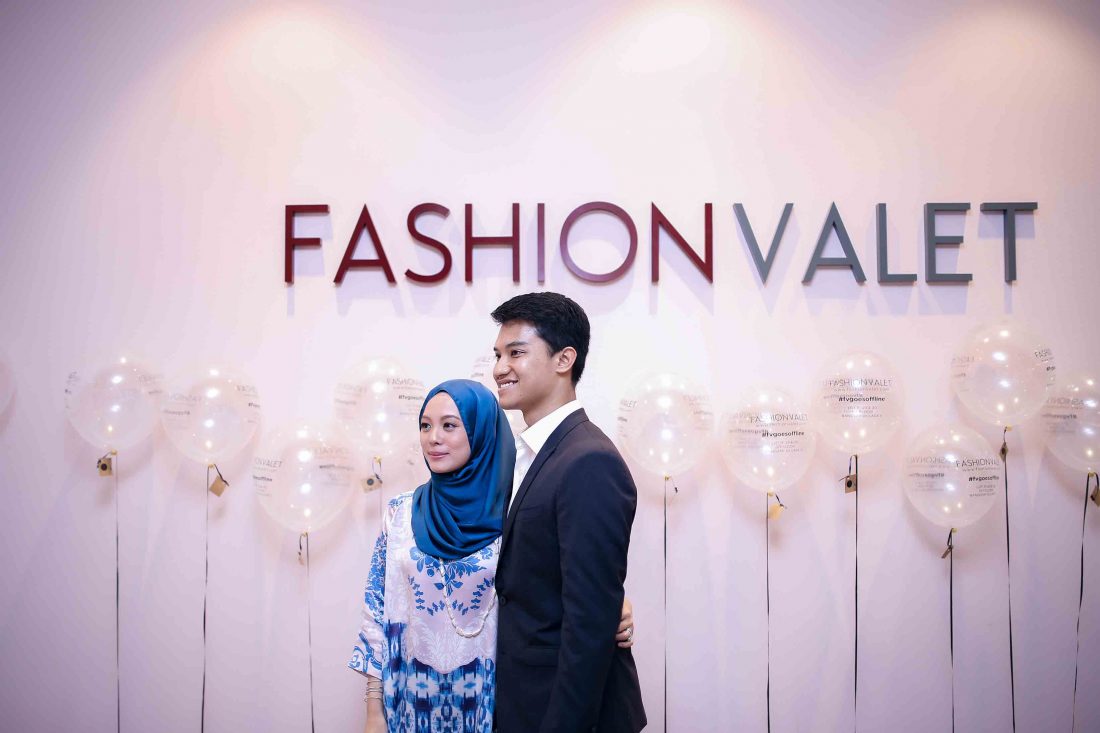 Most people wouldn't encourage working with your other half, but you have proved them wrong. How do you two do it?

When asked this, I always respond: (1) Are you doing this with your spouse just because it seems like the easiest choice for you, or do you really believe that you would make a great team; (2) Are your aims aligned?
For Fadza and I, we started FashionValet even before we got married. It was not because we were a couple, but in reality we complemented each other in business. I'm more of the face of the company, handling public relations, branding and brands. He, on the other hand, is the operations guy, making sure that everything runs smoothly. Fadza really is the brains of the company — working on strategy, finance and handling investors, so we're not kidding anyone else here! What he's good at, I'm really bad at and vice versa. With our strengths combined, I feel we make a great team.
The 'dark side' to all of this is that we will definitely take work home. When two people are equally ambitious and love what they do, it's inevitable that conversations at the dinner table will be about what happened at work today or brainstorming about a potential campaign. Sometimes when we feel that work has taken over, we would put out gadgets aside and cuddle on the couch, or take the family for a short getaway. There's no formula on balance, so you just need to be able to adapt to any situation. At the end of the day, it's also about mutual respect. No matter how bad a situation is or how angry we are at each other, no bad words or violence has ever been occurred and we communicate like adults to solve the issue immediately. I adore and respect Fadza both as a partner and as a husband — I can't imagine anyone else by my side.
Tell us about your own designs.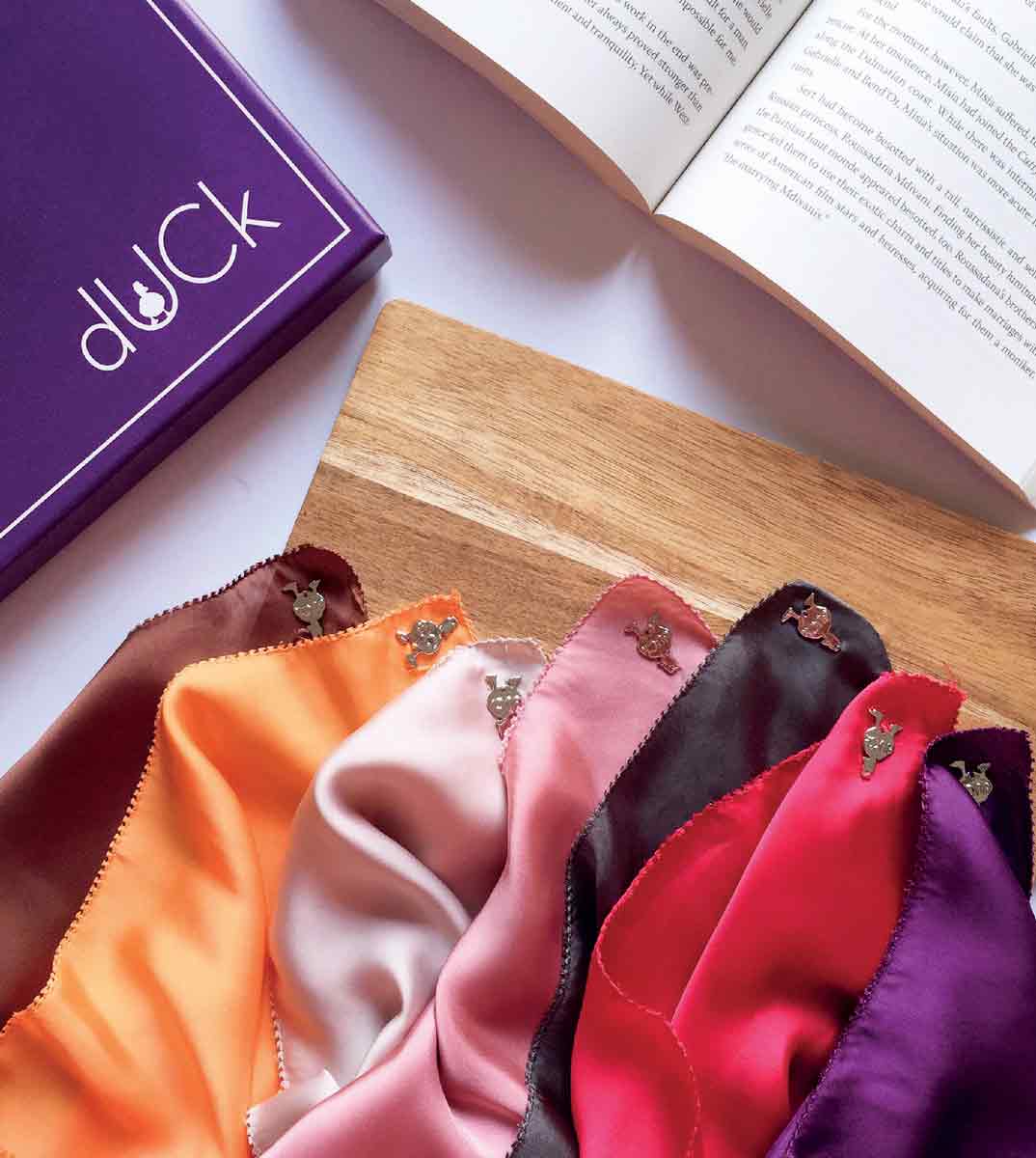 Sometime is a local handbag brand that we carry on FashionValet and they work with personalities all over Asia. So when they came to us, Sofina was born and basically a handbag inspired by me as a person, what I like and what I don't. As a mom and entrepreneur, I needed a big bag that could fit everything, and that was Sofina. Then came along Sofina 2, Sofina 2.1, Sofina 3, Sofina 3 Signature, Sofina Mini and the Sofina clutch.
As for dUCk, it was a lifestyle brand I created. We currently have scarves and stationery, but other product lines are in the pipeline. What makes dUCk special is that it doesn't compromise branding — dUCk is narrated by brand ambassador, D (whom people still debate whether she's real or fictional… Only I know the answer!), via illustrations and her voice. D shares her life's ups and downs and is finding her own identity, just like all of us. People need to love the brand and the story it represents, and at dUCk it's never just a hard, cold product.
Everything has to be a story on its own, from the basic scarves range right down to the print on every Limited Edition scarf. Each scarf also comes with a box, an inspiration I took from one of my favourite brands Hermès. So, when you open a dUCk, it celebrates you. I hope this burst of happiness comes through when people wear their dUCk scarves because at the end of the day, wearing a scarf is a celebration of beauty and Muslim women. Apart from that, we have a special hem that immediately identifies us as a brand alongside a little shiny dUCk charm that is attached to every scarf. In fact, what made dUCk really big was the launch of our KL Skyline scarf, to the point that even non- Muslims wear them as a patriotic symbol to our beloved country!
Where do you see Fashion Valet in the next five to 10 years?
On the growth aspect, we want to be prominent in other Asian countries. We have started operations in Jakarta last year and we are working on getting a complete team in Singapore this year. Going more aggressively in other countries is what we believe to be a good move, plus we are beginning to open physical stores. It's a form of marketing to offline customers who may not have heard of FashionValet as well as a way to conquer online and offline markets for Asian brands.
Tell us about the e-commerce landscape.
It's very established in the UK and everyone shops online, even my friend's grandparents! From groceries to fashion to books, there is hardly anyone who is not familiar with transacting online.
In Malaysia, however, it's still developing. I can tell you, it was way worse when we started! People didn't have much access to credit cards or online banking, so a lot of educating needed to be done. We even allow for direct bank-in transactions as well as cash on delivery till today, so you can see that people are still not well-versed with it yet. People I've spoken to can be skeptical buying things online and they have never tried. But when I ask them whether they purchase airline tickets online, they say yes — it's the same thing!
Nonetheless, things are definitely getting better. When foreign investments started e-commerce businesses in Malaysia, a lot of money was also spent educating people to shop online and it's helped our business, too! They did the groundwork, which was something that FashionValet could never do at the time. From there, the fear of online shopping has lessened but there's still a long way to go. That's why we decided to take advantage of offline shopping by opening a FashionValet shop because believe it or not, there will still be a huge percentage of people who shop offline.
Did you start Fashion Valet because you personally love local designers?
I wish I could call myself a huge fashion lover, but what makes me excited isn't fashion; it's business. Both Fadza and I came from an entrepreneurial family, so we always knew we wanted to do business, but we were unsure of what to do. On top of that, because of my followers online, we figured it should have something to do with e-commerce and the idea to do fashion was obvious because I not only knew a lot of local designers, but my followers were also mostly females.
My love for the local fashion scene grew after FashionValet started, and having known talented souls in the process – I'm very happy to call them friends – it makes me proud to see everything grow so much in these five years. From almost nothing before FashionValet started to having so many brands emailing us everyday, it's obvious that the fashion scene in Malaysia is alive and buzzing… It can get pretty overwhelming sometimes!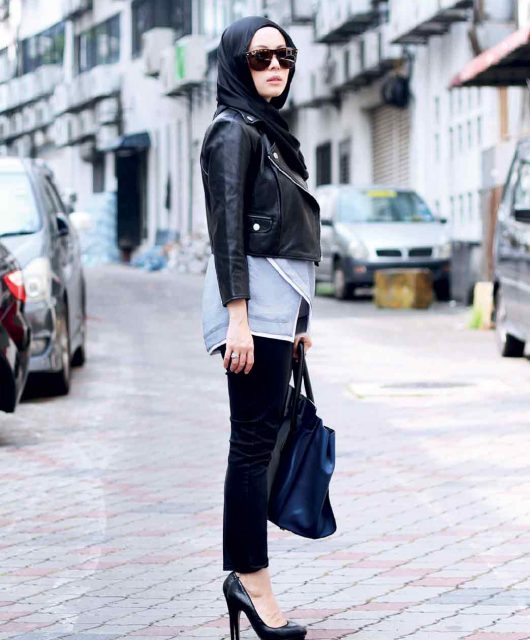 Being an entrepreneur, celebrity, social icon and an everyday mother, which role gives the most pressure?
Oh gosh, I think all of my roles are important and answering for one would be impossible!
As an entrepreneur, there's a huge responsibility not just to myself, but my partner Fadza, our shareholders and most importantly, the 80 people I've invited into the FashionValet team to call my family. These wonderful people motivate me to work hard everyday and knowing that they each have families of their own to support, it's my ultimate dream to give them good stable income and shower them with perks as a reward for working hard for the company. After visiting the Google offices in Silicon Valley recently, I felt so inspired when I saw how they provided everyday food to Googlers! It was just so cool and made me want to provide the best for my team — that means I can't ever be complacent with work.
As a blogger and social media icon, I have a lot of eyes on me online, especially the younger girls. There's a lot of pressure to always set a good example and there definitely are moments where I stop and decide against writing or posting something up because I didn't think it would be appropriate. I'm not a celebrity, but I do feel the need to impart positivity and good value in whatever I do. A little goes a long way.
I've saved the best for last! My responsibility to two wonderful human beings – my Daniel and Mariam – is probably the biggest if I had to choose. You're talking about raising two real-life human beings and moulding them into people with good values; that's not an easy task! Daniel and Mariam are my world and Fadza's. They're gifts from God and everything we do is for them. In fact, when they came into our lives, our perspectives changed. Our lives became complete and I can't imagine life without these two who have given me such happiness, which is really ironic because I don't really like kids (laughs)!
From a business point of view, were you ready to face losses? How did you cope with the numbers?
At the beginning we thought it was crazy to run a business that would make losses, so we made sure the business was covering at least all expenses and not adding more unless we had enough cash to cover it. We hardly paid ourselves and used the cheapest marketing channels we could find. We even held off buying packing tables because we could just pack on the floor!
Compared to our competitors, we played it very safe because we did not believe in burning money and taking too big a risk. A little risk is fine, but we've been very lucky to have stayed on top as one of the biggest fashion e-commerce players in Asia with a smaller marketing budget.
Tell us about some of the challenges that FashionValet faces in this day and age.
Setting up regionally is proving to be a tough challenge. Every country has its own legislation, culture, policies on foreign investment, limitations on logistics, difference in fashion taste and its own phase in technology. So we couldn't just replicate what we did in Malaysia in other countries — easier said than done, opening up operations in other countries took years of research and still is ongoing. But as challenging as it is, it's super fun! It's like starting from scratch again, and that was the most meaningful time for Fadza and myself.
What is the number one factor that has kept you going, even when things got tough?
My team. It's beyond a work relationship because we're all a family here at FashionValet. You can see how welcoming the team is and how we instantly connect and help each other in our own growth, both personally and professionally. I love coming to work everyday and when I see them hard at work, I feel inspired and motivated to push even harder to bring our company to greater heights. No doubt that there were some really down times but that brought us closer. For example, the small flood in the office, not reaching our targets for the year, backlogging orders, getting our hands dirty at the warehouse and deaths of loved ones — we all came together during those times, and that's when I knew I didn't just create a company; I created a family.