Bring your family over for a reunion dinner themed 'Splendour of China' to enjoy a 9-course dinner alongside entertaining performances throughout the night.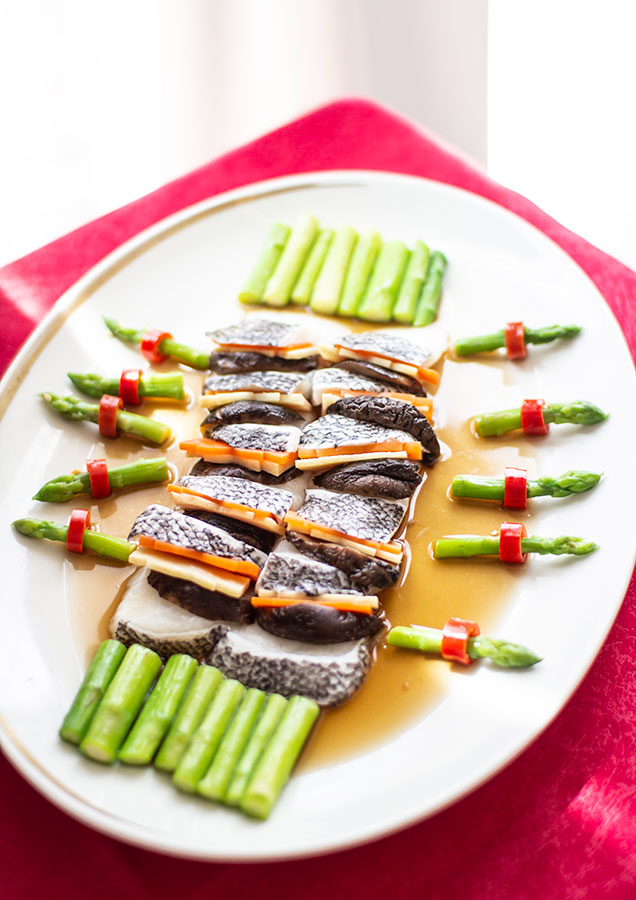 If you're planning to skip the hassle of cooking for 10 this New Year's Eve, Sheraton Petaling Jaya has got you covered. Just bring your family over for a reunion dinner themed 'Splendour of China' to enjoy a 9-course dinner (yee sang included, of course) alongside entertaining performances throughout the night.
Taking place at the hotel's grand ballroom, the exclusive celebration will mark February the 4th with excitement, joy and togetherness as families reunite with their loved ones to welcome the Lunar New Year.
The full entertainment line up on the night includes two lion dance performances, a LED drums demonstration, a Chinese acrobatic show, the mystical 'thousand hands' dance as well as traditional song performances. As you marvel and snap away at the performances, Executive Chinese Chef Ben Lim specialty dishes such as the traditional Norwegian Salmon and Jelly Fish Yee Sang and Deep Fried Butter Prawns will see to it that your appetite is more than satisfied.
Meanwhile, the hotel's signature Chinese restaurant, Yue has also prepared three distinctive 9-course menus to ring in the new year. We had a foretaste of some of the dishes across the different menus and picked out a few highlights you can expect.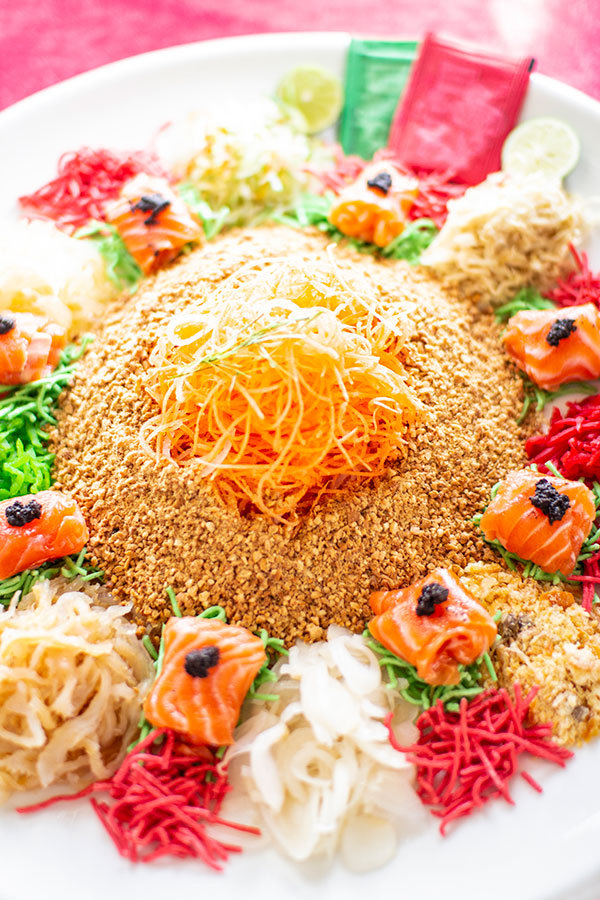 Yee sang is a must at any CNY meal and Yue's twist on the classic Norwegian Salmon Yee Sang with Black Truffles and Fish Roe is definitely not to be missed. Zesty and crunchy, with hints of truffle for added earthiness, it really is a can't-go-wrong dish for the whole family.
Related: What to say when tossing yee sang to impress your elders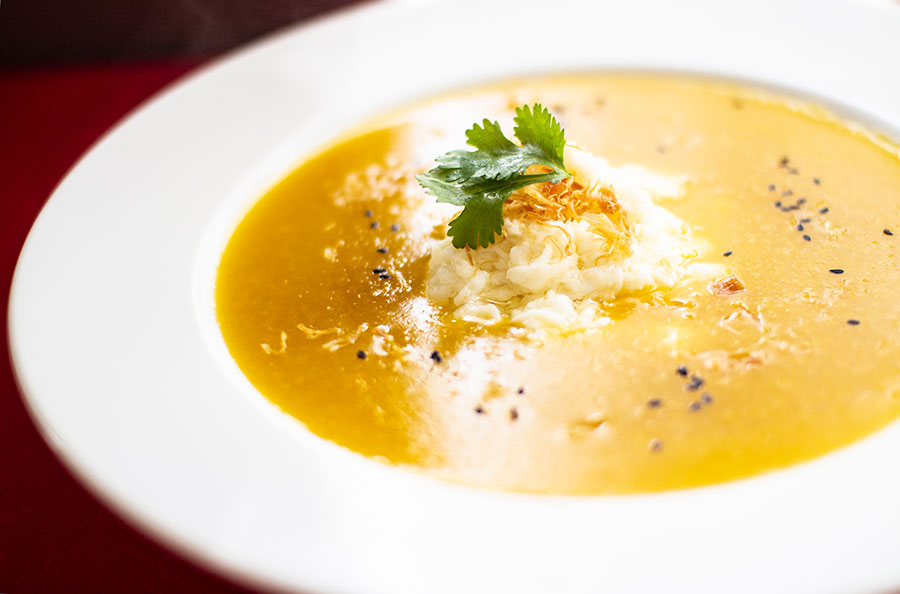 The signature Double-boil Dried Scallop Soup with Morel Mushroom and Fish Maw we tried last year is one of our favourite Chinese soups to date, so we had high expectations coming again. Though this Braised Pumpkin Soup with Egg White and Fried Dried Scallop falls short of the former, it has an interestingly gelatinous texture (not unlike shark fin soup) and mildly sweet flavours that makes it worth the try.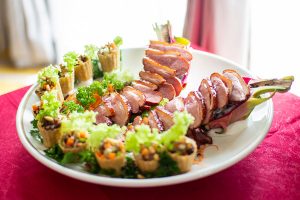 Chef Ben clearly takes pride in offering variety in his dishes, which he demonstrates by preparing two-way dishes. For example, the Smoked Duck with Dragon Fruit Sauce and fried duck meat and pine nut lets us savour the meat's tender, gamey flavour with the refreshing sweetness of dragonfruit; as well as its potential when fried to a crispy finish and complemented with vegetables and nuts.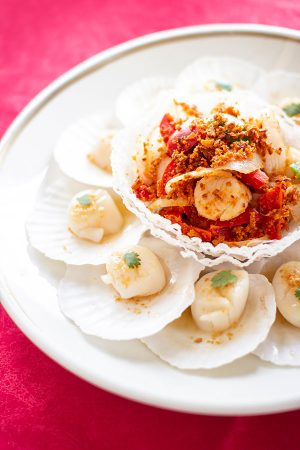 On the other hand, fans of scallop will enjoy the Wok Fried Fresh Scallops with Superior Sauce and Steamed Fresh Scallops with Garlic sauce. Expect generous portions of scallops prepared the traditional way (with garlic) or with a kick of spice (with superior sauce) so everyone at the table can pick their preferred cooking style – or both, with plenty more to go around.
Another classic CNY must-have dish is the 'poon choi' or 'basin dish'. Yue's Deluxe Dried Seafood and Abalone Combination comes with whole abalone, sea moss, fish maw, sea cucumber, dried scallops, black mushrooms and broccoli – basically a seafood lover's dream. More importantly, the seafood is fresh, sizeable and wholesomely delicious to attract good health and fortune for the year ahead.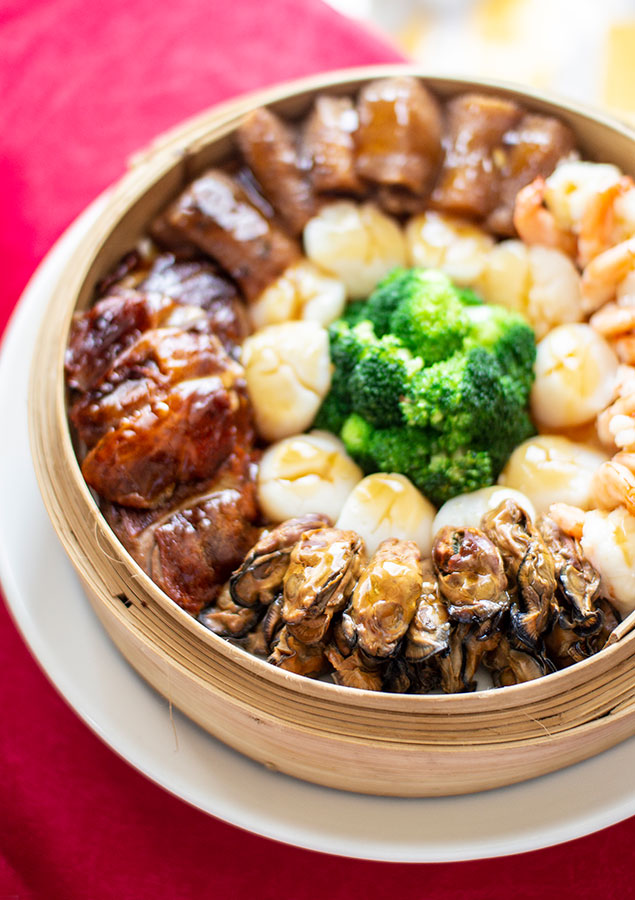 The Splendour of China reunion dinner is available only on 4th February, priced at RM1,988 per table. Yue's Chinese New Year set menus are available from 21st January to 25th February, priced from RM2388 nett per table of 10.
See also: Our top places to ring in health, wealth and prosperity for CNY 2019
For reservations and inquiries, please call 03 7622 8888 or email sheraton.petalingjaya@sheraton.com.
Photography: Gan Yew Chin