With 253 contemporary living spaces, a rooftop poolside bar, and six wining and dining destinations, Sheraton's latest offering brings a touch of classy comfort to urban travel.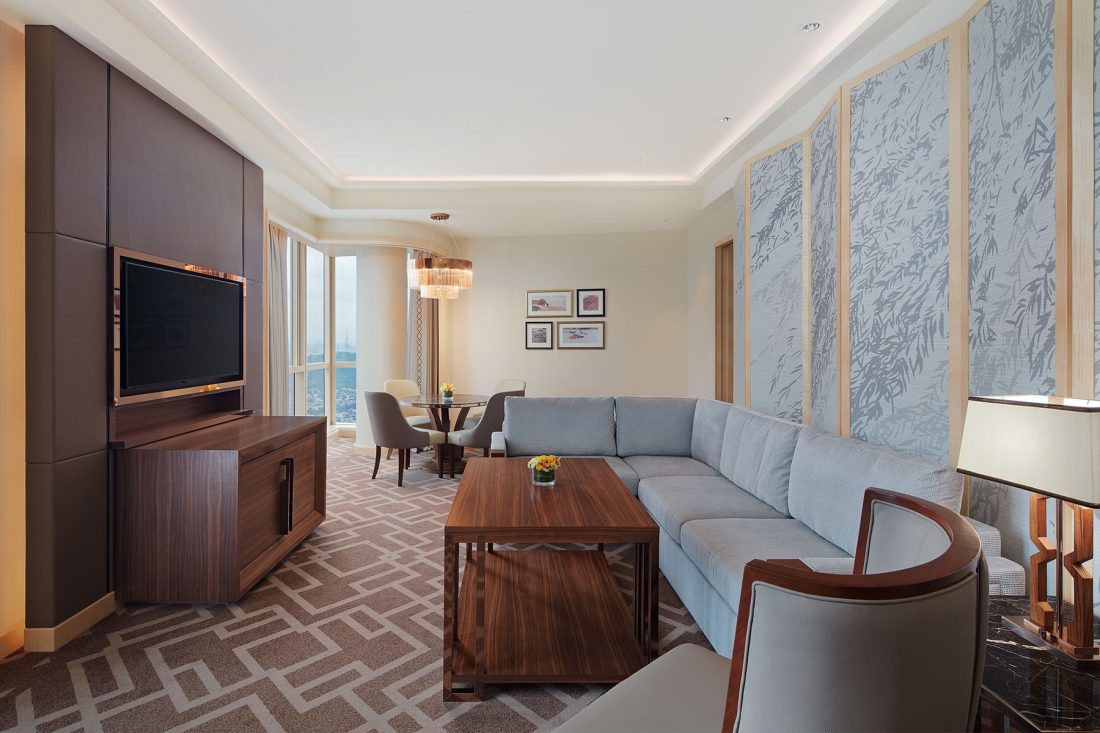 Although Sheraton is a household name by now, its new Petaling Jaya location introduces a contemporary design code that is fresh as it is elegant. Heavy on dark, reflective surfaces punctuated with gold and rose gold lines and accents, Sheraton Petaling Jaya Hotel opens up into into a modern oasis celebrating urban convenience.
Simple geometric designs laden with marble and glass decorate large foyers and lobbies, while hallways are sparsely but meaningfully infused with Malaysian art and architecture.
Located 25 minutes away from the KL city centre and 45 minutes away from the airport, Sheraton Petaling Jaya Hotel is set to serve guests travelling on business or short getaways. It lives up to a corporate haven with over 3,000 square metres of flexible event space, including a Grand Ballroom fit for parties, launches, and large-scale exhibitions (thanks to a cargo lift).
Corporate meets classy comfort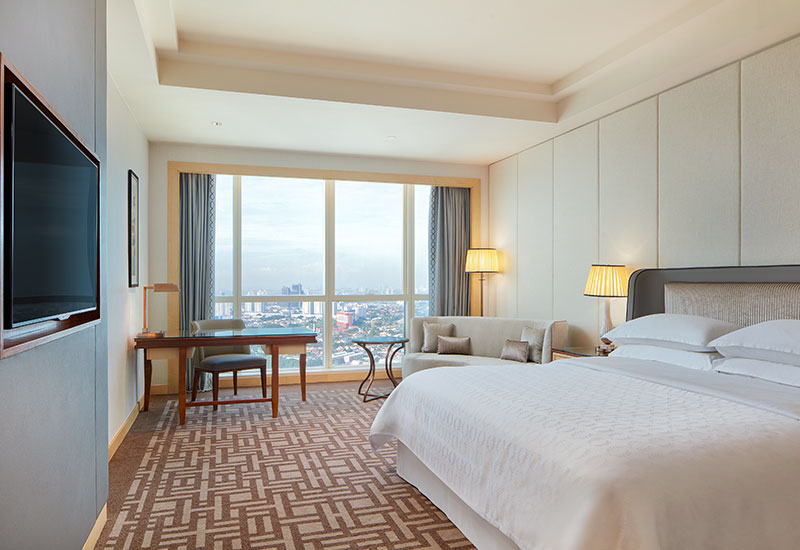 We were afforded the Sheraton Club treatment from the moment we stepped in. Our bags whisked away at the lobby, we headed to the Sheraton Club Lounge to check in. Complimentary breakfast, all-day snacks and drinks, and high-speed internet access define this member's-only space, boasting the PJ skyline on one side, and KL on the other. Tables and couches are variably arranged for impromptu meetings, discussions, or entertaining your own guests while staying at the hotel. Here, we were welcomed with a cold towel, refreshing mocktail and kind greeting by name (more on this later).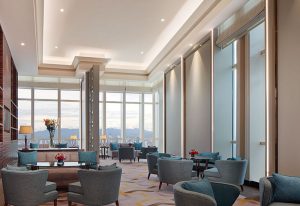 Our Sheraton Club Guest Room came with a standard king bed, LCD TV, and a practical bathroom featuring the new Sheraton-exclusive Le Grand Bain bath amenities line, and of course, a bath tub. Suite bathrooms get a little fancier, with an abundance of marble, even a bath tub with a view.
All 253 guest rooms and suites boast the Sheraton Signature Sleep Experience. This meant ultra-soft, feather-down comfort that had us in a deep, restful slumber up until the ring of the morning alarm.
One location, a world of experiences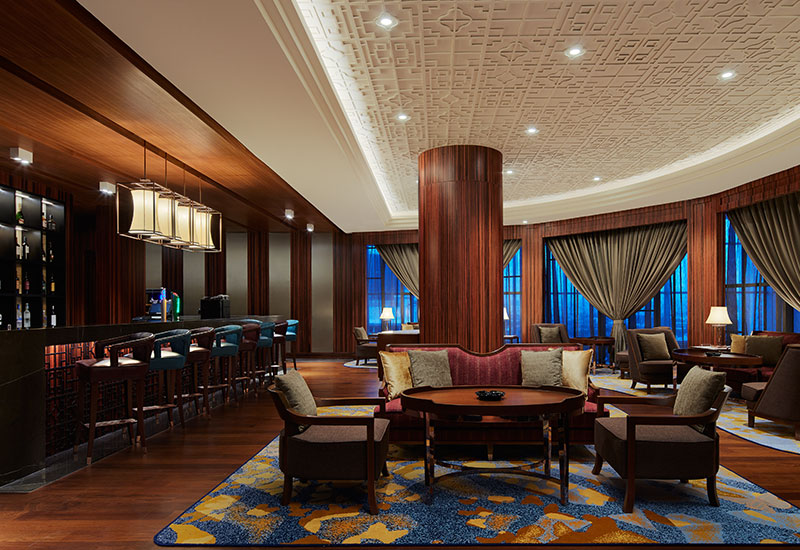 Sheraton Petaling Jaya Hotel boasts not one, not two, but six eateries with individual taste and identity. Our gastronomic journey began with lunch at Feast, the diverse buffet spot for both lunch and breakfast. Prepare to be spoilt for choice, with Asian favourites prepared before your eyes in an open kitchen.
There's also the quaint Link@Sheraton Café right by Feast and the third-floor reception lobby, where you can pop in for a quick bite or private chat over coffee. Its walls and nooks will soon be filled with the works of local artists.
We discovered Chime Lounge, the perfect whisky & cigar bar for pre-dinner drinks. Here, lush hues of red, gold, and brown lend an air of class and mystery, complete with six rooms for those who desire privacy.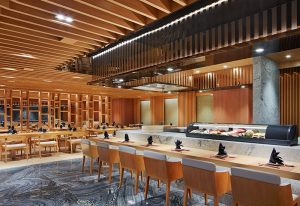 Next up was Miyabi Japanese Restaurant, where we got to make our own temaki (hand roll) and take in the sights and sounds from up-front the teppanyaki grill. For those who favour a different sort of Asian cuisine, neighbouring Yue Chinese Restaurant marries delicious Cantonese fare with contemporary techniques. Both eateries have been increasingly popular since Sheraton PJ's October 2017 opening.
At the top of Sheraton's dining scene is the Latin-inspired Sala Bar. Celebrating life through colours and cocktails, this rooftop bar creatively utilises its double-floor space. The poolside deck is where you can bask in moon and city lights with a cocktail. Unfortunately, its location is both its greatest advantage and drawback. Sala Bar shares the rooftop with the infinity lap pool, sunrise-facing gym, and kid's centre, so if you're looking for an intimate space, you might want to head up to the second floor.
Beyond ordinary leisure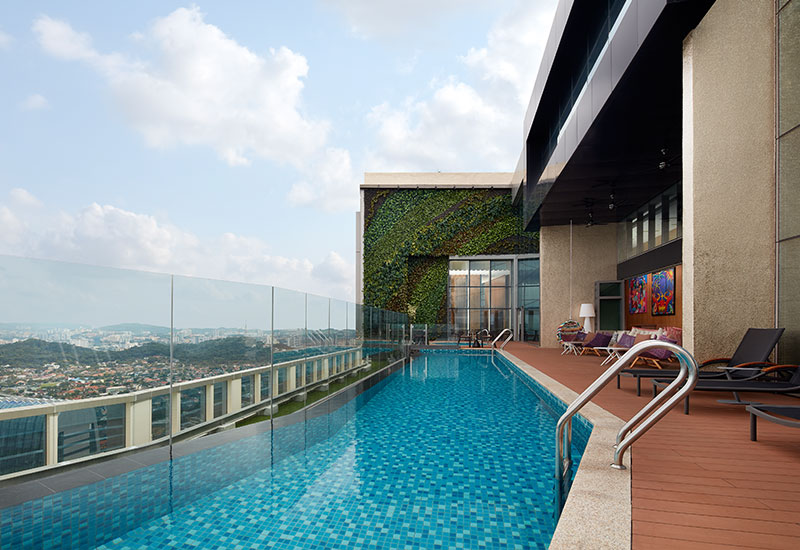 Despite its polished setting and contemporary charm, Sheraton Petaling Jaya Hotel evoked a sense of comfort over our night in. This intimate, emotional connection is owed to the hotel's Go Beyond campaign, which is also to be credited for the hotel's updated design DNA and modern touch points.
Every Sheraton associate, from General Manager Christopher Moore to room service staff, is involved in this Sheraton initiative. They carry out intuitive acts of service that recognise us not only as guests, but individuals with unique needs.
We were unexpectedly addressed by name several times, treated to chocolates, cookies, and balloons, left thoughtful notes – essentially, made to feel special and secure.
Moore tells that the linked shopping mall is expected to open by the end of the year. At that point, Sheraton Petaling Jaya Hotel will become a full-fledged contemporary hotel amalgamating simple elegance with instant comfort, convenience and thoughtful service.
Images: Sheraton PJ