Get ready for an English lesson as we dive into a lexicon of Virgil's streetwear-meet-luxury-French-heritage terms.
We said we'll be watching out for his debut collection when Virgil Abloh was first appointed as Louis Vuitton's new men's creative director. Now that it's out, we have been given a glossary of terms with which to anatomise his Spring Summer 2019 collection – straight from the horse's mouth.
Get ready for an English lesson as we dive into a lexicon of Virgil's streetwear-meet-luxury-French-heritage terms.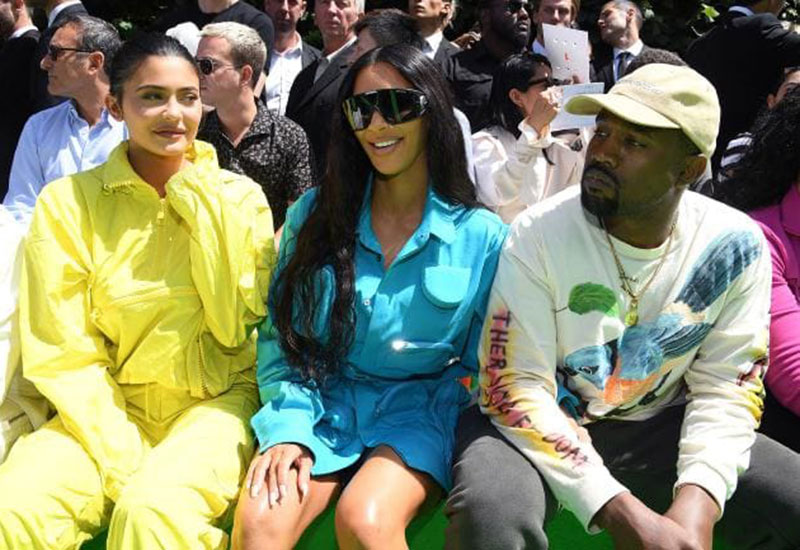 Prologue: A reintroduction of nomenclatures
3%: The exact ratio needed to twist a normative object into something special.
(See more on this in chapter 2)
Louis Vuitton: Parisian purveyor of leather goods founded in 1854. Defined by its Monogram, the House invented logomania. Its brand value retains unparalleled standing across cultures and classes.
Luxury: A label determined by values, codes and qualities, its use and definition were the privilege of few until a new generation conquered its dominion and shifted the paradigm for good.
Margielaism: A term applied to garments or accessories which reflect the normative fashion religion of a reverent generation of young or younger designers to which Virgil Abloh belongs.
Millennial : A term applied to consumers born between the late 1980s and 1990s, often linked to markets associated with Virgil Abloh, a non-millennial designer with millennial sensibilities.
See also: How brands are speaking to millennials who don't care for ads
Normcore: The irony of a generation raised on extravagance, and the make-do and mend sensibility of those with access to it.
Rationale: The underlying method to the Spring-Summer 2019 collection, looks are generally designed and styled employing the construction of a top layer, a bottom layer, a mid-layer and an outer layer.
Streetwear: A predictable clothing genre in a renegade designer's debut collection as part of the fashion establishment, but one whose sportswear properties are undergoing a critical transformation into luxury.
Styling: Once simply the addendum to a designer's collection, it now serves as a contemporary fashion tool offered by a designer to the public as an initiation of ideas and ultimate self-expression.
Chapter 1: The set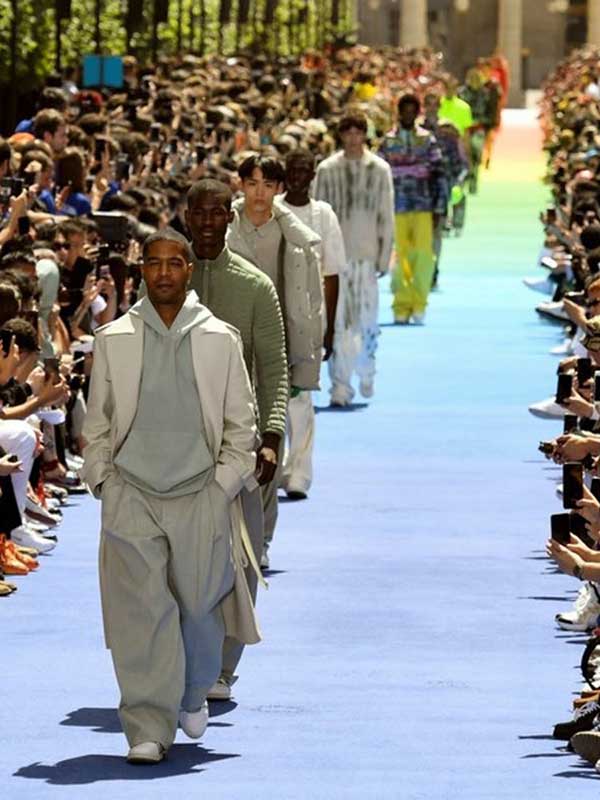 Oz: A fantasy land visited by country girl Dorothy in the 1939 film The Wizard of Oz. Upon arrival after a cyclone transports her there, she tells her dog, "Toto, I've a feeling we're not in Kansas anymore."
(Note: The set comprised a rainbow runway inspired by the film's whimsical tale, mimicked also in the colourful collection featuring Yellow Brick Road-esque prints.)
Soundtrack: An inherent musical juxtaposition staged between a psychedelic jazz intro by BADBADNOTGOOD, which crescendos into I Thought About Killing You by Kanye West.
Chapter 2: The collection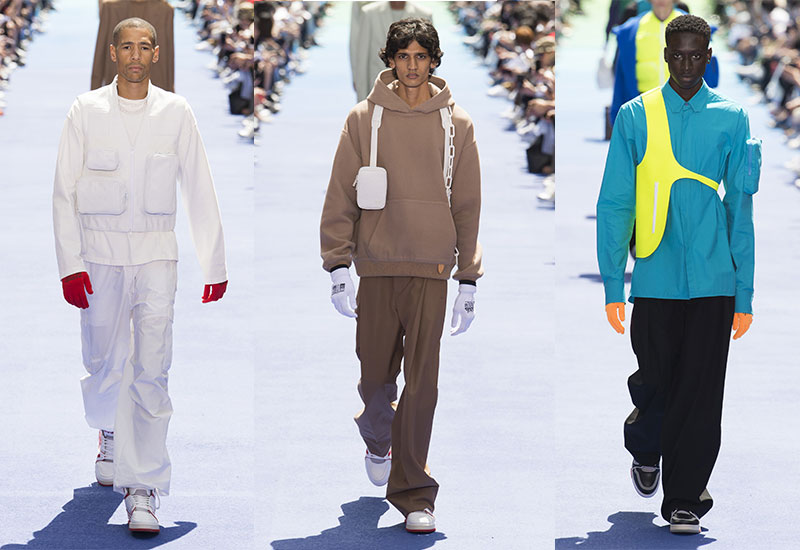 Accessomorphosis
Accessomorphosis
A portmanteau describing the transformation of an accessory into a garment, effectively evolving its functional force.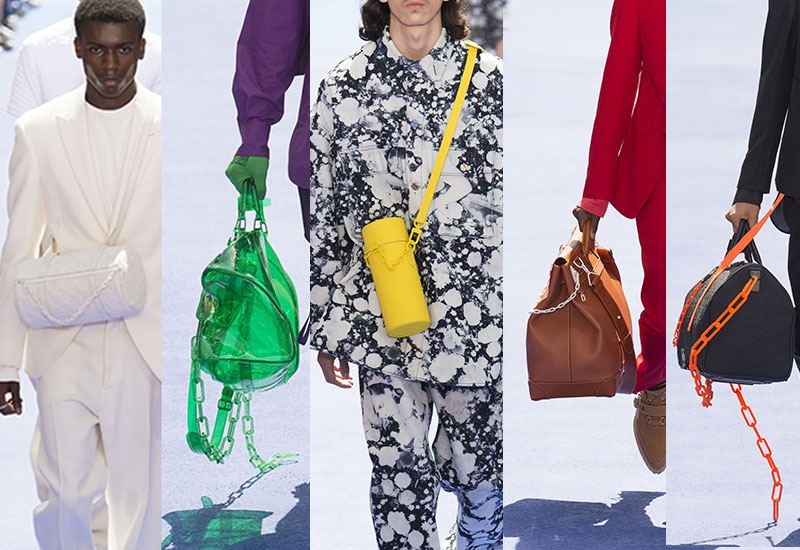 Bags
Bags
The ultimate expression of utility. For Spring-Summer 2019, bag designs are derived from the icons of Louis Vuitton and treated with Virgil Abloh's 3% methodology.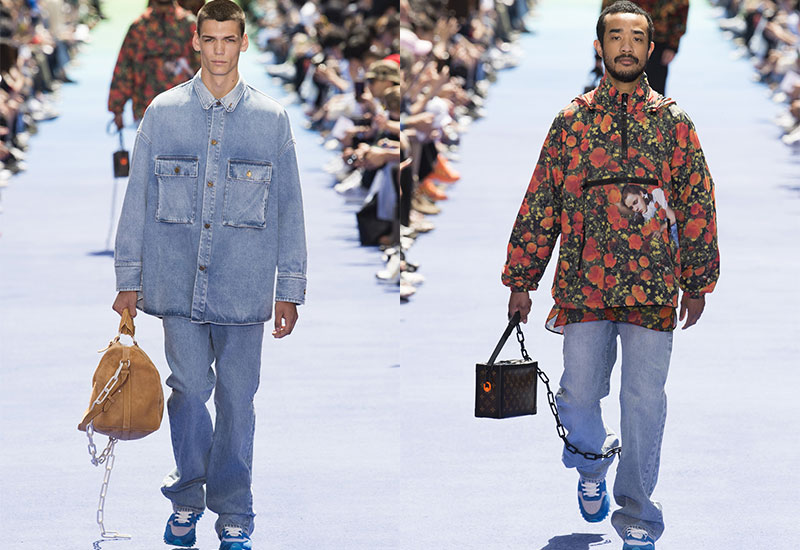 Denim
Denim
A working man's fabric typically elevated in high fashion, this common material relies on its unrefined familiar appeal to trigger the desired emotional connection. Virgil Abloh was raised on 1990's washed-out Levi's jeans, stiff and vintage-found.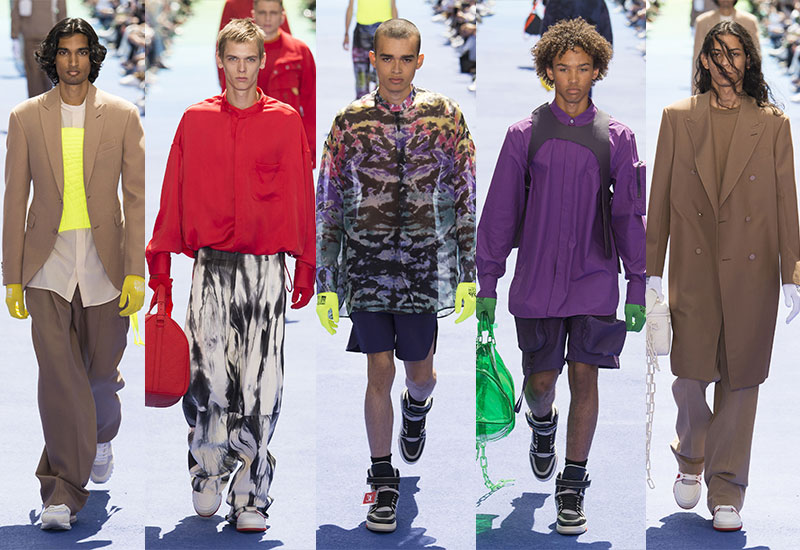 Gloves
Gloves
Coverings for the hands employed by Virgil Abloh to accentuate the signature accessories of Louis Vuitton, the colours of gloves are purposely matched to the leather goods with which they are paired.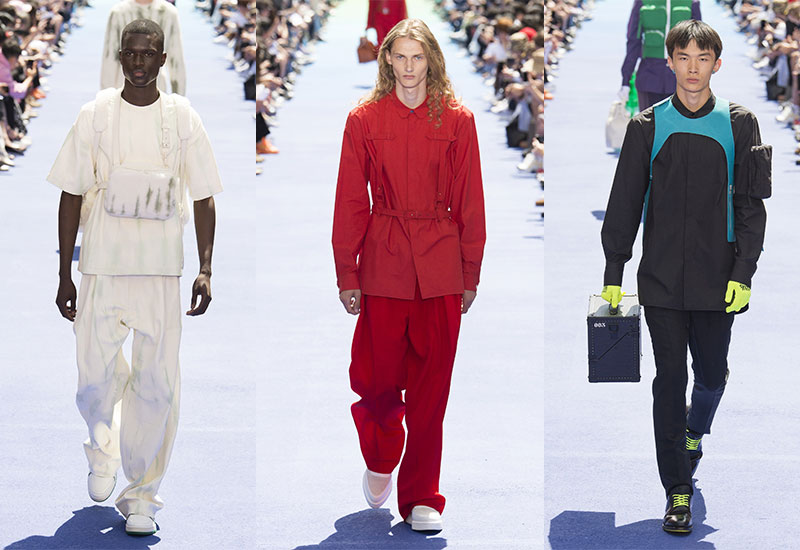 Harnessing
Harnessing
A term denoting a means of safekeeping, and the conversion of a decorative object into a useful ornamentation.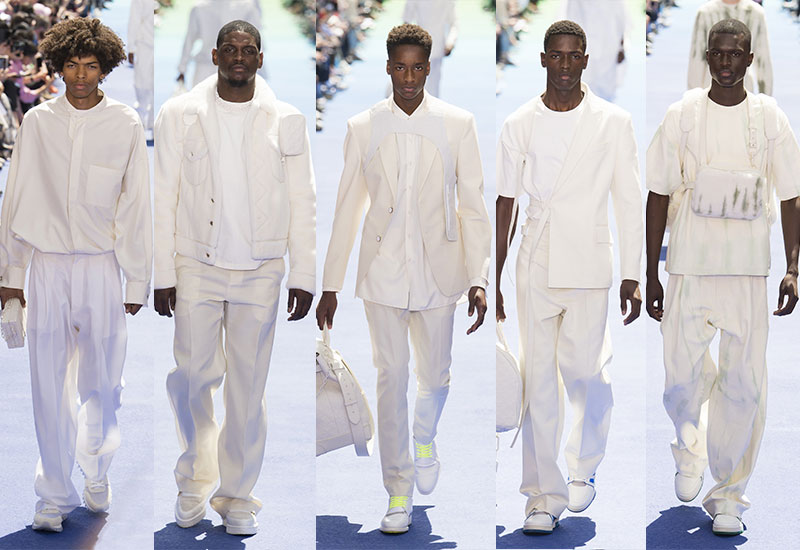 Off-White
Off-White
A greige gradient of white, which alters a component familiar to all. It serves as a blank canvas for perception and interpretation.
Palette
Palette
Black ,white, off-white, and taupe. Ruby shoe red, brick road yellow, tin man metallic, garland green and rainbow.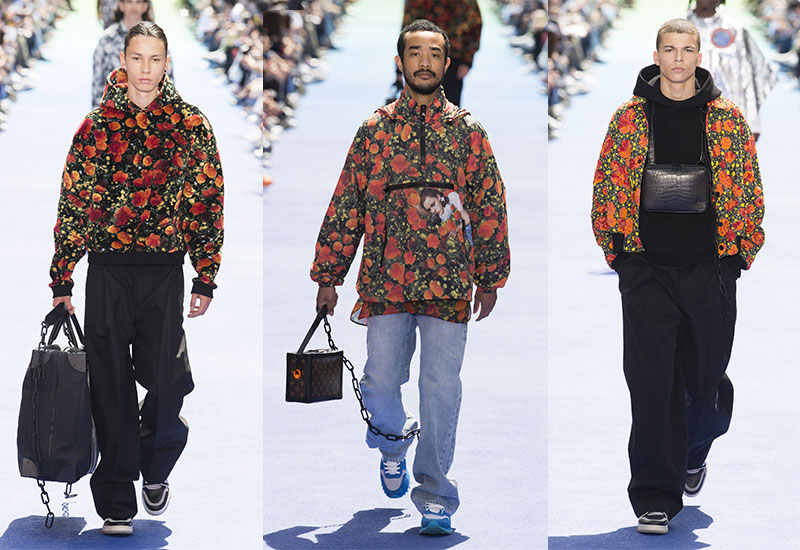 Poppy
Poppy
A ruby red flower, whose exceptionally fragile structure is contrasted by its psychedelic, narcotic properties and hallucinogenic power.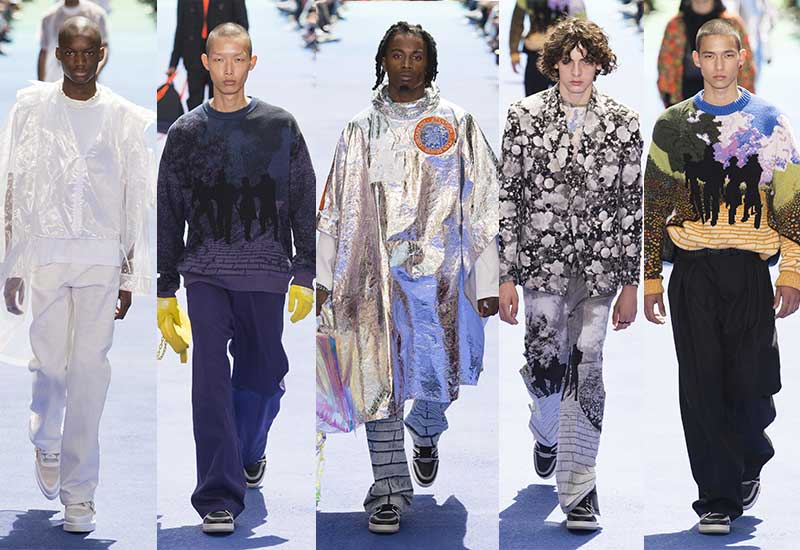 Rainbow
Rainbow
A kaleidoscopic palette evolving from off-white to polychromatic, synchronously forming a holographic archway known to represent dreams. A motif in The Wizard of Oz, which provides construct to the Spring Summer 2019 collection.
Shoes
Shoes
The wardrobe component most immediately indicative of an era of movement, each shoe design finds its origins in a sports or vintage culture, from 1960s' Chelsea boots to the golden era of 1980s' basketball trainers.
Sunglasses
Sunglasses
An accessory that gives the impression of a complete look in an instance. For Spring-Summer 2019 sunglasses reference eyewear from the Al Capone era of Chicago – Virgil Abloh's former stomping grounds – and riff on the 2005 Louis Vuitton collaboration between Pharrell Williams and Nigo.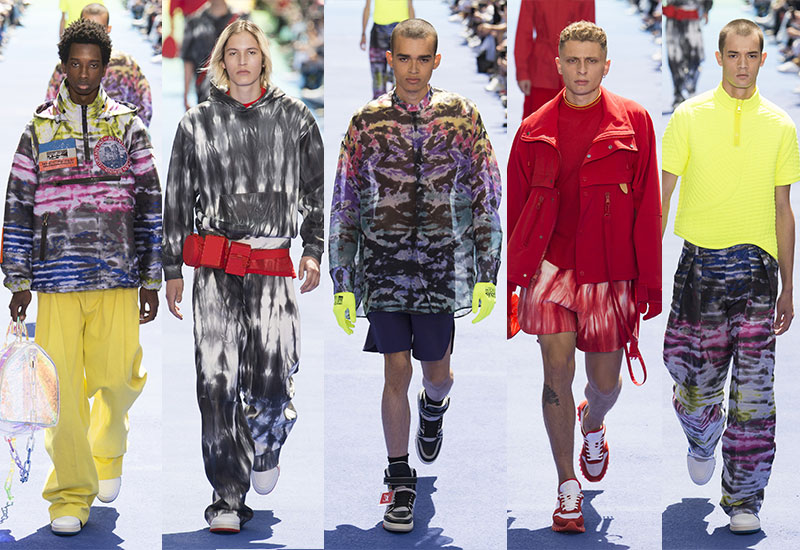 Tie-dye
Tie-dye
A homespun take on psychedelia, its trippy effects is often used to illustrate a state of euphoria. The DIY dying technique will hold nostalgic value to those educated at the University of Wisconsin, the foremost hippie college of all time.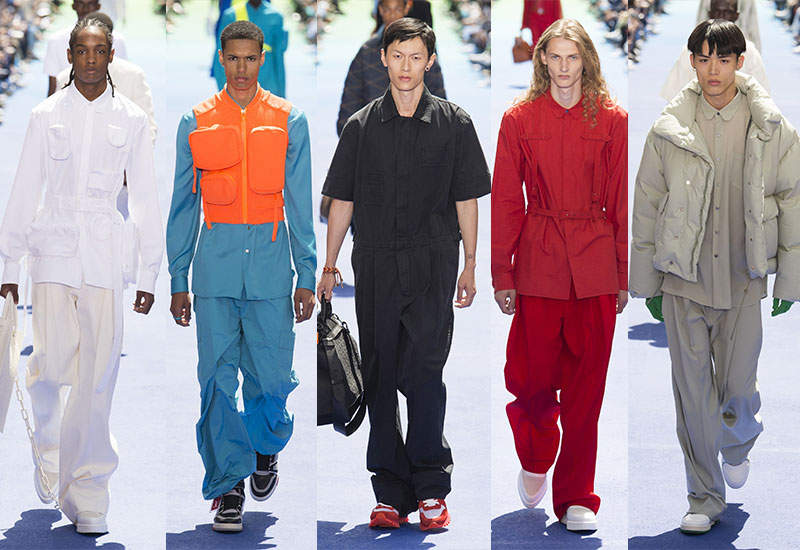 Utility
Utility
Once the luxury of workwear, utilitarian elements now provide fashion with equal parts functionality and pleonasm. It is the usefulness of a multi-pocket gilet, and the irony of a wallet situated at the ankle.
(swipe left on the gallery above for the 101)
Chapter 3: The crowd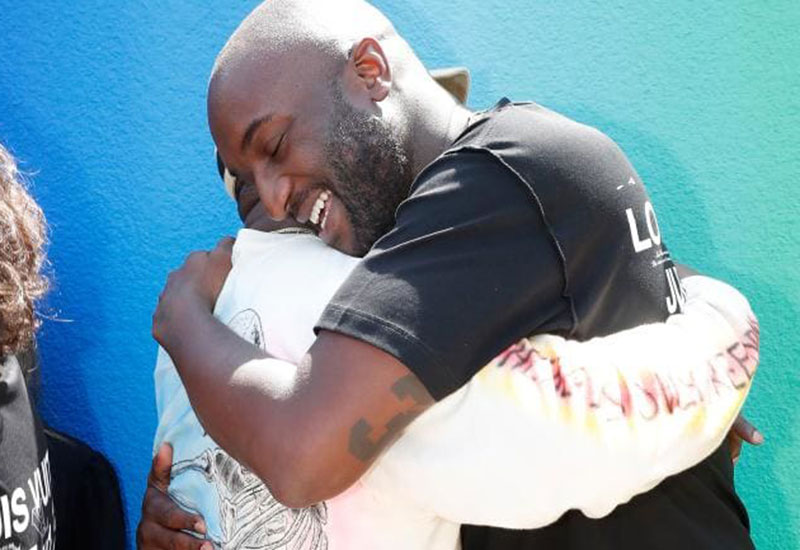 Kanye West: A mentor and friend to Virgil Abloh.
(And a real brother, if we might add, judging by their emotional embrace at the end of show.)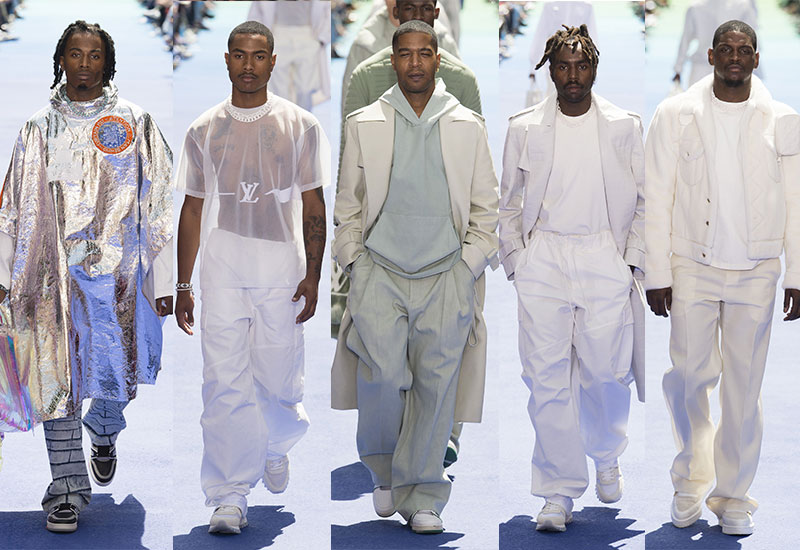 Model: A person identified by the anatomical, racial, and cosmetic features of his appearance. Or, by his artistry, individuality and personality.
(Virgil's celebrity friends were among the host of models to walk the runway, including Kid Cudi, Playboi Carti, Steve Lacy, Theophilus London, Dev Hynes, A$AP Nast, Octavian, painter Lucien Smith, artist Blondey McCoy, and pro skater Lucien Clarke.)
Production: A metaphor for finding drama in subtlety, the Spring Summer 2019 audience of three thousand people is formed by the fashion industry and specially invited students. It creates an atmosphere representative of the dual demographic which will be wearing the collection at hand. Set in the gardens framed by the galleries of the Palais-Royal, sand is rendered like a rainbow while selected guests wear corresponding T-shirts, effectively activating the show through attendance.
Epilogue (Read: Random words for the truest Virgil fan)
Disc jockey: "I like loud music"
Irony: The philosophy of a new generation. The presence of Virgil Abloh at Louis Vuitton.
Long-windedness: "A blessing and a curse"
Motto: "Good style is always off-putting"
Silhouette: "Revert against stiff and formal. Look as comfortable as you feel."
Z: "If you've made it this far, thank you for your time."
Images: Courtesy of Louis Vuitton