When a world of spice and relentless innovative spirit meets the willing juxtaposition of ideals, the result is yet another culinary voyage that transforms sights and smells into fine South-Asian cuisine.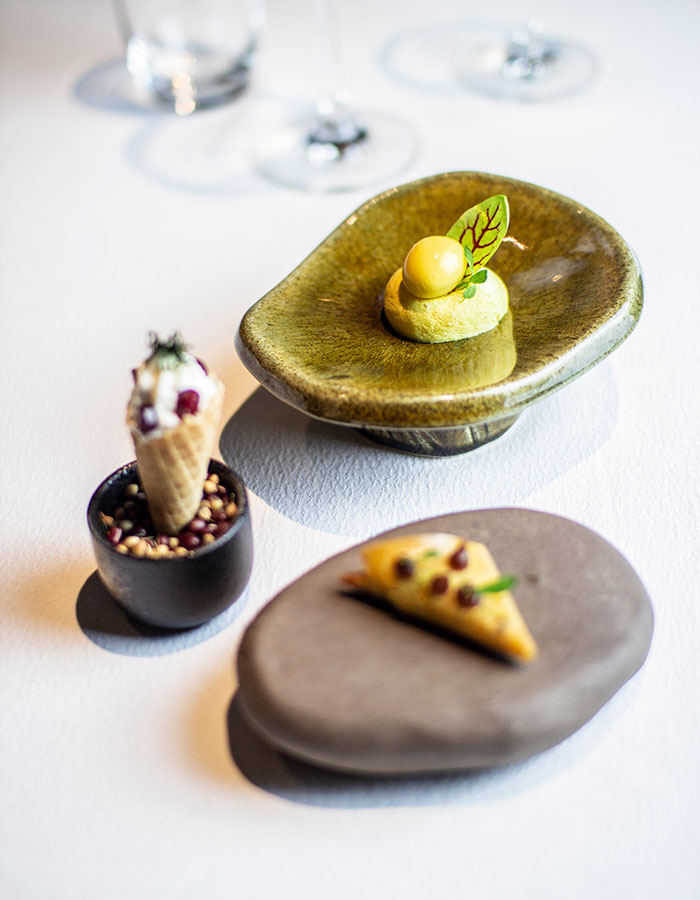 Just when we thought we figured the tricks of Nadodi's kitchen, KL's foremost Indian fine dining innovators are introducing even more flavours and textures into this quarter.
Our experience on the latest 12-mile journey pays testament to this claim.
A world of spice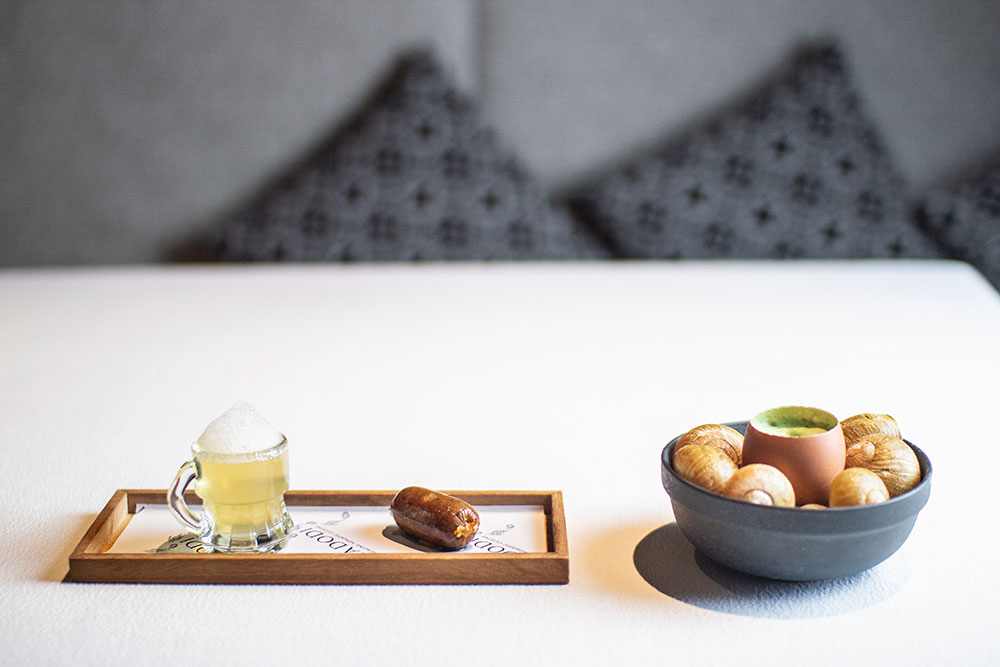 On this 12-course journey, Nadodi brings cuisine favoured in Tamil Nadu, Kerala, and Sri Lanka to the global palate. Consider, for example, how coastal Kerala's love for molluscs is examined through European lenses in this surprising duo. A single, juicy escargot is stir-fried the Kerala way, then made the centre-piece of this dish through the egg mousse it sits in. Creamy, rich, and minimally spiced, the mousse acts as a prelude to mutton paal poriyal fashioned into a tiny wurst. Pop it into your mouth and experience the burst of juicy umami.
The King's Breakfast provides another cross-cultural case study, reimagining Sri Lanka's spring-hopper-with-sodhi concept in a neat breakfast tray.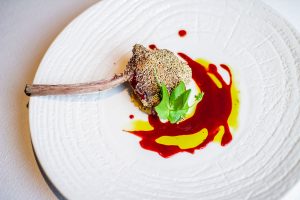 Carrying on this cultural ode is the Serfoji lamb, prepared the way King Serfoji of Tanjore enjoyed it.
A decent-sized cut is rubbed with poppy seeds (generously, might we add), and placed on a bed of chickpeas. On the plate, it is finished with beetroot dressing that lends an inviting shade of red. Together, this plate makes for a rich, juicy main, which carries its royal inspiration with credibility.
A relentless, innovative spirit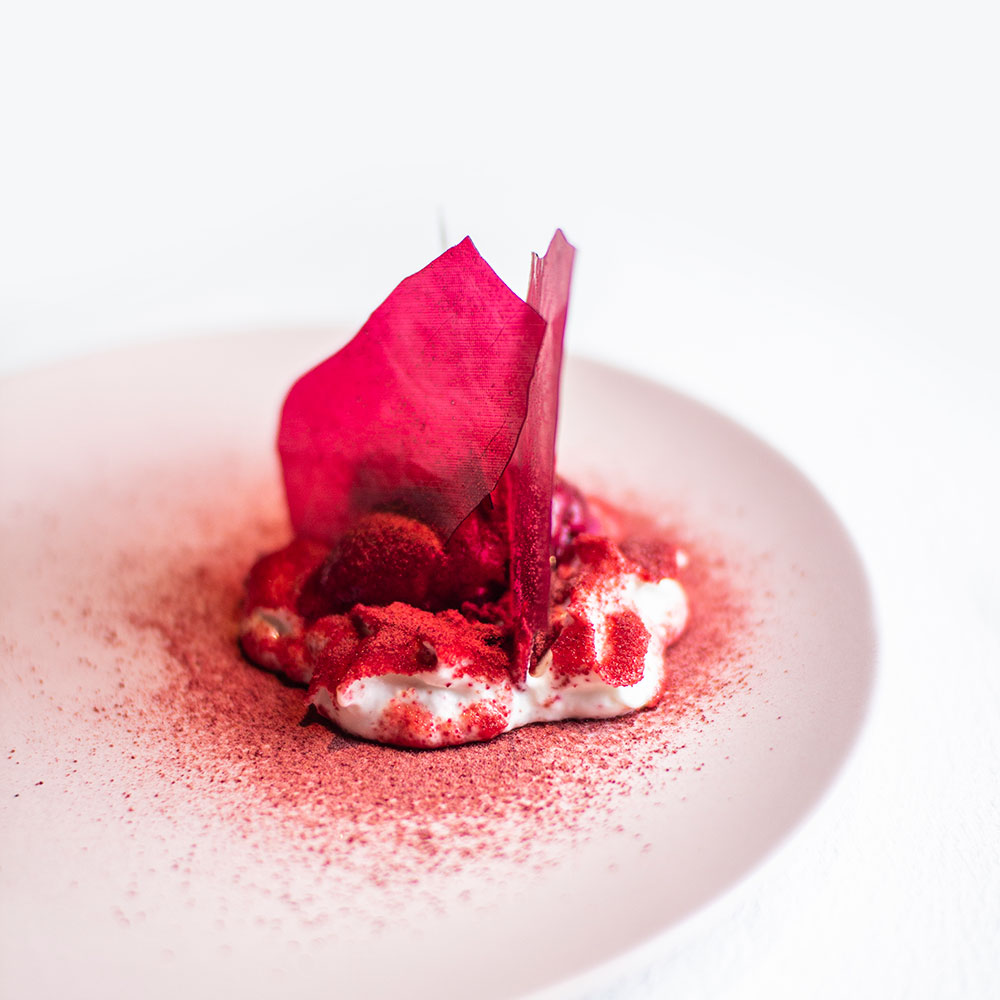 Red curry with four-way beets, coconut, and peanuts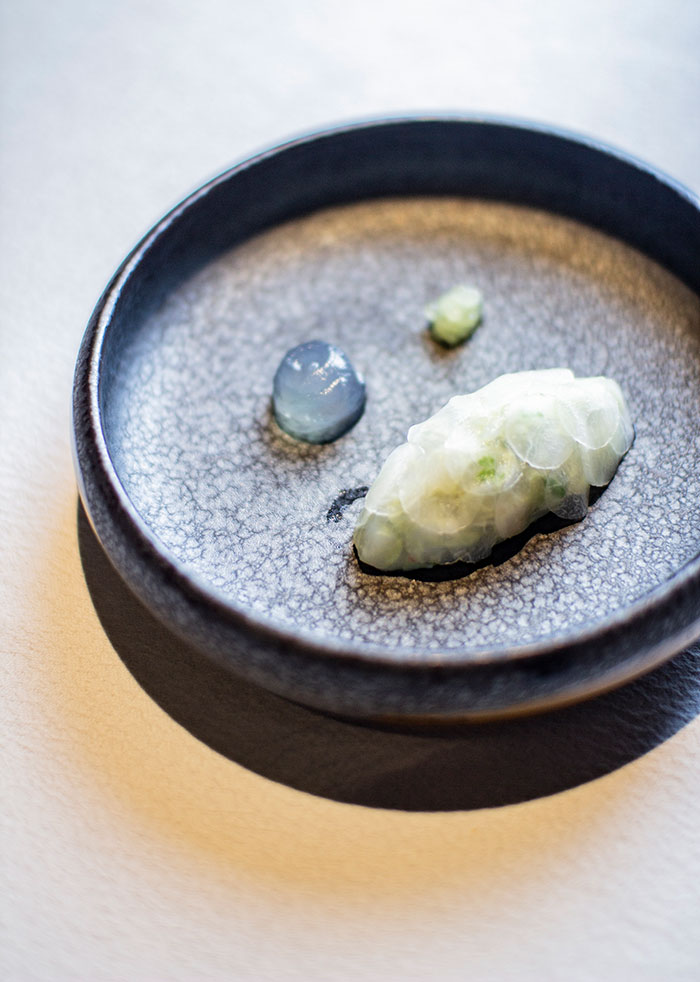 Seafood ceviche in a daikon shell, complementing fragrant Madurai jasmine (the real star)
(swipe left)
Now over a year in, Nadodi knows what it does well. With that knowledge and skill, Chefs Sri Charan and Johnson Ebenezer  fine-tune innovation that belies first sight in their signature way.
Case in point: this vision of red, consisting of curry foam, coconut, and peanut. We were caught by delightful surprise at the foam's vivid curry taste, despite full-well anticipating it. It is elevated by four presentations of beet: sorbet, crisp, pickle, and that powder to which it owes a brilliant hue. Peanuts lend a crunchy texture to this otherwise softly-fleeting dish.
Consider, also, how the seemingly smallest ingredients are given their time in the spotlight. Whether through the multiple versions of the green ambarella fruit, which leaves encrust the catch of the day (a sensational coral trout for us), or the highlighting of fragrant Madurai Malli (jasmine) in a daikon-shell seafood ceviche (best mixed well), there's a serious undertone to the experimental curations of flavours in this new menu.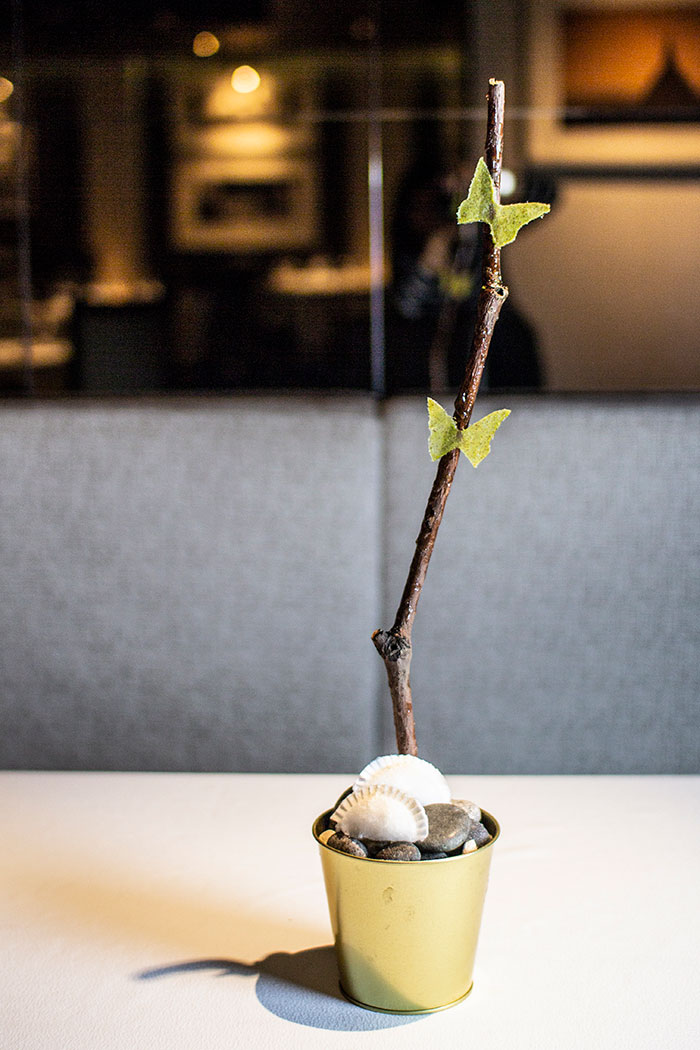 A juxtaposition of ideals
Banana leaf fans may know rasam as a spicy meal-closer, but don't expect to find layers of oil here. Nadodi's brand of this simple-yet-soothing broth leans closer towards the comfort of home. Intense in flavours but smooth in texture, this rasam is akin to a warm embrace to your insides – much welcome amidst the sea of spice.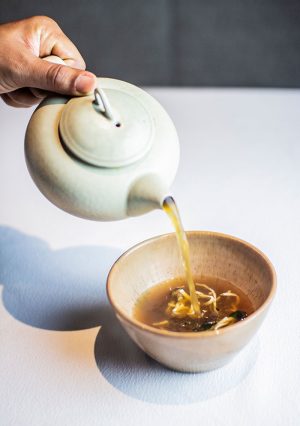 It achieves this bitter-sour warmth through hours of boiling and baking, gaining water only from its own ingredients. The rasam is then frozen, and all its sediments removed, which results in a clear, golden broth we enjoyed with chicken noodles (cut out of flattened meat), moringa, and mushrooms.
Pongal rice is another household favourite and festival staple, so it is rather daring to afford it the 5-star treatment.
Here, Nadodi does this by serving the overcooked rice (with lentils, peppercorns, cumin, and lots of good ol' ghee) with Coimbatore-style quail breast masala. These make up the levels of this sweet-spicy Nomad's Globe, created with an attention to detail, right down to a colourful pappadom.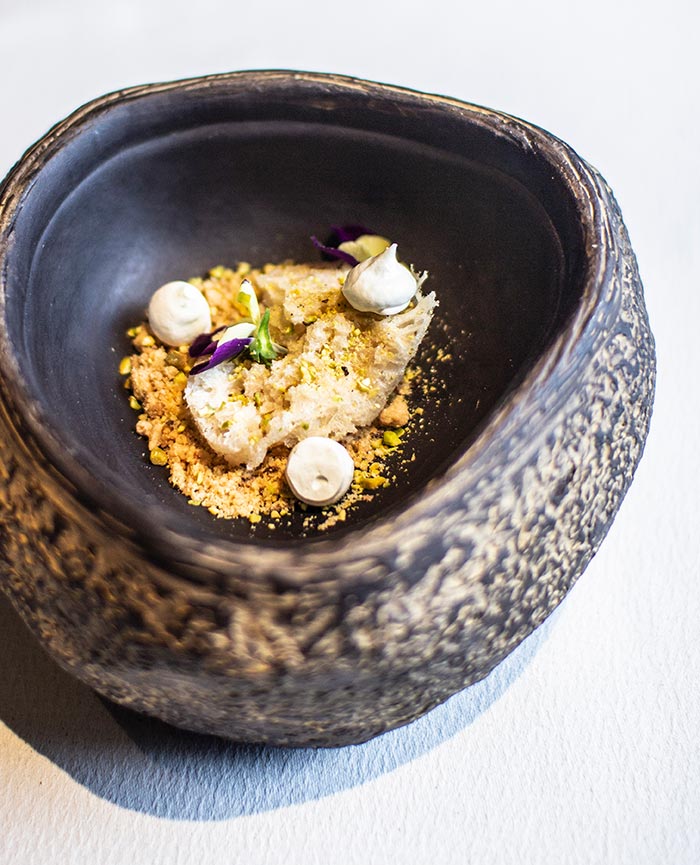 Salted biscuit, pistachio, and lemon meringue dessert before receiving a layer of Horlicks foam. Sweet nostalgia!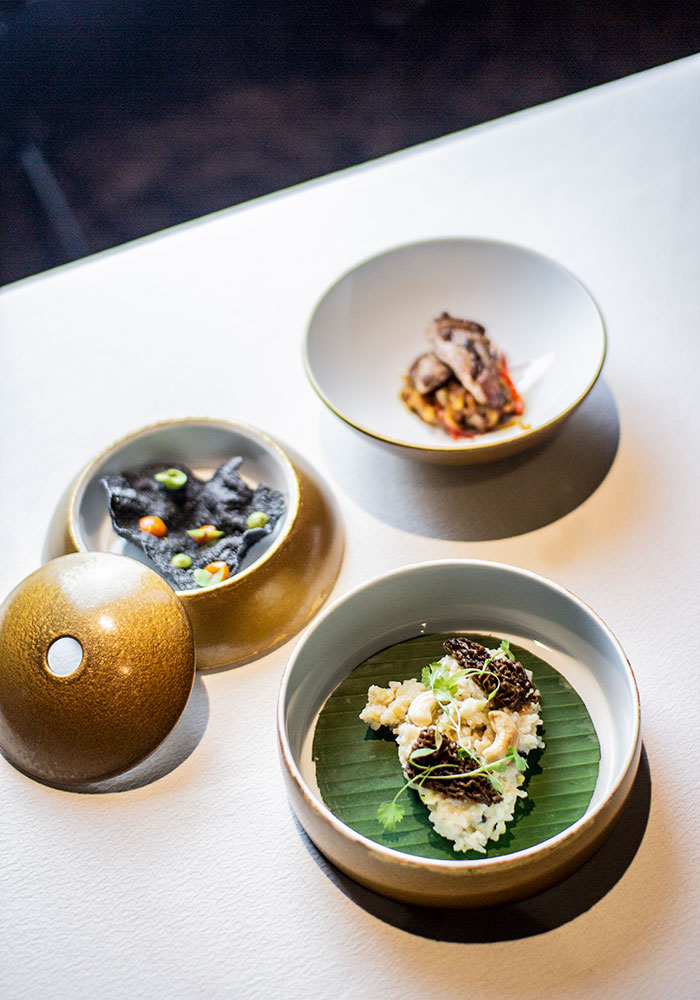 Nomad's Globe now features a quail masala-accompanied pongal rice.
(swipe left)
Partly owing to the region's mastery of sweets, the desserts on this 12-mile journey hold their own ground. Our top pick is the surprise dish Chef Sri served up, injected with a dose of nostalgia through silky-thick Horlicks foam. Its bed of salted biscuits, pistachio, and lemon meringue may seem like a hodgepodge at first look, but on the palate, each brings a dimension of saltiness or tartness that proves essential to the juxtaposition of ideals – warm yet refined, retrospective yet modern.
Nadodi KL isn't done just yet
As is standard at Nadodi KL, the third 12-mile menu this year is deliberate and complex à la molecular gastronomy, while weaving rich sense and story into imaginative plates. Stay a little longer and your journey could also include eight in-house craft cocktails.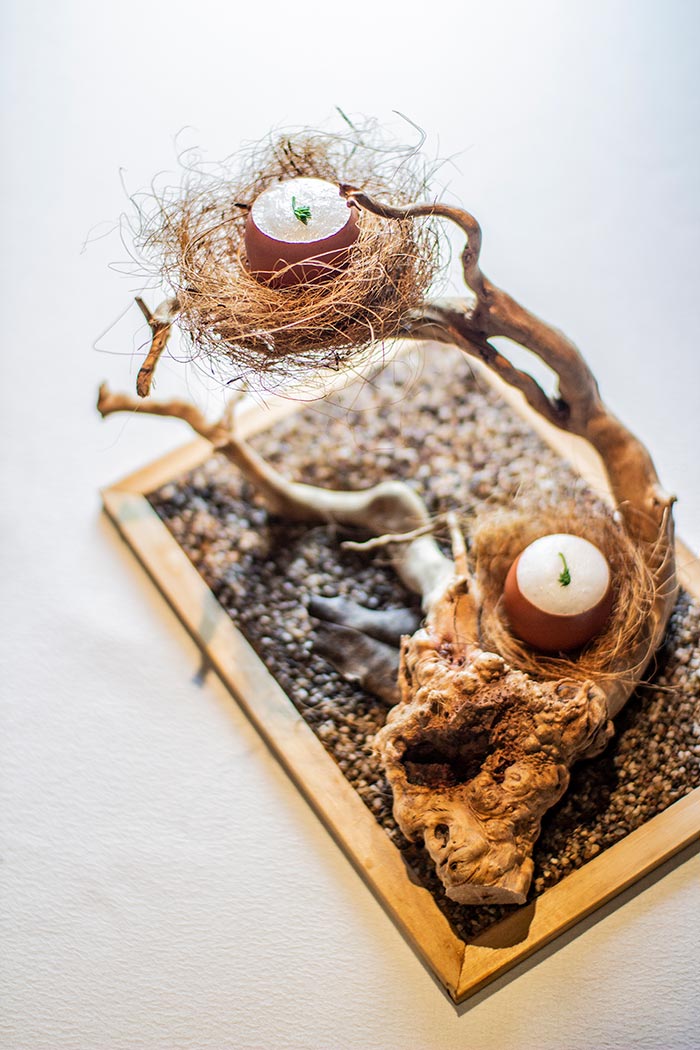 Deep in the woods
Deep in the woods
Perhaps this cocktail has no name because its visual appeal tells the story well enough. Taken as as shot, this is a sweet-sour concoction of truffle gin in egg white.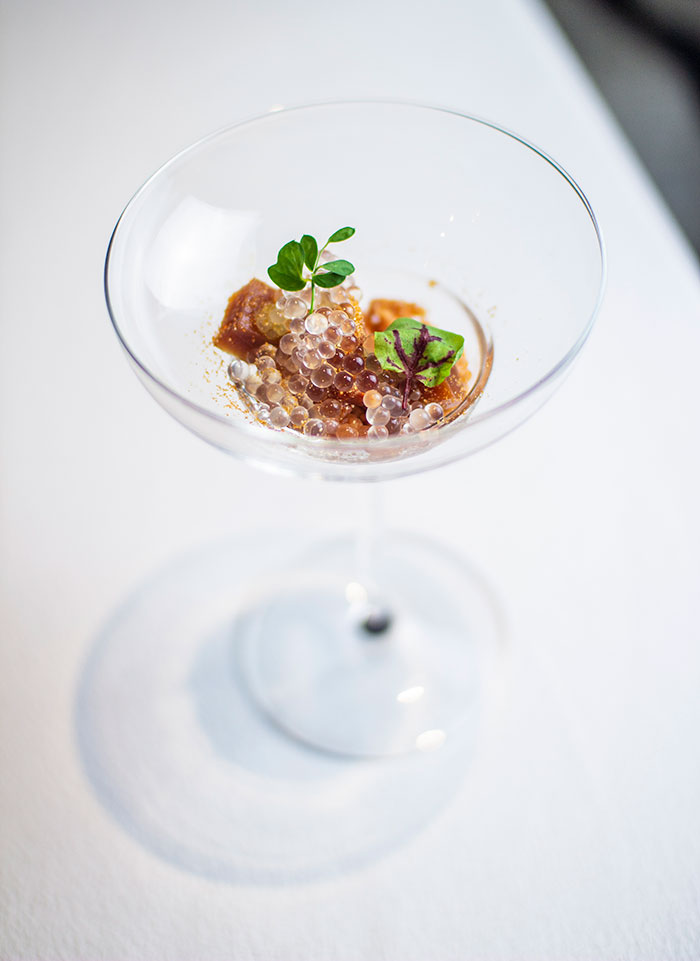 Mary had a little vodka
Mary had a little vodka
We're told to eat this Bloody Mary "like a dessert" - a cold, spicy one, that is. Tiny vodka caviar bursts delightfully against this multi-textured take on a classic cocktail.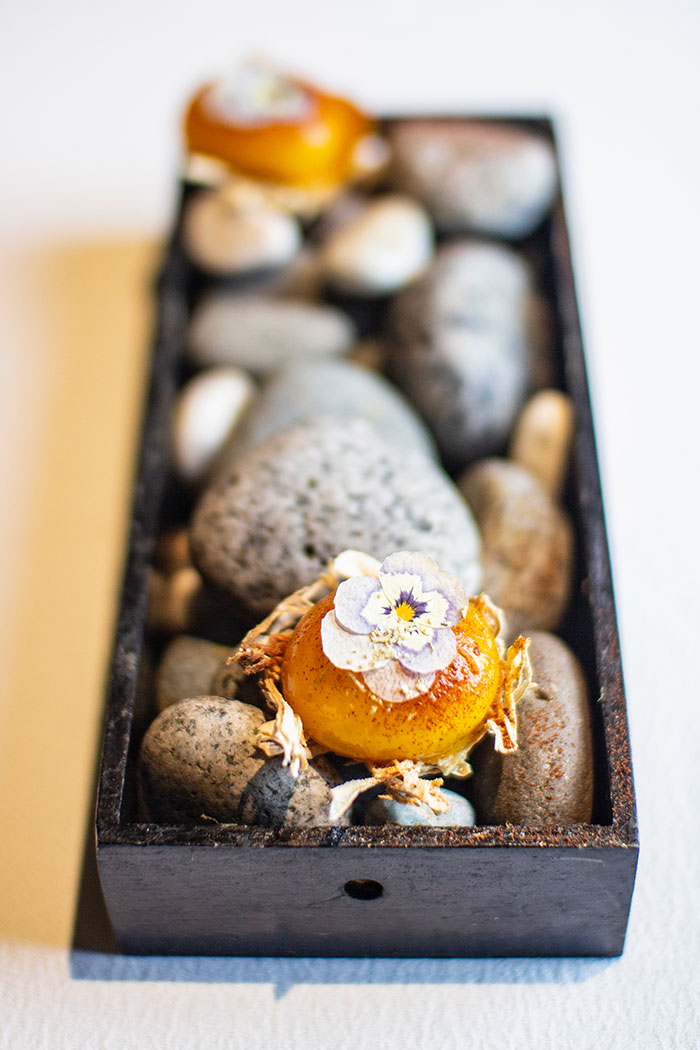 Waiter, there's margarita in my yolk
Waiter, there's margarita in my yolk
Akshar Chalwaldi has painted a vivid cocktail degustation on the backdrop of Nadodi's trademark mind-bending gastronomy. Fragile as its dehydrated mango nest is, this mango margarita delivers a neat punch when eaten as soon as possible (wouldn't what that yolk to burst).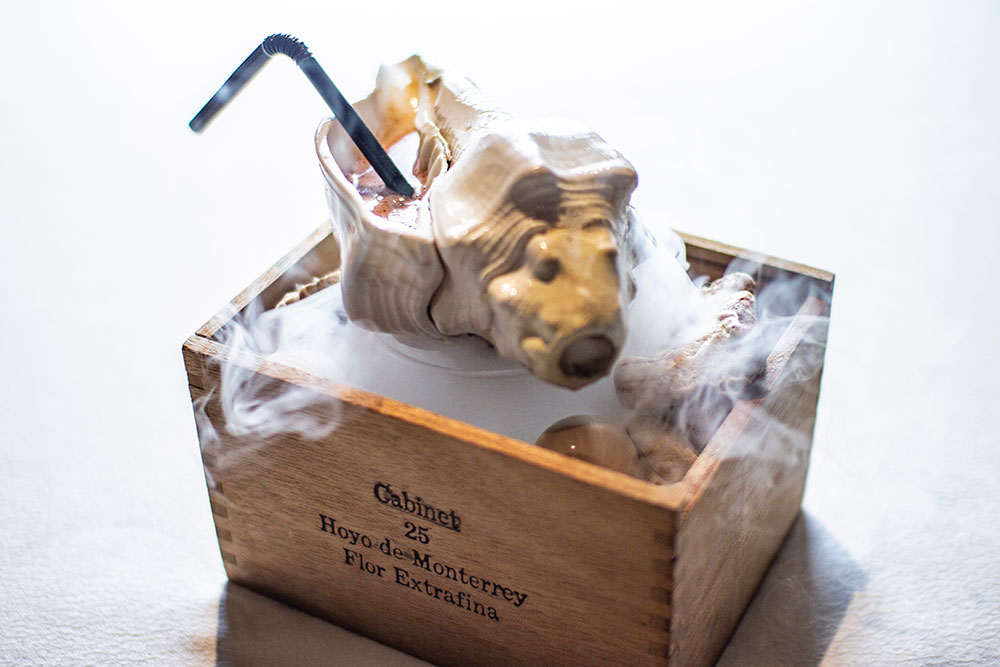 A dose of passion
A dose of passion
An easy-sipping drink compared to the other show-stoppers, this conch is filled with white rum, freshly-pressed pomegranate juice, basil juice, and passion-fruit puree.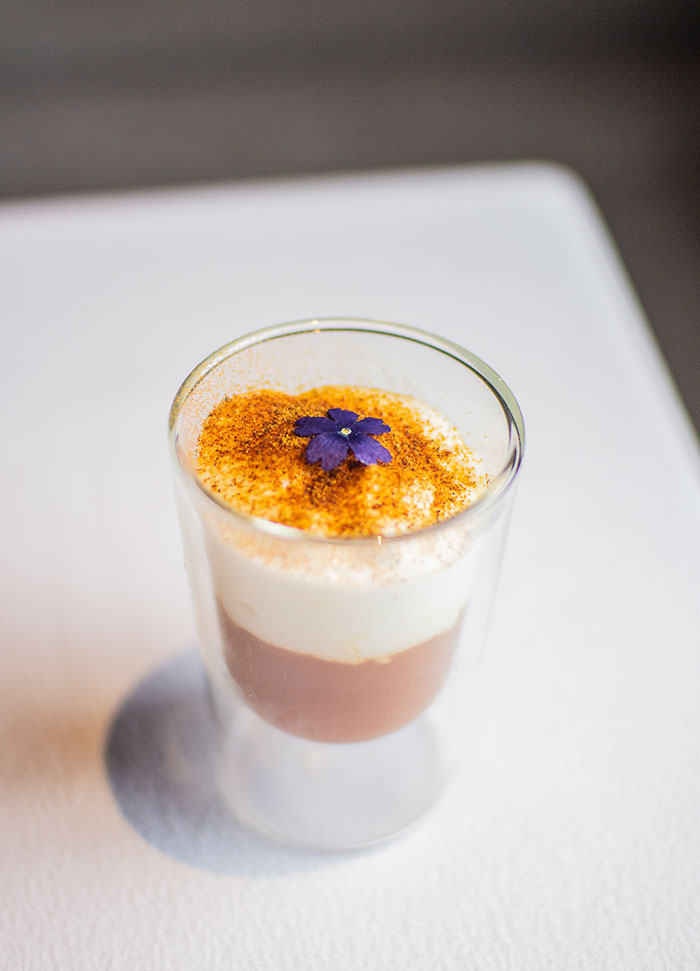 There's levels to this rasam
There's levels to this rasam
Though this rasam shot is first warm on the lips, its cold frappe bottom gushes through for an interesting surprise. Liquid rasam reduction (straight from the kitchen) is made into the powder dusted on here. No reason to waste good rasam, after all.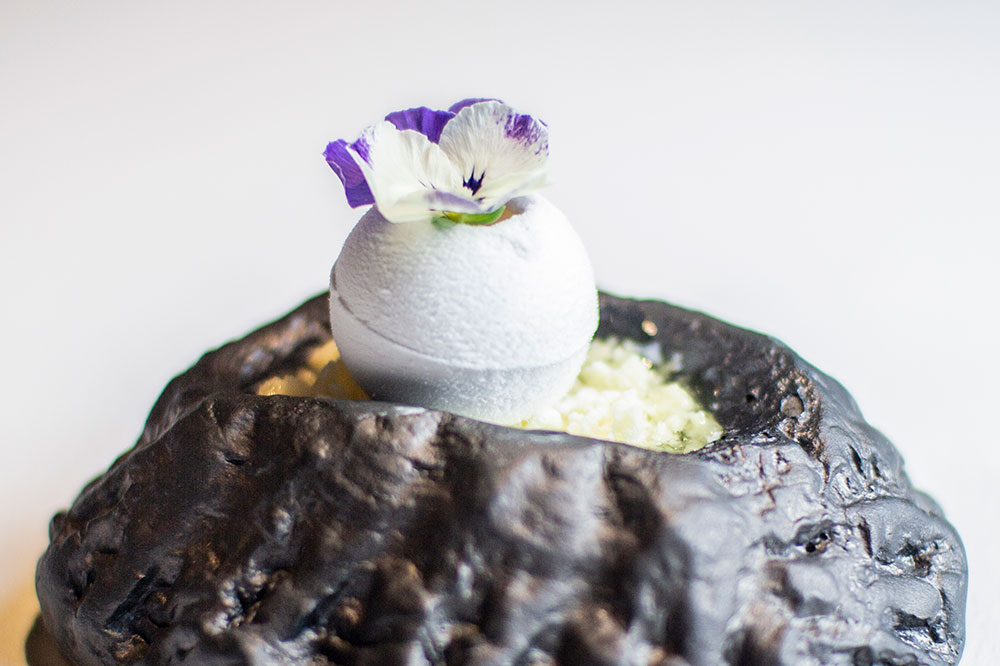 If you like pina colada...
If you like pina colada...
Pop this entire coconut mould into your mouth and prepare for a lingering chill. With Malibu gel and pineapple given Nadodi's favourite liquid nitrogen treatment, this cocktail is yet another we initially mistook as one of the 12 culinary miles.
(swipe left for more)
For enquiries and reservations, head to the official website.
Address: Lot 183 of, Jalan Mayang, Kampung Baru, 50450 Kuala Lumpur
Opening hours: 6-11pm, Monday to Saturday
Photography: Gan Yew Chin