Malaysia continues to rise as a culinary destination to watch, as this year's Michelin Guide listing includes 127 entries for both the cities of Kuala Lumpur and Penang, a jump from the 97 entries in the 2023 edition. Held on November 17 in the Four Seasons Hotel Kuala Lumpur, the star revelation occasion saw a star-studded guest list from the local culinary scene. These establishments offer over 30 different cuisine types, ranging from haute cuisine like Dewakan to the decade-old comfort food we grew up with. 
"As we unveil the second edition of the Michelin Guide Kuala Lumpur and Penang, it is a testament to the gastronomic adventures that await everyone in these two remarkable cities. From traditional heritage dishes to contemporary interpretations, the culinary landscape continues to evolve, providing a true reflection of the diverse culinary artistry in Kuala Lumpur and Penang," said Gwendal Poullennec, the International Director of the Michelin Guide.
A first in Malaysia, Dewakan, led by chef Darren Teoh, was named the first-ever two-Michelin-starred restaurant in this year's Michelin Guide. Translated to "food from God", Dewakan is well-known for serving localised dishes with a modern twist using locally-sourced ingredients. Meanwhile, Restaurant au Jardin, headed by Su Kim Hock, Beh Gaik Lean's Auntie Gaik Lean's Old School Eatery and DC Restaurant, helmed by Darren Chin, carry forward their one-star honours from last year. Beta KL, led by chef Raymond Tham, who worked its way up from the Michelin Selected last year, was newly promoted to one star.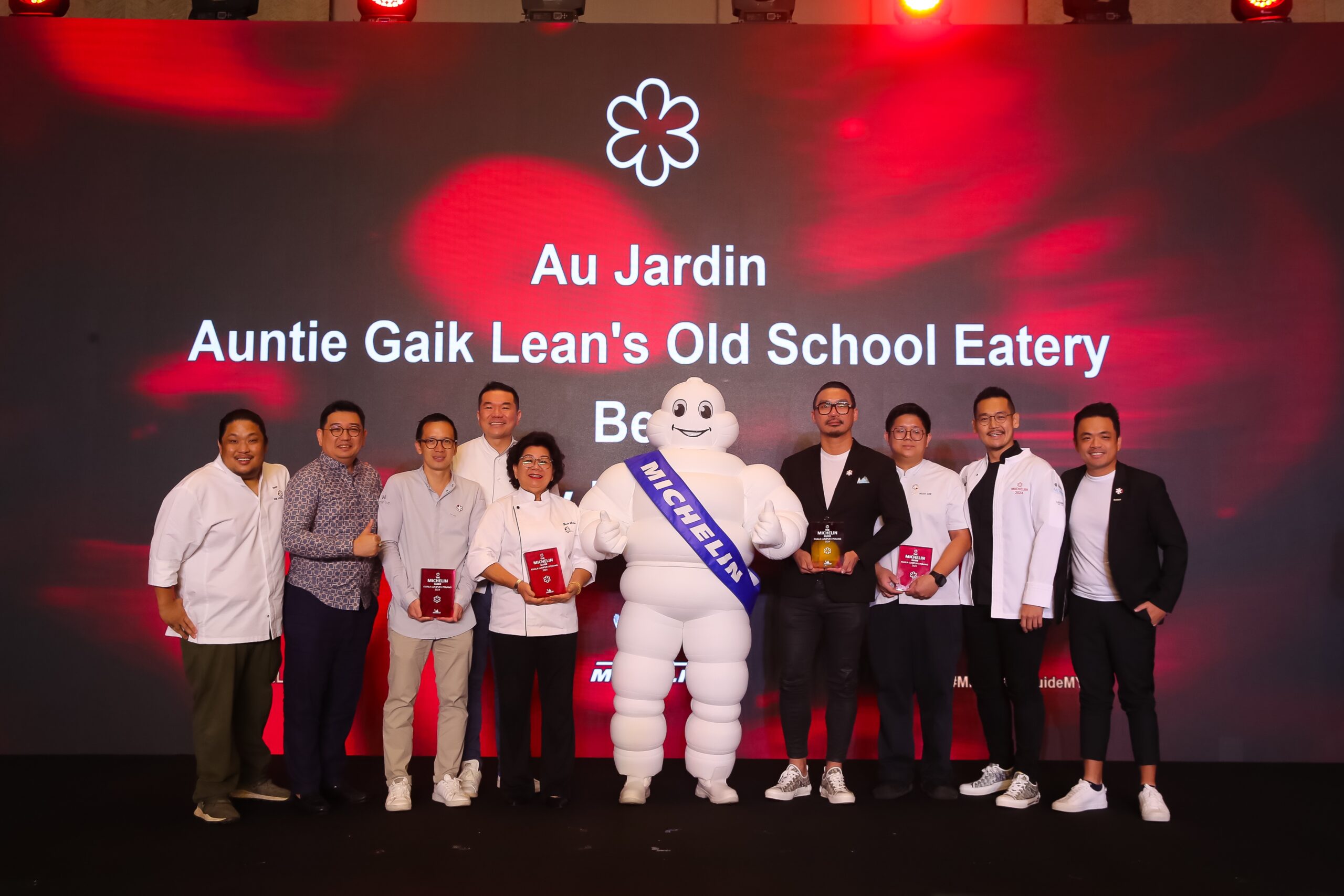 Without further ado, check out the full list of restaurants that made it to the Michelin Guide Kuala Lumpur and Penang list for 2024.
One Michelin Star
Restaurant au Jardin (George Town, Penang)

Auntie Gaik Lean's Old School Eatery (George Town, Penang)

DC Restaurant (Kuala Lumpur)

Beta (Kuala Lumpur)
Two Michelin Stars
Dewakan (Kuala Lumpur)
Michelin Selected
The 16 newly-added Michelin Selected establishments in Kuala Lumpur are: 
Bōl

Café Café

 Entier

Frangipaani

Jwala

Ling Long

 Malai

Marini's on 57

Nadodi

 Seed

Shanghai Restaurant

Sushi Masa

 Tanglin (Bukit Damansara)

Tenmasa

Teochew Lao Er

Wagyu Kappo Yoshida
As for Penang, the 9 newly-added establishments are:
888 Hokkien Mee (Lebuh Presgrave)

Air Itam Duck Rice

Ceki

Fook Cheow Cafe

Jit Seng Hong Kong Roasted Duck Rice

 Penang Famous Samosa

Richard Rivalee

Sambal

The Pinn
Special Awards
Service Award: Wan Mohd Zulkifeli, from Gai by Darren Chin

Sommelier Award: Yap Cze Ying, from Hide KL

Young Chef Award: Johnson Wong Jia Liang, from Gēn

Opening of the Year Award: Remash Thangaraj, from Jwala
Bib Gourmand 
On this edition's list are 14 new eateries, hawkers or restaurants, all selected for offering brilliant food without patrons having to break the bank.
The 5 names from Kuala Lumpur consist the likes of:
Hor Poh Cuisine

Jalan Ipoh Claypot Chicken Rice

Roti by d'Tandoor

Sek Yuan

Sri Nirwana Maju
As for the Penangites, the list of 9 includes:
Ah Boy Koay Teow Th'ng
My Own Café

Sister Yao's Char Koay Kak

Ghee Lian

Siam Road Char Koay Teow

Penang Road Famous Jin Kor Char Kuey Teow

Bibik's Kitchen

BM Cathay Pancake 
For more information about the Michelin Guide, click here.