When it comes to food, Penang requires no introduction. The unofficial food capital of Malaysia has an appetite that knows no bounds. When Michelin revealed its first-ever guide to Malaysia, the island's recognition as a food destination caught the world's attention (and the scepticism of many locals).
Elisabeth Boucher-Anselin, the director of communications of Michelin experiences recently revealed that Michelin will be introducing a new way of announcing more additions to the Guide through a "Live Updates" format, where a "new" symbol will be placed next to the eateries' on the official Michelin website and mobile app. These announcements can be expected to be released later in the year.
Michelin recently invited FirstClasse on a weekend getaway to discover some of the Michelin-selected eateries where we had the opportunity to take in some of the celebrated restaurants this little island offers. Here's our verdict:
*Thara
Thara is a Thai restaurant nestled in the quiet streets of Lorong Prangin in Georgetown. The Michelin Bib Gourmand selected restaurant is a relatively new spot in town (it opened in July 2022), that is already a much-loved destination for Thai food lovers. Expect authentic Thai dishes from Tom Yum Goong to Hor Mok Talay Maprow, a kind of Thai-style otak-otak served in young coconut. The Tom Kha Kai soup with chicken in a lemongrass-galangal soup with santan is sublime.
Verdict: 4 / 5: Great food, good portion size but service could be improved.
Rasa Rasa
The following morning, we were treated to a quintessentially Malaysian breakfast at Rasa Rasa. If you fancy a Nyonya-inspired breakfast, this place offers Malaysian staples such as Nasi Lemak and Roti Bakar Kaya but with a distinctly Peranakan influence. The homemade family-recipe sambal sauce served with the Nasi Lemak is rather sweet compared to the sambals in KL. The atmosphere leans toward an industrial theme with exposed brick walls and a slightly retro ambience.
Verdict: 3 / 5: Overall good service and good menu selection.
*Bao Teck Tea House
The first thing you'll notice once you set foot in this cute tea house located on Lebuh Melayu Street in George Town is the moss pond which the owner of this cafe has proudly taken up as a hobby. The dim sum menu here serves up the classics but it is the presentation, (the owner is an art enthusiast) that impresses most. There is also a great selection of rare Chinese and English teas to pair with the dim sum menu.
Verdict: 3/ 5 Great service, great atmosphere and good quality food.
Auntie Gaik Lean's Old School Eatery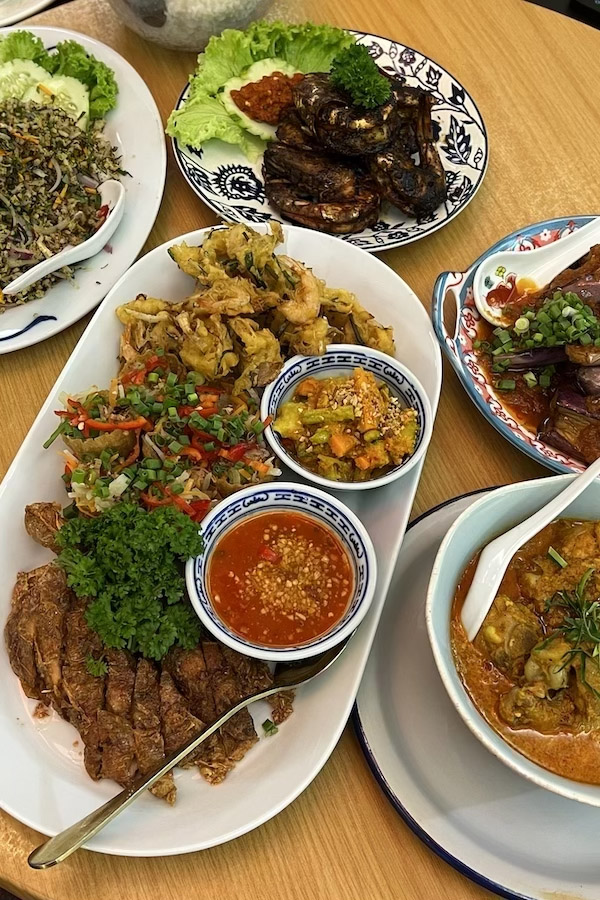 The Michelin-starred Auntie Gaik Lean's Old School Eatery has been around for almost a decade and is renowned for its home-cooked style of Nyonya cuisine. Don't miss the Curry Kapitan chicken, the northern-style Otak-Otak and the Nasi Ulam served with an array of fresh traditional herbs. Auntie Gaik, who was present during our visit, is as charming as the much-loved dining spot, proving that the Michelin Guide also awards stars based on a chef's personality.
Verdict: 4/ 5 Excellent service, good portions, top-notch ingredients.
*Non-halal (non-pork dishes available upon request)