Looking at Dr Jezamine now, one would never guess there was a time when being a mother was unheard of for the overachiever.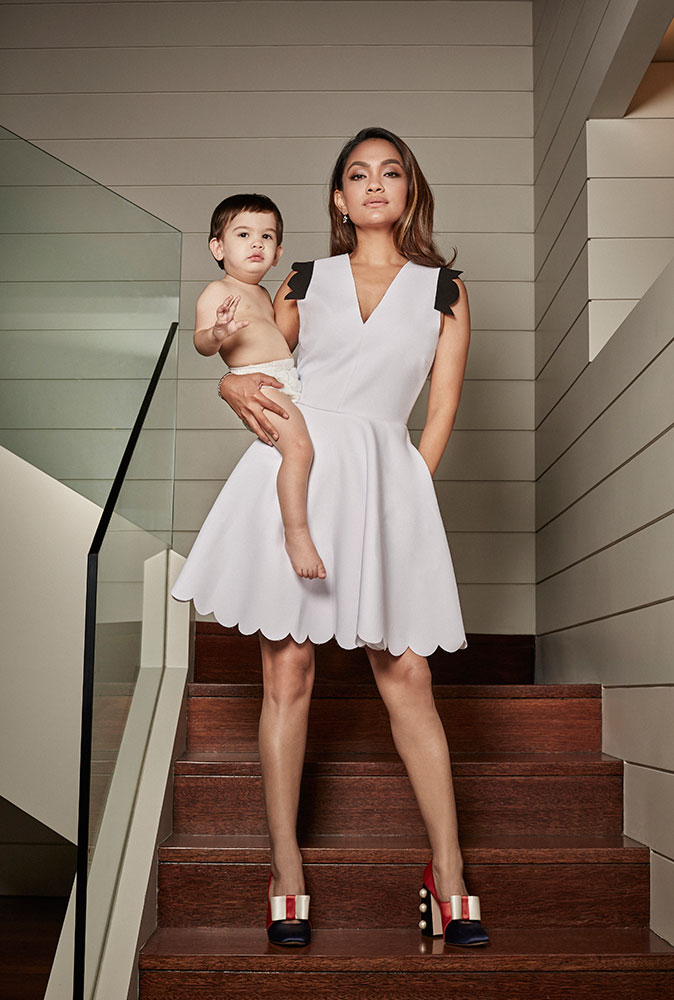 Dr Jezamine Lim Iskander is the very embodiment of the modern day multi-tasker woman.
Professionally, she's a medical doctor with a PHD in stem cells under her belt; previously, she has been a runway and commercial model, with her own FHM magazine cover to boot; today, she is the managing director of Harith Iskander Productions founded by husband Harith Iskander. Yet, none makes her as proud as being the mother to Zander, Alessandrea and Zydane, aged 5, 3 and one and a half respectively.
Looking at her now – whether it be on Instagram photographed with her kids on another afternoon out, or in person affectionately doting on them in between working the cameras like the pro that she is during our shoot– one would never have guessed there was a time when being a mother was unheard of for the overachiever.
"Growing up I didn't think about motherhood at all," she professes with a laugh. "Even before I got married, I was never a kids person. I'm very career-minded so I didn't picture myself getting married, and I certainly didn't picture myself having kids."
It all changed when she met "the right one".
"Right after marriage, I was the one thinking about kids, asking if Harith's ready to start a family," she tells candidly. "Maybe I was settled down by then, maybe I met the right person – my perception of marriage and family changed."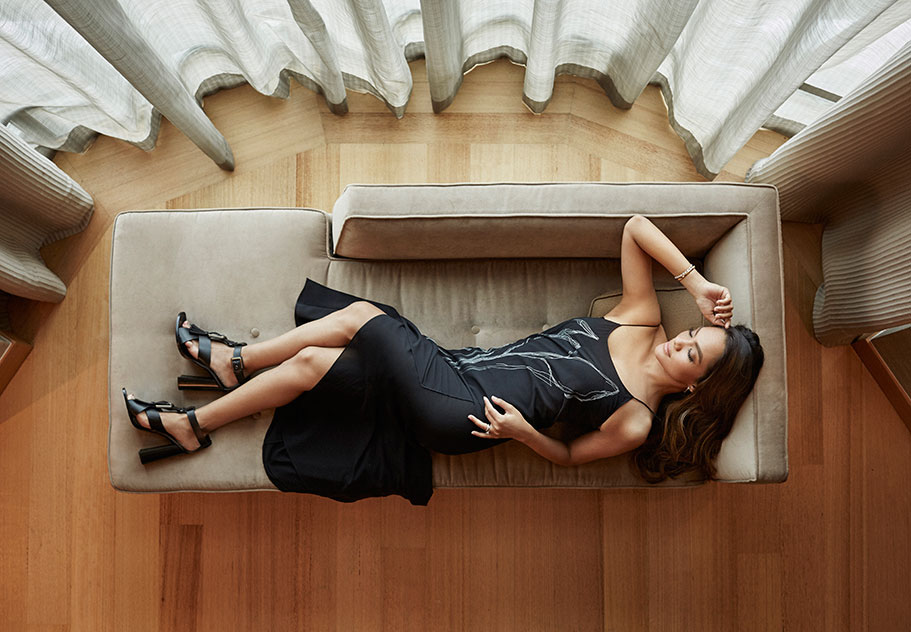 All a matter of perspective
At an age when many women are putting off motherhood for fear of children derailing their careers, Dr Jezamine comes right out and shares that it is the opposite for her. Motherhood has always worked in her favour.
"If I didn't have my kids, I would not have finished my thesis," she declares. "They have been my timeline and my push."
She had registered for her Masters degree hardly two weeks when she found out she was pregnant.
"I used my pregnancy as my deadline to finish my work," she shares. "I knew I was due to deliver in October and I had to finish this much of my proposal, so I had a deadline. I was ruled by this deadline that could not be bent. Everyday I had a goal – finish 30 pages of my books and complete this much of labwork and I saw to it because when the baby comes and I'm not finished, then there's no turning back."
"Harith has been so supportive. I didn't expect him to be so good at being a father."
After her first-born Zander and her Masters thesis were birthed, she was offered to convert her Masters degree to a PhD, an offer she could not refuse. Motherhood came to help her through it once again.
"When I started on my PhD, I was pregnant with Zandrea," she tells, referring to her second-born by her nickname. "When I delivered my youngest Zydane was when I was due to submit my thesis as well. I came back from the hospital and, one week later, I was at my desk writing my thesis."
"While I was growing my babies, I was also growing my academic baby and career," she muses.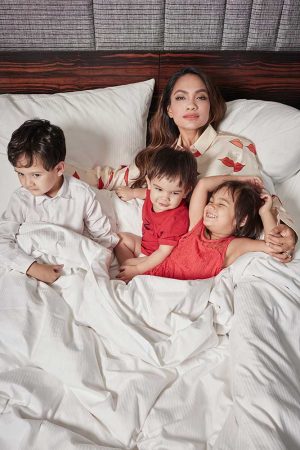 "I want my kids to have the freedom to choose"
Her babies are now out and running in the world and her thesis, submitted and awaiting publication, but things haven't quietened down in the slightest for Jezamine. In fact, whatever challenges there was have only snowballed with the little ones growing up, and doing so in the limelight.
Collectively, she and Harith have a follower count of a whopping 138.4k followers on Instagram – which also translates to double the number of eyeballs on every family photo they post from every dance rehearsal or family day out. All 3 kids are also mini celebrities on their own, having starred in commercials since they were only a few months old. Protection from cyber and on-ground threats is a very real issue.
"I'm very careful with them on the road," she shares. "There have been people who just start taking pictures. I will tell them politely that I rather they not do that."
"They are now at an age where they have a lot of playdates," she adds. "We only allow it with people we really know. If Harith and I can't be there, we go to the same place so that the teachers are familiar with them. Knowing your neighbourhood is so important, everywhere I go, I know the security guards and on-duty staff."
"I wouldn't be here where I am today, with my PHD completed, if not for them; they've been my push and motivation."
Despite it all, she won't be limiting their exposure because she believes to do that would be unjust to their discovering what they will want to do with the rest of their lives.
"I've learnt to appreciate talent since managing Harith's work," she explains. "I was not exposed to music or art lessons as a child so I was a very academic person. I have come now to realise that talent is a gift and you need to identify it at a young age."
"I want my kids to have that freedom to choose. I will fully support them in whatever they want to do, so long as it's their passion. Discover what it is from when you're young, nurture it, use it to help you through life. That's where true satisfaction comes from. That's why I'm going to go with the flow; whatever comes up, I will try and prevent and what I can't prevent, I will handle it."
Mum first, everything else second
Despite having a mountain on her plate on most days – Jezamine spends mornings and afternoons at the hospital before coming home to the kids in the evening – she still manages to not only cook dinner, but also tend to work engagements for Harith's shows.
It's a routine that she sticks by for good reason.
"Even though I have helpers, I am always 100% there with my kids for a period of time in the day," she says. "I want to do whatever I can with them because that bonding is irreplaceable."
It is a conscious choice she made from the time she knew she was starting a family: "I've seen so many doctors with no personal lives, so for me, a balanced life is very important. If I'm getting married and having kids, I told myself I have to do something about my career. I don't want to be on standby all the time or be working odd hours. I want to spend time with my kids and watch them grow up."
"I want them to one day say, if mummy did not give up, I will not give up."
Resultantly, she knows her children by heart. Zander is a true mummy's boy, despite his irrefutable resemblance to his father; Zandrea is a fearless ball of fire, just like mummy; and sweet, temperate Zydane is the calmest and most collected one-year-old with eyes that observe like no baby we've seen.
"Children grow up to be how they're raised, but every child is different so there's no one way to raise one," Dr Jezamine tells.
She learnt that very early on. "For me, it's a lot of trial and error. When I became a mum, I had 10,000 people coming with 10,000 advices, even those who are not mums. I don't like giving or taking advices, but I do like challenges so I told myself I'm gonna start from zero, the ground up. I was reading a lot of books but I realised they're the opinions of the author. It's about her child, not mine."
"I believe in research. I research all I can but once the baby arrives in your arms, just do whatever is necessary. If it is crying, figure out why it is crying. Just be armed with the right knowledge. There's no one rule fits all."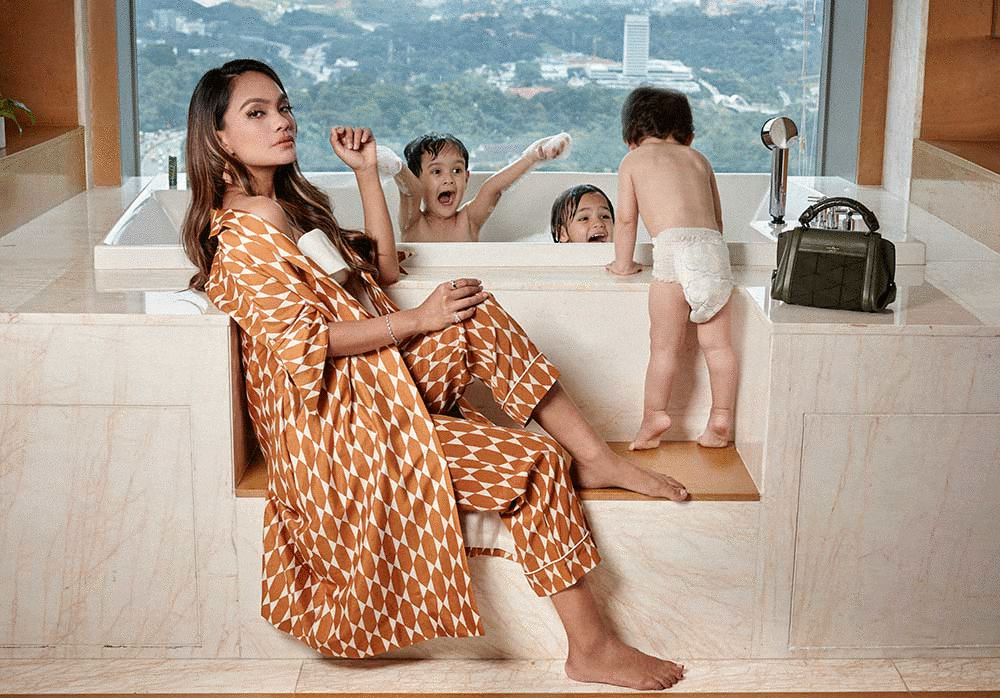 "I don't find motherhood hard"
Three kids , a PhD, and managing the high profile career of a husband who was recently named 'Funniest Person in the World' by Laugh Factory still leave Jezamine unfazed.
"I don't find motherhood hard," she confesses. "Maybe it's my personality but I took the challenge to psych myself. If you tell me something is difficult, I will try to achieve that. Everyone says when you become a mum, you'll start looking haggard and tired. I made sure that didn't happen – I took care of myself. I try, even when I'm tired, or ill."
She hits the gym 3 times a week and pampers herself to at least 20 minutes of 'me-time'.
"Take care of yourself," she implores. "If I can't take care of myself, how can I take care of 3 kids?"
"Becoming a mum has been the biggest gift. It's changed my perspective."
It also helps to find a support system that can help you through the low days. "Harith has been so supportive. I didn't expect him to be so good at being a father. During the pregnancies, he was there for all my scans. It didn't feel like I was the one who was pregnant – we were in it together. He didn't miss a single checkup with all 3 kids. On nights when I can't sleep, he can't sleep either."
From a career-driven doctor who couldn't have imagined kids of her own, Dr Jezamine has arrived at a place where she cannot imagine where she would be today if it weren't for her children.
"Becoming a mum has been the biggest gift," she says. "My kids have made me more motivated, I'm more positive. If they spill something on me, it's fine. Just go with the flow."
They've also helped her get her life in better order. "They've taught me to be organised, to be more disciplined. They taught me to be an achiever. I wouldn't be here where I am today, with my PhD completed, if not for them."
"I want them to one day say, if mummy did not give up, I will not give up."
Photography: Soon Lau of Awesome Image
Videography: Zac Lam
Art direction: Yew Chin Gan
Makeup: Taisu
Hair: Shawn Goh
Styling: Adele Sagayam
Shot on location at Hilton Kuala Lumpur