From designing her own wedding dress to uprooting not once, but twice, this fashion designer knows your best life sometimes lies a little past comfort zones.
In conjunction with Malaysia's 61st Merdeka Day, we witness the magic of the nation through the eyes of long-time expatriates who have built their home here.
---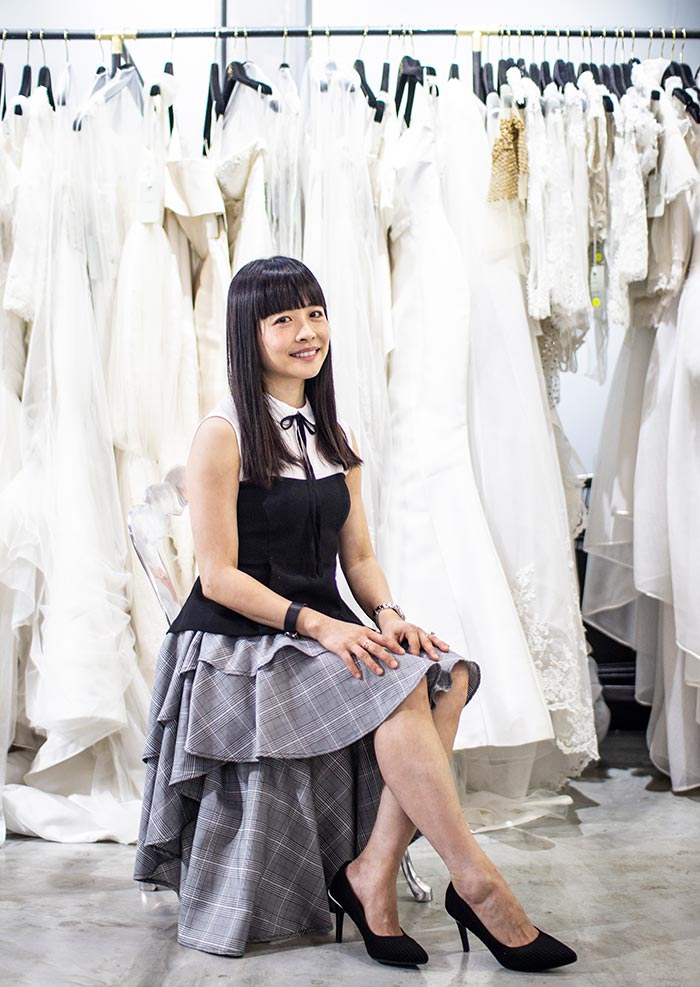 When Celest Thoi stepped into Kuala Lumpur nine years ago, one would have hardly assumed the impact petite Singaporean would make. With two young children in tow, her life was about to start over – in more ways than she imagined.
It wasn't the first time she had uprooted, either. Finding herself in New Zealand after getting married, the budding designer filled her time with classes that eventually built her self-named bridal-wear and services label.
Rather romantically, Celest's foray into bridal wear was inspired by her own wedding. "I couldn't find the dress I wanted, so I started sourcing, designing and looking around for someone to make it for me. The bug bit me then," she admits.
Filling a void – both within the local industry, and her creative potential – inspired her to start a bespoke service for petite brides like herself. The designer catered to clients from Malaysia, Hong Kong, and Taiwan from her little Auckland boutique. There, wedding dresses become an heirloom to be passed down as something borrowed or something old.
"Word of mouth can be the best marketing."
Fast forward 14 years: Celest Thoi Bridal is today a one-stop centre for bespoke bridal wear on the top floor of The Gardens Mall. She welcomes us into a space bursting with runway gowns and samples – most of her pieces are made-to-order, but brides could also rent, or find collections for bridal parties or balls.
Her clientele consists of well-traveled, affluent women who had someone else recommend Celest to them. "Word of mouth can be the best marketing, when they recommend me to their cousins or friends. I've also met clients who became good friends."
Fabric of culture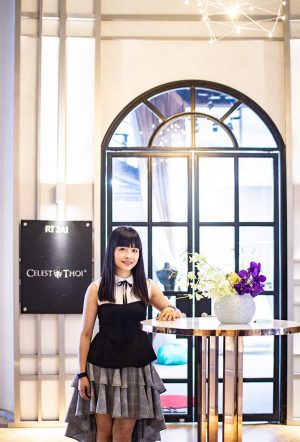 Coming from a strict (read: typical) Asian family, Celest's early dream of pursuing fashion was swiftly marked unfeasible. She ended up studying graphic design – which turned out to be yet another tool for her trade.
"Fashion has always been my passion. When I got to Malaysia, I didn't want to run a business because my kids were still young, but clients kept calling. That encouraged me to get on the bandwagon and eventually launch my own label at MIFA 2011, " Celest reminisces.
Seven years on, Celest Thoi Bridal has seen transformations. For one, the diversifying of her bespoke model to renting. "Brides here, especially the younger generation, are more well-informed on getting something that represents themselves and their union," says Celest.
Convertible dresses are a big trend, she tells, recalling a certain 3-in-1 dress saree-dress she made for a Chinese bride marrying an Indian groom.
"Some want the dress for pre-wedding shoot and the actual wedding. We've been making a lot of convertible dresses, where the neckline, hairstyle, or accessories can make it look like a different dress altogether."
Attuning to the local culture is an ongoing creative process, especially when the very fabric of culture is being stretched and altered all the time. "Our design philosophy is timeless, simple and elegant, but we do get requests inspired by celebrity weddings," she laughs, recalling how long sleeves shot to popularity after Kate Middleton's wedding.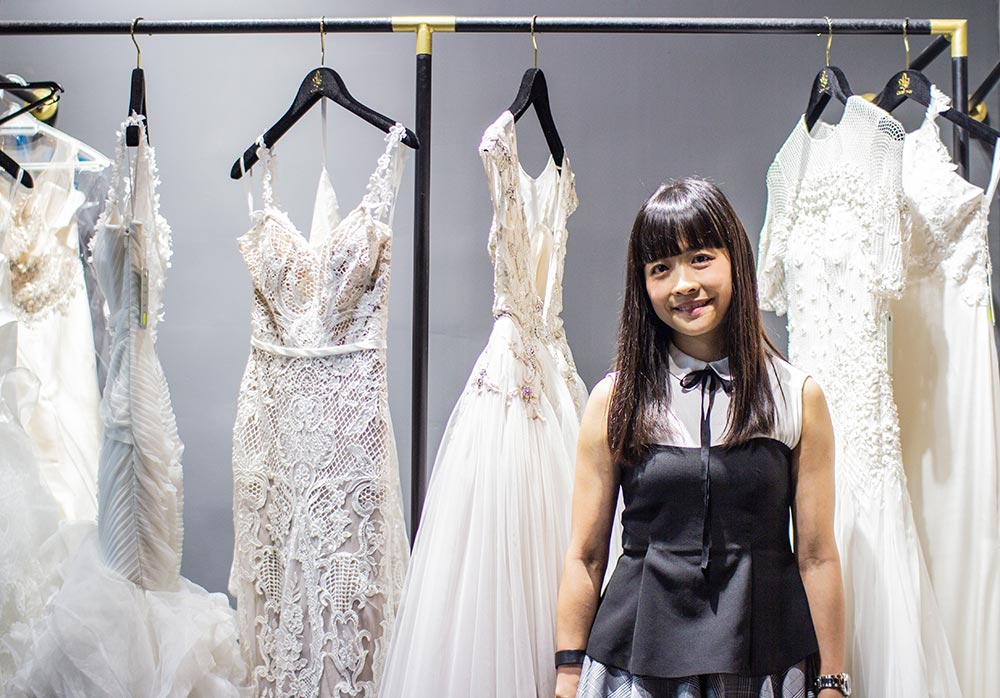 "It's not the place, but the company that matters"
In person, Celest is demure and reserved. She dresses in practical blacks, whites, and denims, and is a wife and mother as much as she is a fashion designer. Still, somehow, every strand of her iconic bangs remains immaculately in place. She pins it down to experience: "I wear different hats, both at home and work."
Celest's stamp in bridal wear carries this experience gathered in Singapore, Australia, New Zealand and finally her permanent home Malaysia – at least for now. Her girls are pre-teens, and between the business and family, she looks forward to travel, where she can catch up with clients-turned-friends, or lounge by the poolside with a coconut.
"My family is the reason I'm here. They keep me grounded and sane, but insane at the same time!" she laughs. Her visits to Singapore are usually to visit her elderly parents. When she gets visitors instead, this honorary Malaysian knows the first thing to do is "to go makan – everyone knows the food here is amazing!" (Looks like the expats and immigrants are with us on this one, Singapore.)
"Malaysians are warmer," Celest further obliges. "Wherever you are, it's not the place, but the company that matters."
Browse for your special day on the Celest Thoi Bridal website.
Photography: Gan Yew Chin
Recommended: How this CEO found his favourite parts of Greece in Malaysia