From grapes grown in Cognac vineyards to oak barrels from a private forest, the tale of Hennessy's ever-growing appeal is rooted in consistency.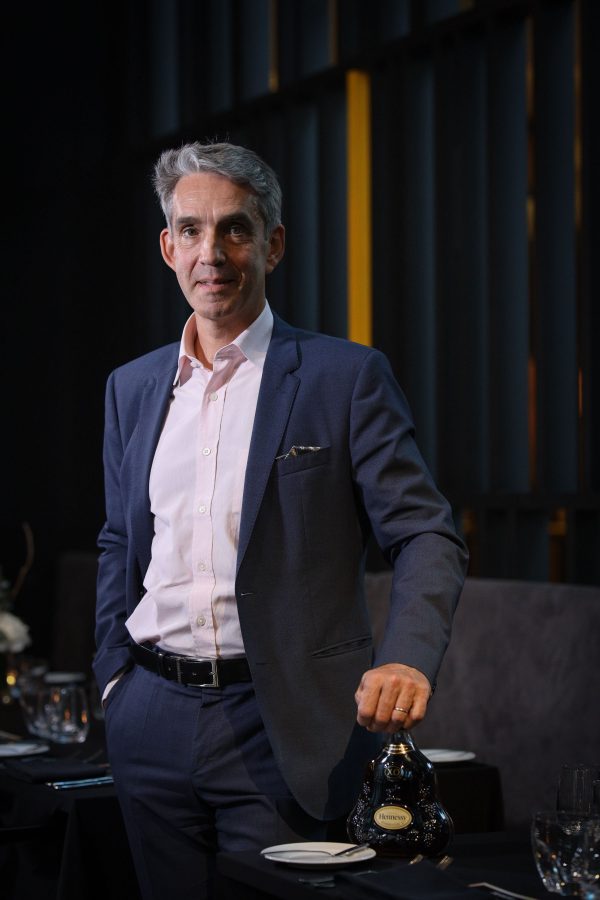 Marc Boissonnet is a man of many interests – a cocktail of interests, he might say. Besides being a Hennessy ambassador since 1998, he has a keen eye for design. He used to run marathons, but these days he prefers machines. In fact, as we speak, he excitedly mentions the return of his '81 bike from a lengthy overhaul.
FirstClasse sat down with Marc for a chat and dinner at Skillet @ 163, where we enjoyed a special degustation menu which allowed each character in the Hennessy family to shine.
"We may change the bottles, but never the cognac"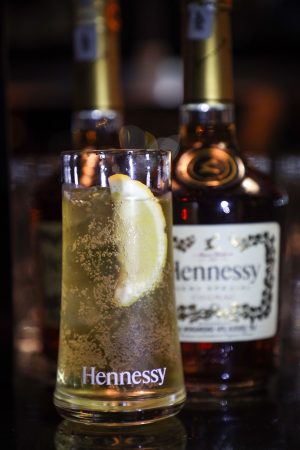 Only the finest Ugni Blanc grapes makes the cut as Hennessy eaux-de-vie. They are distilled down and heated in copper stills, which produces the wine's signature fruity vapour. As we've witnessed in Hennessy Declassified, the best of these eaux-de-vie are then chosen by a special committee in daily tasting sessions.
Growing up in a family of wine growers, Marc was well-versed in the ways of the vineyard – but it wasn't till he arrived at Hennessy's very own forest that he realised the other vital process.  "That would be the ageing process in real oak barrels, made from French oak trees grown a few hours away from Cognac," Marc tells.
These barrels are crafted with precise, age-old methods. It involves shaping metal bands over wood using fire, without any glue nor a single nail to hold the pieces together.
"I go to the Hennessy cooperage workshop often, where a few coopers have become friends of mine. To hear the way they speak about their craft is amazing – each barrel is a piece of art."
Like its artful process, the beauty of this cognac lies in its consistency – decade after decade, over eight generations of Master Blenders, and through the trends of cognac consumption. "The secret of Hennessy's longevity lies in the transmission of the spirit of conquest across generations," Marc attests.
"We may change the bottles or the way the cognac is enjoyed, but never the cognac. This is the magic of it: having grown the brand across the years without changing best practices."
Soft shell prawn with white percik foam, served with Hennessy V.S.O.P
Soft shell prawn with white percik foam, served with Hennessy V.S.O.P
Chef Raymond is known to reimagine flavours close to the heart with local produce, seen here in the star percik sauce. It packs all the sweet-sour notes you'd expect of the Malay dish, with a slight tang which does wonders to draw out the freshness of the soft-shell prawns. A dash of caviar adds a salty dimension, transforming this dish into a harmony of flavours. What better cognac to pair it with than the Hennessy V.S.O.P; its sharp spiciness is mouth-watering, yet the dark amber elixir is well-rounded enough to bring out the best of each element.
Beef short-ribs, ox-tongue & summer truffles, served with Hennessy X.O
Beef short-ribs, ox-tongue & summer truffles, served with Hennessy X.O
Compared to the V.S.O.P, Hennessy X.O is enjoyed more like good wine - in this case, with an impossibly tender beef short-rib. X.O is decidedly robust in holding its own against the bold game. The accompanying ox-tongue terrine converted the offal haters among us; bits of tongue cooked to perfection, layered with a complementing creaminess. The result? A nuanced main that's also delightfully familiar and straightforward. Like the X.O, this combination can entice the novice while satisfying the veteran.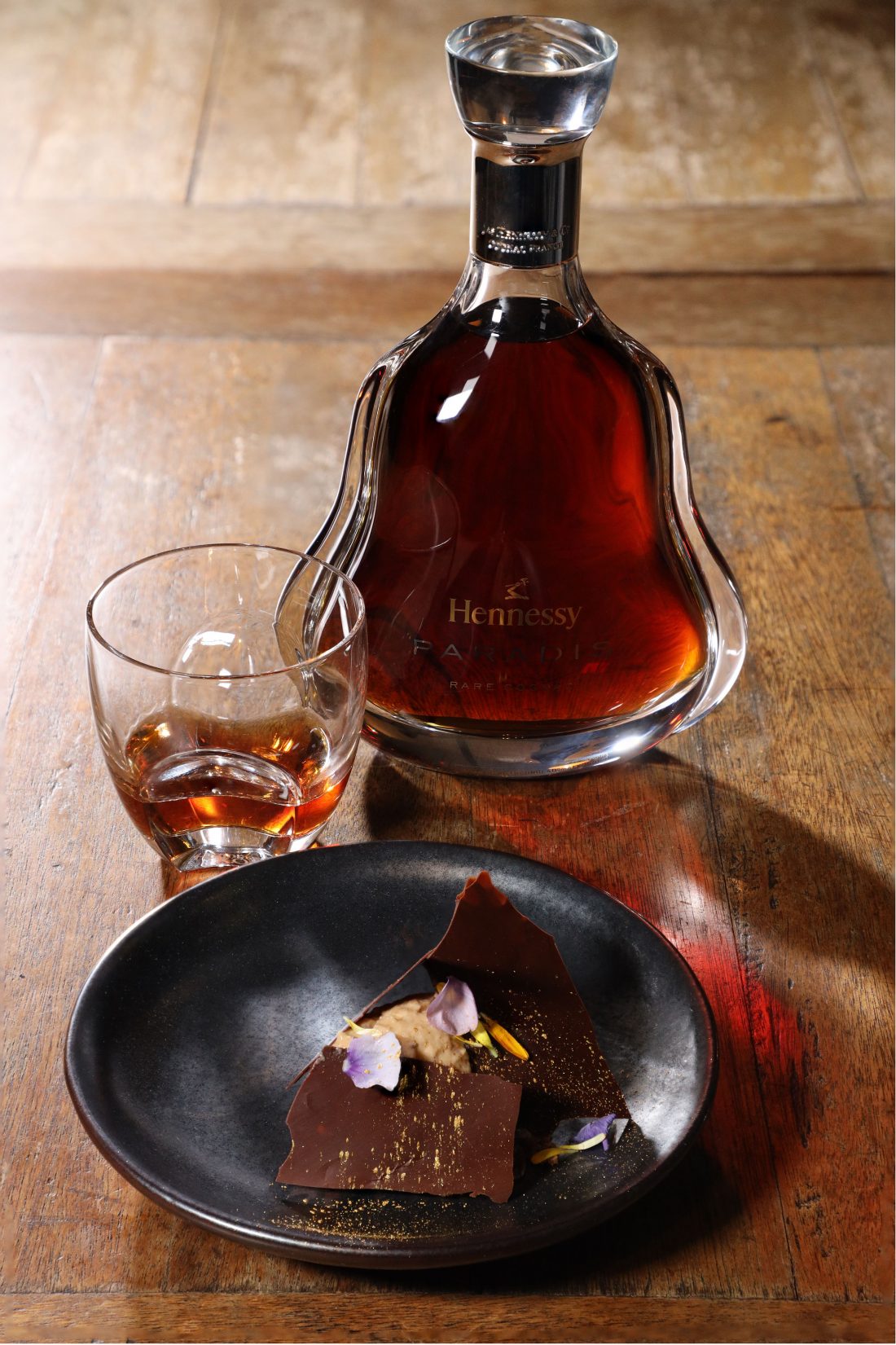 Banana with dark chocolate & coconut, served with Hennessy Paradis
Banana with dark chocolate & coconut, served with Hennessy Paradis
It's always a pleasure to be served chocolate from Orang Asli communities, especially when local chefs continue to innovate ways to incorporate it in desserts. Here, 72% Semai chocolate melts with a silky decadence against banana ice-cream. Dessert meets its match in the irresistible Hennessy Paradis - easily our favourite, and the maison's most subtle distillation. Paradis provided a delicate, velvety finish to the night - a convincing case that good things do indeed come to those who wait.
(swipe left)
A family of characters
Marc is a man of vivid imagination, as evidenced by his wealth of metaphors and alliterations. He compares Hennessy's icon status to that of the Petronas Twin Towers or Eiffel Tower – each "something you cannot miss" at the right time and place.
"Each cognac in Hennessy's selection is different, like members of a family. They have their own characters, and we can't change characters. Hennessy cognacs don't change, so we have to adapt. We suggest new ways to enjoy it and dress each bottle up accordingly," says Marc.
Before joining the others for dinner, I ask Marc about his hobbies: gardening and vintage cars and bikes. I tell him that these hobbies strike me as similar to the nature of his work –
"Taking care of old things, making them new again, sometimes erasing the fact that times passes," he completes the thought. "You can always make the old new again."
Images: MHD Malaysia