"We are a cuisine-agnostic restaurant. This means that we don't limit ourselves to any labels; but instead, we are a restaurant that injects wild ideas into our food."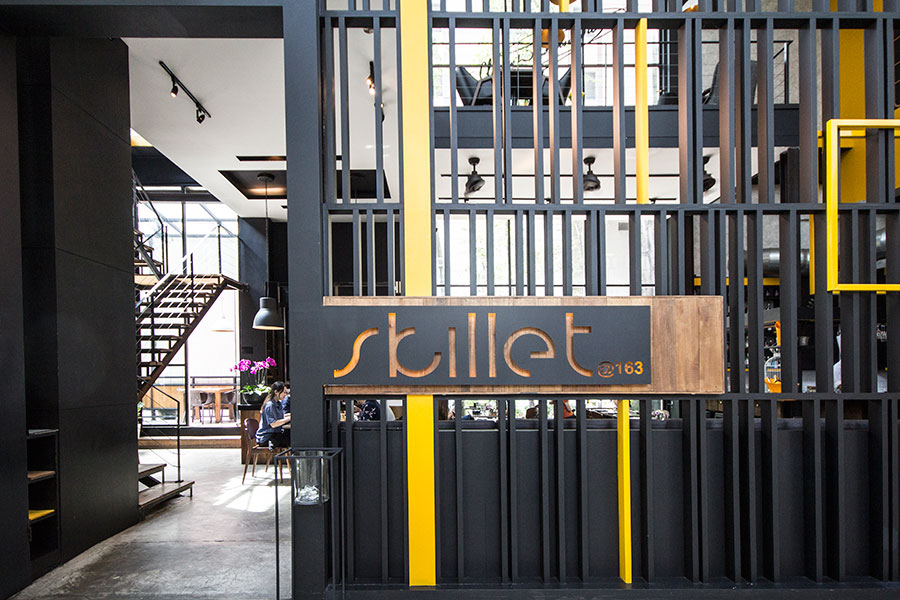 Skillet At 163 @ Fraser Place boasts a spacious and laid-back double-storey interior. (swipe left for more)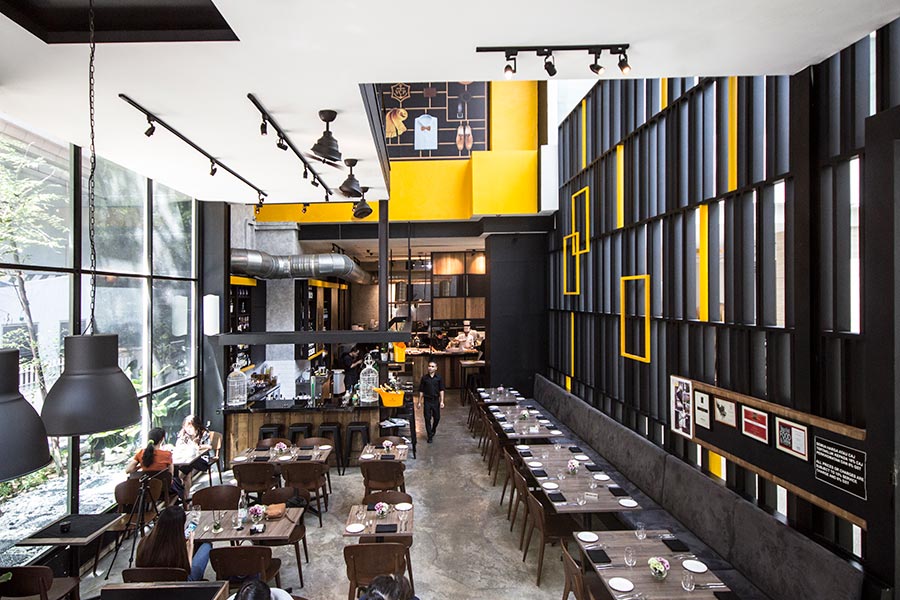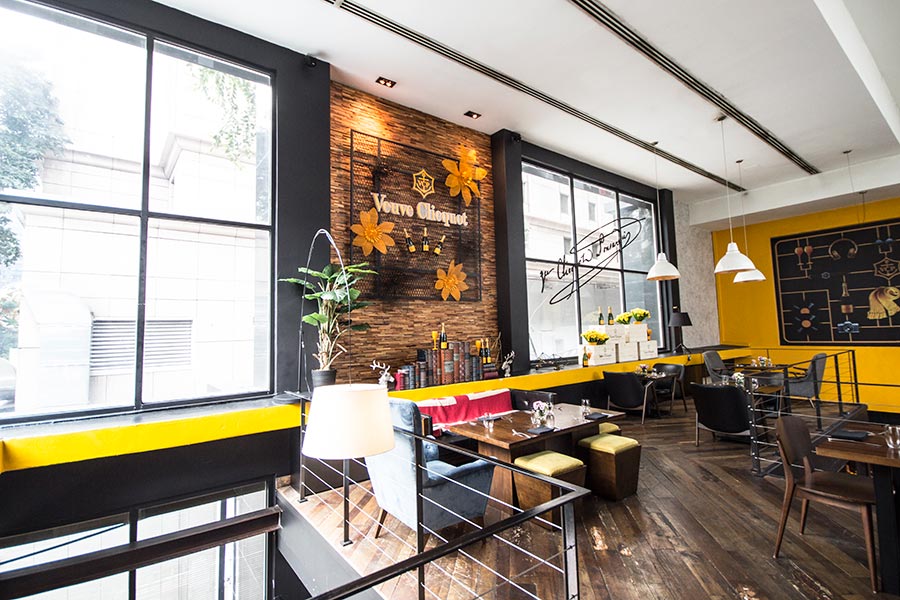 Labelling Skillet At 163 a "modern European restaurant" (as Google search suggests) doesn't quite cut it, as we find upon a quick glance through the menu. Familiar elements like green curry, bak kut teh and crispy shrimp (locally used to make laksa paste) give away a hint of Asian influences; though the pasta, risotto and meat dishes certainly point to European gastronomy.
"We are a cuisine-agnostic restaurant," the restaurant's website reads, confirming our first impression. "This means that we don't limit ourselves to any labels; but instead, we are a restaurant that injects wild ideas into our food."
Executive Head Chef Raymond Tham elaborates further on the dining concept, explaining his use of European techniques in creating his dishes, while adding local and Asian blends for a distinctive dining experience that remains relevant to local diners.
There's also a new menu every season to keep things exciting – and with our preference for bold-flavoured dishes, we eagerly sit down to try Chef Raymond's specially curated lunch menu for the Autumn/Winter season.
Appetiser 1 – Scallop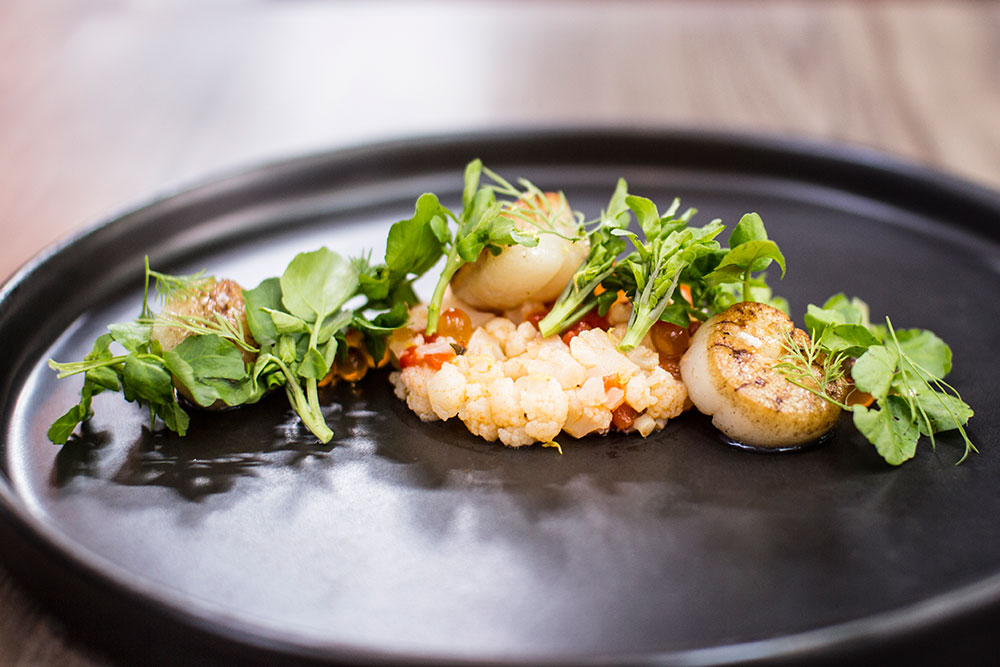 The first appetiser to arrive is a scallop dish, served with bell pepper, cauliflower and tomato confit and topped with lemon dressing and ikura. To the eyes, the neat and colourful plating makes the dish a welcoming start to our meal. On the palate, however, we prefer the scallops to have a chewier texture, though we enjoy the uplifting flavours of the vegetables and ikura underneath.
Appetiser 2 – Foie gras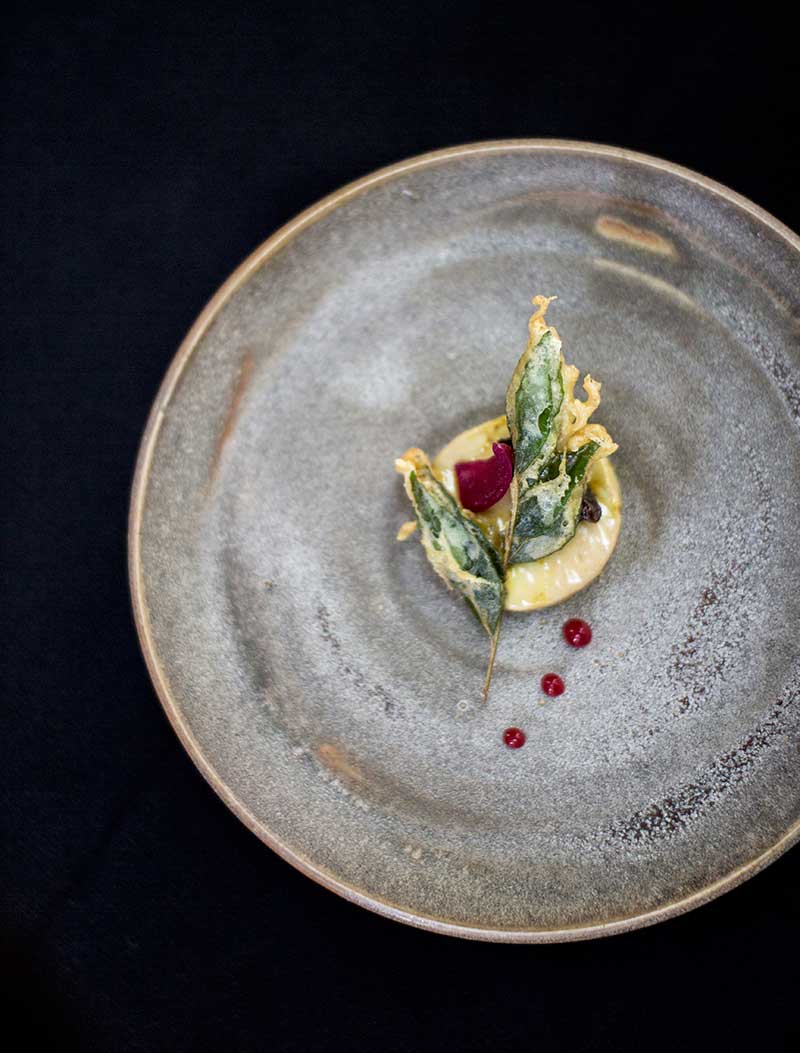 Our second dish is specially adapted from the degustation menu: Duck foie gras torchon, curry leaf, and cardamom prune compote. Taking our first bite, we gratefully find that rich, fatty texture we like in foie gras – right before the stronger curry spice kicks in. The raspberry sauce on the side gives the dish a little sweetness to balance the bold flavours, which may otherwise be a little overbearing to some.
Appetiser 3 – Mushroom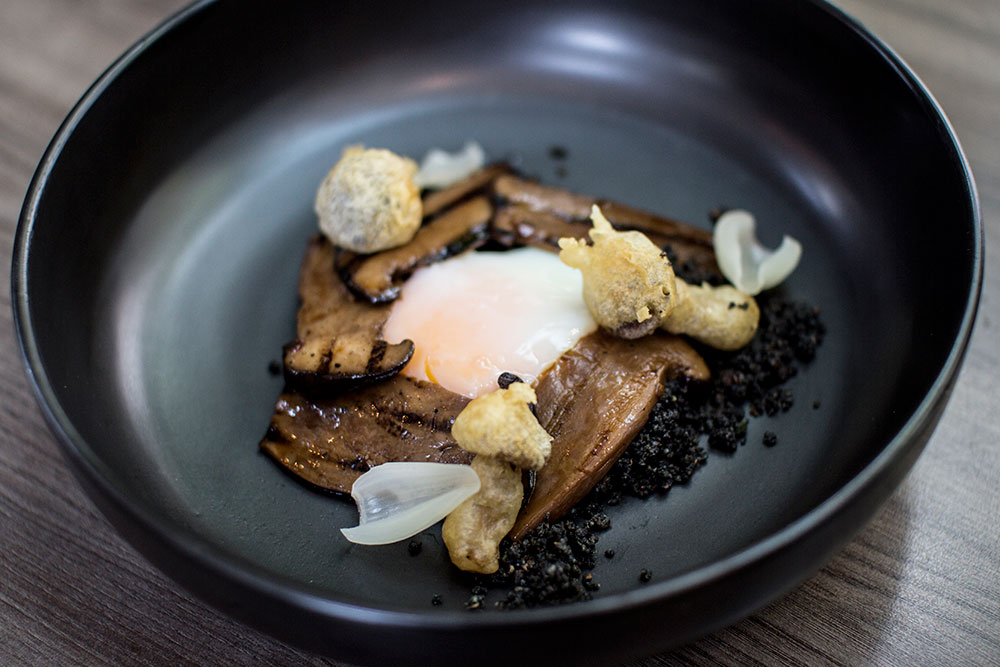 They say third time's the charm, and this is without doubt the first dish to really blow us away. While appearing unpretentious, the combination of eryngii and shimeji mushrooms, truffles soil, soft boil egg, and pickled shallots wins our praise. The creamy egg yolk complements the earthiness from the mushrooms, whereas the walnut bits in the soil add a nice crunch for a multi-dimensional dish overall.
Appetiser 4 – Cabbage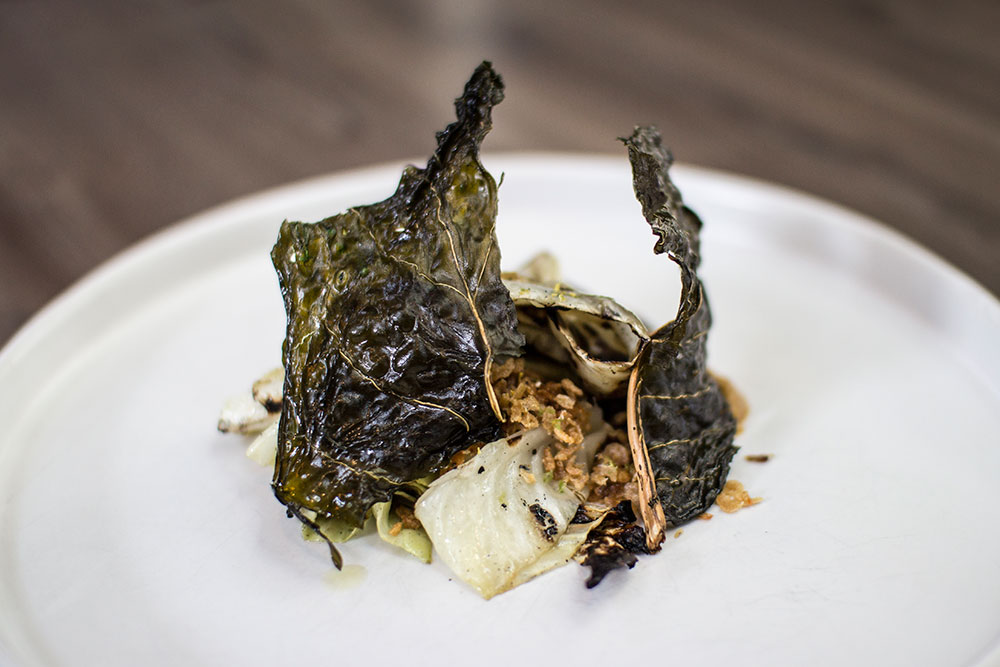 Next, we have grilled cabbage served with dehydrated kai lan (kale), deep fried shrimp and pineapple and lime puree. If not for the puree, it looks like we're having an Asian fine dining dish, which again emphasises Skillet's innovative gastronomical concept. Interestingly, cabbage and kale are two popular greens for the colder months; so, we must say we're impressed at the thought process behind this dish.
Main 1 – Lamb loin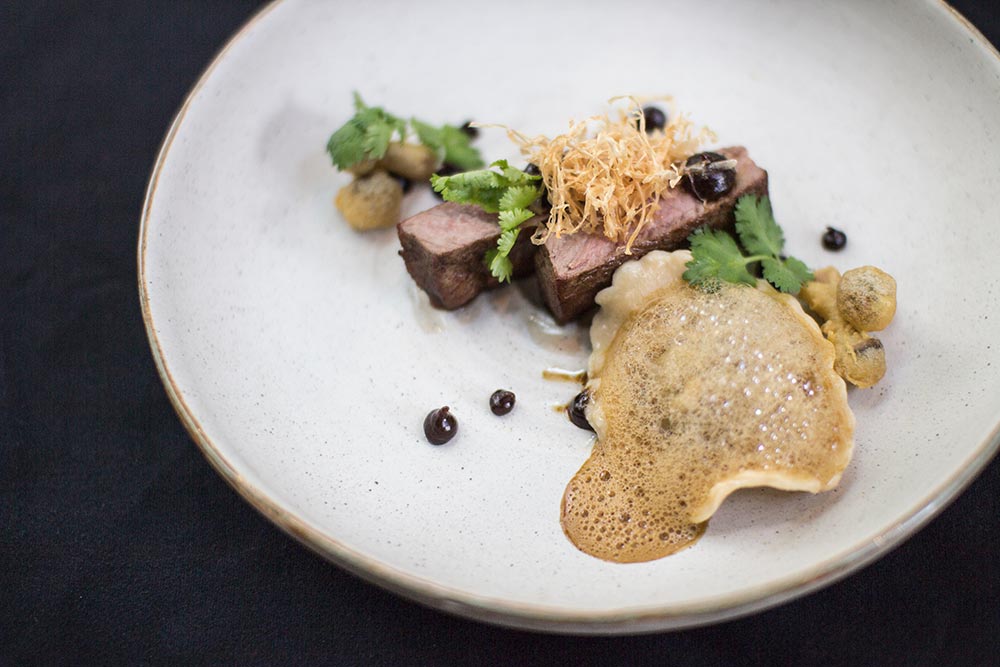 Moving on to mains, we are immediately intrigued when our waiter explains that our pan-seared Australian lamb loin comes with a side of saltbush lamb neck ravioli topped with "bak kut teh" foam. Biting into the sides first, we get subtle but noticeable herbal notes from the foam to accompany the savoury dumpling. Another interesting addition is the shredded beancurd skin – commonly served with bak kut teh – which we try next with a cut of the game. We think the lamb could be a little more tender, but adding the beancurd skin and garlic sauce helps to enhance its character.
Main 2 – Wagyu Cheeks
Our next main dish proves equally as fascinating as the previous: Wagyu cheeks prepared two ways – one cooked for 36-hours sous vide in red wine and the other marinated with 5-spices, then wrapped in beancurd and deep-fried (lobak style). Wine lovers will love the Bourgignon-inspired sweet and succulent relish from the former, and fans of elevated local fare will enjoy the crunchy and flavourful smacks of the latter. As for us, we're just glad it comes both ways so we don't have to decide which style we like more.
Dessert 1 – Peach & jasmine granite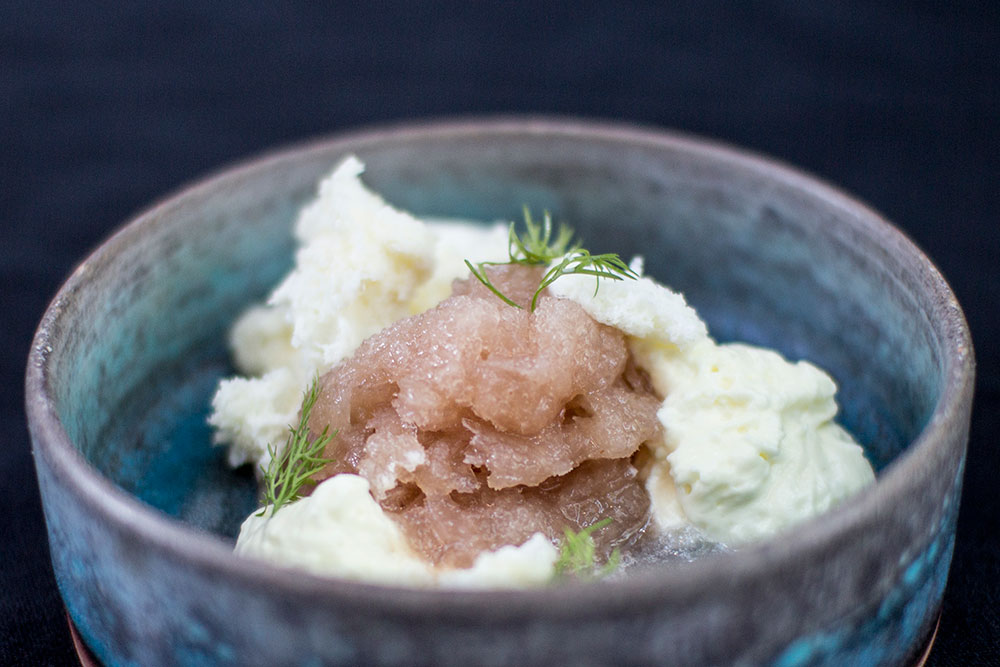 We aren't the biggest fans of how our first dessert looks like, considering we just had two pleasantly plated mains. That said, the slightly tart peach and jasmine granite serves as a refreshing palate cleanser together with the yoghurt sponge. The white chocolate mousse, on the other hand, adds a nice tinge of sweetness to balance the acidity.
Dessert 2 – Salted Caramel Macadamia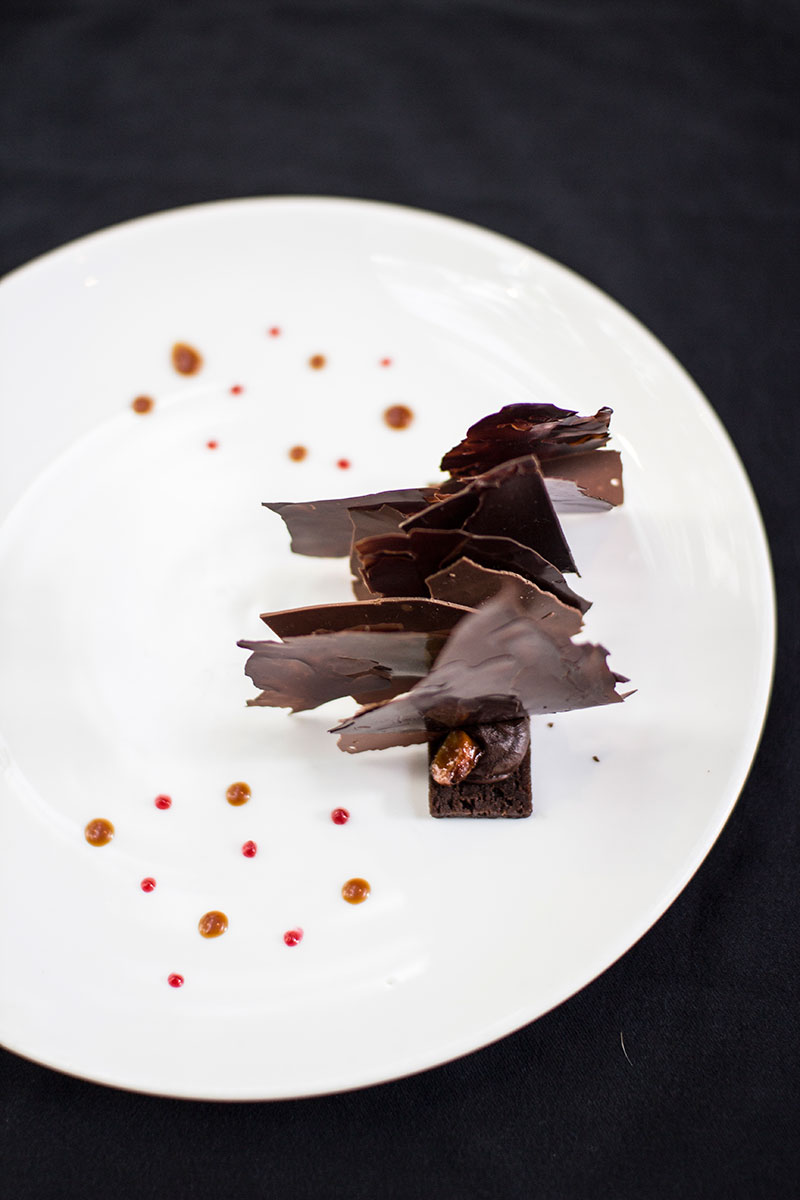 The second dessert definitely excites us more than the first in terms of appearance, and that's discounting the fact that chocolate always has a special place in our heart (and mind). Looks aside, the salted caramel macadamia dessert presents a harmonious melange of textures and flavours. The chocolate cream melts into sweet delight, the macadamia adds a slightly salty crunch, and the chocolate flakes offer a bittersweet nibble. No wonder it's making a return to the menu due to popular demand.
The lunch menu is available a-la-carte, RM55+ for a 2-course meal and RM70+ for a 3-course meal, with an additional RM28+ for a glass of red/white wine and RM55+ for a glass of Veuve Clicquot champagne.
For reservations and enquiries, visit their official website at skilletat163.com. Follow them on Instagram @skilletat163 for more updates and promotions.
Photography: Gan Yew Chin