Guerlain continues its history by drawing inspiration from the remarkable epidermal healing processes used in the "honey bandages". With its natural ability to remobilize collagen fibres in the skin, honey is a therapeutic treasure that boasts quadruple performance on the four key stages of epidermal healing. 
Building on those clinical observations, Guerlain's groundbreaking research has led to the creation of two new products that represent a decisive age-defying advance—Honey Treatment Day and Night creams. These skincare products, inspired by medical-use honey bandages and clinical protocol, act on visible signs of collagen loss such as wrinkles and lack of firmness. Resulting in a more youthful and radiant complexion. 
​Honey Treatment Day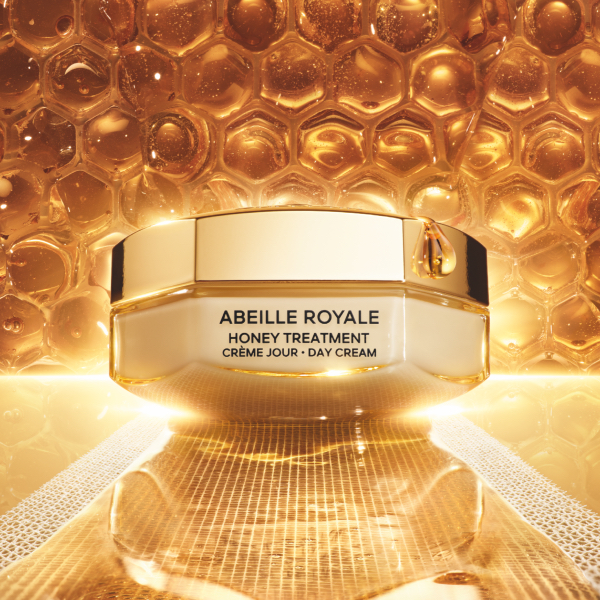 The High-Performance formulation of Honey Treatment Day Cream is centred around the legendary UNESCO-listed Ouessant Island's honey. This ecosystem is home to black bees that produce a true elixir of youth—one of the only sources of honey that can prevent the degradation of the protein responsible for skin elasticity and firmness.
Drawing inspiration from honey bandages, their Day Cream creates a youth-protecting mesh that will leave your skin looking and feeling revitalised.
Honey Treatment Night  
To further support its Day Cream, Guerlain also introduced the Honey Treatment Night Cream featuring a high concentration of Ikaria honey. The component increases the outward indicators of youthful skin's collagen production6: wrinkle reduction, firmness, and elasticity. The Night Cream, just like a honey bandage, helps to repair skin damage and restore skin's youthfulness.  
Overall, Guerlain's revolutionary treatment protocol boasts two creams with a galenic form inspired by honey bandages. With over 94% naturally-derived ingredients, this cutting-edge formula guarantees a rare sensory pleasure and natural correction of visible signs of ageing. 
Guerlain Abeille Royale, Honey Treatment Day and Night Cream are now available in stores at Parkson (Pavilion, One Utama), Isetan (KLCC, The Gardens Mall).