Every time someone uses the simile "as busy as a bee", it really is for good comparison. Despite their small size and sweet façade of making honey, bees are untiring, multi-tasking pollinators, a key player in the survival of our ecosystems.
Nearly 90% of the world's wild flowering plant species depend, entirely, or at least in part, on animal pollination, along with more than 75% of the world's food crops and 35% of global agricultural land. Not only do pollinators contribute directly to food security, they are key to conserving biodiversity.
In recent decades, bees have faced major decline, largely from habitat loss and other elements like parasites and cellphones (radiation from cell phones influences honey bees' behaviour and physiology).
For luxury house Guerlain, this isn't something it can stand by and just watch happen. Since 1853, when it first landed upon its now iconic bee bottle and motif, a special bond has connected it to the hardworking pollinator. Now endangered, the bee has even become a guide to Guerlain's commitment to sustainability.
In conjunction with World Bee Day on 20 May, we take a look at how Guerlain is working to save the world's bees.
An ethical commitment to sustainability
View this post on Instagram
2011: In an effort that goes back 10 years, Guerlain created a sustainable research and philanthropy partnership with the Oessant Brittany Black Bee Conservation Association based on two pillars – financial support and support for its research and communication activities – to understand bees better so as to help them.
2015: It then worked with the French Observatory of Apidology (Observatoire Francais d'Apidologie aka OFA) that helps to develop a stock of hives in Europe and promote the rare and important beekeeper profession.
2018: In 2018, it founded a Bee School, an awareness programme for primary school children led by company employees that invites children to learn about the bee's important role while raising awareness about the need to protect them.
View this post on Instagram
2020: Guerlain got in touch with UNESCO and launched the UNESCO-MAB partnership, in collaboration with OFA. The pioneer beekeeping entrepreneurship programme "Women for Bees" is launched, designed to train women beekeepers, create beekeeping affiliates across the world within the UNESCO biosphere reserves – of which some form part of the House's sustainable sourcing network – and measure pollination's benefits.
2020: In the same year, Guerlain also inaugurated a partnership with the GoodPlanet Foundation, an organization created in 2015 by the internationally recognized ecologist and photographer Yann Arthus-Bertrand to raise awareness among young generations on the challenges surrounding bee protection.
2020: As of last year, it launched a partnership with the ELYX Foundation. Co-founded by the artist Yacine Aït Kaci under the aegis of the FACE Foundation, the ELYX Foundation works to promote the values and principles of the United Nations. The ELYX character drawn by Yacine is the digital ambassador of the UN. Guerlain is thus continuing a collaboration initiated with the illustrator who imagined BEEZ, the emblem of the Bee School.
2021: Guerlain premiered a new traceability platform called Bee Respect that can trace its resources from the flower field to boutique. As a pioneer in traceability for several years now, Guerlain maps the life cycle of its products through a rigorous mapping process, culminating in Bee Respect, a transparency and traceability platform designed in partnership with the company Product DNA. It unveils a key source of information which enables the house to continually improve the environmental and social impact of each of its products. In order to meet growing clients concern, it has decided to make Bee Respect accessible to all.
The sweet fruition of its hard work comes in the form of the latest Abeille Royale Eye R Repair Serum.
Open your eyes to the Abeille Royale Eye R Repair Serum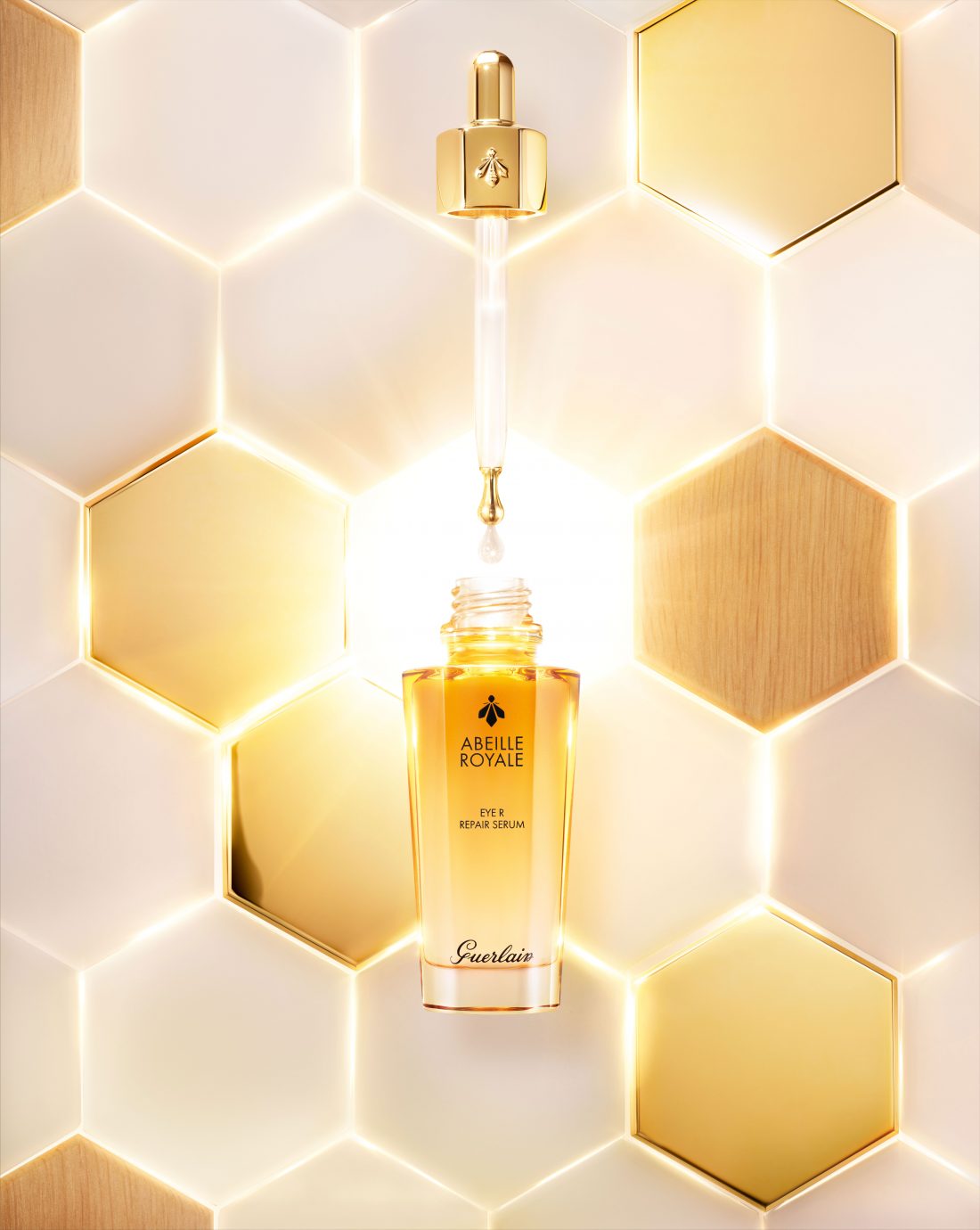 For more than 10 years, Guerlain research has proven the exceptional efficacy of pure Oessant Black Bee honey on the skin's repair mechanism.
Using that, the new Eye R Repair is dedicated to the youthfulness and openness of the eyes with a formula composed with 94% naturally derived ingredients for a threefold eye-lifting effect.
The new BlackBee Eye Repair Technology combines honeys and exclusive royal jelly with two naturally derived tensing polymers for a lifting and smoothing effect so skin is fortified and firmer while the eye contour is instantly illuminated.
View this post on Instagram
All the above is delivered through a metallised pearl shaped applicator, the Gold Drop, that also delivers a precise dose and enables an exclusive 360 degree tensing and reviving massage.
Made to be used with the Abeille Royale Double R Renew Serum, the double technology expert care combines a peeling and lifting effect to refine, firm and illuminate the skin in 7 days.
Learn more about Guerlain's commitment to bee conservation here. Learn more about the new Abeille Royale Eye R Repair Serum here.
(Source: Guerlain)