The signs show that this is only the beginning of the curve, with likely more gamification features and collaborations to come in fashion this decade.
Luxury fashion has crossed paths with various industries in the past. From automaking (see: Supreme and Lamborghini's collab) to art (think Louis Vuitton X Jeff Koons) and water sports (cue the Dior X Stussy surfboard), there's no limit to the possibilities of brands or markets that can be given a fashion makeover.
In recent years, the trend appears to be steered towards the gaming scene – where designers are recreating looks for video game avatars or launching arcade-style games to encourage consumer engagement. The signs show that this is only the beginning of the curve, with likely more gamification features and collaborations to come in fashion this decade.
Getting into the game
Though it may seem unorthodox for the glitz and glam of high fashion to meet the "geeky" image of gamers, fashion is ultimately a mirror of our times – and right now, there's a booming interest in eSports.
According to research firm Statista, there will be 2.7 billion gamers around the world by 2021, up from about 1.82 billion in 2014. Correspondingly, the growing consumer base also leads to higher engagements and monetisation opportunities. A global games market report by Newzoo forecasted that the industry will generate US$159.3 billion in revenues, a year-on-year growth of +9.3%. You can be sure fashion wants a slice of that pie – but how?
The first thing to understand is the demographics of the community. Forget the freckled-teenage-boy-with-glasses archetype you're familiar with; the community has matured far beyond that. Newzoo reports that 63% of mobile gamers – the fastest growing segment of the gaming market – are women. Additionally, 40% of gamers are aged between 18 to 35 years old (aka the Millennials), followed by the Gen Zs and Boomers who tie at 12% of the pie, based on a US study by Statista.
By penetrating this wide-ranging community, luxury fashion brands will not only expand their business opportunities but also democratise accessibility to a new consumer market, thus boosting brand presence and potentially revenues.
Take a look at the different ways high fashion has tapped into the world of gaming and eSports so far.
Animal Crossing collabs
To celebrate the launch of its SS20 and Pre-Fall 2020 collections, Valentino partnered with photographer Kara Chung to drop 20 custom looks on Animal Crossing – where players can dress their characters in the downloadable outfits and accessories for free. It wasn't long before a host of other fashion brands joined in the bandwagon to introduce Animal Crossing looks from their collections, including Marc Jacobs, Prada and Sandy Liang. The platform even hosted its first fashion show after all the hype around its high fashion outfits.
Louis Vuitton X League of Legends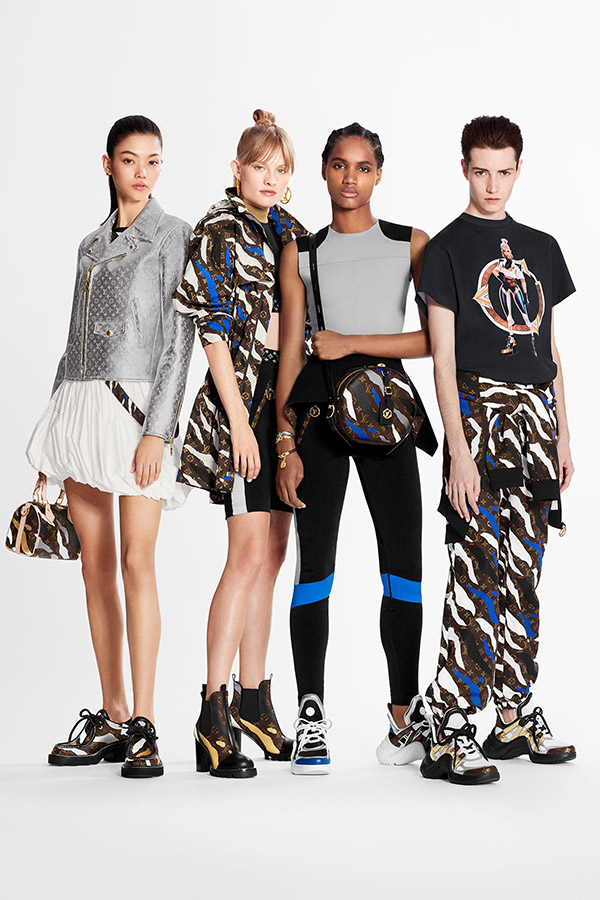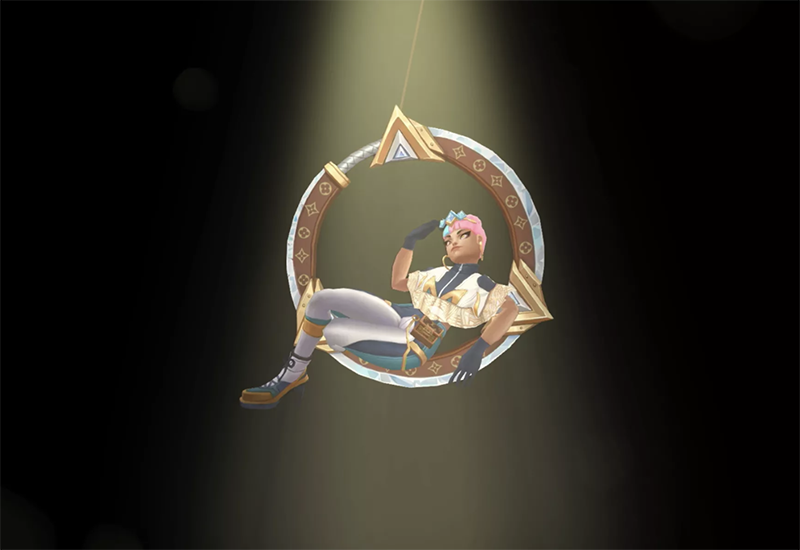 Back in 2016, Louis Vuitton approached League of Legends tournament organisers to sponsor outfits for players to wear and a luxury case for the winner's trophy. The latter accepted the offer, marking the first collab between the two parties. In October 2019, the two teamed up again to release LV skins designed by women's creative director Nicolas Ghesquire for the gaming platform. This was followed by LV releasing a LoL capsule two months later, featuring prints of the character Qiyana. Discover the LV X LoL capsule collection here.
Burberry B Bounce and B Surf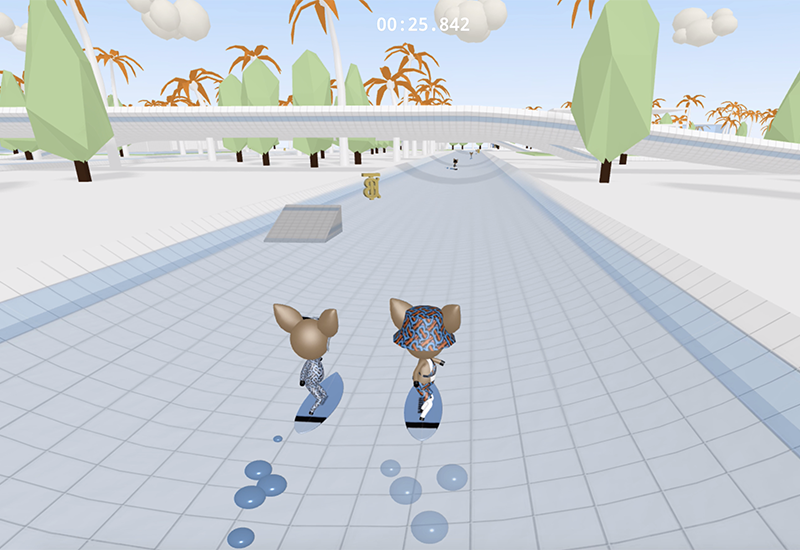 Last year, Burberry launched its first ever online game called B Bounce. It involves players racing a deer-shaped character to the moon by bouncing between platforms, using the then newly launched Thomas Burberry monogram puffer jackets. Earlier this month, the brand launched B Surf – a racing game on water, where players select a surfboard and dress their chosen character in outfits from the latest Burberry TB Summer Monogram collection. Play it exclusively on the official website here.
Gucci Arcade and Tennis Clash
Under the helm of Alessandro Michele, Gucci has been known for its contemporary recreations of vintage-style looks. The Gucci Arcade app emphasises the brand's retro connection with 8-bit arcade games. There's Gucci Bee, a traditional maze game where players pilot a bee through levels that increase in difficulty; as well as Gucci Ace, inspired by the Ace sneakers and consisting of three levels that pay homage to specific eras in gaming history. Play Gucci Arcade on the Gucci app, available for download on the App Store and Google Play.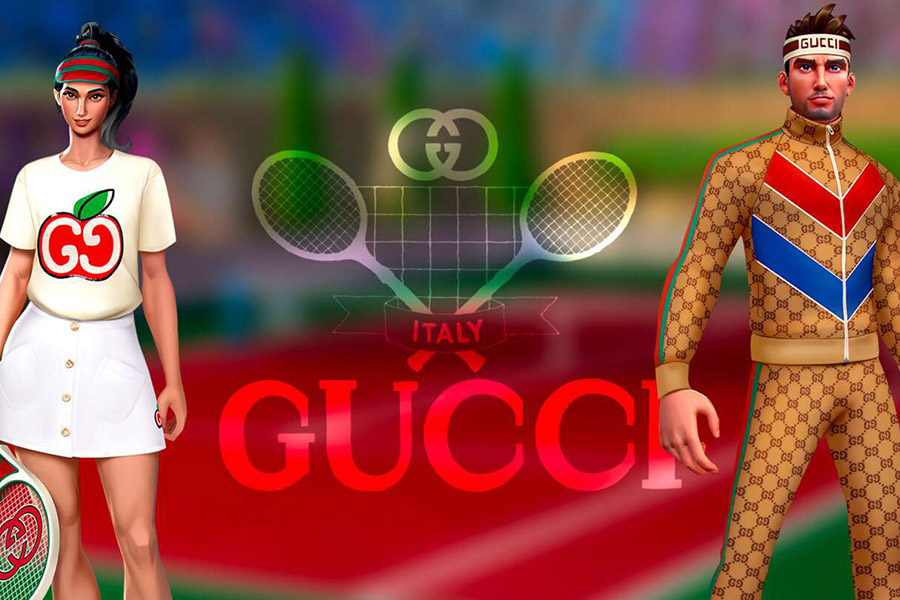 In a separate collab, Gucci partnered with the Tennis Clash mobile game to introduce exclusive Gucci outfits available in a special Gucci Open tournament. Users will be able to access the landing page directly from the gaming platform to discover and purchase the outfits in real life. Tennis Clash is available for download on the App Store and Google Play.
Moschino X The Sims 4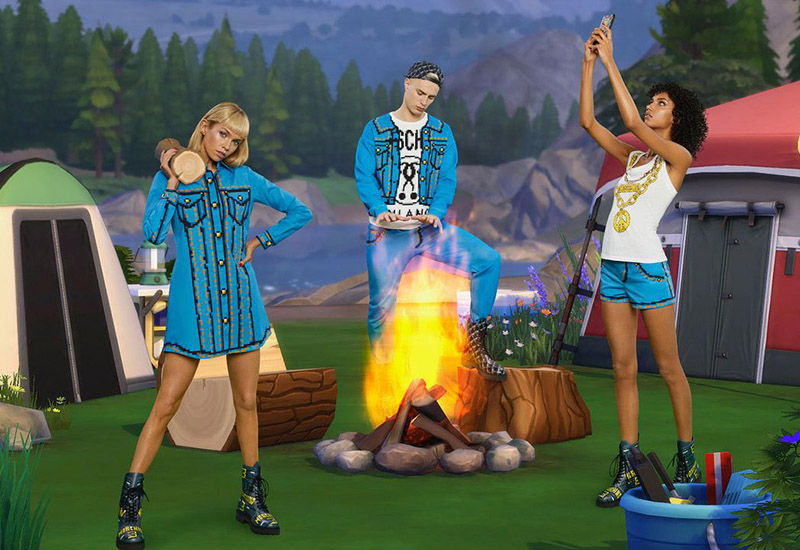 Fans of EA Games' The Sims received a treat in April last year when Jeremy Scott announced a capsule collection inspired the popular live simulation video game – plumbob and all. In conjunction with its launch, The Sims also unveiled The Sims™ 4 Moschino Stuff pack that allows gamers to dress their Sims characters in pieces from the capsule or other iconic Moschino collections. The pack also unlocks a new career as a freelance fashion photographer. Learn more about The Sims pack here.