The chef-owned restaurant is tantamount to his knack for employing both barely touched elements as well as well-acquainted flavours to conceive novel, disruptive dishes.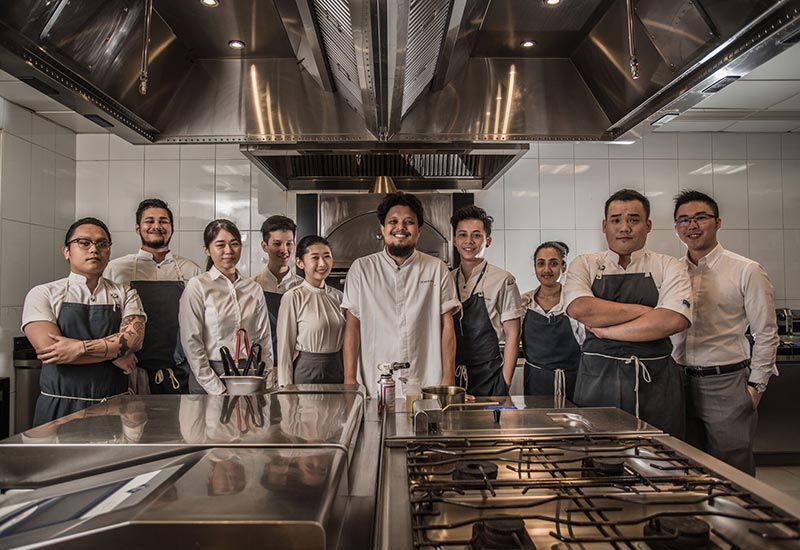 Believe us when we say the whole is greater than the sum of its parts when it comes to dining at Dewakan. This having tasted the individual ingredients that make up four tasting dishes as a preview of its new menu – at least half of which, we confess, we had hardly come across prior.
But before we dive into that, if you've never heard of or visited the fine dining establishment, Dewakan is distinguished for its meticulous take on modern Malaysian cuisine. By meticulous, we refer in equal parts to the conceptualisation of each dish down to the sourcing of every ingredient.
Its identity is given by its name, which is a portmanteau of the Malay words 'dewa', meaning god, and 'makan', meaning to eat. To quote its own elucidation, Dewakan then means "food from God" – a celebration of the bountiful indigenous produce found in the diverse terroirs all over Malaysia.
Helmed by Chef Darren Teoh – who has past experience at two-Michelin starred restaurant Les Amis and numerous collaborations with chefs around the region (particularly Singapore) – the chef-owned restaurant is tantamount to his knack for employing both barely touched elements as well as well-acquainted flavours to conceive novel, disruptive dishes. Yet, the former molecular gastronomy lecturer at KDU insists that this feat is the upshot of an overall team effort.
We entered Dewakan's unassuming home on the grounds of KDU's Shah Alam campus to experience it all for ourselves.
Prawns Warmed in Starfruit Juice with Herbs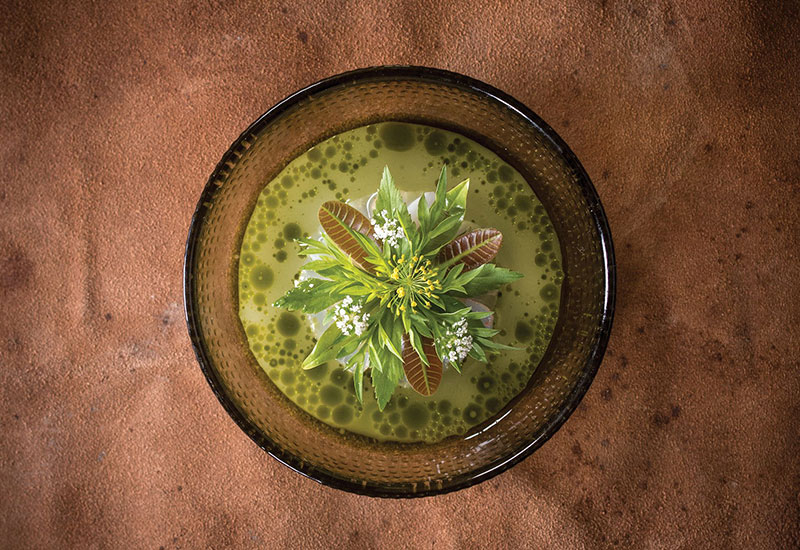 When we arrived, the table before us was set with an array of ingredients, of which, as Chef Darren explained, were incorporated into the dishes we would sample. On one of the platters was a bouquet of herbs, leaves and shoots, also known locally as ulam. Some of it, namely tenggek burung, ulam raja, pucuk gajus, and daun selom, sat atop slices of prawns brushed with a paste made from coriander stems and homemade salted lime skin, and warmed in starfruit juice with kaffir lime leaf oil – making up our first dish.
And so commenced our probe into this evolving paradigm of "modern Malaysian" food. Our foremost discovery was a sublime balance between the sweet and briny flavours of prawn, tartness of starfruit juice, and fragrance of fresh herbs. Here we found new love for ulam, which we typically enjoy with a pungent dip of cincalok or sambal, now equally with a sprightly juice to uplift its robust aromas. It was only the beginning, but we could already tell there would be many more revelations to come.
Banana Heart & Kerdas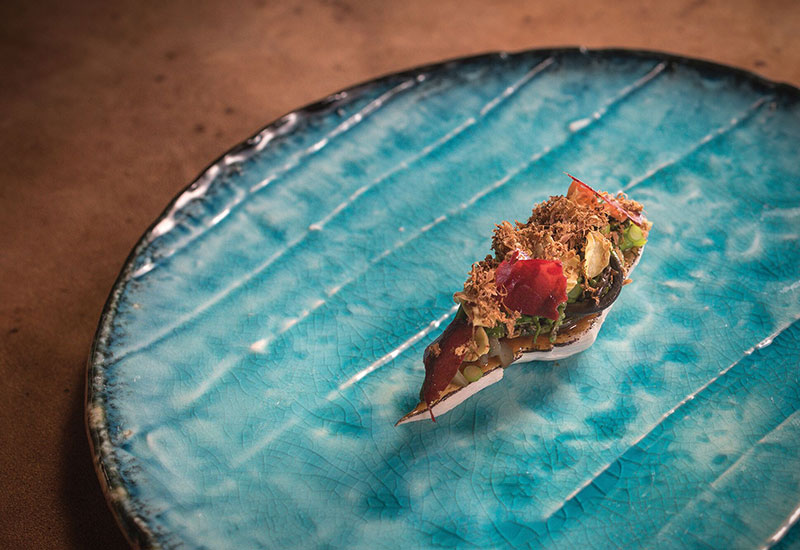 Our next sample was a banana heart (an edible purple flower shaped like a teardrop, found at the end of a banana cluster) steamed in a vacuum-packed bag with kerdas oil. The blossom is brushed with tao cheo, made by the same man behind their popular soy sauce. Completing the masterpiece are garlic shoots, fiddlehead ferns, chips of kerdas, smoked daikon and pickled roses.
We called it a masterpiece because what else would you name the composition of such potent flavours in a way that each element still found our taste buds in its own right? Notwithstanding the fact that there was so much going on in a dish – a mix of crunchy and soft textures here, a dash of bitter, smoky, salty and astringent flavours there – but not one felt redundant. Our only regret was finishing ours too soon.
Roast Eggplant with Keluak and Candlenut Oil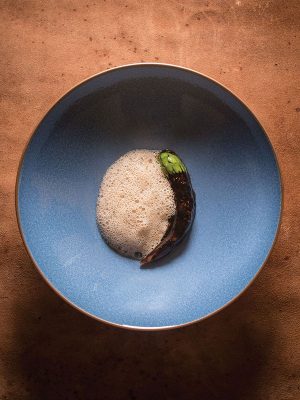 Before our third entry, Chef Darren walked us through more a few more ingredients in its anticipation. One amusing insight was how the candlenut received its name from its high oil content, which was historically used to make lamp oil. Though toxic when eaten raw, its alkaloids dissipate when cooked, leaving a fragrant, nutty flavour. On another less pleasant but equally intriguing note, we discovered that the keluak fruit has a terribly foul scent – the curiosity was not worth it. (Avoid at all cost).
When the dish arrived, we see why it took longer than the first two. Presentation required extra effort in order to replicate the appearance of an eggplant. The "stem", in particular, comprised small pods of petai belalang placed individually by hand. Meticulous, as we mentioned earlier. The real eggplant is brushed with keluak paste and served with foam made from mushroom stock and candlenuts. Again, the final mishmash burst with an intensity that prompted us to proceed more leisurely than we did with the banana heart.
Sweet Leaf Sorbet & Nam Nam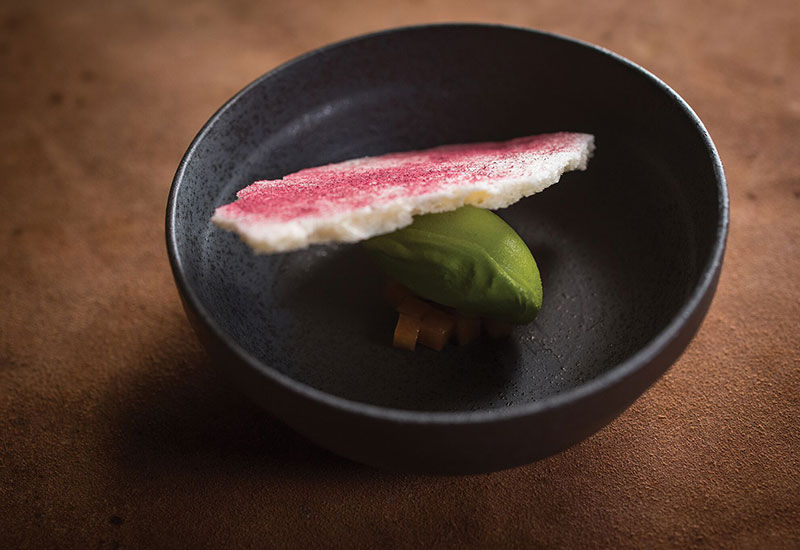 You'd think we would have gotten used to the surprises by this point, but no. Cue our dessert of sweet leaf sorbet topped with dehydrated milk and roselle powder, plus nam nam on the side. We've had deconstructed apam balik, kuih seri muka camouflaged as avocado and even curry leaf ice cream among other memorable locally-inspired desserts; but a sorbet made out of the leaves we find in our pan mee soup? That was definitely unexpected.
It was an inimitable experience, no doubt; sweeter than we had imagined even. After all the rich, flavour-packed dishes, this proved an appreciated finale to our meal, easing our palates back to its accustomed run-off-the-mill flavours. Not that we wished the meal would end, but the end would mean it had begun after all. And on that note, we'll have something to look forward to all over again.
These four dishes form part of Dewakan's new Kayangan and Nusantara menus. Kayangan is priced at RM350 nett for 17 dishes, and Nusantara is priced at RM285 nett for 9 dishes.
For reservations and enquiries, please contact +603 5565 0767. Log on to the official website at dewakan.my for more information on the new menu or follow them on Facebook and Instagram @dewakanmy for future updates.
Location: Lower Ground Floor, KDU University College, Utropolis Glenmarie, Jalan Kontraktor U1/14, Seksyen U1, 40150 Shah Alam, Selangor, Malaysia
Opening hours: Monday to Saturday, 6.30pm to 10pm
Dress code: Dressy, smart casual
Images: Courtesy of Dewakan/Commas PR