When Christopher Lim came up with the concept of The MET Corporate Towers, he had one thing in mind – integration.
That is the basis on which he knew he wanted to build a new workspace of the future that bridges work and play, just as it's the foundation of the parent developer company Triterra that would materialise it.
"I'm all for integration," says the CEO. "The word really cuts across family, nations, races and businesses, and I get excited and passionate about it."
Growing up, he's seen the magic that integration can bring about. People, families, businesses and dreams from the most varied background often birth new opportunities that branch off to greater heights while strengthening the roots that it sprouts from once they find that common ground on the crossroads of integration.
"Once we integrate, life happens, business opportunities happen, and everyone can contribute," Christopher elaborates.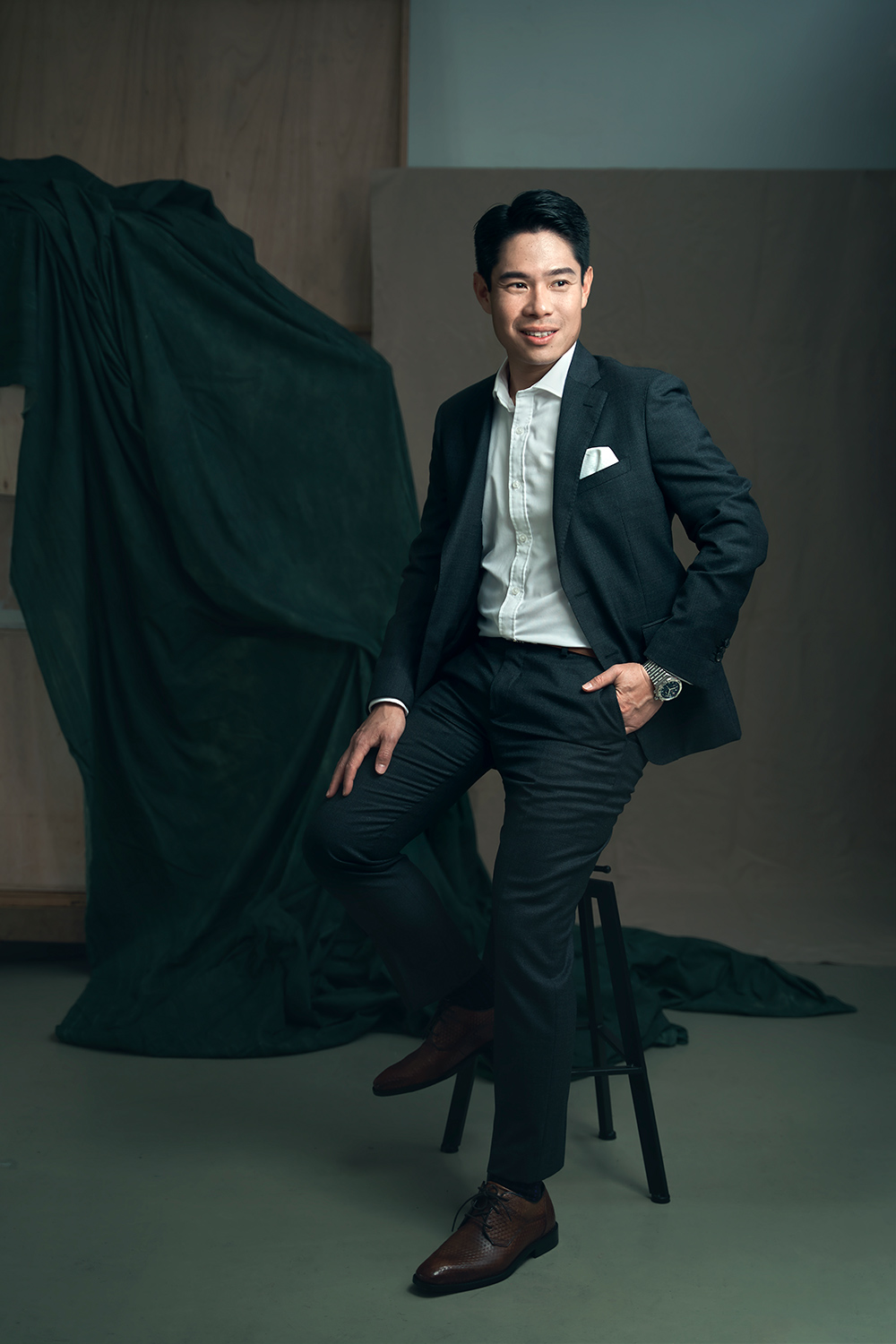 Growing up in a big family with siblings vast in age gaps is one of the reasons he's able to spot and pick out this often overlooked bit in the assimilation of different components and parties to culminate a larger than life final product. As the youngest son, he's able to harvest the wisdom of his elders, the experience of his father, the savviness of his older brothers and piece them together for a picture that, as separate pieces, would be nowhere as breathtaking.
"Every one of us plays a differentiated role in integration. Without that integration, a disconnect happens," he observes.
In his quest for integrating lives, functions, roles and contribution in the field he knows best – development – rises one of KL's first stratified Grade A office towers The MET @ KL Metropolis, a next generation purpose-built office dubbed 'The New Business Class'.

"The New Business Class"
Conceived in 2015 and launched in 2017, The MET seeks to revolutionise everything we know about office spaces with two office towers in the KL Metropolis integrated-development and Mont Kiara. Located in the heart of Kuala Lumpur's new business and exhibition hub within 5km of the KL CBD and encircled by the affluent townships of Mont Kiara, Sri Hartamas, Bukit Tunku and Damansara Heights, the towers will be divided into three distinct zones to meet the business needs of all sizes of organisations, from SMEs to MNCs.
For the MNCs, The MET will welcome everyone with the complete air of prestige with a grand drop-off lobby spanning 20,000-25,000 square feet with a 10-metre high ceiling. For the SMEs, made to measure floor plans will cater to all sizes of companies, whether they're looking for open, shared spaces, or small offices of their own. For the startups and professionals, the 3rd Space concept of The MET will bring everything they need to one place, from world-class facilities including a glass box functional hall, integrated landscape area, a business centre, business theatre and auditorium and even a gym and recreational centre.
All these features are available for all bodies to use interchangeably in true integration spirit and are all equipped with human-focused features complemented with forward-thinking innovations.
It thrills Christopher to think of these many groups coming together in one space and learning from one another. "The startups will look at the MNCs as aspiration, while the MNCs will look at startups as reminder to be innovative, flexible and adaptable," he shares. "At the same time, the SMEs – the ones moving the Malaysian economy – are accelerating and pushing the MNCs as well and the professional are providing services."
He adds, "What you get is a vibrant business place that's community-centric. I call this corporate wellness."

Stewardship. Relevance. Sustainability
In creating this space for the future, Christopher looked to the past.
"If you're familiar with Triterra, it all begins from how we started," he lets on.
Underpinned by three core pillars – stewardship, relevance and sustainability – Triterra is  a boutique developer built on the partnerships of three real estate industry powerhouses.
It is the coming together of over 30 years of track record of the family of Dato Seri Michael Yam in real estate and property development and an intimate understanding of the real estate investment environment and business acumen of Christopher's family – a well-respected lineage of professionals from the North. The MET itself is the maiden project of Triterra in partnership with the NAZA-TTDI group with an eye on sustainable and enhanced return on investments.
The past plays a key role in Christopher's crafting of the future because it holds the map of what will work simply because it has been there.
It has helped him chart the story of early offices in the 50s and 60s that started out in small shoplots before transforming into shop offices in the 70s and 80s. From prime suburbs, they then moved towards prime retail lands before taking up home in Grade B and C offices. With the turn of the century and advancement of technology, it was only a matter of time before the features of their homes are unable to keep up with the demands of modern day business.
"Now there's a gap," he points out. "The MNCs move to Grade A offices in the city while the SMEs and startups are taking up space in Grade B and C offices that are 20-30 years behind. Something new will have to come in."
As one of KL's first strata Grade A office towers, The MET allows for multiple ownership by organisations and individuals alike, levelling out the playing field for the smaller guys to be at par with the big tops.
"When we launched in 2017, we were actually planning a blended coworking space but in a different form. We are integrating and giving ownership, not just as a service," Christopher shares. "We should be talking about this more together. It's all complementary."

Impacting Communities Through Real Estate
The MET today is proud to see more than 80% either sold or with tenancy signed. Among its new tenants include MNCs, public listed companies and government statutory bodies all the way to private professional services and family offices.
"This is something I'm very excited to share because I believe the building is only deemed successful when a community envisioned by the developer comes together in the shortest possible time," Christopher tells. "You can complete the building in 2022 but if the vision of the community only comes together in 2025, there's a three-year gap. It's not wrong, it's just that it may fallen short of the mark that you want."
Construction is spearing ahead despite the complications given rise by Covid-19. In fact, Christopher is on-site frequently to monitor progress, an effort made possible by the fact that the construction company is a subsidiary of Triterra.
"It does give me a lot of joy to see it coming together but for us, we have the vision of making construction the cornerstone of a property company," he reveals.
Returning once more to a tale of the past and how much it has paved the way forward for the present, Christopher hopes to make construction a field held in equal accord of its contributions to the landscaping of cities.
"Construction used to be something at the back, not meant to be seen. Slowly, but surely, it's becoming a cornerstone," he shares. "If you can take care of your construction site and team, how much more can you take care of the front end of things. That is where my passion is."
With The MET and Triterra, he hopes to impact communities through real estate, beginning with the literal brick and mortar of any community.
"For me, Triterra is a unique concept developer. I use the word developer because people can relate to it better. I believe going forward, we would like to call ourselves a property company. We are no longer just developing. It's like how construction is no longer just constructing. Development is no longer just development. It's all about concepts, it's all about features, it's all about integrating three-generational values. That's how Triterra came about.
If there's one sentence to sum Triterra up – it's integration and relevance to the community."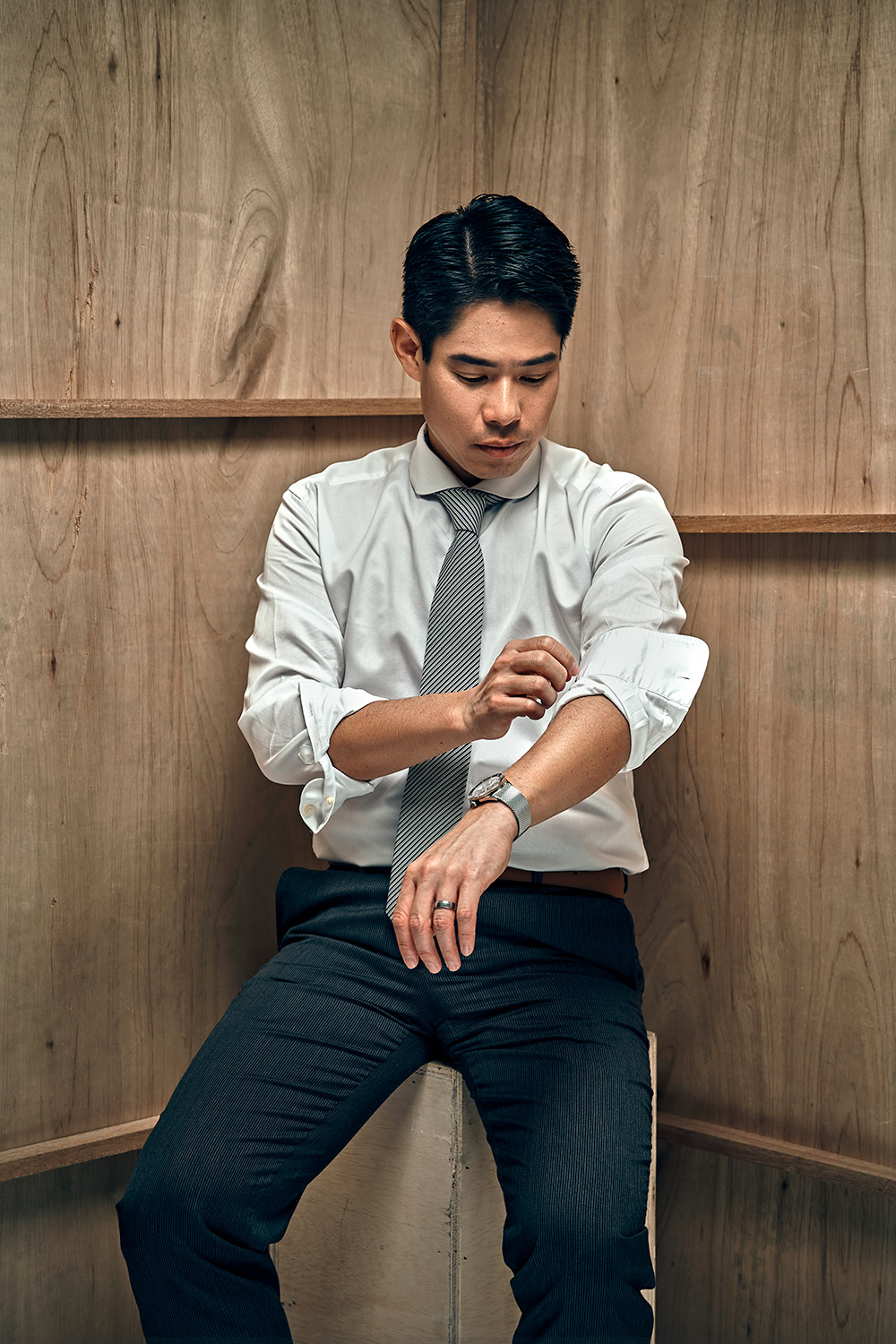 Learn more about  Triterra and The MET Corporate Towers at the official website here.
Photography: Edmund Lee from Ninth Edition Studio
Art direction and styling: Anson Siau
Hair and grooming: Jacquelyn Tan