In the middle of lockdown, Alena Murang watched with excitement as the music video for her song Warrior Spirit picked up 'Best Asia & Pacific Music Video' and 'Honourable Mention for Best Costume' at the International Music Awards UK.
In the coming weeks of July 2021, her excitement would turn into disbelief as Warrior Spirit went on to bag the 'Special Jury Award' at the Los Angeles Film Awards, 'Best Music Video' at the Rome International Movie Awards and 'Best Ethnographic Film' and 'Best Music Video' at the New York International Film Awards.
"We felt really happy, especially for the whole team. It was something that they deserved in this hard time," the Kelabit Dayak singer-songwriter recalls. "It was something to lift the spirits. We're super happy to produce a music video like that that tells so many stories. The awards were a bonus."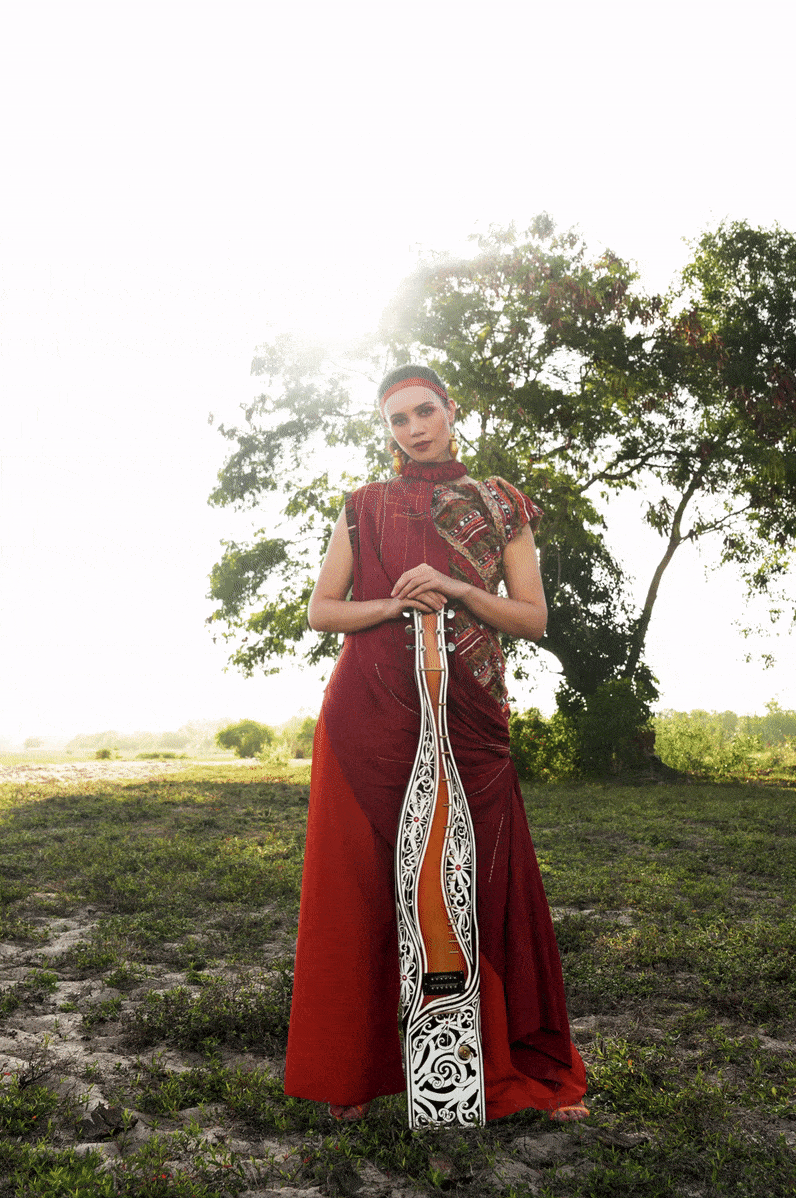 Co-produced by Project Room and Kanid Studios, the music video is a visual masterpiece of vibrant colours set against sprawling nature. Paced to the rhythm of Alena's sape, dancers sway and step while painting the pastures with flashes of black, red, yellow and gold. From the centre of the formation, Alena herself rises to bring attention to the instrument in her hands.
The sape, a traditional lute of the Kenyan and Kayan community, occupies a space that's very close to Alena's heart. Warrior Spirit delivers a more contemporary brand of sape music, with modern rock influences weaved within courtesy of Alena's cousin and co-producer Joshua Maran and his electric guitar. However, the sape Alena holds is of the same makeup as the one she learnt to play as a 10-year-old girl in Kuching – with some modern adjustments.
"It came out of a creative need to learn," Alena divulges, referring to the dwindling number of sape players in her generation. "Our mums knew it was something much more significant. They were the ones who pushed us to learn. Only much later did we realise that we were doing something that's quite big."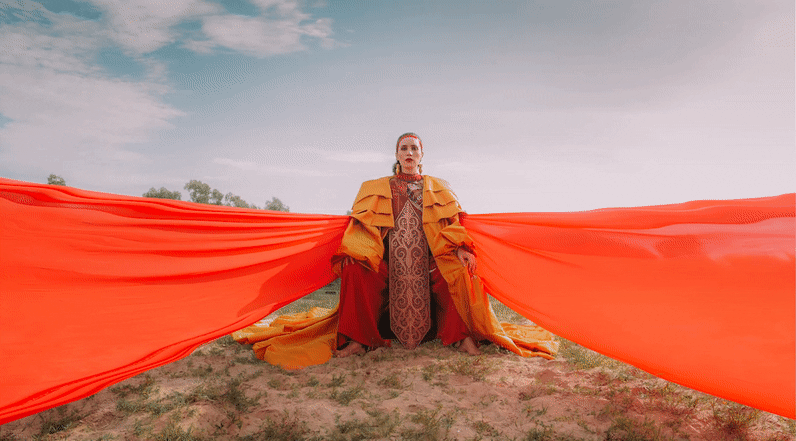 The sound of the sape is a magical string reverberation, rounder and less hollow than that of a guitar thanks to its soft wood body. It is lighter on the ears, perfect for a sound to uplift, inspire and reminisce, as per Alena's genre of ethnic-pop world music.
Some call the music of the sape, the Sound of Borneo. In the advent of globalisation, Alena seeks to share this East Malaysian trademark with the world, and tell her version of home, roots and what it means to belong through its music.
Written from nature, inspired by home
It all started with dance. Alena was six years old when her British-Italian mother encouraged her to take traditional Kelabit dance lessons with her cousins.
"I didn't want to go," Alena tells with a laugh, "but I loved hanging out with my cousins during break times, playing hide and seek and eating all the cakes. It really brought us close together."
Dance soon led Alena to the music they danced to. At age 10, she asked to learn the sape from an uncle, not knowing that girls weren't allowed to play the sape.
Prior to the introduction of Christianity to Borneo between the 1900-1950, sape music was used for spiritual healing by healers who were all men. Women were forbidden from touching the sape.
"I didn't know until a few years ago that he was questioning himself whether he should teach us," she lets on. "He wondered what the community would say. However, he told himself that there's nobody from our generation that was learning sape so he should. We were his first batch of students. He taught us because he was quite radical and quite the feminist."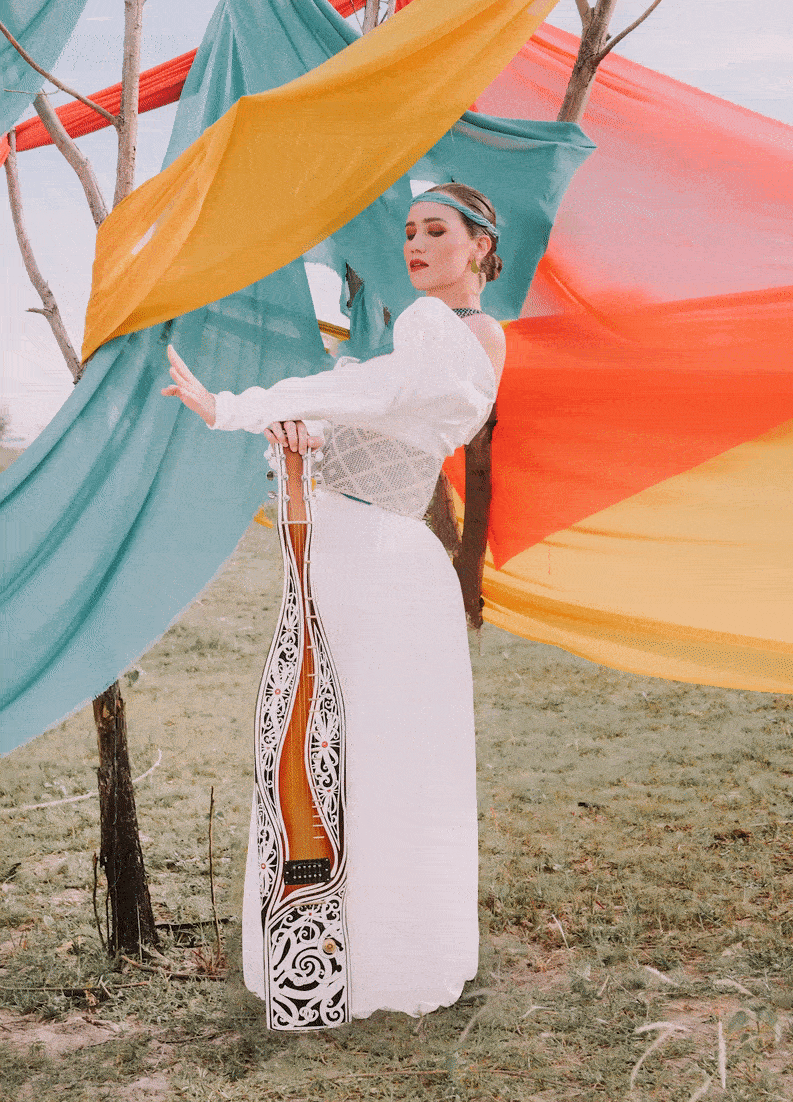 Along with the guitar, Alena picked up the sape, played all through her teenage and schooling years and hasn't looked back since. She broke out into the scene as a full-time musician in 2016 and already has two albums under her belt – Flight and Sky Songs – both co-produced with Joshua. Her inspiration is a source that is within her – her rightful home in and with nature.
With her sape, Alena writes songs about winds that bring a familiar tune and clouds that advise when is a good time to migrate.
"I don't sing love songs," Alena makes clear. "On my album, none of the songs are love songs. We sing about our ancestors who used to live in the skies. We sing about the different sounds of thunder which makes me miss a loved one."
Her affinity to draw her stories from nature is credited to her childhood growing up in Kuching. Her nature enthusiast father and anthropologist mother made sure she and her brother spent almost every weekend amidst Sarawak's lush rainforests.
"My parents loved the jungle, they loved the rainforest," Alena reveals. "I could probably safely say that every weekend we were in the rainforest, in the waterfalls, on the beach, in the kampung or climbing mountains. My mum knows the Latin names for every other plant you find in the forest, the birds. My dad knows the local names in Kelabit and Penan and Bidayuh. We grew up literally knowing that every plant, bird and creature has a different name."
"Obviously when you name something, it humanises them," she adds thoughtfully.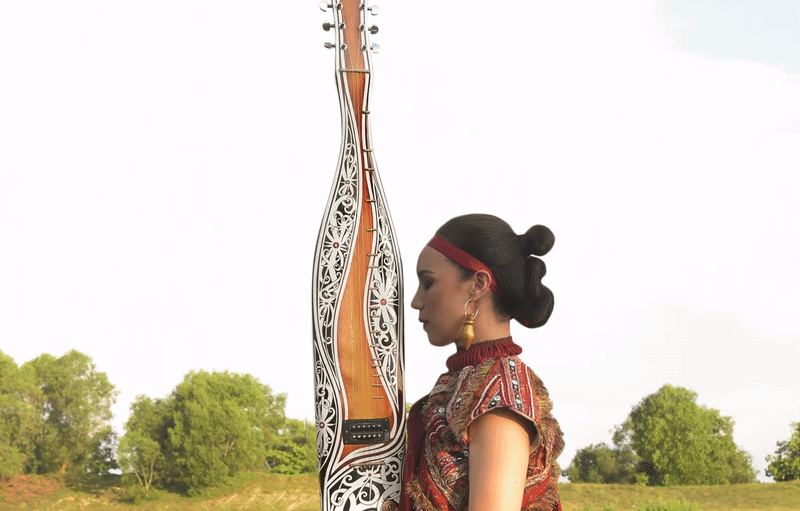 Inspired by these visages of green, she tells their story through the strings of her sape. Unlike most ethnic pop sounds where the ethnic instrument supports the modern band, Alena ensures that her sape is always central. The rest – guitar, drums and bass – then support as complementary sounds.
"It took me a long time to find the right people to put in a band because my music is really different," she tells. "It doesn't have a straightforward formula, unlike mainstream music."
When it came time to make her music into something people can visualise, it was nature to which she returned.
New age warrior
Planning for the filming of Warrior Spirit began mere weeks before the Movement Control Order 3.0 was announced. When the team finally got the respective licenses to proceed, the country went into a lockdown. Instead of letting everything go to despair, Alena, Joshua and director Sara Lois Dorai decided to push ahead and shoot in Pulau Indah.
"We wanted to choose a location that could be anywhere in Malaysia rather than somewhere specifically Sarawakian or specifically Selangor," Alena tells. "Pulau Indah was beautiful for the sky – perfect for Sky Songs – with its open expanse of land."
With close to 40 backup dancers, three band members, and a handful of production crew members, they set to work. Filming took place over two full days, the first of which Alena took on with food poisoning.
Choreographer Munirish Jereni and Naz Manterang saw to the calculated rhythm of the dancers in black and red; stylist Saerah Ridzuan from Styllar had the behemoth task of dressing them in attires that reflected the ethnic inspiration of the song without culturally misappropriating anything; Alena herself took on the responsibility of cultural advisor.
"Styling was quite a challenge because director Sarah had specific ideas and she wanted more structured looks that were still soft to show the feminine side of a warrior. We also wanted to be very careful about the accessories that we use so we don't offend anybody," Alena shares.
"It's not just putting on some beads on our head," she exemplifies. "There were some really beautiful tapestry and headgear we found. We reached out to some aunties and communities but we decided not to use them even though they were so perfect for the outfit."
The final looks in the video are contemporary costumes put together by Saerah and given the finishing touches of a tribal-esque guise with accessories. It was the perfect juxtaposition of contemporary and traditional, much like the nature Warrior Spirit as a song.
Together, they created a stunning modern retelling of Alena's warrior blood. She is the modern embodiment of her ancestors, the Northern highland warriors of Borneo. After all, her great great great grandfather Balang Nganud was a great warrior in his time, whom the community called 'the Tiger that floats enemies' heads downriver'.
"Warrior Spirit is important to me on so many levels," Alena says. "We actually planned to release it much earlier on – at the end of 2020 – but we had to postpone to February 2021, then April, then finally in June. In hindsight, it was the best time to release it because of the state of our country."
The music video plays out the moments just before the break of dawn when a warrior prepares for battle. The drums and the sape beat the steady pounding of his heart and as the sun peeks over the horizon, parting the early morning mist, he honours his calling with bravery. The electric guitar shreds his adrenaline to life while the hypnotic tempo of the collective band serenades him to victory.
"I think that Warrior Spirit is what a lot of us need. It's kind of that urge to keep going, to look after each other, to fight for better times," Alena reflects. "It was important to me because it showcases the strength of the generation that we have now. We came from a long line of headhunters –  that's what people always call us – and even though we're no longer headhunters and haven't been for a long time, that spirit, courage and desire to protect your community and fight for a better good is still something I can see in the generation in Sarawak."
If Warrior Spirit is one of bravery, then one can find more of Alena in her other songs. Each delves into a part of her past and tells stories of who she is in the present.
"My music tells stories through its lyrics and we do a lot of research into the stories of the past and translate that into songs that people can relate to these days," she reveals.
Underscoring it all is, of course, the sape, the instrument of her people.
"I always say that sape was created by our ancestors and the songs are created by our ancestors," she adds. "When I play the sape and sing my songs inspired by them, I am made more conscious of their presence in my life."
If ever she feels lost and unsure, she knows she can turn to her music, which will bring her right back to her roots, culture and home.
"Warrior Spirit" is from Alena Murang's latest album 'Sky Songs'.
Music video co-producers: Project Room & Kanid Studio
Executive Producers: Alena Murang & Fabian Joseph
Director: Sarah Lois Dorai
DOP: Fabian Joseph
Music written by: Alena Murang & Joshua Maran
Performed by: Alena Murang, Joshua Maran, Jonathan Wong Ketshin, Herman Ramanado & Jimmy Chong
Audio recorded, mixed & mastered by: Ian Koren at Goldensound Studios
Music video copyright: Alena Murang & Project Room
Music copyright: Alena Murang
iTunes / Apple Music:https://apple.co/3wEDy30
Spotify:https://reurl.cc/lRLlej
KKBOX:https://s.yam.com/zygVa
Youtube Music:https://reurl.cc/mLd7ZA
myMusic:https://s.yam.com/a3UCR
FriDay Music:https://s.yam.com/J5J22