Sarawakian artist and musician Alena Murang wants to keep our Malaysian identity alive by vocalising her pride in her Kelabit-Dayak roots the way she knows best: through music.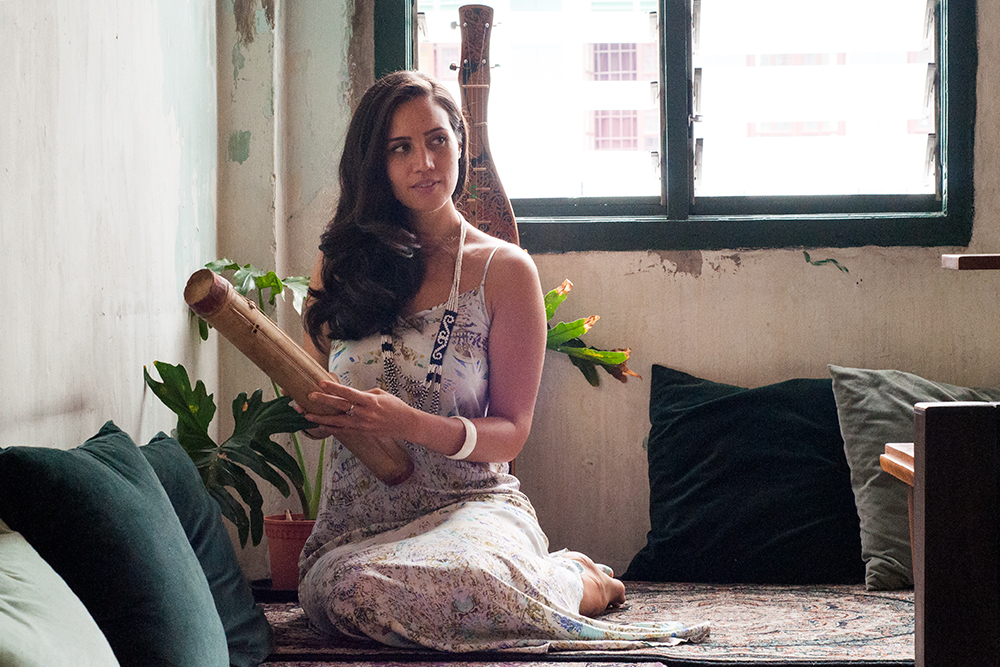 In 2017, it was reported that 80% of 136 languages used in Malaysia are endangered, according to Ethnologue, a database on over 7,000 world languages. That percentage does not merely encompass indigenous languages such as Kenyah and Kelabit, but also dialects like Min Dong, Malaccan Creole Portuguese and Negeri Sembilan Malay.
Despite this, our society and education system are more concerned with improving the standards of English and Bahasa Malaysia (which by no means are less essential), and few have stepped up to preserve these threatened tongues.
Sarawakian artist and musician Alena Murang wants to change that. And make changes, she has – by vocalising her pride in her Kelabit-Dayak roots the way she knows best: through music.
"Music is one way that we can keep languages alive and when you keep languages alive, you keep communities and identities alive as well," the 30-year-old cultural activist says.
The prized sape (a cultural lute instrument) occupying the seat next to hers during our interview is one of many in her collection that she uses to share her love of culture and music with the world, alongside the pagang (a zither instrument made from bamboo) fitted in her recognisably Penan-woven bag.
Uncovering her Kelabit roots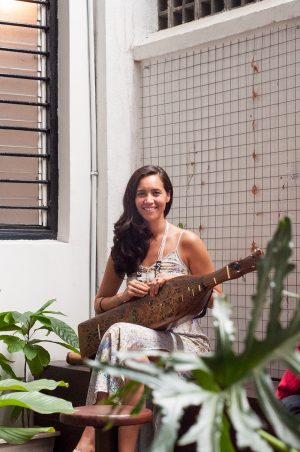 It's not an exaggeration to say that Alena was born into the arts. Having grown up with relatives dancing and playing live music at home, she was drawn to learn cultural dances at the age of six at the Dayak Cultural Foundation.
Ironically, although her Kelabit heritage stems from her father's side of the family, it was her half-British-half-Italian mother who inspired her deep appreciation of the different cultural art forms.
"She's an anthropologist, so I think she really knew and saw the value in cultural heritage," she fondly tells of her mother. "It was really her and some of the other moms that had married into the Kelabit tribe that pushed me and my cousins to learn cultural dancing."
After that, she picked up the piano and subsequently, the classical guitar. At 11, she was taught to play the sape together with her cousins. Little did she know at the time that the instrument was traditionally reserved for men, up until her father's generation.
"Before, the sape was used for ritual healing. It would be the shamans that play the sape to induce the spirit and there were different sape for different spirits," she explains, adding that there are two different types of sape: the human sape and spirit sape.
"After Christianity came into Borneo, obviously the spirit sape was no longer relevant. But people started playing the human sape more for entertainment, dancing and welcoming guests."
Both Alena and the sape have come a long way since then, with the duo making appearances at music festivals around the world, including the Borneo Jazz Festival, Wonderfruit Fest (Thailand) and Rudolstadt Festival (Germany).
But getting to this point wasn't as straightforward as it might seem.
Making waves in world music
After finishing SPM, Alena pursued a degree in the UK before returning to the country to become a management consultant in KL for two years. She then left the corporate world to study art in Singapore with hopes of becoming a painter.
"When I was at arts school, my lecturers looked at my art and they said 'Alena, you won't be a good artist…because your mission is bigger than art'. When I asked them what they meant, they told me 'you go find out for yourself'," she recounts with a cheerful laugh.
"Now I think I understand what they were saying. I think they saw it in my artwork that my heart was really for the people and the land I grew up in," she says on hindsight, with a half-beaming, half-serious look.
And so, she came home again, albeit with no clue on how to move forward. Fortunately, an opportunity came along to tour with a friend's band in the US, where she was met with great interest in the sape.
"Music is one way that we can keep languages alive and when you keep languages alive, you keep communities and identities alive as well."
"In business terms, I guess you could say there was a market for listeners. From there, it just grew organically," she tells.
With her contract with Teach for Malaysia coming to an end and an upturn in paid gigs in tow, she took a leap of faith to make music full-time in 2016. It's almost three years now and she has never been happier with her decision.
That's not to say the journey has been smooth-sailing; in fact, one of her biggest challenges is the lack of support for world music – a genre with strong cultural and heritage roots – within the region.
"I struggle with finding the right manager, the right record labels and the right players in the ecosystem. I've been trying to make our art and music just music – not a tourism product or something to tick in the East Malaysia box," she says, a hint of frustration in her voice.
Though it will take time for the local world music scene to be on par with regions like the US and UK, she relates on a positive note: "I've seen myself in the same realms as contemporary musicians in the entertainment industry, so I do see changes and I really appreciate moments like that."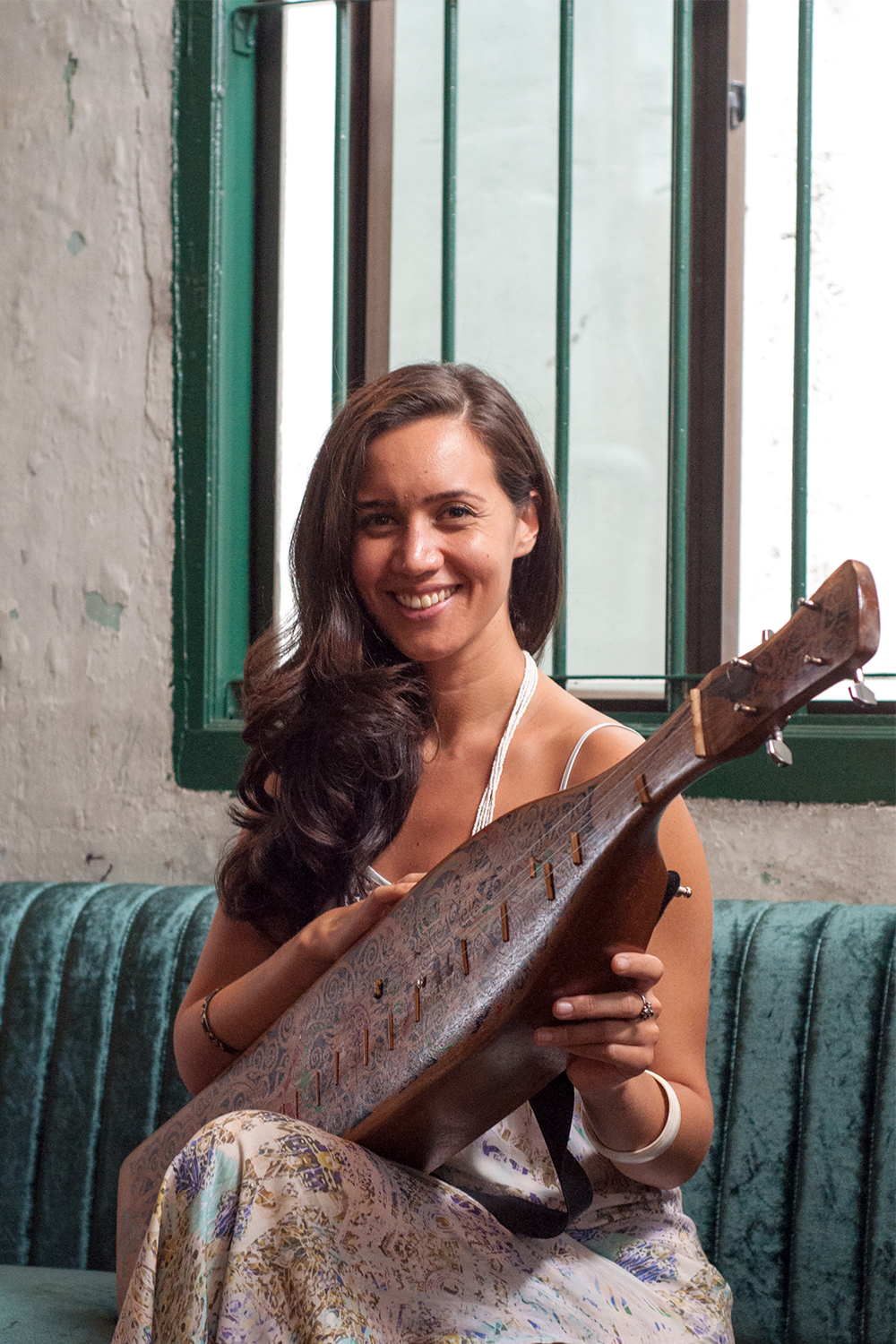 Armed with the arts
These days, Alena's schedule is split between local shows, festival tours, painting, consulting and working on an upcoming album. While the release date is still uncertain, there's one thing you can expect from the album: it will be unlike anything you've heard.
"I put together a band in December and one of the challenges we've had is that our rhythms and tuning is very different from Western music…I've been told that I have no rhythm and I would always have to modify the way I play or the physical sape itself to fit into what other people wanted," she divulges.
"I've come far enough now to realise that actually, this is our music and this is what I want to uphold," she resolves.
In this upcoming album, the sape will no longer be conformed to conventional styles; instead remaining true to its "awkward" rhythms and sounds.
Her message is clear: it's time we embrace our cultures, histories and roots as they are, not hide them from our books or mainstream media.
"Partially why I do what I do is because I noticed from my shows that there are a lot of young Malaysians that wonder what it is to be Malaysian. But it's really up to us to uncover our own roots."
"It sounds very abstract and wishy-washy but I think once you really know and internalise your heritage, then you can understand why you are who you are and why our society is how it is today. On a personal level, I think you'll become more confident of yourself."
Well, isn't she the living proof of that.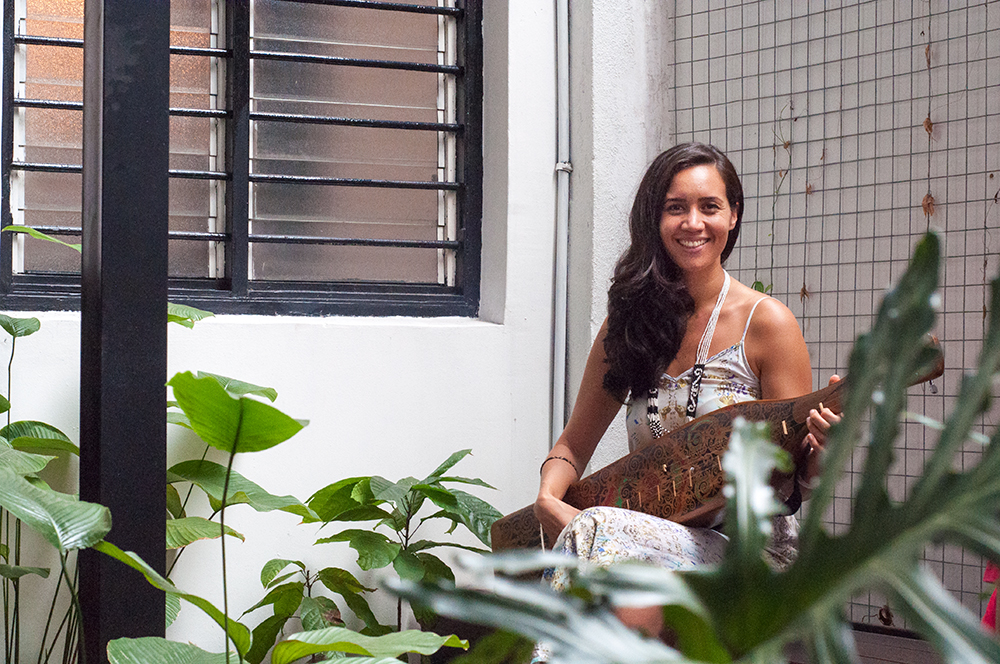 Photography: Anson Siau