Dim sum is not the only thing that will spark your curiousity here, as a number of dishes and desserts on the menu will prove.
W Kuala Lumpur takes pride in disrupting conventional expectations of 5-star hotels and this brazen defiance permeates through its rooms, facilities, dining venues and services. YEN, its flagship Chinese restaurant, is one of many testaments of the fact.
Sprawled across the 11th floor, YEN boasts distinctively modern furnishing and striking elements that echo the hotel's design narrative. It is helmed by Executive Chinese Chef Tan Kim Weng, who is especially known for his inventive dim sum creations. But dim sum is not the only thing that will spark your curiousity here, as a number of dishes and desserts on the menu will prove.
Combine these factors together and you have three reasons why you should visit YEN.
Avantgarde interiors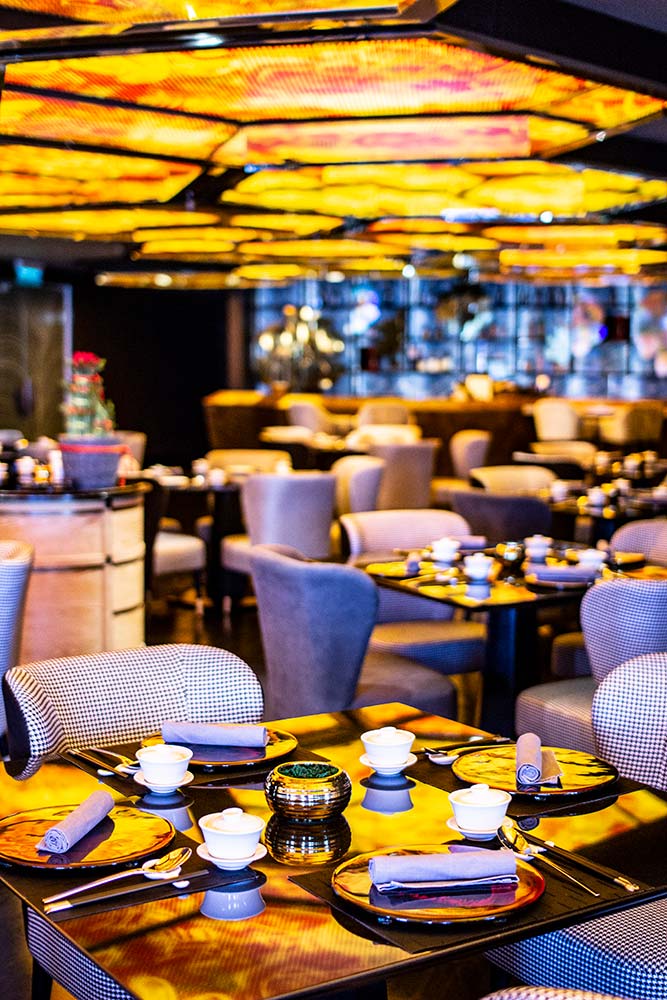 "Is this or is this not a Chinese restaurant?" you may ask as you enter. Sure, the gold accents and Chinese characters on the incandescent honeycomb matrix of yellow-orange panels may direct you to the right answer; but then there are the houndstooth chairs and metal dividers that suggest otherwise. The absence of Chinese calligraphy or paintings and oriental flowers seem to only perpetuate the question.
That's the beauty of W Kuala Lumpur's YEN for you.
Breaking stereotypes of traditional Chinese restaurants, its interiors borrow elements from the Old Shanghai era – a period when Chinese music, fashion and literature married Western art deco. This explains the ornamental patterns on the dividers and the subtle floral motifs blending in with the characters on the ceiling panels. Besides the main dining area, there's also a bar and private rooms featuring an even more contemporary design – and a decent view of the city.
Dim sum, reimagined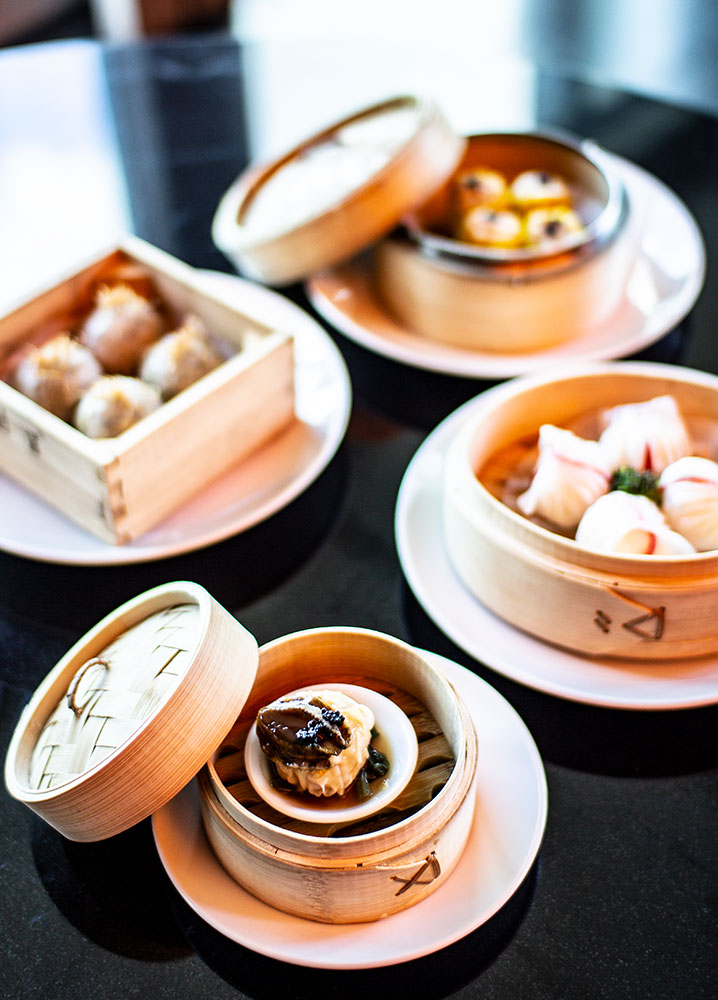 When in doubt of what to order here, dim sum is the answer. You'll find all-time-favourites like siew mai and har gaw, both of which come in a basket of four with chicken replacing pork in the former and sizeable prawns in the latter. Those up for something more adventurous can try the Abalone Siew Mai, a single serving of dumpling topped with a juicy-looking abalone. We recommend savouring all of the above with Chef Weng's special sauce (served with complementary condiments on the table) for an extra kick of spice.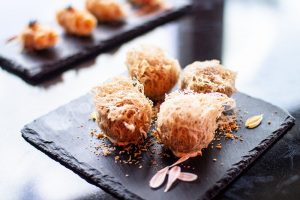 If you're all for novel options, not to be missed is the Crispy Yam with Foie Gras and Chicken. It's the perfect definition of "crispy on the outside, soft on the inside" with well-balanced flavours of yam and foie gras. Neither comes off too rich or overpowering as one might expect, which we welcome as a pleasant surprise.
Likewise, the Cod Fillet with Chilli Padi Cheese and Spicy Sauce offers a play on textures – crispiness from the kataipi pastry wrapping the silky cod and creamy chilli padi gouda in the middle. The cheese (also available in the hotel's breakfast buffet spread at Flock) adds a brilliant touch, elevating a delicious but otherwise predictable dish into one that's now in our mental list of outstanding dim sum.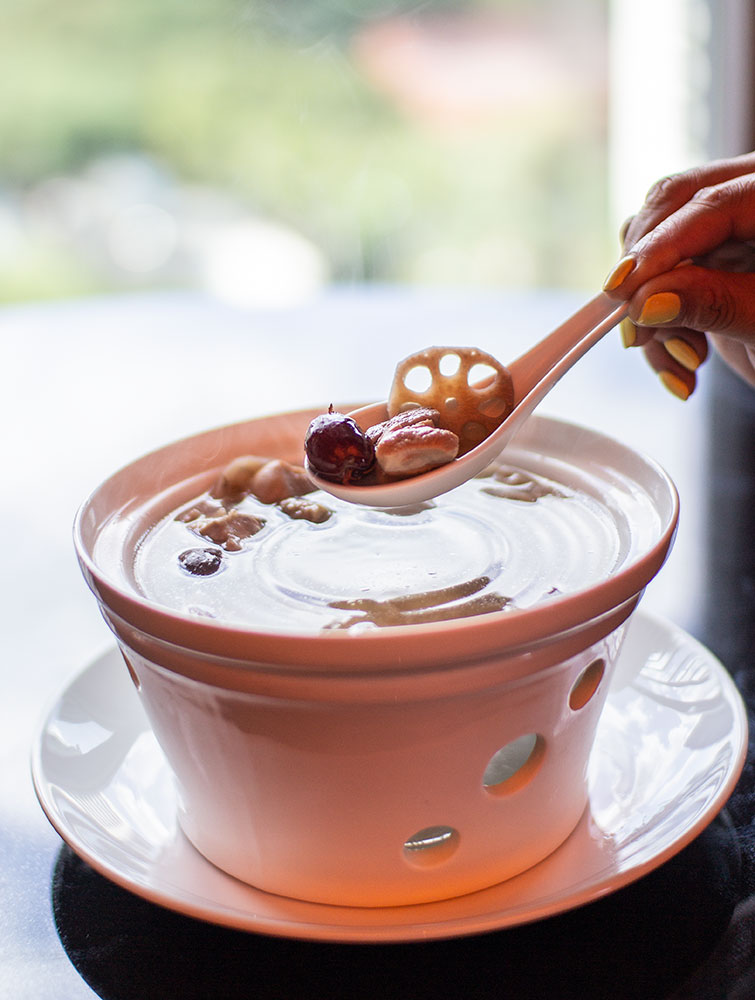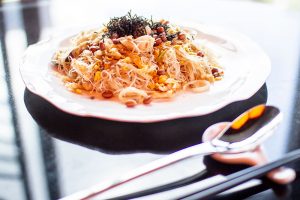 Before we move on to desserts, two honorary mentions include the Stewed Ee Fu Noodles and the Double Boiled Chicken and Fish Maw Soup. Though not as intriguing as the dim sum selection, the noodles, served with minced prawns and ground flounder, are a worthy addition for those who can't live without carbs. And if you're a diehard fan of Chinese soup (like yours truly), then you can't go wrong with a wholesome bowl of double-boiled soup either.
Innovative desserts (that actually work)
Even the dessert menu at Yen is not what you'd find at typical Chinese dining establishments. Forget sticky rice cake (nian gao) or red bean soup and try one of the following delicacies instead.
For those lost on sweet afters, the sesame salted egg ball may be the better pick to end to your meal. While the salted egg yolk isn't as runny or rich as we like, the bed of crumbles (the most addictive part of the dish) underneath is reason enough for us to have more than one piece to ourselves.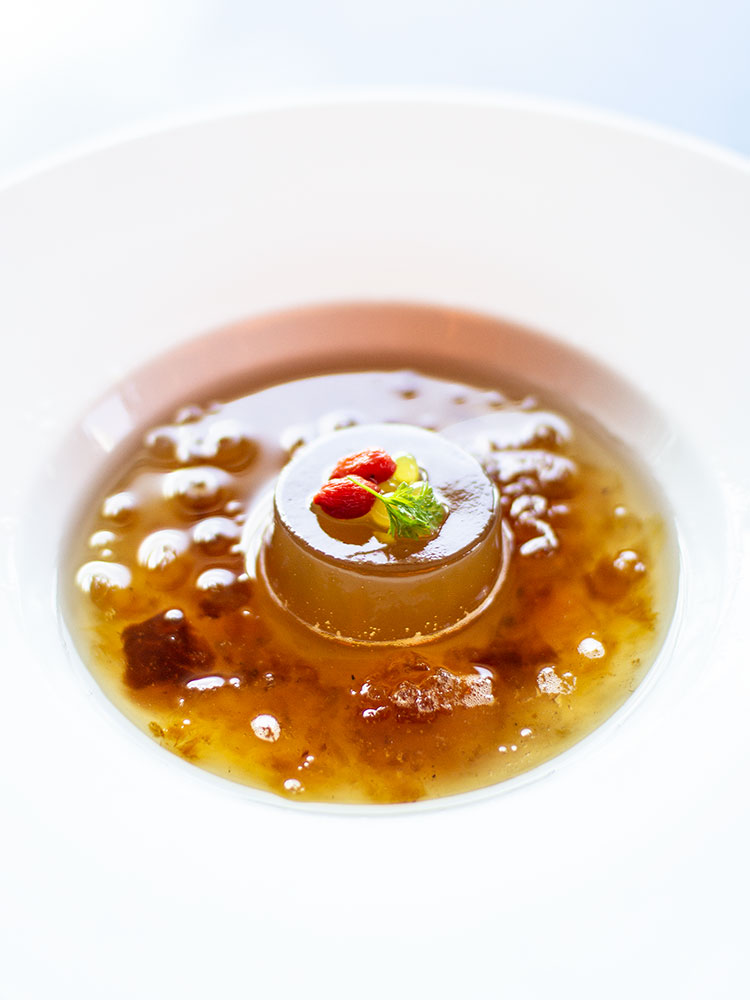 A contender for the best dessert of our meal here is the Lemongrass Infused Ai-yu Jelly with natural peach resin and yuzu pearls. Slightly sweet, moderately zesty and incredibly refreshing, we can only wish our bowl was bottomless.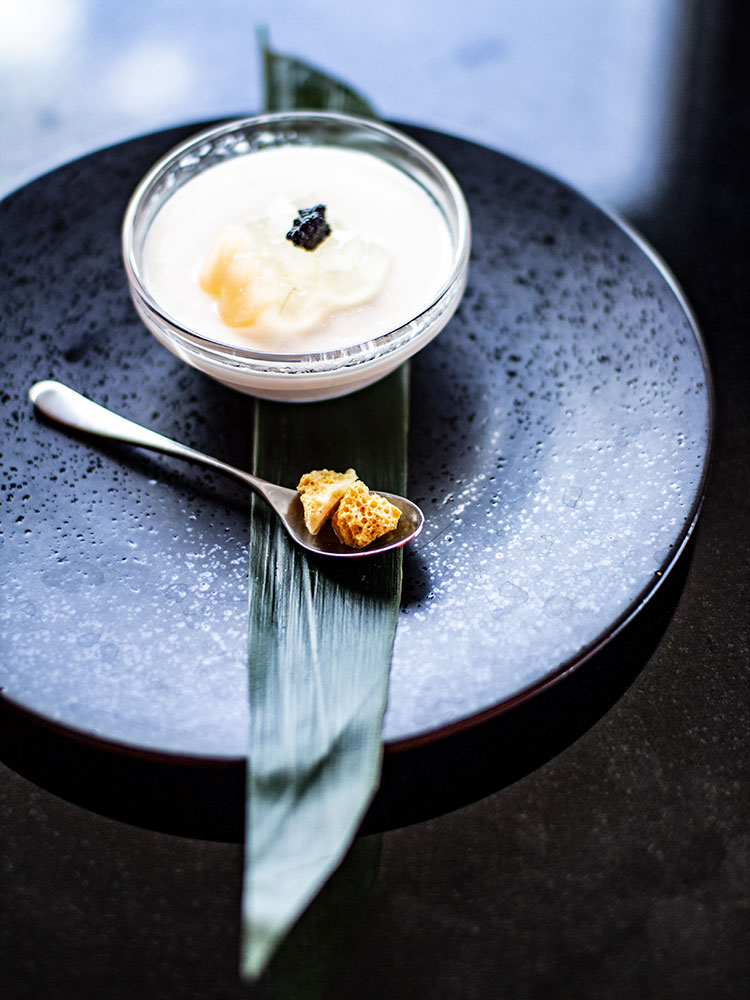 Tied at top spot is the milk pudding with truffle, honeycomb, aloe vera and if you look closely, a W-shaped melon. The pudding has a light, semi-solid texture that holds its own against the stronger but noticeably less-pungent-than-usual truffle topping. Add the hint of sweetness from the honeycomb and the acidity from the aloe vera and you have your dream pudding.
Admittedly, we're not a fan of durian but if that's your fancy, there's Musang King durian fritters for you. Arriving in the form of black swans in a nest, it's a cute sight to behold, though its flavours may be a slightly subdued for those who enjoy the rich aroma of the fruit.
(swipe left for more)
For more information, log on to the hotel's website here. For reservations and enquiries, call 603 2786 8888 or email b&f.wkualalumpur@whotels.com.
Photography: Gan Yew Chin