"We're very colourful and loud – it's all about music, design, fashion and fuel."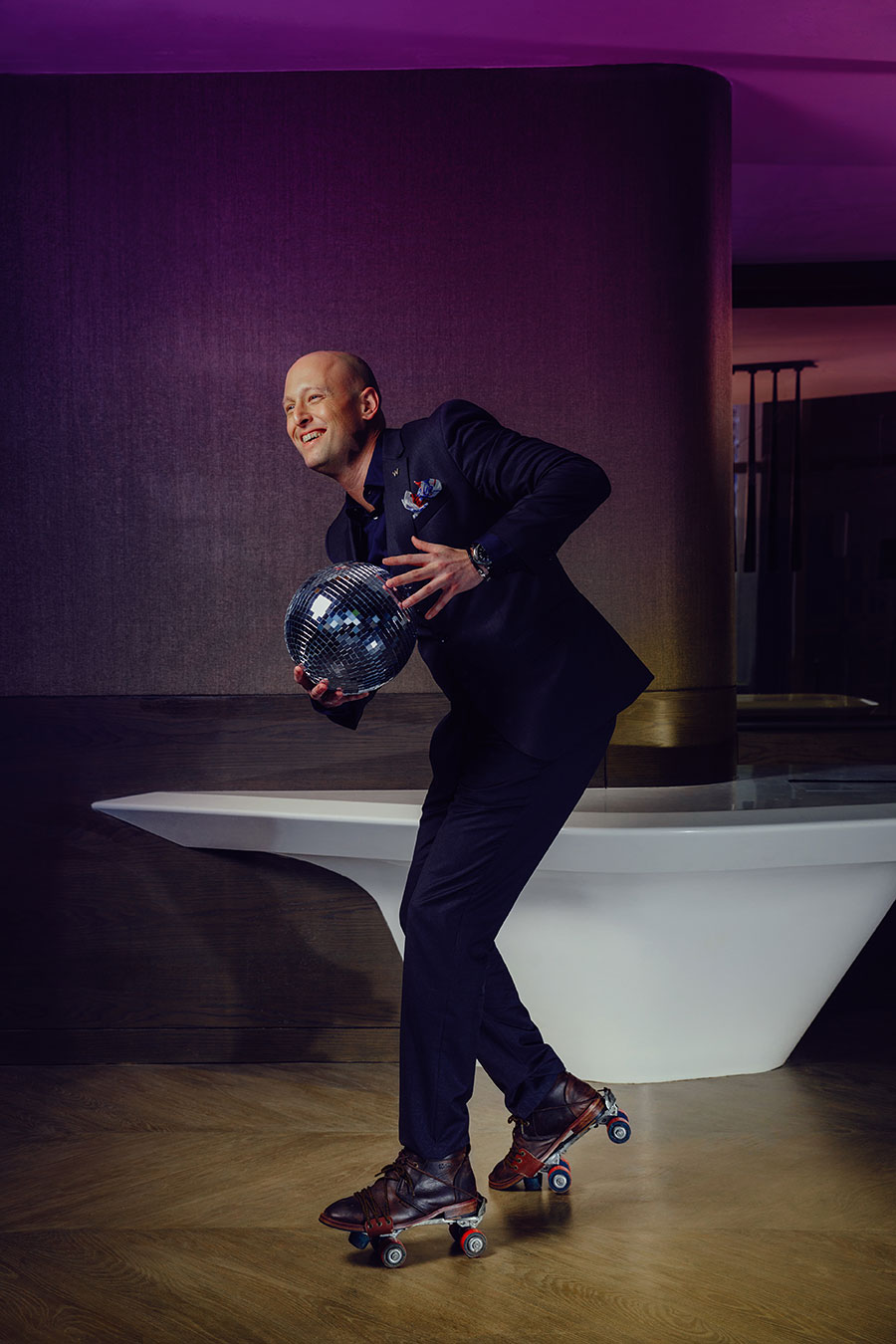 New hotels have opened left, right and centre in Kuala Lumpur in recent months – perhaps faster than we have time to visit. Trust us when we say you'll want to clear your calendar for W Kuala Lumpur though, as its debut will mark W Hotels' first establishment in Malaysia.
Owned by Tropicana Corporation Berhad, W Kuala Lumpur is geared up to shake the city's hospitality scene with its avantgarde approach to luxury and pulsating, quirky character. After visiting the premises for ourselves (albeit still in final preparations at the time), we daresay the pre-launch pool party at Menara Ken TTDI's Babel Fit is merely a modest slice of the whole party-ready W pie.
As general manager Christian Metzner words it, "It's a 5-star hotel, so we're going to provide the luxury services that everyone is looking for but in a very unconventional way. We're very colourful and loud – it's all about music, design, fashion and fuel."
He walks us through those four key passion points with an exclusive tour around the hotel at that.
Design & fashion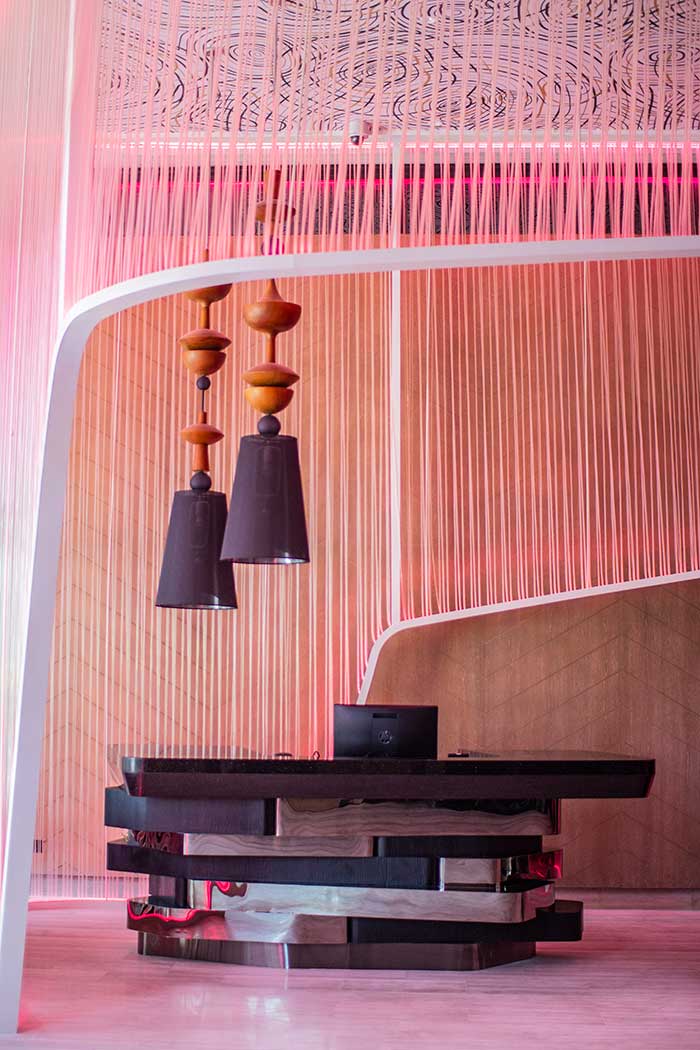 Right off the bat from the entrance, W Kuala Lumpur commands your attention. Neon pink lights reflect off a waterfall-like structure and the surrounding textured walls, while lamps resembling beaded bracelets made by orang asli hang gracefully from the abstract painted ceiling – compelling your admiration all at once. Honestly, it's hard not to let out a gasp in awe.
"We have two main design narratives for W Kuala Lumpur, jungle city and confluence," Christian explains. "For jungle city, you'll see a lot of leaves, greenery and natural colours mixed with lights and innovative arrangements. Confluence is about bringing the different forms together and creating one shape and one kind of experience."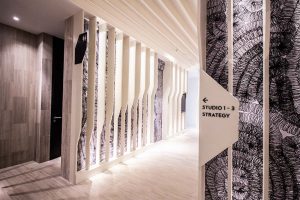 The jungle city narrative unfolds as we explore more of the hotel, in both subtle and apparent ways. Leaning towards the inconspicuous side, there's the tree bark motifs (that look like slinky springs at first glance) decorating walls, ceilings and carpets on the ballroom floor.
Fauna takes over at the Flock all-day dining restaurant (more on this later), where feather prints adorn the cushions and winged features frame the plump violet armchairs lined neatly next to floor-to-ceiling glass windows. Lush plants in varying shades of green further illustrate the brief of the fashion-forward (read: highly Instagrammable) space throughout.
Confluence, on the other hand, emanates through the finer details that meet the eye. The rooms are where we see it most clearly: from the batik artwork on the wall above the bed's headboard to the daun keladi pillows (each W hotel features a unique pillow design based on the native culture) and once again, the suspended lamps that reference orang asli trinkets. All of these elements symbolise the local lifestyle while exuding a vivacity that's synonymous with the W brand and its dynamic pop of colours.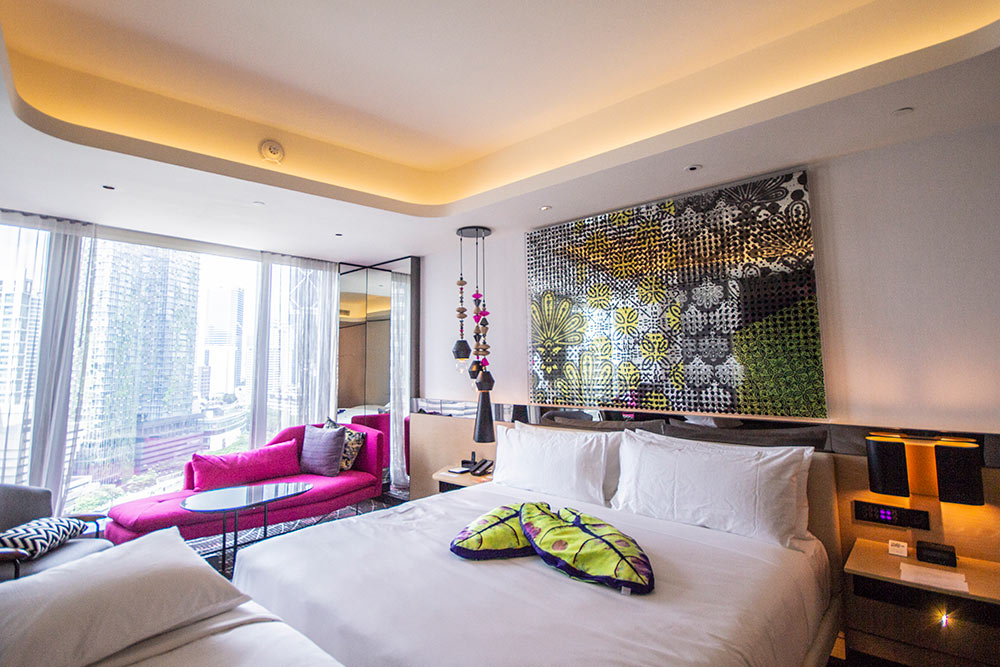 There are 150 guest rooms in total, 18 of which are suites. The top of the line is the Presidential Suite, or what it calls "EWOW suite".
"We have the largest EWOW suite in town at 520 square metres," he says proudly. "You have your own pool, a bar counter, sound system, gym and massage area. One floor only has three suites and they can all be connected to each other, so you can actually take over the entire 23rd floor – which has a fantastic view of the twin towers – and have your own event in complete privacy."
The suite wasn't ready for preview just yet, but we can already imagine it to be a paradise in the city.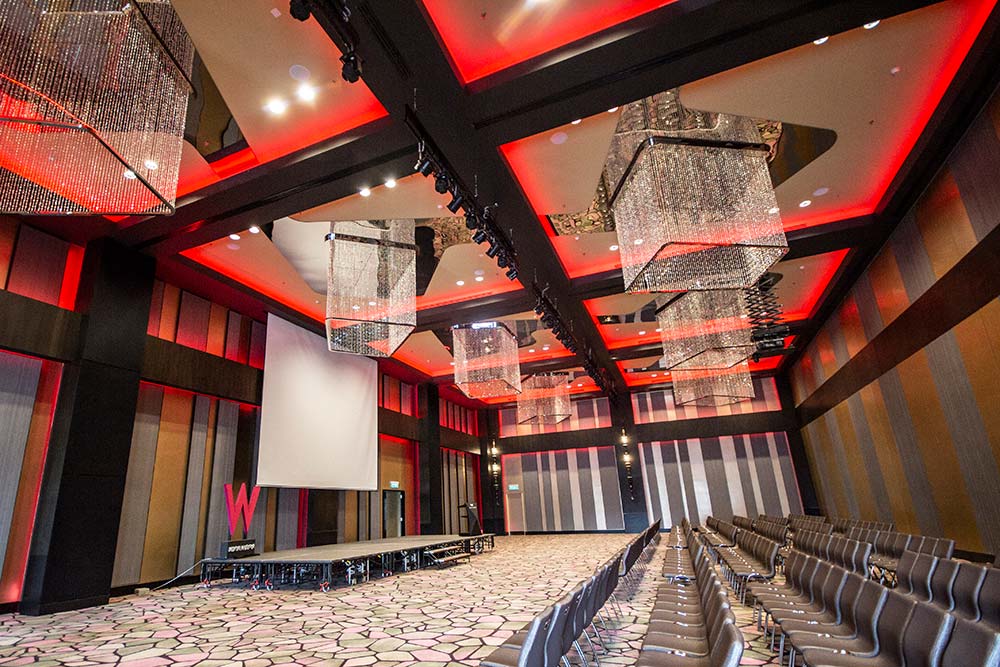 "Definitely another one of our highlights is our Great Room, which is our ballroom. It's 1,042 square metres and fits up to 700 people on round tables," he tells about the hotel's facilities, candidly adding, "Actually we can fit more, but we will stop at 700."
"There's an 8-and-a-half metre ceiling, and the special part is that the walls and chandeliers can actually be arranged in different colours because they all come with LED lights. We also have the only HD LED wall here in KL, so when you book a business or wedding package with us, we will throw that in as well," he elaborates.
Fuel & music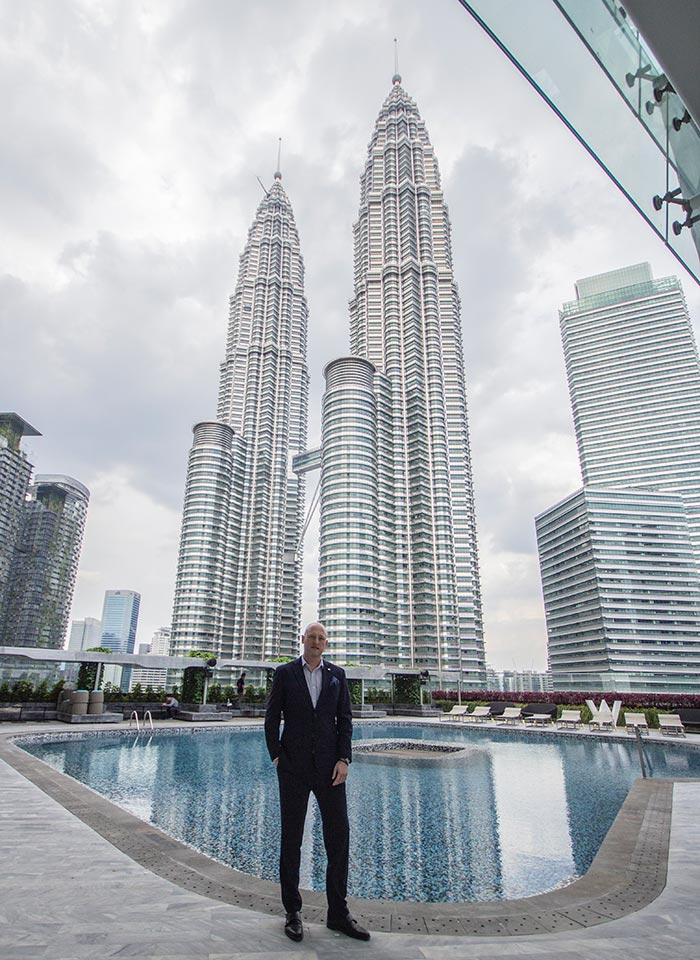 Visual appeal aside, W Kuala Lumpur is set to tickle your taste buds with its dining options and get you into the groove with its music. Cue its two other passion points: fuel and music.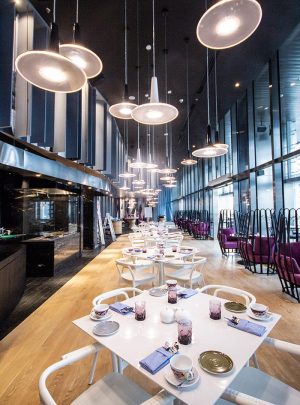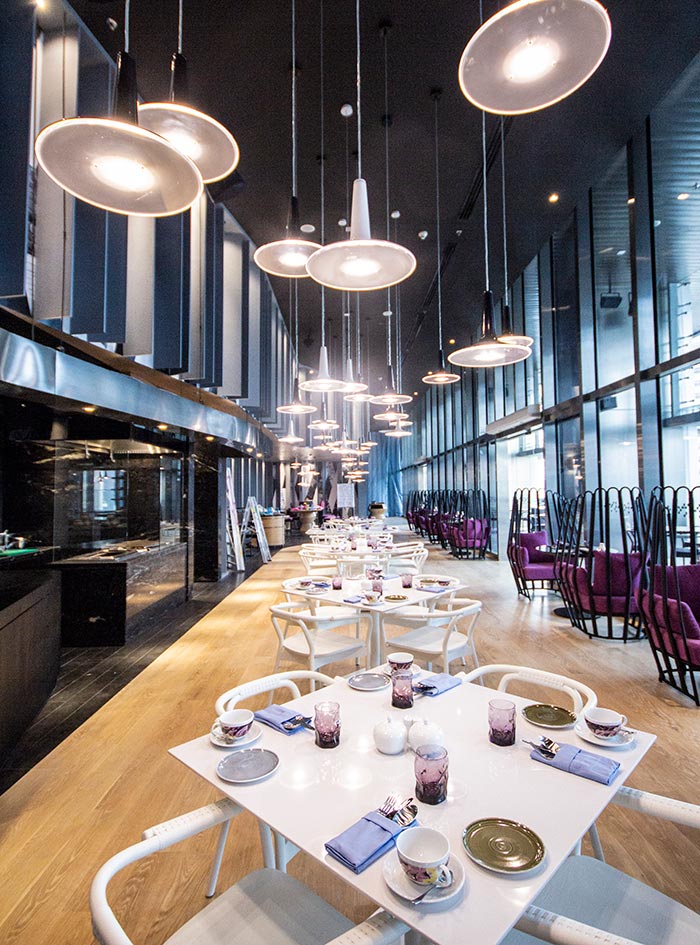 "Fuel encompasses what you eat, what you drink, how you live and what kind of activities you're doing," Christian divulges. "I think there's no other hotel which actually diversifies in all of these different categories and offers what we're going to offer in terms of guest experience."
That's a bold claim that's backed by three restaurants, two bars, a ballroom banquet and a nightclub.
Starting with where we left off with Flock earlier, he says, "Flock is our all-day dining modern Australian cuisine that's focused on sustainable food. We work with a farm in Cameron Highlands which grows vegetables just for us on two plots of land. And we also have locally sourced cheeses and honey."
As all-day buffets typically result in high food wastage, Flock only serves buffet breakfast, whereas lunch and dinner will be a la carte.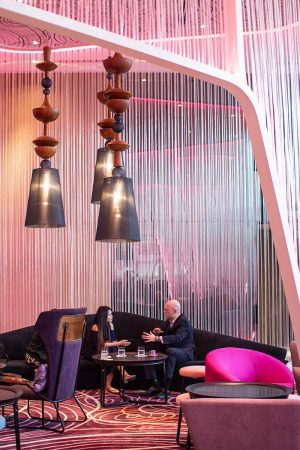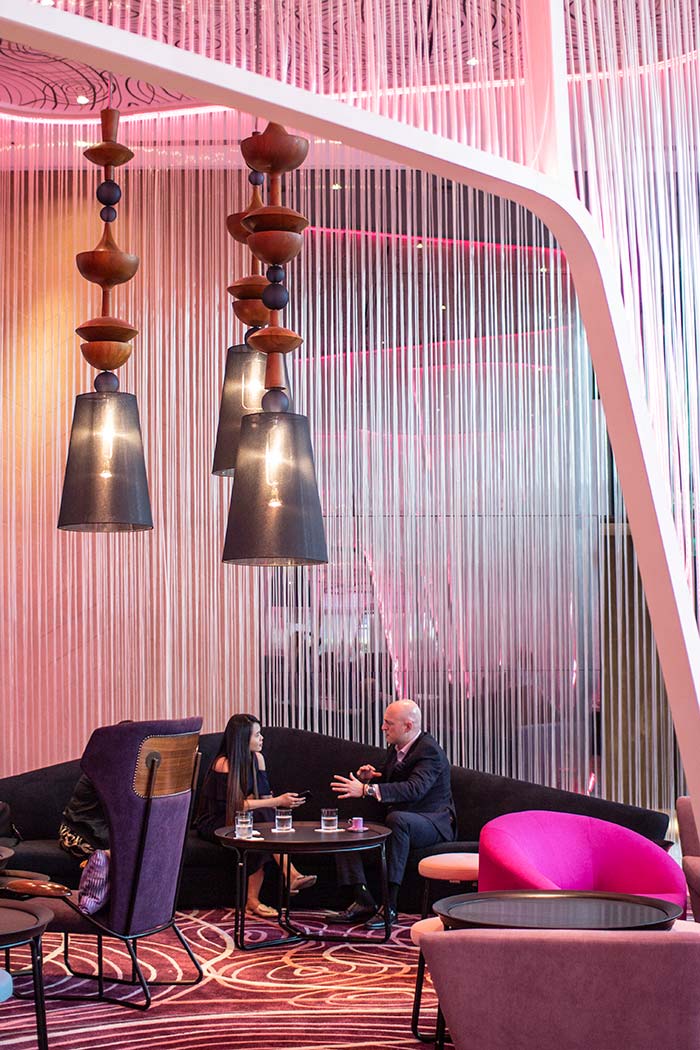 Then there's Yen, a Chinese restaurant specialising in contemporary Cantonese cuisine; and Saint Pierre (managed separately), the brainchild of Chef Emmanuel Stroobant, who heads the one Michelin star French fine dining restaurant of the same name in Singapore.
"Woobar serves very sophisticated and creative cocktails – what you would expect from a speakeasy setting. And then we have Wet Bar at the pool deck which turns into a lounge, party place in the evening with deejays. From time to time we'll also have a pool party and events there," he adds. (By the way, these are two of his favourite spots in the hotel – the atmosphere and views have a lot to do with why).
In keeping with its upbeat reputation, the hotel has also partnered with M group, who owns Lavo, Chaze and Maze, to offer a VIP nightclub – Wicked.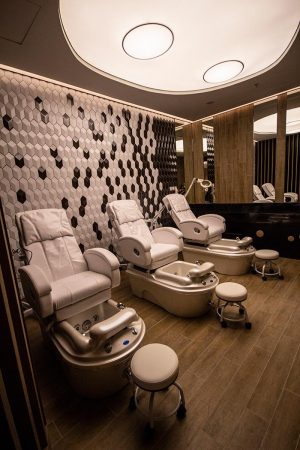 Besides fuelling up with food, there's an entire floor dedicated to stimulating the mind, body and soul: The Away Spa. It offers a complete spa menu comprising massages and facials, as well as mani-pedi services in partnership with 176 Avenue.
To ensure a full-on pampering experience, guests can take their time to utilise the changing rooms, sauna, steam room, whirlpool before, after or in between treatments.
"On top of that, we'll have something very unique for our W guests, that is our W Insider and our Music Director or Music Curator," he shares on two titles that are exclusive to the brand.
"Our W Insider will be Meliha Faisal, who's in the know and can get you into places and clubs where you normally wouldn't go to. And then we have Victor G, who's a deejay here in town, as our music director. He plans all of the events together with our marketing team, he gets the deejays in and he curates the music and different song themes in the hotel."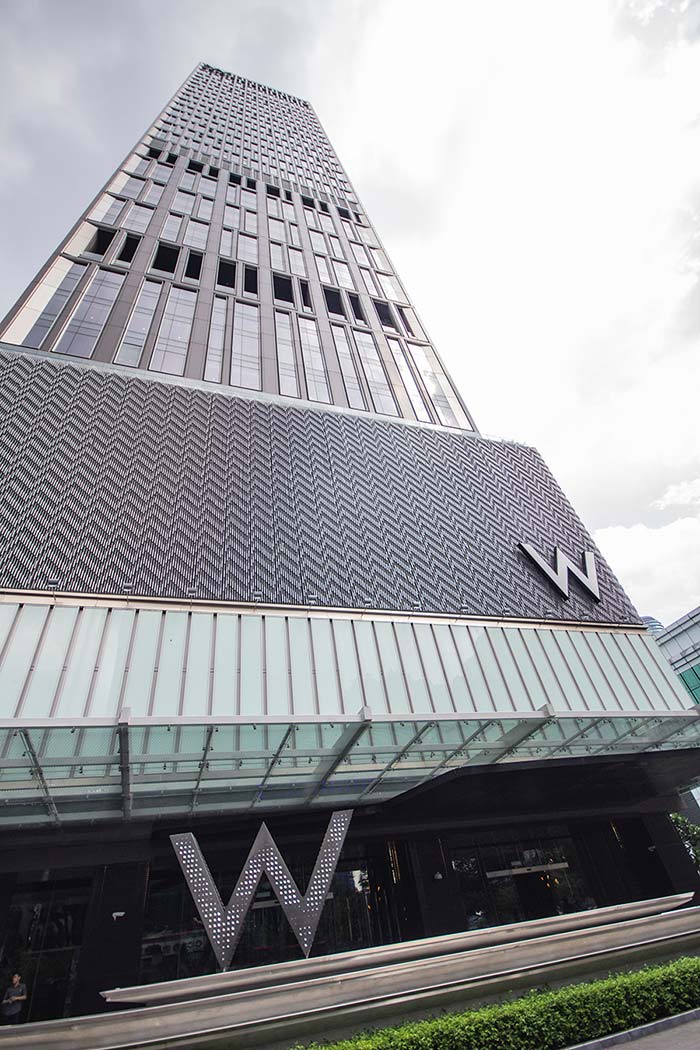 Summing up what to expect at W Kuala Lumpur, he says, "Expect the unexpected. The creations that our team has put together – sincerely, I have not seen them in any other hotels here in Kuala Lumpur."
And that's saying a lot for someone who's been in the industry for over 12 years, with past experience at The Westin Beijing Chaoyang, The Astor Hotel in Tianjin and The Andaman Langkawi.
View the gallery below for more photos of the hotel (swipe left for more).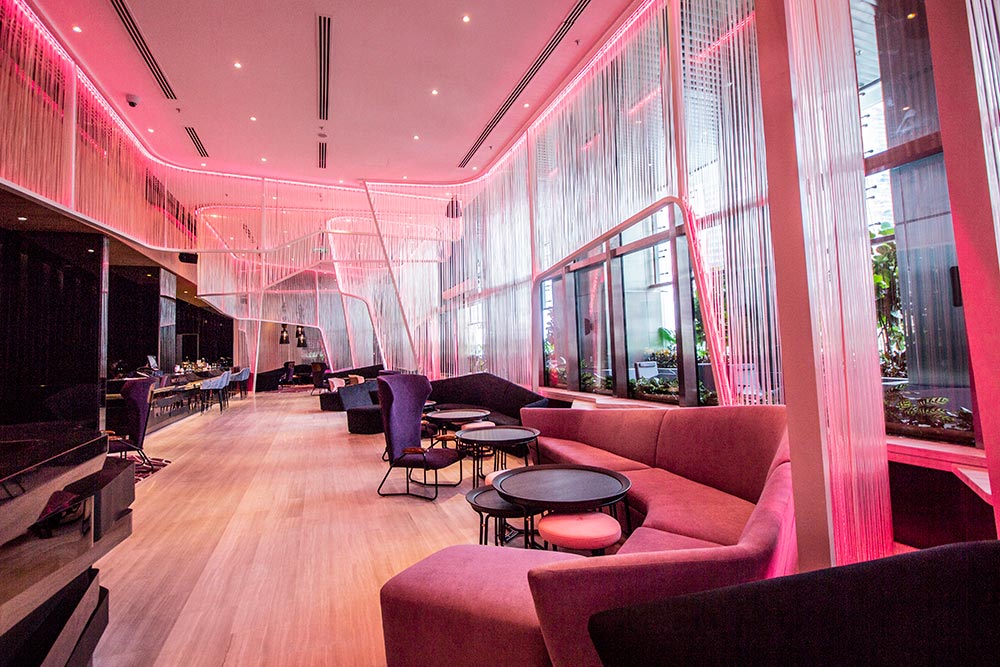 Woobar's vibrant yet sophisticated interiors make a charming spot for morning coffee and evening drinks.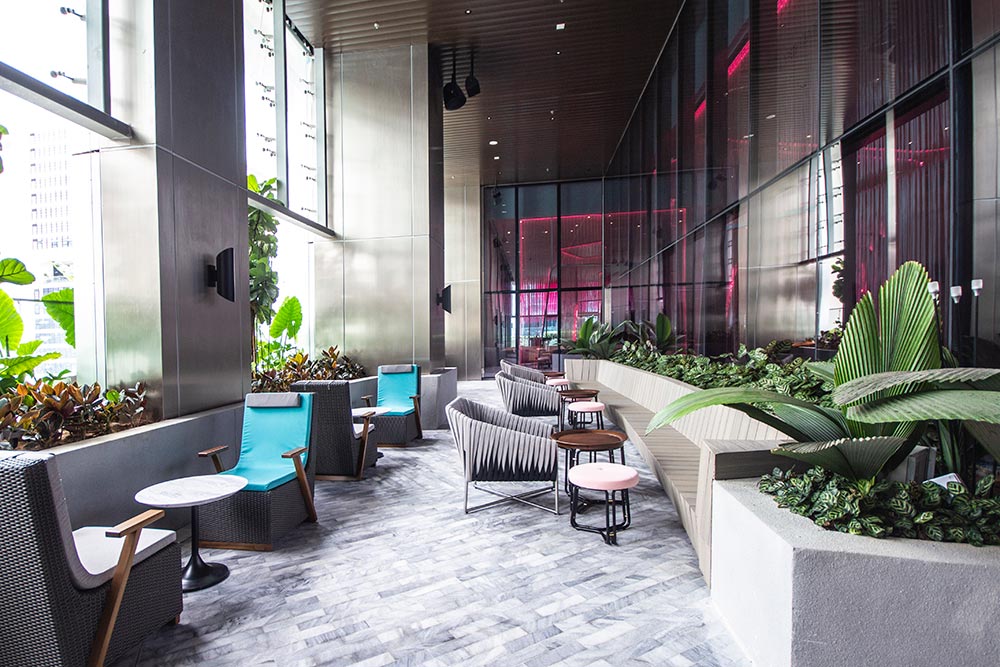 Meanwhile, its outdoor setting is surrounded by lush greens and city views - embodying the jungle city design narrative.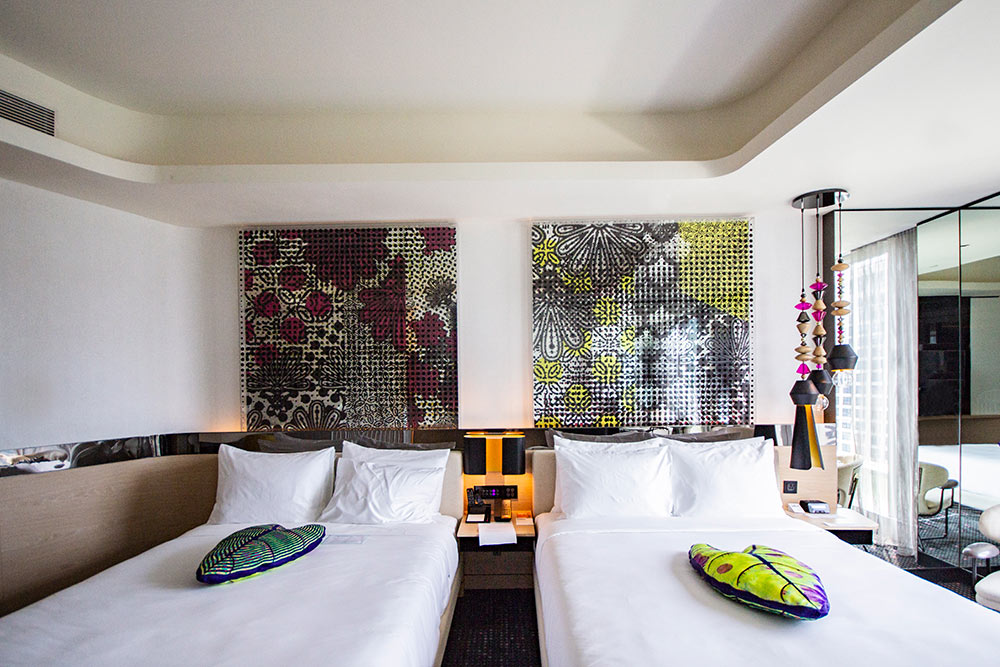 Bright pops of pink and green punctuate the hotel's guest rooms in tune with the W brand image.
Brightly lit meeting rooms equipped with state-of-the art amenities encourage more conducive functions, wouldn't you say?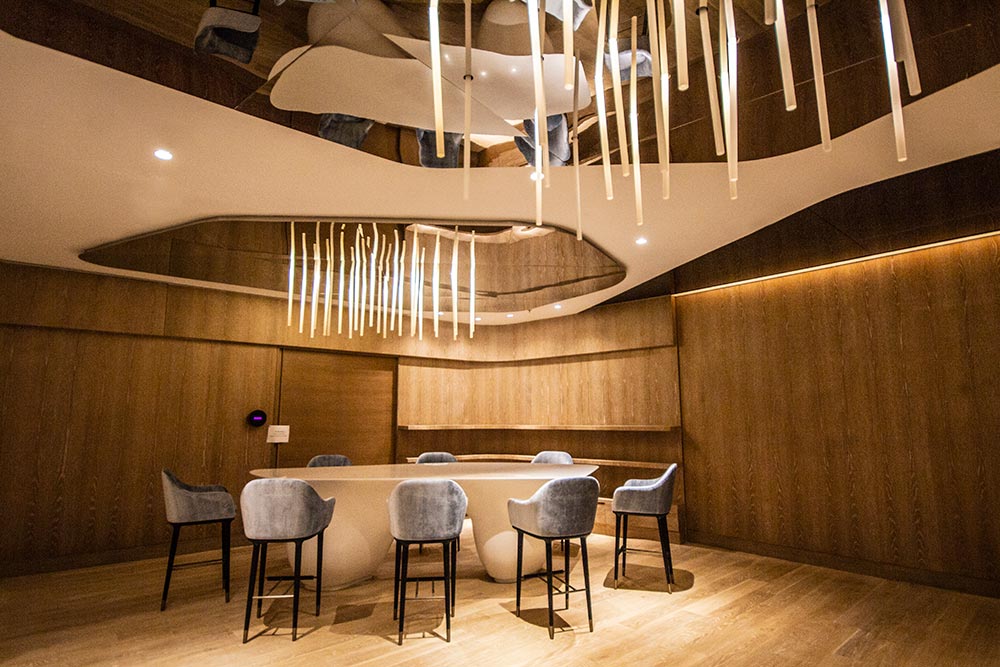 With an entire spa floor to lounge and relax after meetings and events, who'll be in a rush to leave?
W Kuala Lumpur will officially open its doors on 23rd August 2018.
For reservations and enquiries, log on to the official website here or call 603 2786 8888. Follow @wkualalumpur on Instagram for more news and updates.
Photography: Gan Yew Chin