The "Malaysiaku: A Reimagined Malay Heritage" menu is one that that promises to capture the eyes, satiate the palate and evoke forgotten folklores like 'Puteri Gunung Ledang'.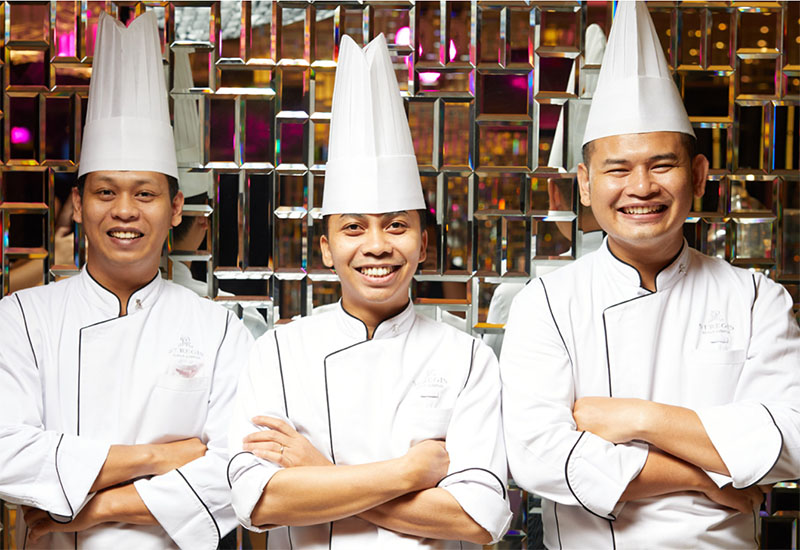 Last year, St Regis Kuala Lumpur celebrated Merdeka and Malaysia Day with a menu that brings the palate on a gastronomic tour across the 14 states of Malaysia. A year on, the hotel's culinary team is shifting up a gear with the introduction of a new menu that still honours the unique ingredients and flavours of each state, but imaginatively incorporates them into local myths and legends.
We're not talking about just another fancy-schmancy meal composed of modern Malay dishes here. No, the "Malaysiaku: A Reimagined Malay Heritage" menu is one that that promises to capture the eyes, satiate the palate and evoke forgotten folklores like 'Puteri Gunung Ledang' for an immersive Merdeka feast.
Buckle up (but leave room for copious consumption) as we guide you through the fabled 6-course experience curated by Executive Sous Chef Norazizi bin Taslim, Banquet Chef de Cuisine Mohd Ridwan bin Mohamed Rasit and Pastry Sous Chef Azizul bin Bistaman.
Salad & Kerabu – Puteri Gunung Ledang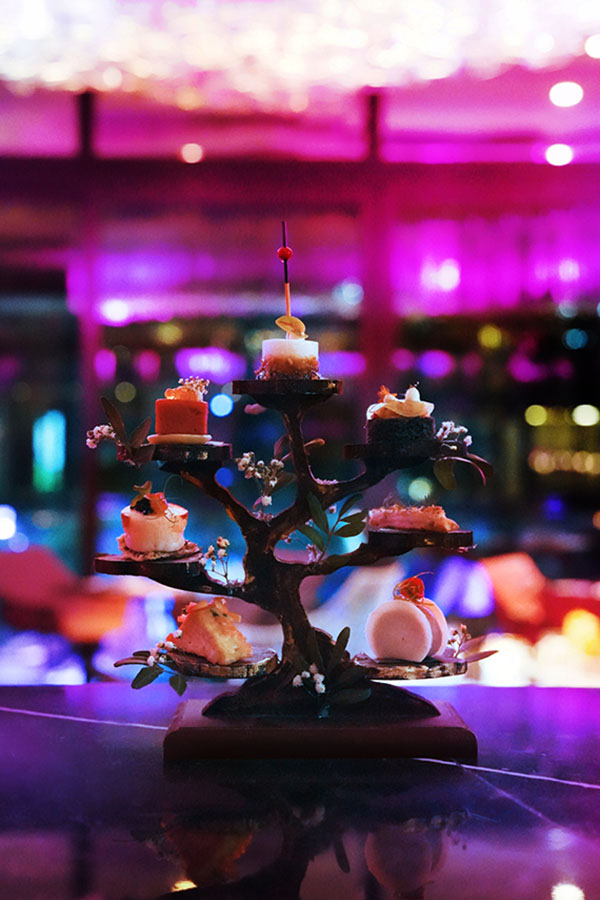 At first sight of this elaborate amuse bouche (forget the petite, single-portion kind you're used to), we knew we were in for one long ride. "The tree is actually specially made by our in-house carpenter" we are told to our amusement, even as we observe the culinary team painstakingly plating the seven morsels on its branches. According to the nifty, illustrated booklet that accompanies the meal, each bite-sized creation symbolises the seven requirements of the legendary fairy princess Gunung Ledang to Malacca's Sultan Mahmud in return for her hand in marriage.
A cup of the Sultan's blood is embodied by the reddish tint of a Johorean take on otak-otak; a vat of virgin maiden tears arrive in the form of young mango in the Smoked Duck Roll; and seven trays of mosquito hearts are reinterpreted as anchovy dust on the 'Ikan Bilis & Kacang Hancur Grissini', which recalls Negeri Sembilan's spicy anchovy sambal. Each presents distinctive flavours, textures and spices to kick off your appetite with a curiousity for more.
Appetiser – Bawang Putih, Bawang Merah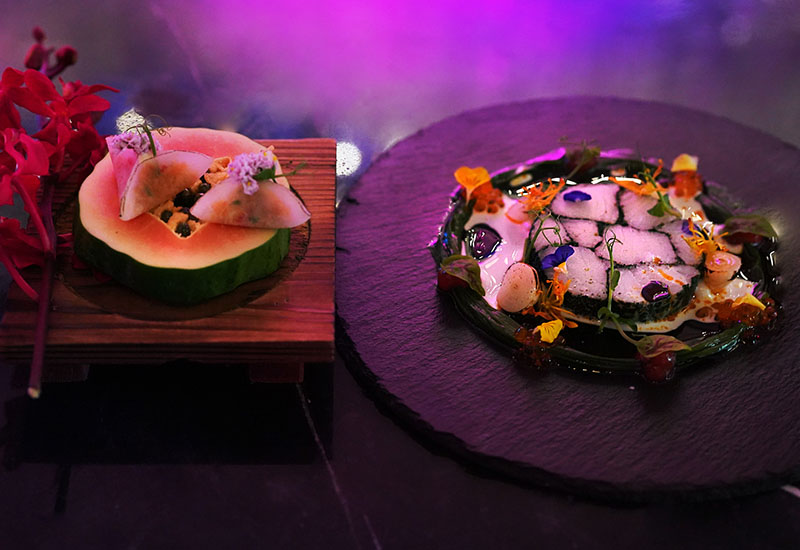 The Tale of Two Sisters – Bawang Putih (garlic) and Bawang Merah (onion) – cues a Penang-inspired dish of Cured & Pickled Chilean Seabass next. Here, papaya salad is wrapped in turnip-skin 'dumplings' that represent the two sisters, whereas the edible flower-crowned seabass represents their mother, who, incidentally, is reincarnated as a magical talking fish in the mythical tale. Fable aside, the dumpling offers a refreshing side to complement the delicate, well-seasoned fish that's marinated in buah kedondong (ambarella, a fruit native to the northern state) and lemongrass.
Soup – Ketam Sumpahan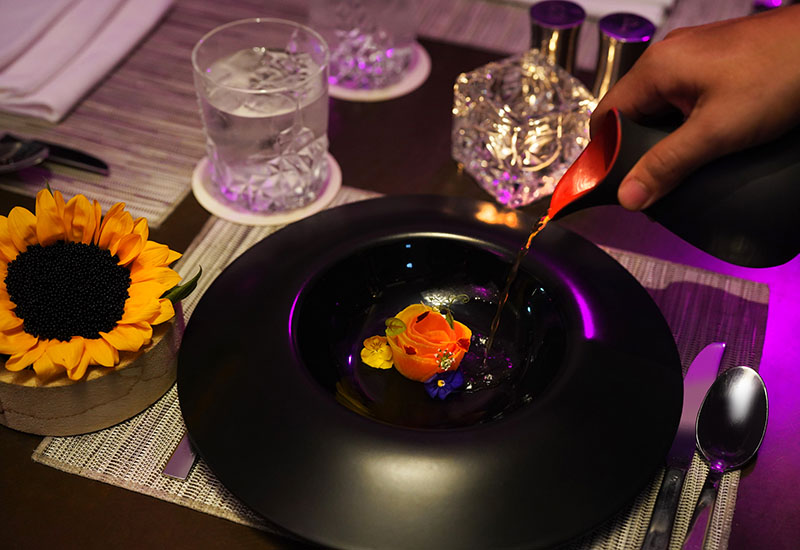 In a local legend not unlike Disney's The Princess and The Frog, Ketam Sumpahan (The Cursed Crab) narrates the story of a man who vows to marry a cursed princess who is trapped in the form of a crab. Naturally, the cursed princess is represented by a flower crab in this soup that's inspired by Sabah's specialty Singgang Ketam. The sunflower that accompanies the flavour-packed broth isn't just for show, by the way – its centre offers a surprise bed of sweet crab meat blanketed by decadent caviar (yes, those shiny black beads are actually sturgeon roe) that any princess would relish.
Mains – Nasi Menjadi Bunga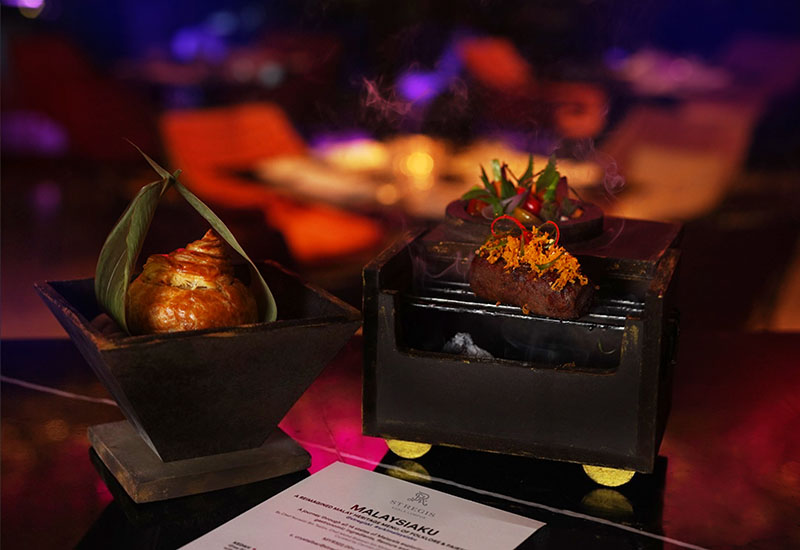 Malaysians who can't live without rice can look forward to hearty mains inspired by Nasi Menjadi Bunga (The Rice Flower) – a tale that not-so-subtly reminds us not to waste rice, a natural bounty of Kedah and Perlis. You may not be able to tell where's the rice in this lavish display of roast beef (which arrives still fascinatingly smoking on a custom-made mini rotisserie) and puff pastry just visually though. But cut through the flaky pastry and you'll find a reasonable serving of chicken briyani to go with the chunky yet tender beef cut, which is topped with crispy rice crust for added texture.
Dessert – Si Tanggang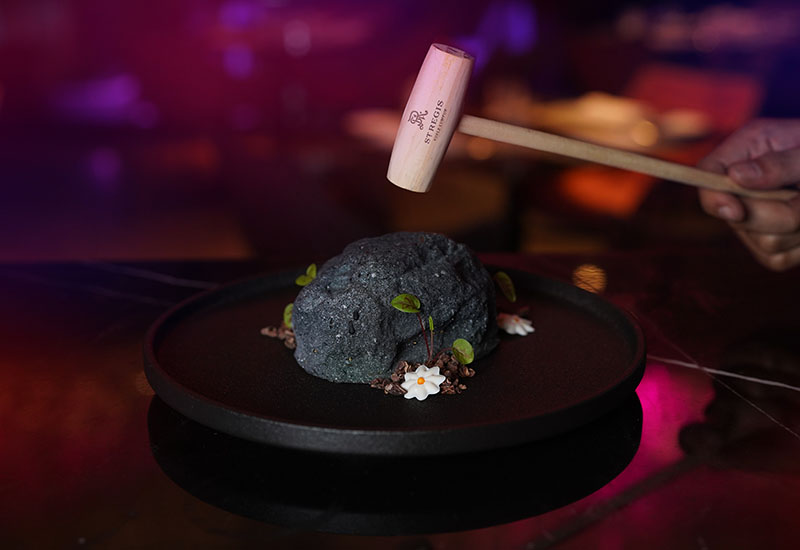 An interactive dessert promises to light up the room with fun and laughter, as it did ours, whilst recounting the legend of the unfilial son known as Si Tanggang. We'll leave this last tale for your own discovery, but the curious chocolate rock you'll have to hammer through to get to a trio of round Kelantanese "Puteri Mandi" pancakes (made of smoked honey banana custard and caramel sauce) within should provide clues.
Petit four – Rasa Sayang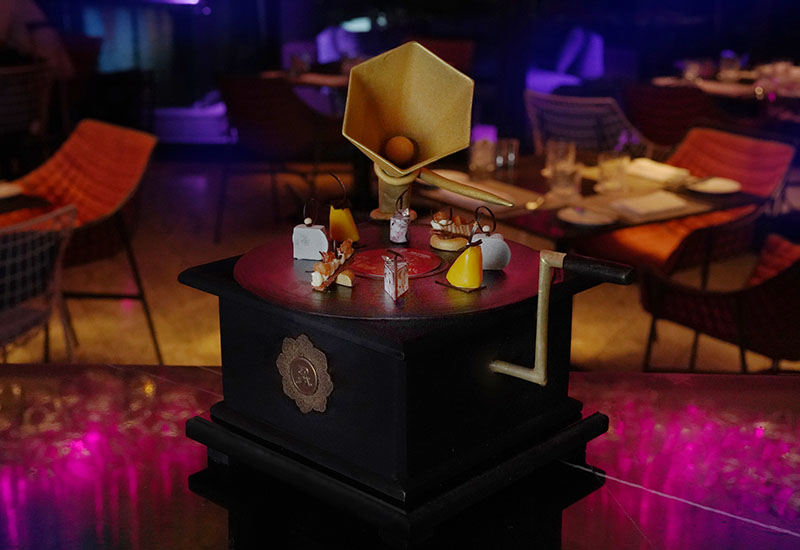 As for the finale, the familiar tunes of Rasa Sayang will serenade dine-in patrons through the petit four highlighting two fruits mentioned in its lyrics: buah cempedak (jackfruit) and pisang emas (banana). By "serenade", we mean both figuratively and literally – as the bonbons are served on an edible chocolate gramophone inducing bouts of nostalgia.
It's these (many) little nuances that really heighten this inimitable journey of rediscovering Malay cuisine and local folklores. If that's what you're looking for this Merdeka, this Malaysiaku menu won't disappoint.
The St. Regis Kuala Lumpur's Malaysiaku: A Reimagined Malay Heritage Menu will be available for dinner at The Brasserie on 7, 20, 31 August and 16 September. For those who prefer to dine at home, you may also take advantage of the hotel's takeaway and delivery services, which offers the menu exclusively from 8 August until 15 September (except on dine-in dates).
For reservations and enquiries, call +603 2727 6666 or email dining.kualalumpur@stregis.com.