Traverse all 14 states through flavour and aroma, with this exclusive menu that speaks volumes for the potential of homegrown ingredients and ideas.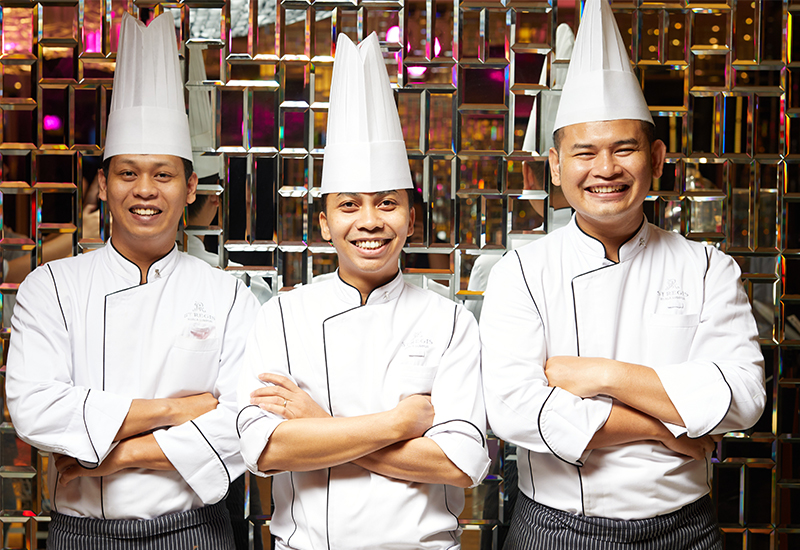 The month of August has dawned upon Malaysia once again, and patriotic spirits are high. On top of the Merdeka and Malaysia Day, we are also gearing up for Visit Malaysia 2020. Over at St. Regis Kuala Lumpur, rooftop restaurant Crystal is set to ring in the celebrations with an exclusive contemporary-traditional journey through the 14 states, aptly named Malaysiaku.
Kicking off on August 8, this degustation menu brings local ingredients and dishes to the fore by putting a creative spin on Malay heritage food. In fact, Malaysiaku is an extension of Crystal's Warisan Melayu dinner, which landed well with city diners. Thus, Chefs Norazizi Taslim, Mohd Ridzwan Mohamed Rasit and Azizul Bistaman have gathered their skills and knowledge to produce an impressive display of cultural innovation.
The six-course experience opens with a mortar of local fish, prawn, and rice crisps to whet the appetite, as well as mocktails. We recommend the tonic water infused with bunga kantan (ginger flower) for a refreshing start with light sour aftertaste.
Salad & Kerabu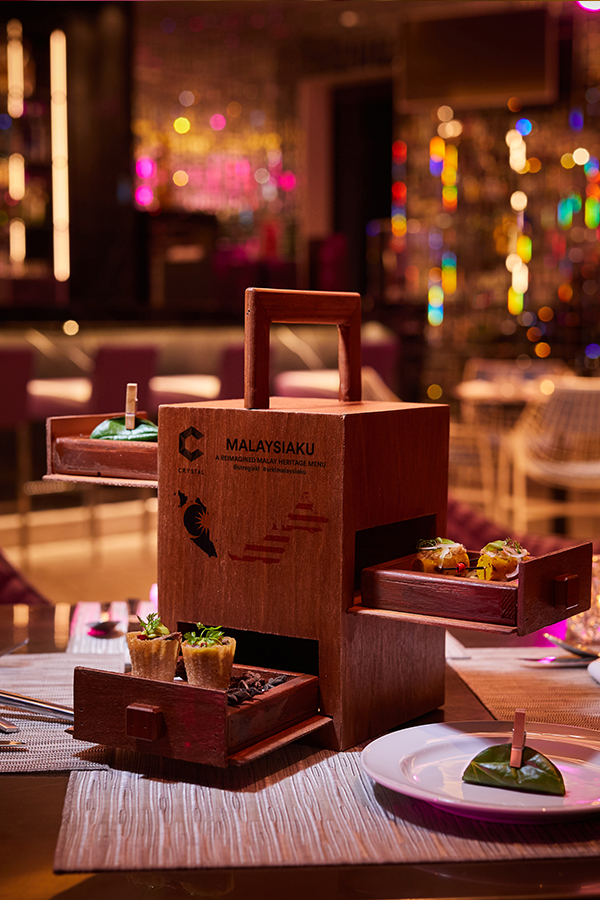 A trio of authentic flavours come through in delicate presentation; specifically, it's a drawer of bites for sharing. Representing Terengganu is the Wagyu Beef Kerabu Top Hat, packed with lemongrass, fern leaf, chilli and coriander for a contemporary twist on the northern star, kerabu.
At first glance, it's hard to tell what Selangor favourite the Chicken Skewers emulate- but upon first taste, memories of Kajang satay come through in the firm bite and smoky flavour of the chicken, paired with serunding in place of peanut sauce. We recommend sampling the Lobster Umai-Umai Daun Kaduk last. Daun kaduk (often confused for betel leaf) is a well-balanced vehicle for the Eastern ceviche so prized in Sarawak, but it is also a bold flavour that wipes the palate clean.
Appetizer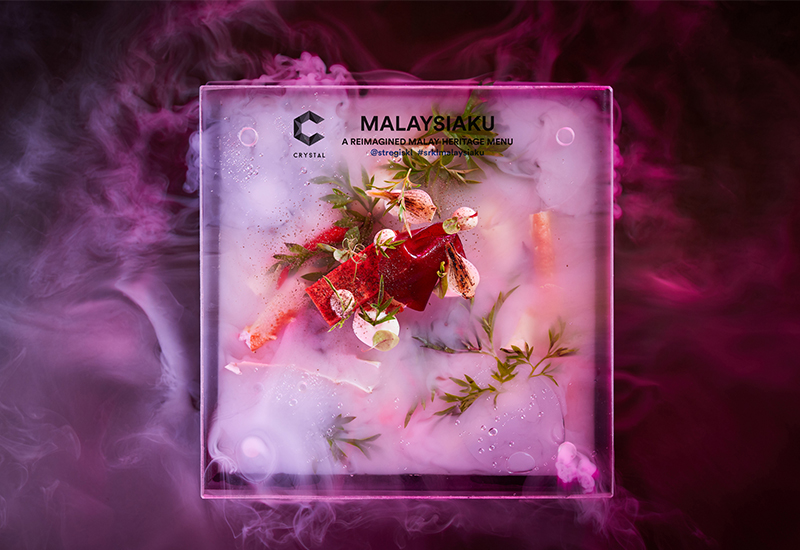 Johor may be known for its otak-otak, but it's safe to say it has never seen one as theatrical. The Smoked Crab Otak-Otak is a treat to the visual and olfactory senses, arriving in an enticing aromatic haze that disappears to unveil bright orange King crab otak-otak.
Its accompaniments – drops of garlic coconut mayo, tomato agar-agar, coriander and kaluga caviar – mix up flavour and texture to heighten the traditional grilled fish paste snack. Gone in three bites, it's a delectable teaser of the feast to come.
Soup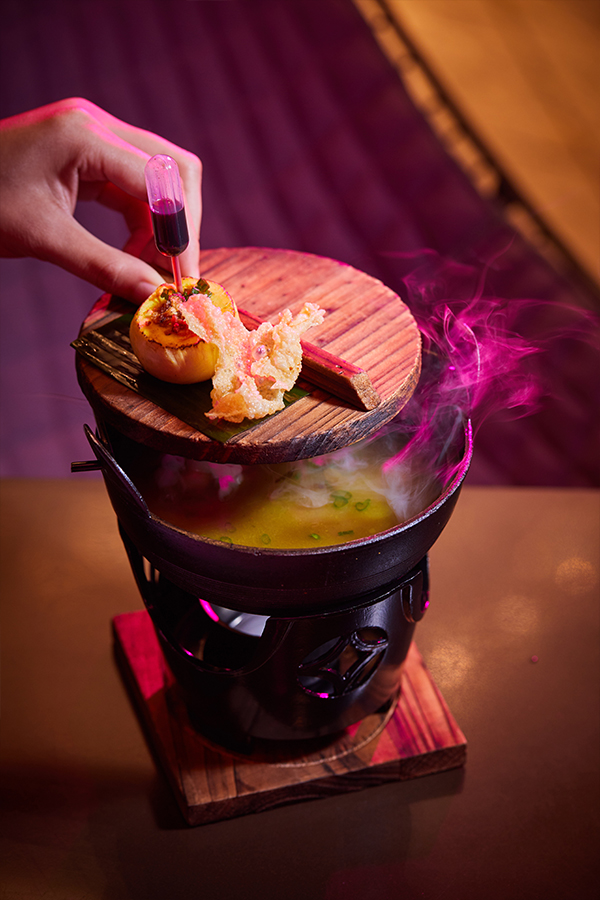 Up to Penang we go for the unexpected star of the show: a warm rendition of Sup Mamak Ayam Kampung that ticks all the boxes of homey goodness. The finesse of its execution is in perfect juxtaposition – the chicken mousse ball is packed with flavour, while the injection of chilli oil lends a mouthwatering kick to an already wholesome dish. The usage of ayam kampung not only provides delicious taste, but leaves you energised after slurping down the very last drop.
Mains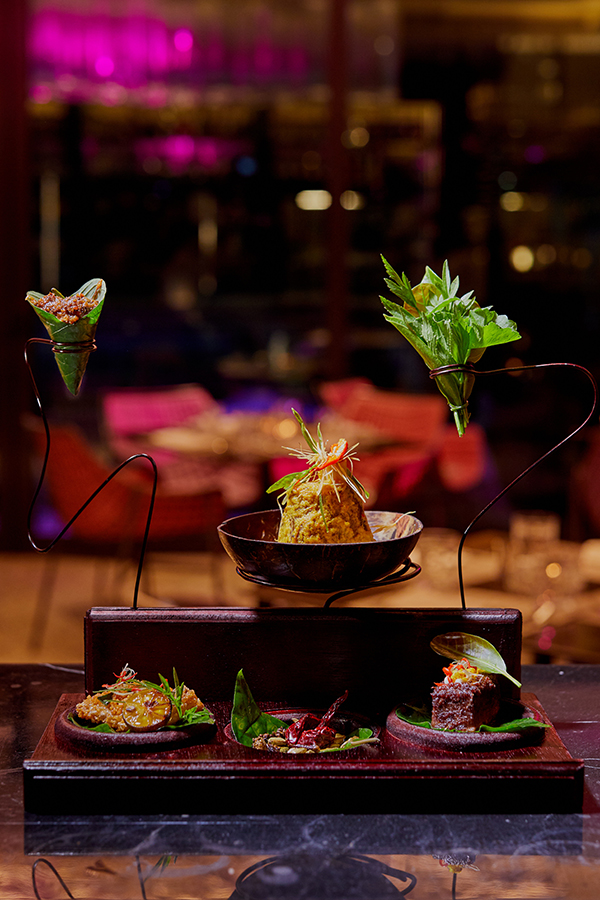 This trio comes complete with a pantun or traditional Malay poem, celebrating the origins of Beef Short Ribs Rendang Tok, Mambau Smoked Lamb, and Pekasam Red Mullet. While the beef and lamb complement the Middle-Eastern inspired briyani rice found in downtown Kuala Lumpur, we recommend roasted white rice with the fish to draw its full potential to the fore.
Rendang Tok is traditionally made with buffalo meat, which called for long cooking that dried up the gravy and intensified the meat. However, this ode to Perak heritage uses the more palatable beef short ribs, which are braised over six hours. The result is a rich rendang punctuated by dry spiciness, the meat tender as it is juicy.
In stiff competition for top spot is the Mambau Smoked Lamb (Kambing Salai) from Negeri Sembilan. Its addictive spicy coconut turmeric gravy evolves on the palate to curious lingering effect, beckoning a second taste that quickly leads to a third, fourth, and so on. Smoked notes of the lamb fare excellently against its understated golden gravy.
If fish is your protein of choice, look no further than Perlis' prized red mullet. Having been cured for 24 hours, this astringent main offers a strong flavour profile offset by its flaky yet crunchy texture (thanks to the skin).
Dessert
Appropriately satisfied by the savoury, we are given a chance to earn dessert with a little teka-teki (riddle). The addition of classic Malay literature elements like the pantun and teka-teki is delightfully nostalgic; it's heart-warming to see these facets of culture kept alive even at high-end establishments like St. Regis KL. A few major clues betray its identity to dedicated street foodies among us – but we'll let you figure it out for yourself. That's half the fun.
All we can say is this: expect a foamy treat that betrays dessert conventions. It is cold one minute and warm the next, somehow light and decadent at the same time.
Petit Fours
A final note of nostalgia awaits in the sweet ending to our Malay odyssey. Petit fours inspired by Kedah, Pahang, Kelantan and Sabah are displayed on a congkak 'board' complete with little chocolate 'seeds'. Here, you'll find Compressed Caramel Peanut, Honey Jackfruit Mousse, Asam Boi Ice and Crunchy Peanut Candy play a medley that is sweet and sour, crunchy and soft. Duality and diversity form the cornerstone of the Malaysian palate, and that's just what you're in for with this experience.
---
Malaysiaku: A Reimagined Malay Heritage Menu is available at Crystal, St Regis Kuala Lumpur on August 8 & 30, September 12, and once a month thereafter at RM 322++ per person. Book your place now as seats are limited – call +603 2727 6666 or e-mail dining.kualalumpur@stregis.com. 15% discount applies for all Marriott Bonvoy members, as well as CIMB, HSBC and Maybank card holders.
Images: St. Regis Kuala Lumpur