Does Saint Pierre KL live up to its hype? We popped by to try its 12-course Adventure menu and find out.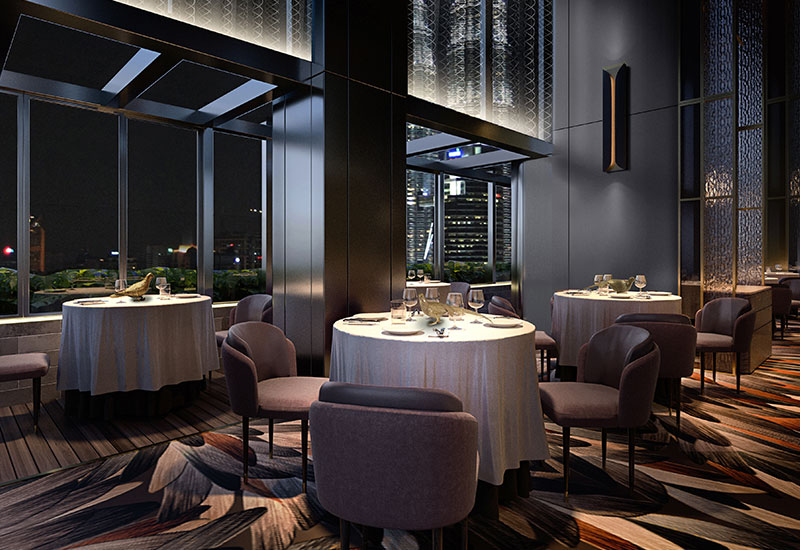 Malaysia has yet to feature its own Michelin Guide, but with the immense growth in the local food and beverage industry in recent years, our hopes are high that this aspiration may soon be a reality. Latest to contribute to that growth and contest for a slice of the "KL's best restaurants" pie is Saint Pierre KL, founded by 1-Michelin star Celebrity Chef Emmanuel Stroobant of its parent branch in Singapore.
Nestled in the new W Kuala Lumpur just minutes away from the iconic Petronas Twin Towers, the restaurant offers quite the contrast from its pulsating surroundings. For context, the hotel is known for its bright neon lights, equally eye-catching furniture and music scene. But a few steps inside the fine dining establishment and we can already see, hear and feel the difference.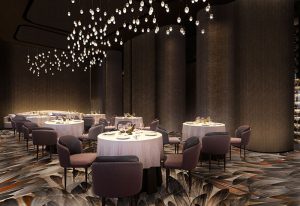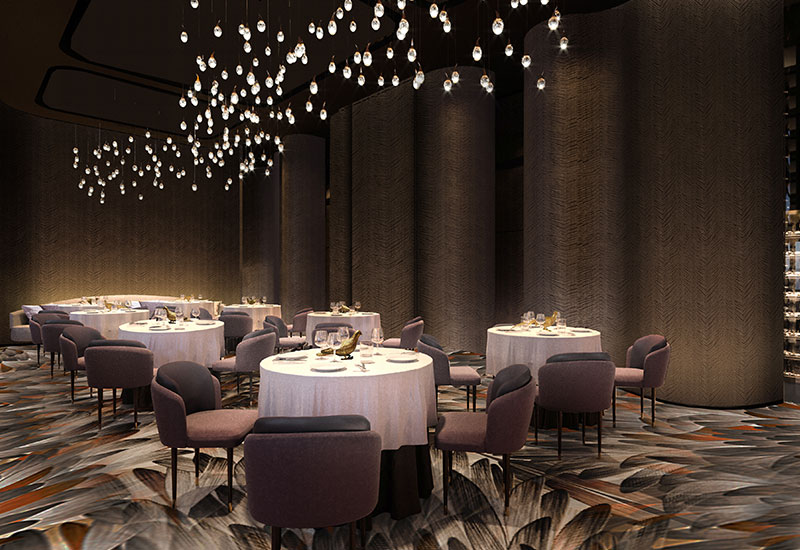 Our evening visit finds us in a cosy, unperturbed ambience highlighted by dim yellow lighting and furnishings in literal 50 shades of grey. The setting immediately exudes an elegance in a more traditional sense of the word.
There's but a few other tables occupied when we arrive – countable on one hand – out of a maximum seating capacity of 70 people. (We are later informed that the restaurant had been fully booked the days and weeks before, while several reservations were cancelled for the evening.) We appreciate the fact that this leaves us more room for privacy, though it's worth noting that this may not always be the case.
With that, we commence our journey of Saint Pierre KL's 12-course Adventure menu.
The Michelin star factor
While Chef Stroobant may have come full-circle in his attachment to Malaysia, Chef de Cuisine KimKevin De Dood, who helms the kitchen at KL, is relatively green here. When it comes to industry know-how, however, the 27-year-old certainly has years of experience up his sleeves.
The Luxembourg-born chef hails from a family of restaurant owners and began helping out in the business at the age of 13. After cutting his teeth at the 3-Michelin-star L'Arnsbourg, he mentored under Chef Wolfgang Becker at his 2-star Becker's in Trier, Germany. Several positions at other Michelin-awarded restaurants later, he landed at Saint Pierre as Chef de Partie in 2015. Suffice to say he's well-acquainted with the recognition and pressure of working under the Michelin name.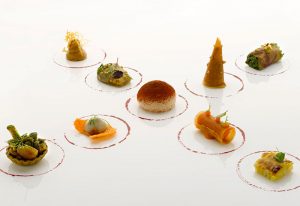 Our first course, comprising five bite-sized snacks, provides a foretaste of said experience. We try the tomato meringue with parmesan cream and basil, smoked salmon tartare with ikura in a cornette, capsicum crisp with eggplant mayo and red miso, sweet corn with kefir lime oil, and baby eggplant with miso and sesame in that recommended order. Where first impressions are concerned, our meal is off to a good start – intriguing, inventive and delicious.
The next two dishes are vegetarian-friendly, but even meat-eaters can appreciate well-put together greens such as these. The Hass Avocado, for instance, offers a smooth avocado mousse that's not too creamy for a starter. A combination of grapefruit, sansho pepper and golden croutons further balances the flavours and textures brilliantly.
Even the humble artichoke gets a moment of glory in our meal. It is served with the familiar tastes of turmeric and tamarind that give the dish a slight tanginess, and enhanced with pine nuts to bring out its natural nutty flavour.
Modern French cuisine with Asian references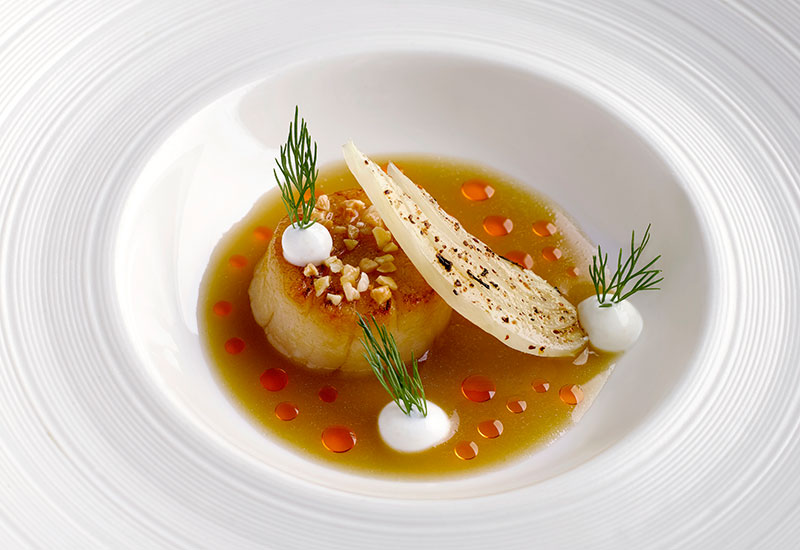 We move on to a series of seafood dishes next. First up is a plate of Hokkaido scallop with anise and fennel confit. It reads 'curry oil' on the menu but our waiter explains that it is specifically Thai chilli oil that is served alongside the warm butter sauce dressing the scallop. The result is not the best version we've tried, but a worthy rival nonetheless.
The following two seafood courses (divided only by a Foie gras dish in between) stand out better in this category. The blue lobster is a big hit thanks to the Tom Kha Khai-inspired broth made from chicken stock, ginger and yuzu. It's also served wild mushroom for a bit of earthiness.
Living up to its prestige at the original Saint Pierre is the miso-brushed Atlantic cod. Served with oxtail consommé and root vegetables, the dish comes together in a wonderful play of flavours on the palate. The cod is silky and fresh, the soup is hearty but not heavy, and the roots top it off with a hint of bitterness.
If there's one thing we'd prefer, it's for the foie gras to come after the cod. The reason being how we find the former to be have more pronounced flavours than the latter. Foie gras and lychee seems an unlikely couple and it does take us a moment or two to decide how we feel about it. When we do, however, we find the lychee sauce adds a welcome surprise factor to the dish and cuts through the fatty layers of the foie gras well.
A full-filling journey
At this point, we're just about full – but it's not the end of our Adventure yet. Next is a dish comprising Ohmi beef served with jus, accompanied by a nori tartlette topped with horseradish and yellow chanterelles. The medium-rare cut is succulent and appetising, but the tart is slightly harder than we would like.
Our last meat dish is lamb (hidden under a layer of green jelly made from lime consomme) served with leek, curry and thyme. This dish looks like it took the longest to create with its juxtaposing colours and unusual plating, but to be honest, the flavours are slightly underwhelming. The lamb is tender but it doesn't burst with flavour like we anticipated. Its flavour profile falls a little flat compared to the dishes before.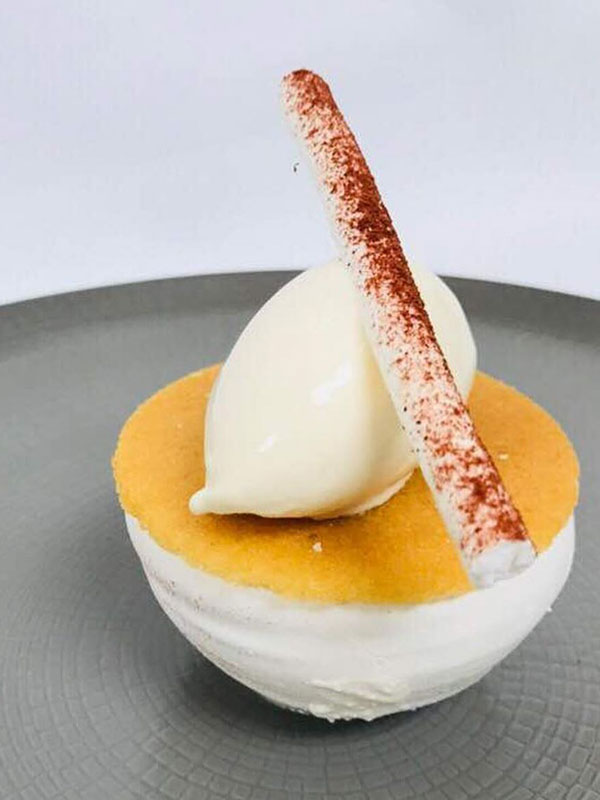 Elevating the small plateau on our Adventure are the final two desserts: conference pear with parmesan crumble and lime and strawberry meringue with basil and mascarpone ice cream. The former almost serves as a palate cleanser with the pear sorbet leaving a zesty smack, while the latter ends our journey on a sinfully sweet note.
By the end of our meal, we are completely satiated. We think the dishes could have been more paced out on hindsight as there were times when we felt we could use a short break between courses. Nevertheless, we must commend the service team for their warmth and attentiveness.
Overall, this Adventure is one tinged with novelty and a sense of familiarity that leaves us with still more curiosity about what else Saint Pierre KL has to offer.
For reservations and enquiries, log on to the official website here.