Did you know that 95% of your sensory experience comes from your nose? That's why the art of nosing is so important when tasting whisky, according to master perfumer and Royal Salute creative advisor Barnabé Fillon.
It was this fact that led the premium Scotch whisky brand to introduce the first global Royal Salute Olfactory Studio experience a few years ago. For the first time, Malaysians will also get to discover this multi-sensorial experience too, as the brand will be hosting The Olfactory Studio in hotels and restaurants in Kuala Lumpur in upcoming months.
Led by Scotch Whisky Ambassador, Jasper Epsom, the Olfactory Studio Experience made its local debut to friends of Royal Salute, Cycle & Carriage Bintang and Mercedes Benz Malaysia at Cheong Fatt Tze earlier last month. Previously staged at various cities around the globe, from Seoul to Dubai, the Malaysian edition was held in conjunction with the exclusive unveiling of the King of Whisky's ultra-rare, limited edition The Time Series 52-Year-Old Single Cask Finish Scotch.
FirstClasse was among the privileged few to be treated to the inaugural Royal Salute Olfactory Studio Experience and a preview of the Time Series masterpiece in Penang. Scroll on to follow along our journey and discover what you might expect from the upcoming KL editions.
The exceptional journey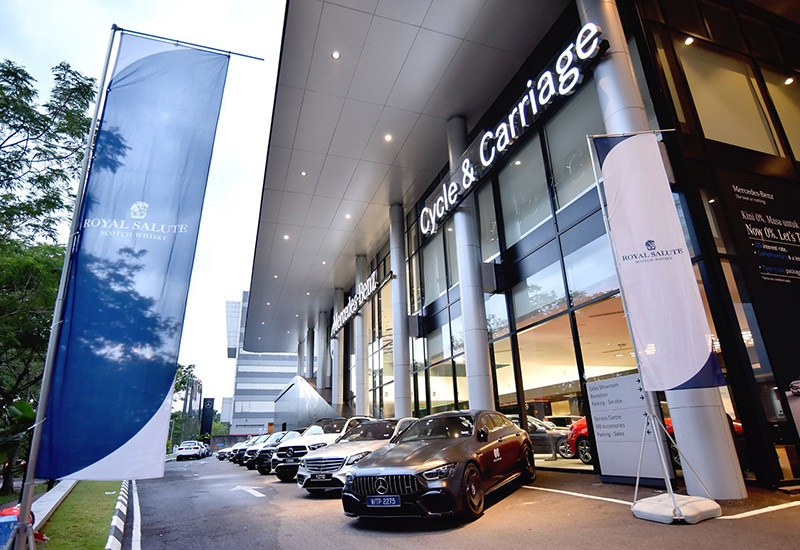 It was a fine Friday morning when we flagged off for Penang from Cycle & Carriage Mutiara Damansara. We arrived in the state's heritage capital of Georgetown less than four hours later, thanks to relatively smooth traffic, good company and the comfort and speed of our Mercedes-Benz GLC300.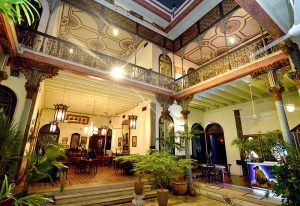 After a brief lunch stop, we checked in at the most iconic boutique heritage hotel in Penang: Cheong Fatt Tze, also known as The Blue Mansion. What better way to celebrate the launch of an ultra-rare bottle of aged whisky than at a storied landmark that is itself a product of time and tradition, much like Royal Salute?
A historical tour of the building ensued, followed by a round or two of cocktails at its iconic Courtyard (where the famed mahjong scene in Crazy Rich Asians was filmed) in the evening. With that prelude, we had our senses piqued and appetites whet for a night to remember upstairs at the hotel's fine dining restaurant, Indigo.
The Time Series masterpiece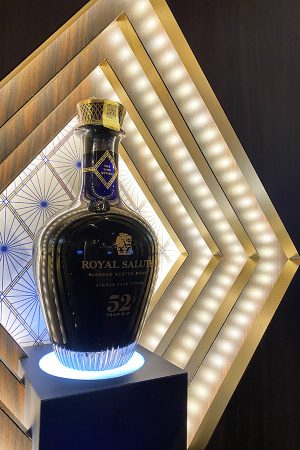 Once seated inside the charmingly decorated venue, the first thing on the dinner agenda was the unveiling of the much anticipated Royal Salute Time Series 52-Year-Old Single Cask Finish Scotch. Only 106 bottles were made, expertly crafted by Royal Salute Master Blender Sandy Hyslop using a blend of some of the oldest and most valuable whiskies in the Royal Salute collection.
Housed in a hand-blown Darlington Crystal decanter, each limited-edition bottle is engraved with a unique number and encased in a box made from five layers of wood – each representing a decade of the blend.
Only two bottles, editions number 37 and 38, will be available for purchase here in Malaysia, at a price tag of RM138,888 (US$30,000) each. The discerning collectors will receive their 52-year-old rare collectible in a special bottle presentation ceremony during an exclusive, private Royal Salute Olfactory Studio experience at their home city of either Kuala Lumpur, Penang or Johor Bahru.
Each bottle will also come with a personalised certificate and a complementary set of Royal Salute serving ritual keepsake. To commemorate the occasion, a global Royal Salute ambassador will make a special virtual appearance. Guests will then be invited to participate in The Quiach Ritual (see two sections below) to complete the exclusive experience.
Now cue the multi-sensorial affair we came for.
The Royal Salute Olfactory Studio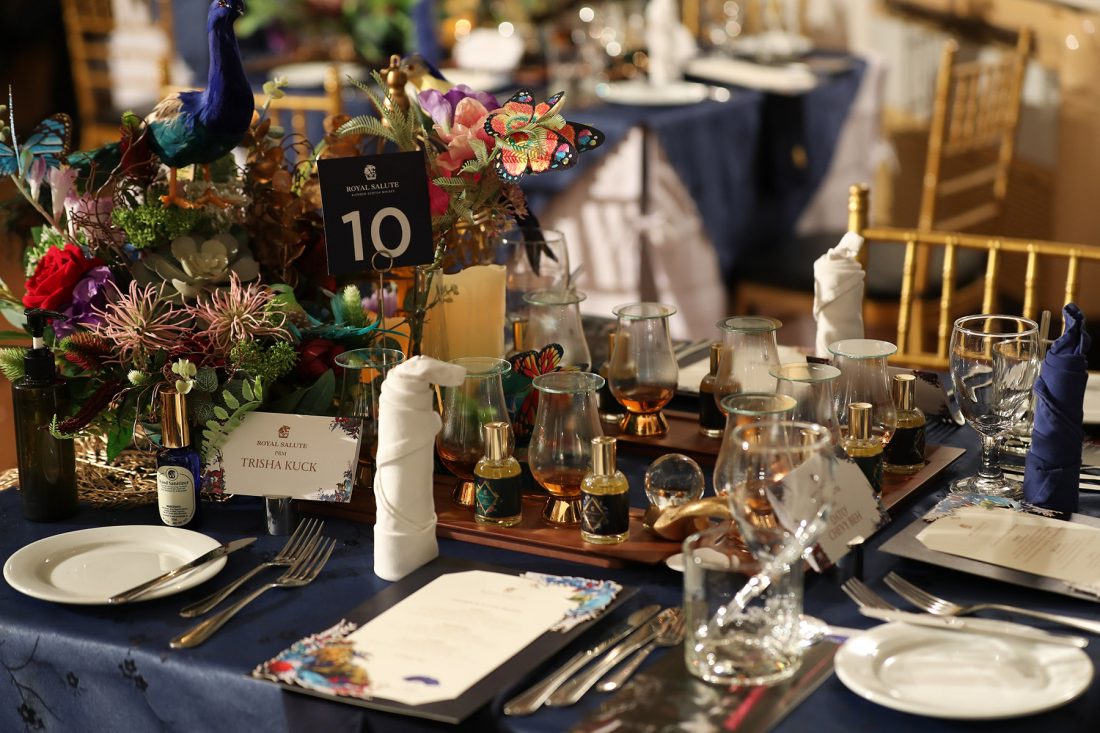 "Royal Salute is constantly elevating the art of appreciating rare and refined whiskies to enchanting and distinctive forms that are fit for royalty. It is a pleasure for us to introduce elegant experiences with substance and an educational aspect like The Royal Salute Olfactory Studio which are very attractive for discerning connoisseurs in Malaysia," said Karen Lee, Group Brand Manager, Whiskies & White Spirits, Pernod Ricard Malaysia.
Developed by Barnabe Fillon, the Royal Salute Olfactory Studio is designed to highlight the magic of ingredients and the art of blending in bringing out the beauty and complexity in pairing cuisine, perfumery and Royal Salute's 21-year-old whiskies.
To complement a selection of three Royal Salute blends, we were presented with a 3-course meal accompanied by three specially crafted perfumes – each carefully chosen to compose the ultimate symphony of the senses.
The olfactory experience is initiated with the nosing of the spirit; then taking a whiff of the perfume cards spritzed with the corresponding perfume picked out by Mr Fillon; and finally drawing in a sip of the liquid gold. To further release the aromas of the blend, one is advised to add a few drops of water to the whisky using a pipette.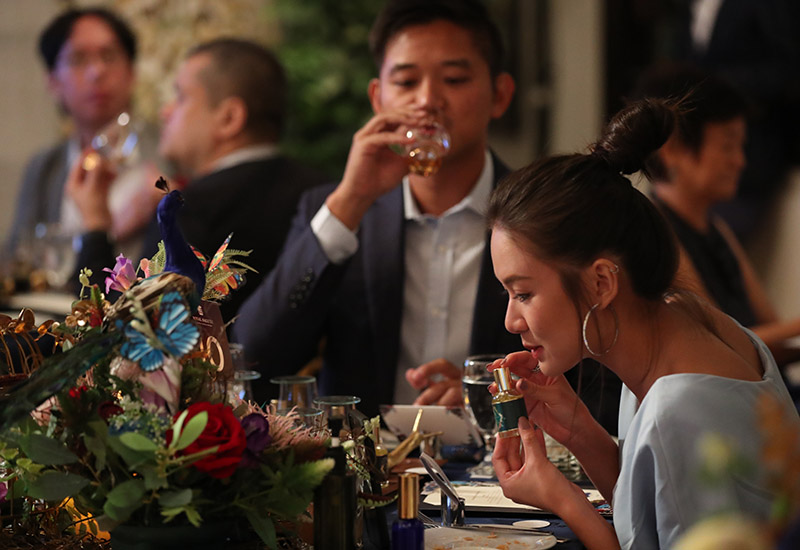 Dato' Chevy Beh and Trisha Kuck, Prestige PR Manager at Pernod Ricard Malaysia, nosing their glass of whisky and bottle of perfume respectively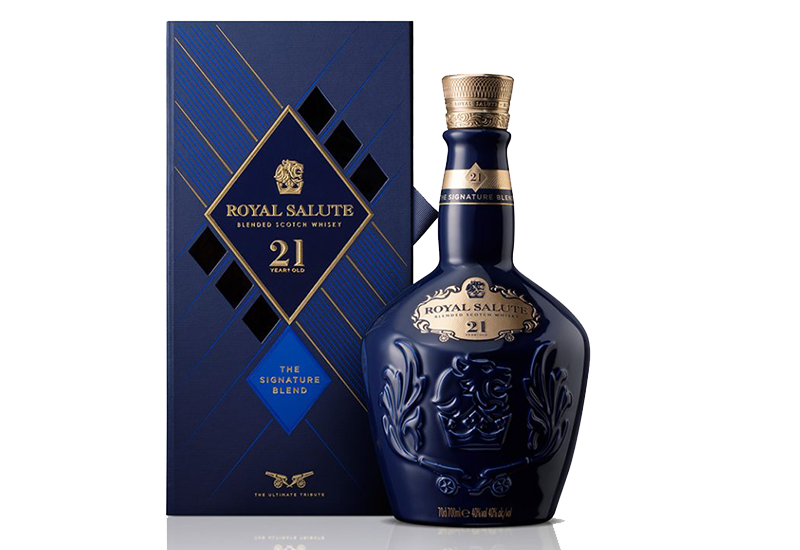 Created in 1953 to mark the coronation of HM Queen Elizabeth II, the sapphire blue Royal Salute 21-Year-Old Signature Blend offers full, deep fruity flavours with a subtle smokiness.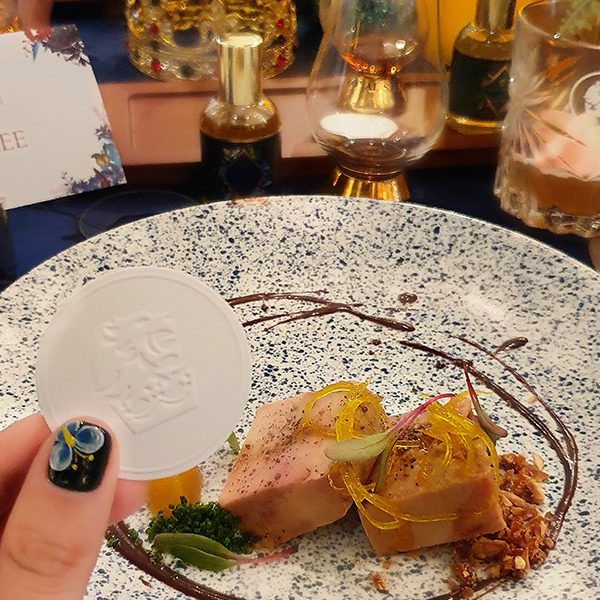 When paired with The Signature Fragrance that presented hints of centifolia rose (the Queen's favourite flower), Italian bergamot, vetiver and pepper, the fruity, citrus notes of the whisky were enhanced, followed by a trail of spice. This was pleasantly accompanied by a starter of foie gras terrine.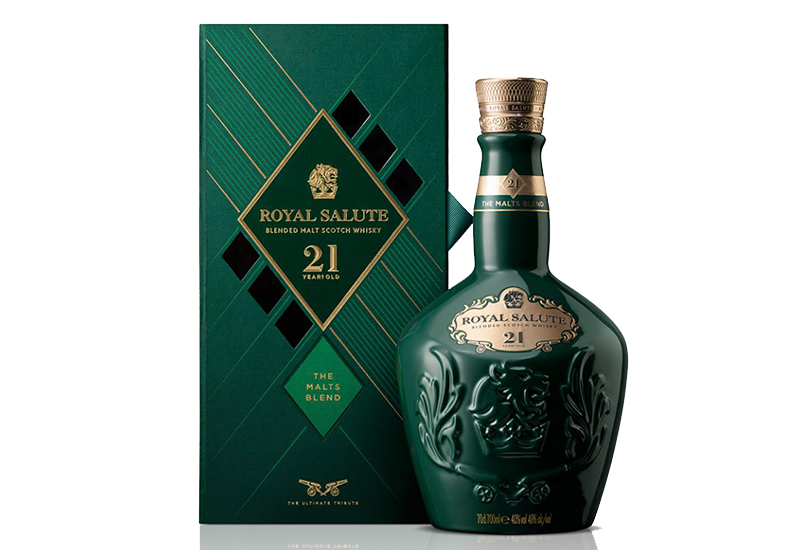 The cerulean green Royal Salute 21-Year-Old Malts Blend is the first blended malt from the brand, crafted with more than 21 precious single malts from the five regions of Scotland. The resulting notes burst with sweet, fruity and spicy aromas laced with apricot and creamy vanilla.
To bring out the intense spices in the whisky, The Malts Fragrance provided hints of ginger, cardamom and mint. Complementing our malt blends was a dish consisting of Atlantic cod, lentils, crispy chickpea and asparagus.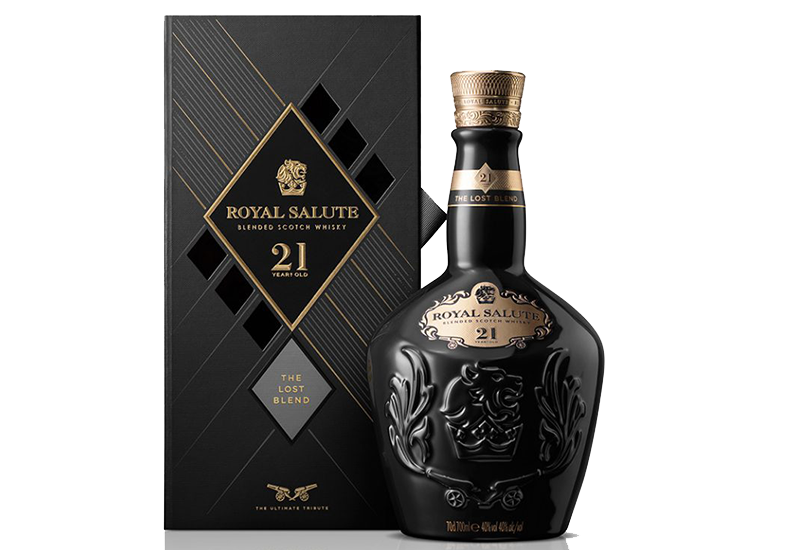 Specially crafted from ghost distilleries which are no longer in production, the obsidian black Royal Salute 21-Year-Old Lost Blend features the lost "Imperial Distillery" at the heart of the blend. An exclusive whisky that will no longer be available once current stocks run out, it offers notes of juicy pear, charred orange rind and fresh hazelnuts with a smoky peat.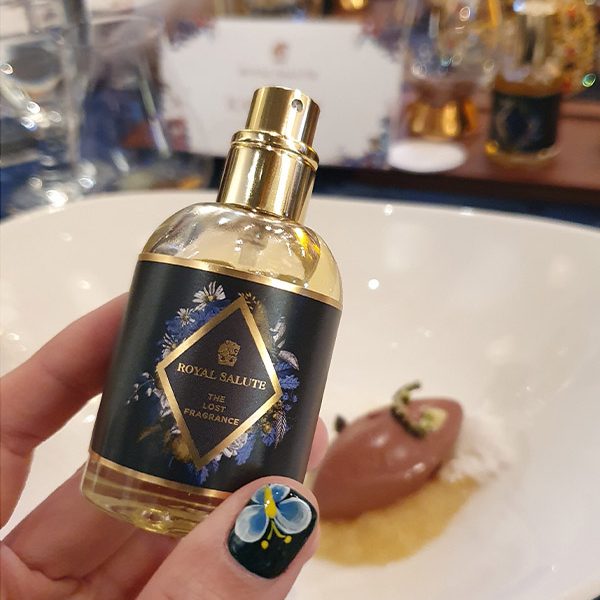 The-Lost-Fragrance-600x600
The-Lost-Fragrance-600x600
With scents of vetiver, rose and oak, The Lost Fragrance complemented the zesty orange and tangerine nose of the whisky, balancing its smouldering bonfire embers. Completing the meal and our olfactory experience was a dessert of smoked chocolate ice cream.
(swipe left for more)
The Quiach Ritual
The next day presented a new set of adventures to look forward to: a polo clinic courtesy of Dato' Chevy Beh and the Quiach Ritual we've heard so much about. En route from Penang to KL, we made a pit stop at the BP Polo Club in Ipoh to get a glimpse of both.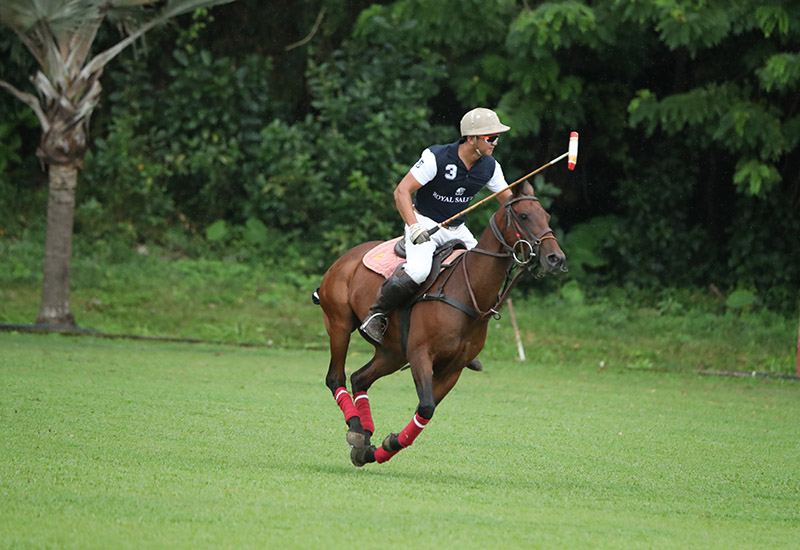 Why polo out of all sports? Just as Royal Salute has earned the title of the "King of Whisky", polo has been called the "sport of kings" – a game often participated by royalty and high society. Naturally, the former has a uniquely crafted range of 21-Year-Old whiskies made for every kind of polo match: Beach Polo, Grass Polo and even Snow Polo.
To kickstart the friendly, Scotch Whisky Ambassador, Jasper Epsom (a Scotch himself) eagerly demonstrated the Scottish ritual with the traditional two handled Quaich (pronounced Quake) cup.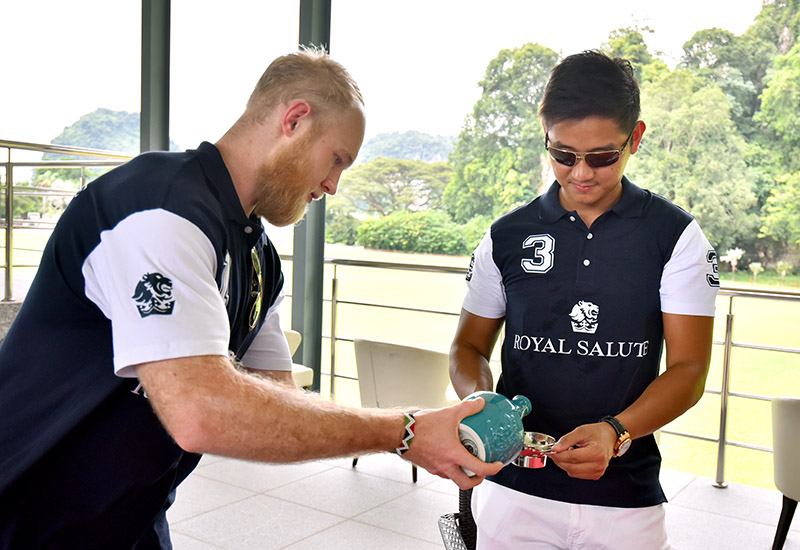 A gesture performed between two parties – be it kings of different kingdoms, a bride and groom or two friends – each would take turns to present a cup filled with a beverage of choice (usually whisky) from the same bottle or flask to the other with two hands. This is so that neither party would be holding a weapon to take advantage of the other, hence symbolising trust and friendship. Both would then finish its contents, then turn the Quiach upside down and kiss the bottom as proof.
As we took turns to participate in the ritual with new and old friends that breezy afternoon, we allowed ourselves to take in the sights, smells, sounds, tastes and touches that indulged our senses over the past two days.
'Twas a royal finale to our sensational journey.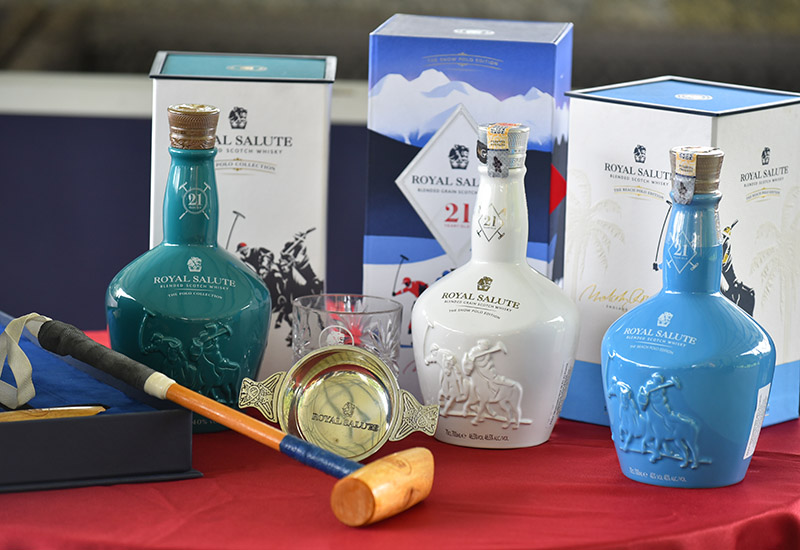 The next Olfactory Studio event will take place on 15 January 2021 at Mandarin Grill, Kuala Lumpur. For details of all upcoming Olfactory Studio events or to purchase the Times Series 52-Year-Old Single Cask, please enquire with Trisha Kuck, Prestige PR Manager at Pernod Ricard Malaysia, at trisha.kuck@pernod-ricard.com or +6016-428-4403.
Photos courtesy of Royal Salute, Cycle & Carriage Bintang and Mercedez Benz Malaysia