Here's a roundup of some of our favourite shows at Paris Fashion Week including the likes of Balmain, Dior Homme, Kenzo, Lanvin and Louis Vuitton.
The final leg of Men's Fashion Week Fall/Winter 2018 has come to an end, and what a finale it was at Paris. Celebs arrived in stylish streetwear, runway sets boasted cool themes, and of course, there were collections that turned heads, for better or worse.
Here's a roundup of our favourite shows at Paris Fashion Week including the likes of Balmain, Dior Homme, Kenzo, Lanvin and Louis Vuitton.
A Balmain army revolution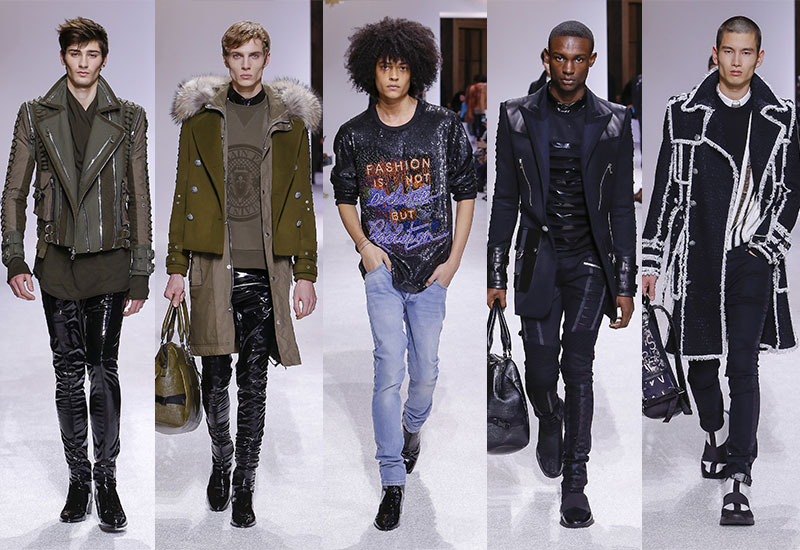 "Fashion is not evolution, but revolution" reads a T-shirt on Balmain's runway, summing up the theme of the collection. Ironically, Pierre Balmain thought otherwise, but Olivier Rousteing justifies this by pointing out the recent upheavals in the industry – brands catering towards millennials, digital platforms overtaking print and designers, well, doing their own thing.
His latest collection gives off that same reformed vibe, starting off with military pieces before graduating to night club-appropriate outfits. PVC is the code of the day, seen on tops, bottoms and outerwear, alongside jersey and embroidery.
Dior Homme's dual expression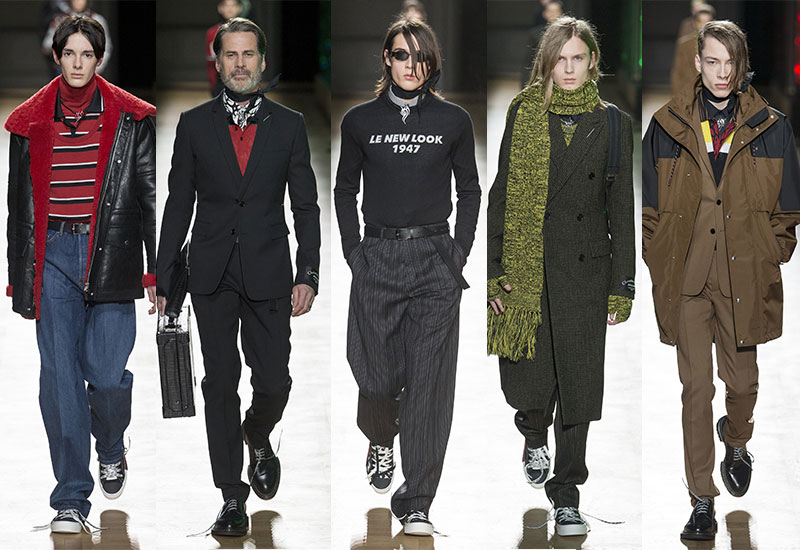 As if to further prove Rousteing's theory, Dior Homme presents a collection that's evidently designed with millennials in mind. Described as a "call and repeat of youth and manhood", the collection combines formal menswear, including tailored suits and jackets, with '90s streetwear such as polo T-shirts, sweaters, and baggy pants.
Both sharp and boyish at once, Van Assche's genius brings forth looks that evince nostalgic references for the middle-aged man and vintage classics for the new generation.
Kenzo's throwback movie premiere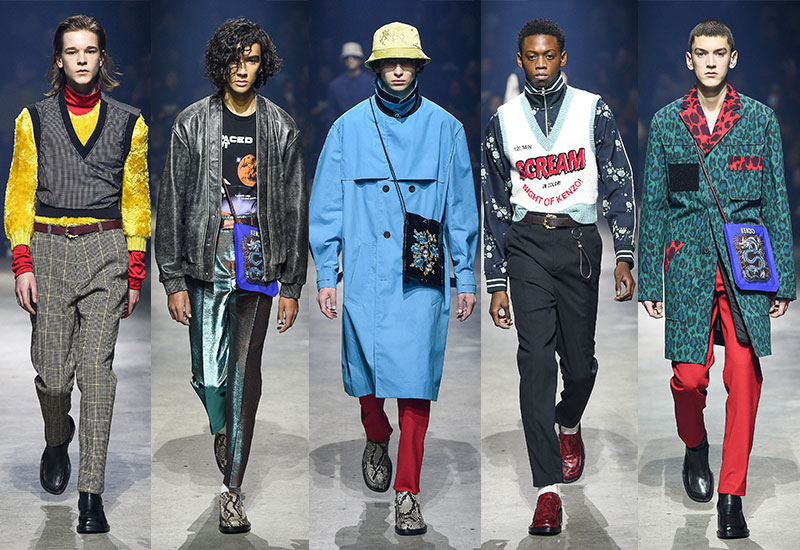 "Sit back and grab some popcorn, the movie is about to start." That may as well have been the intro to Kenzo's show, as Carol Lim and Humberto Leon present a collection based on a true story of early days in their friendship. Besides the six-minute anecdote alluding to Leon's bleached hair at the start, the rest of the show saw a collection reflecting the duo's longstanding passion for film. Take for instance, the "Spaced Out" and "Scream in Color" fictional movie posters printed on tops, or the vests layered over sweaters and tucked into high-waisted pants suggesting classic film characters.
"We've obviously watched a lot of films throughout our 25 years of friendship and we wanted to play on films and kind of create different characters throughout, but almost kind of tell one story," Leon says. Wild colours, floral embroideries and animal prints further bring these characters to life, hinting flashbacks of movies old and new.
Lanvin piles on the layers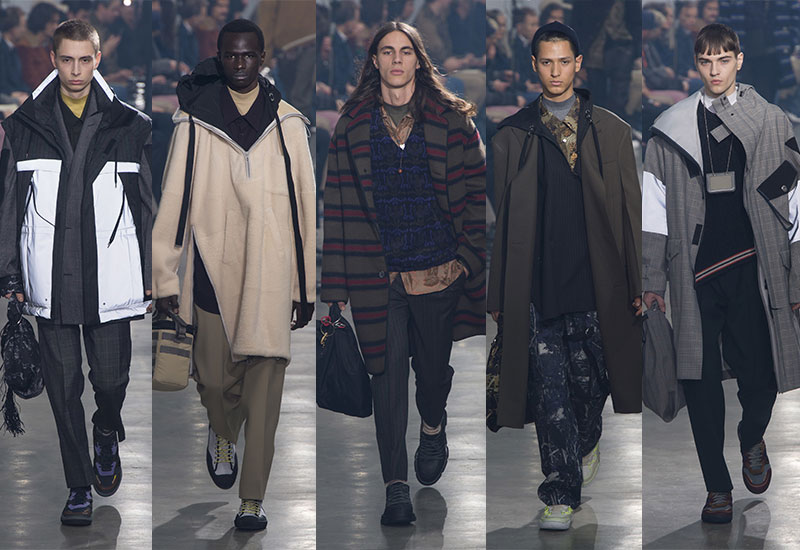 Lucas Ossendrijver is all for elegant, practical layers this season. And we must say he's convinced us too. The tiers of wool coats or parkas over structured suits over shirts and knits seem to work seamlessly without looking too baggy or overdone, and the tilted necklines add a nice touch to the overall silhouettes.
Horizontal stripes are interspersed between plain, check and printed pieces – a good mix, in our opinion. Featuring mostly dark (navy, grey) and earthy shades, we dare say this is one of the most wearable collections for fall/winter.
Louis Vuitton takes on the outdoors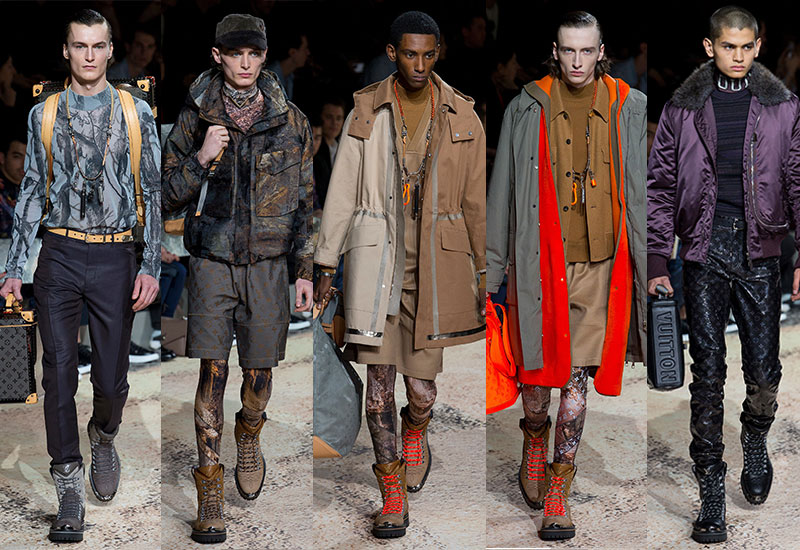 In his final collection for Louis Vuitton, Kim Jones revisits what the brand is known best for: travel. This time, it's to the great outdoors – hiking, camping, and perhaps safari expeditions – at least that's what we could make of those heavy-duty bags and boots.
Naming his personal travels as inspiration, Jones presents us with rock-textured prints developed from his helicopter ride in Kenya; cashmere adaptations of rodeo shorts he discovered in Wyoming; as well as leather jackets and boots reminiscent of the Wild Wild West. The brand's signature monogramming also makes an appearance across coats and leggings in true LV spirit. To top it off, Naomi Campbell and Kate Moss take the final circuit alongside Jones to a grand applause.
See also: 7 less heard of travel destinations to check out this year
Images: Courtesy of respective brands