Armani, D&G, Versace, and Ermenegildo Zegna among brands injecting youthful influence into their spring/summer collections.
Milan Fashion Week saw designs in the quintessential high-fashion manner filtered through the nuances of time and society. Our favourite European designers put on a spring/ summer 2018 show of colour, class and consciousness over the past week, and we're excited to see these menswear creations channeling an unapologetic millennial energy.
(click brand name to visit official site)
Oriental touches by Armani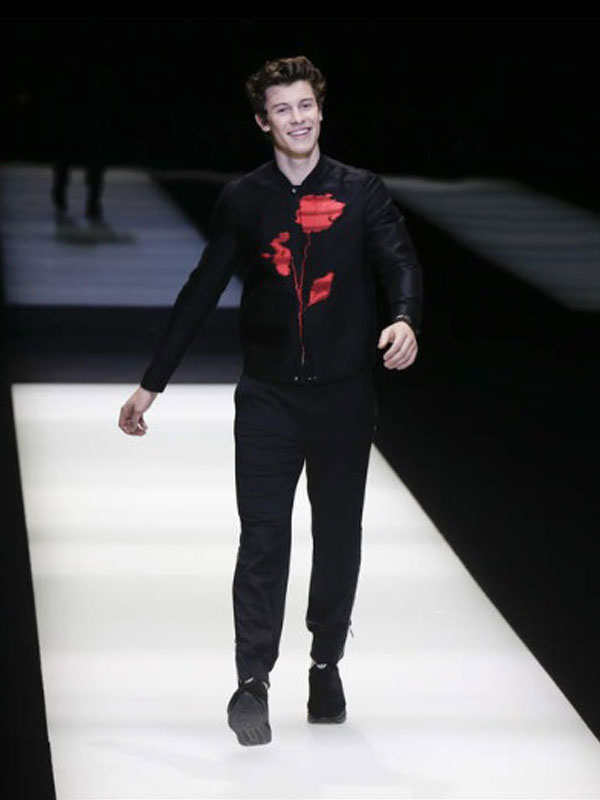 Singer Shawn Mendes walked the Armani runway wearing a piece from the brand's smart watch line 'Connected'.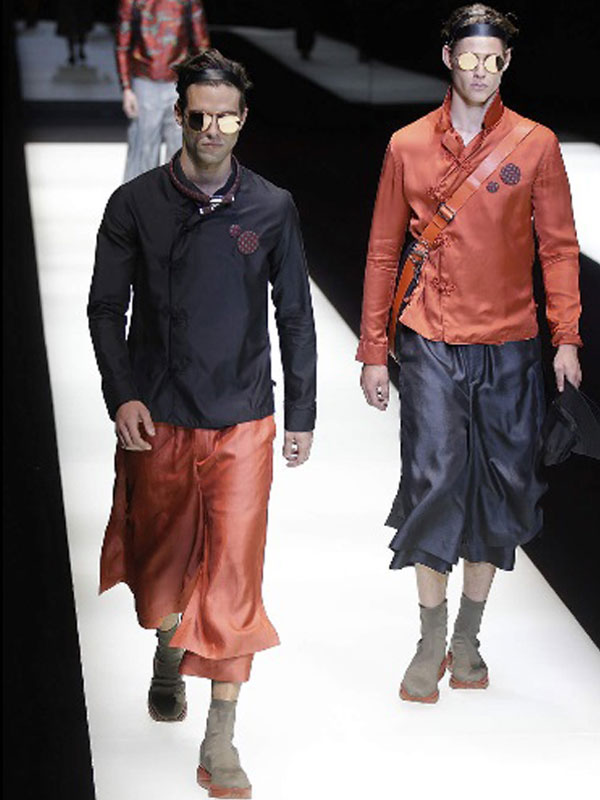 Asymmetrical collarless shirts and billowy silk pants were among the pieces with loud Japanese influence.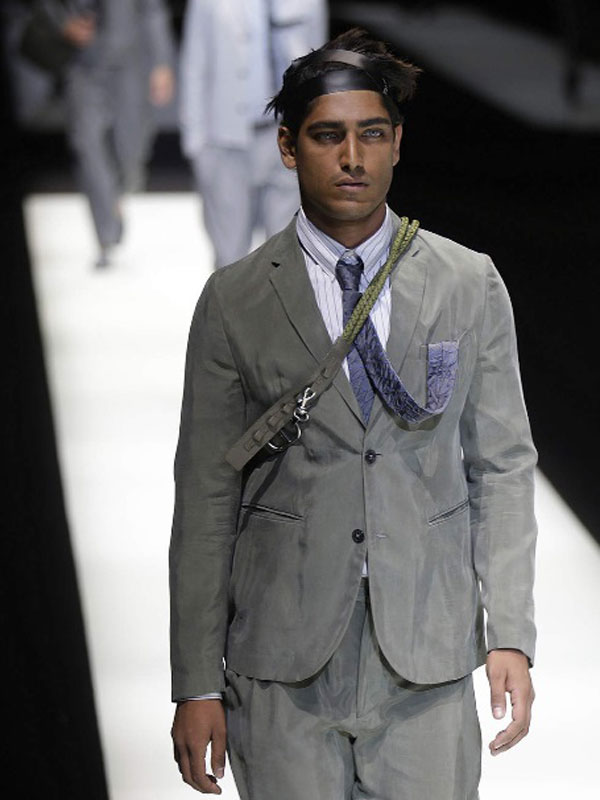 Armani model sporting a suit styled in ways the average boss would probably not agree with.
Giorgio's Armani channels Japanese influence in this Emporio Armani line, playing with fabric and detail and mixing elements of martial arts. Silk and volume were common themes found in Hakama-style trousers, sweaters and jackets.
Joining the models was singer Shawn Mendes, whom Armani declares embodies his shared values of professionalism, commitment and innovation.
D&G's A-list 'royal' affair
D&G presented their youthful collection with some of their favourite millenial influencers.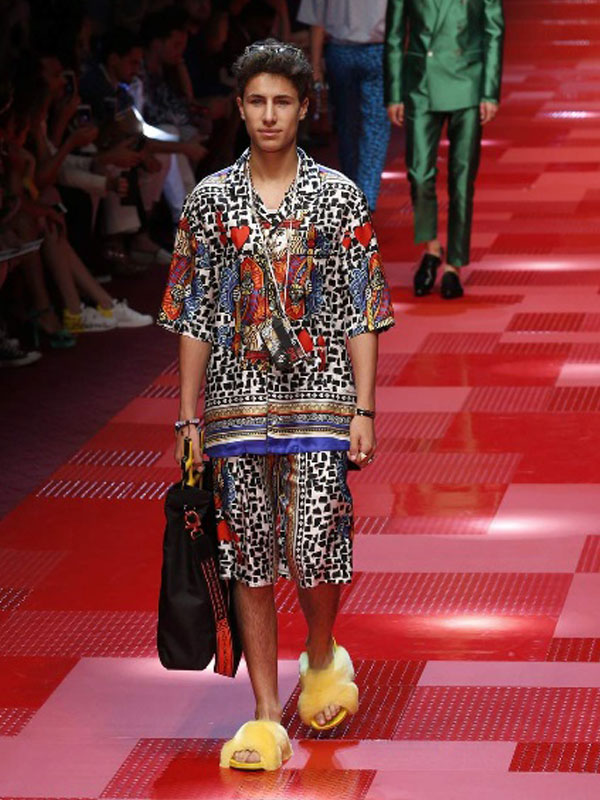 Rich prints and patterns brought the King of Hearts line to life.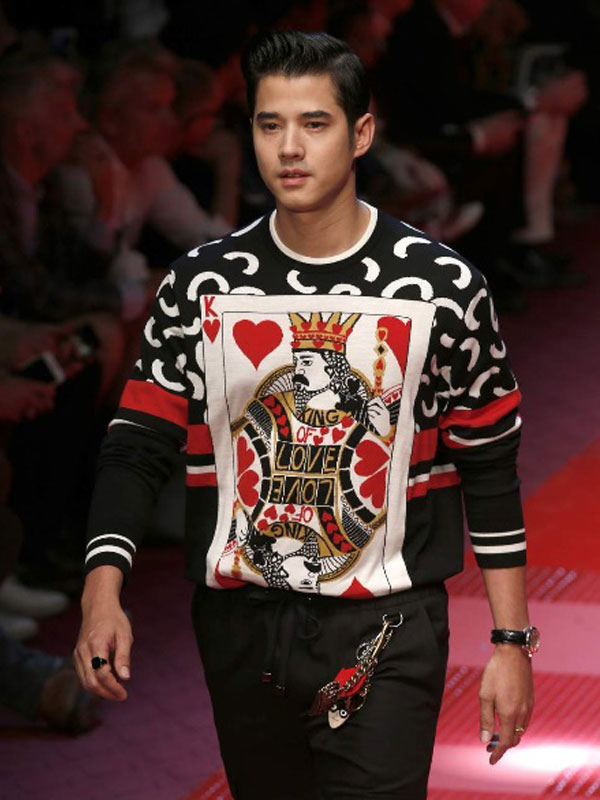 King of Hearts sweater.
Carrying on the theme of young influence, D&G brought together showbiz and social media icons such as Chinese singer Junkai "Karry" Wang, Mexican singer/actor Diego Boneta and French-Polynesian model Tuki Brando, grandson of Marlon Brando to model their upcoming spring/summer line.
The King of Hearts collection ranged from silky lounge wear to upscale athletic wear and iconic fitted suits, many incorporating imagery of its namesake and slogans about love.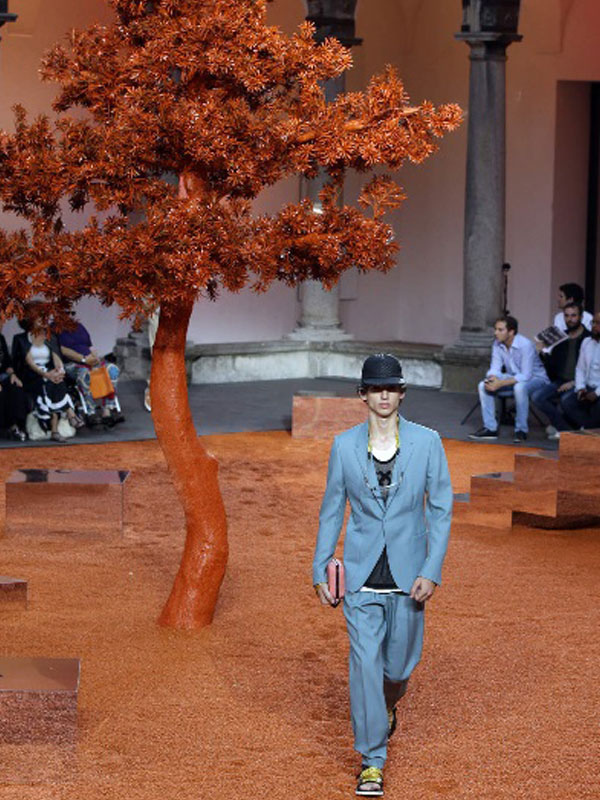 Bright colours pop in the desert-like setting, especially in a line of chiefly pastel hues.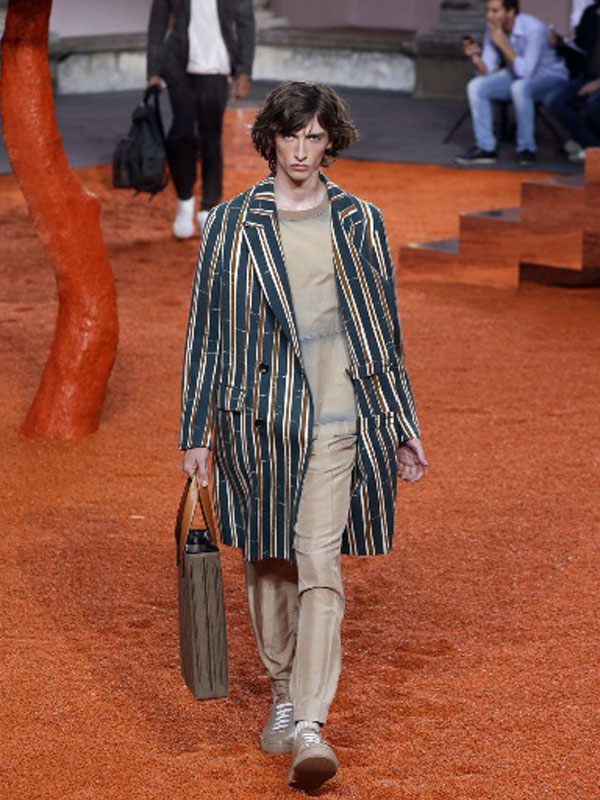 Lines and layers bring together functionality and romanticism.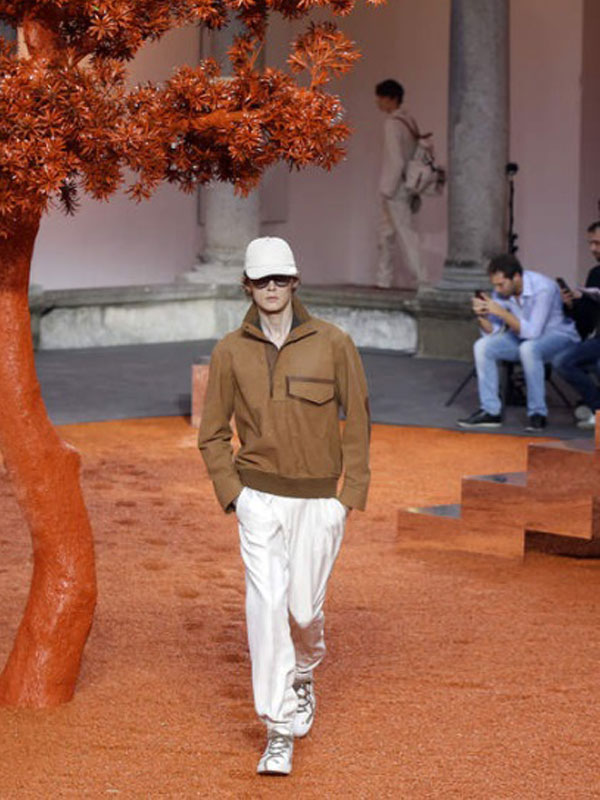 Designer Alessandro Sartori's's influence - urban university youth -is evident in looks such as this.
Designer Alessandro Sartori transports us to an artistic Tangier desert in his debut collection for Ermenegildo Zegna Couture. It is no coincidence that it was created in the arcaded courtyards of Milan's State Universty, where Sartori used to spend time as a design student.
The collection recreates nostalgic pastels, denim and stripes, peppered with colourful delights that would make these creations at home both on a fashion campus and runway.
Old meets new in Versace tribute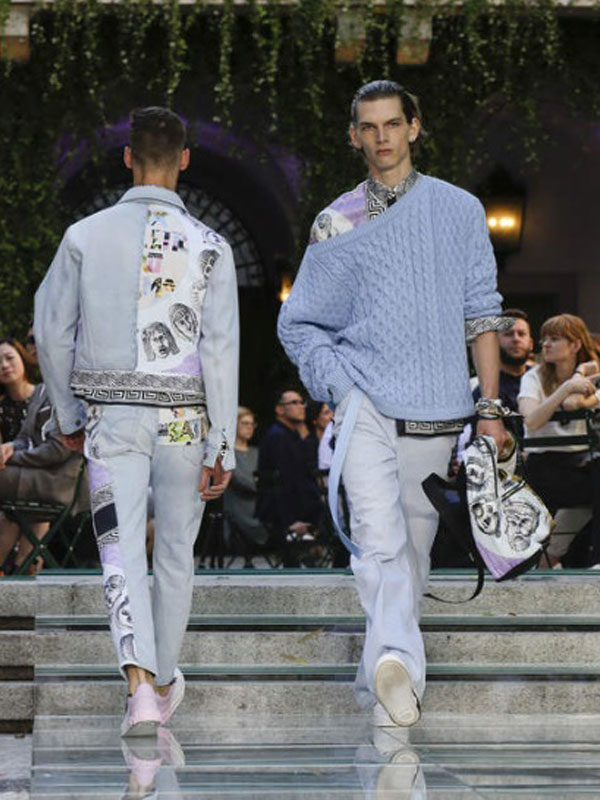 Quirky sketches and designs patch and peek on washed denim.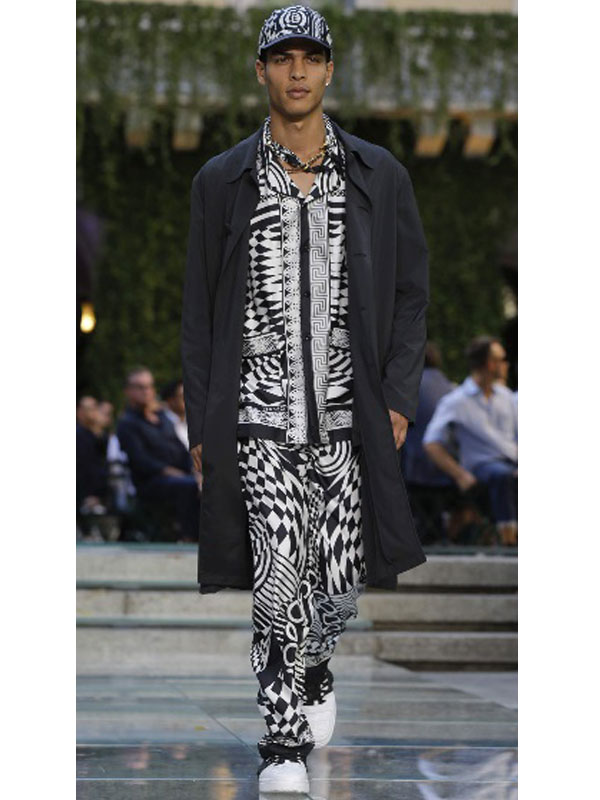 Loud prints on pajama-inspired suits are a season favourite, paired here with a dark overcoat.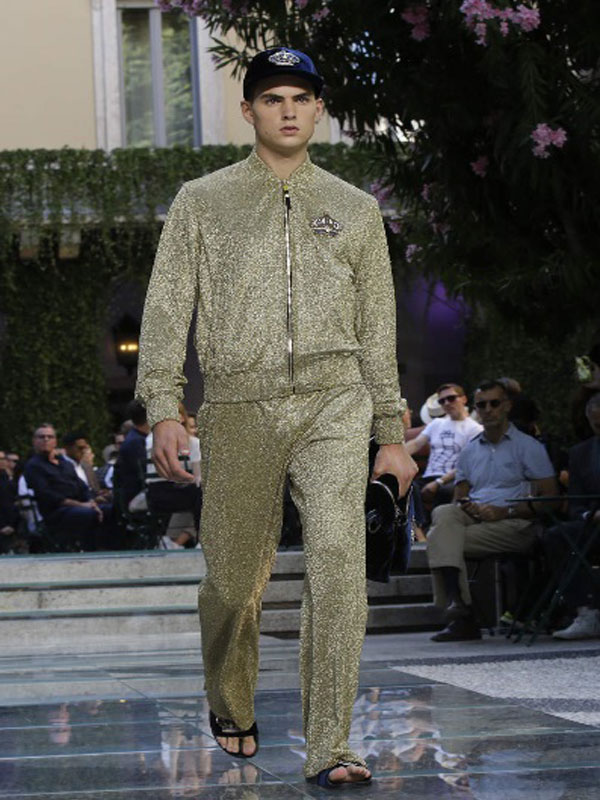 Luxe gold tracksuit, executed the way only Versace can.
Twenty years after Gianni Versace's death, Donatella put together this homage for her brother, also effectively inspired by the millenial love for iconic printed shirts.
The cocktail party-themed show saw women and men collections, with pinstriped overcoats, Bermudas, and matching accessories present in the men's looks. We're loving the effortless marriage of old and new, with retro prints and denim motifs that take us back to the 90s – when Gianni's vision was still the brand's driving force.
Images courtesy of AP Photo/Luca Bruno.