One omakase restaurant and one elegant cocktail/ sake bar are tied to a single simplicity in service, yet such complexity in offering.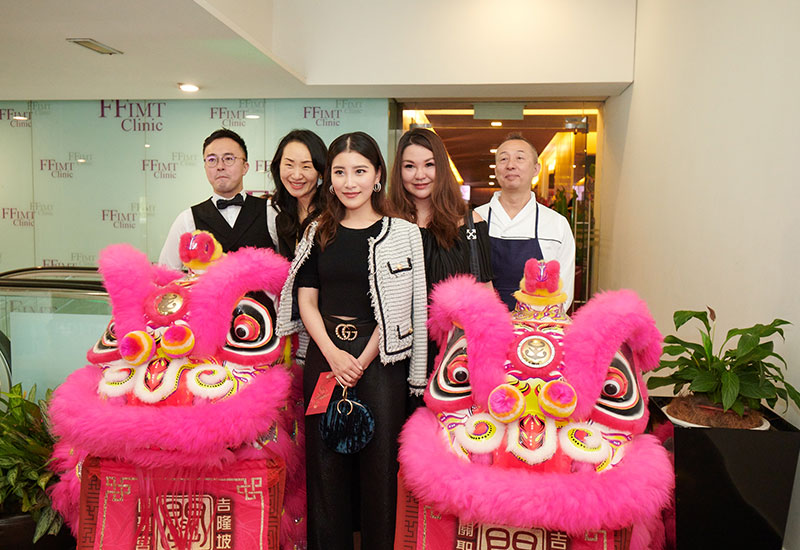 Located at Platinum Park KLCC, Sushi Ryu + Bar Shake is the latest Japanese sensation to take the city by storm. Its premium sushi restaurant is run by a Michelin-starred chef, yet at reasonable prices (lunch omakase menu starts at RM 279, while dinner starts at RM 579).
Japanese cuisine has long risen to the upper echelon of fine-dining, notably for its omakase offering. Having explored this cosy spot during its launch, we can see the appeal of such an intimate space – and why it's worth a visit over the numerous other washoku restaurants around.
An exclusive experience, made private at request
Sushi Ryu opens up into a tasteful space, dressed in warm hues and a minimalist approach that is quintessentially Japanese. The inspiration runs as deep as the central wooden counter, carved of dark hinoki cypress. This sushi counter only sits 11 at a time, providing an exclusive, personal experience in a simple, sophisticated space not unlike a sushiya. Groups can book one of two private dining rooms away from the counter.
Be surprised at every corner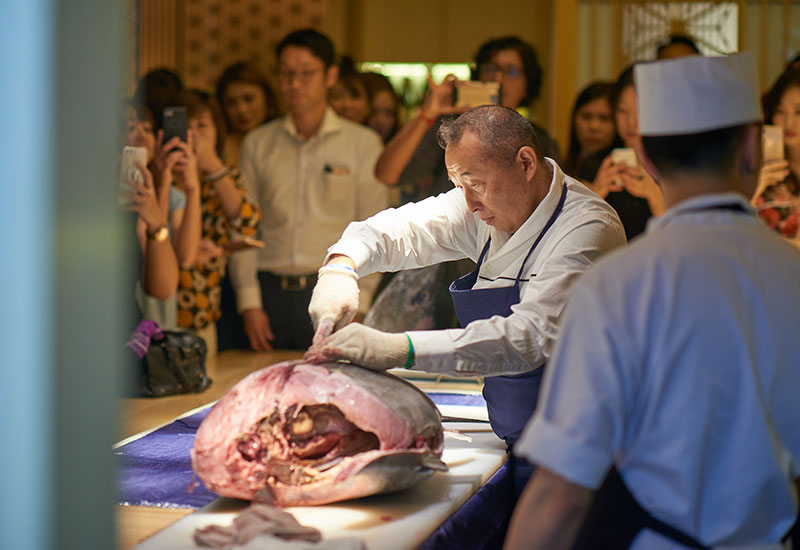 Owner Chryseis Tan describes Sushi Ryu as wanting to "capture the authenticity and finesse of Omakase dining, without having to fly all the way to Japan."Sushi RYU promises to deliver value and an unforgettable dining experience with unconventional, beautifully crafted dishes using the freshest in-season produce. Alongside with Bar Shake, we aim to give our guests a true Japanese style nightlife in one location," she says.
Expect a unique omakase treat including creations such as chopped otoro with caviar, white fish sashimi drizzled with truffle soyu and cold noodles with uni and caviar.
Expertise of established sushi chefs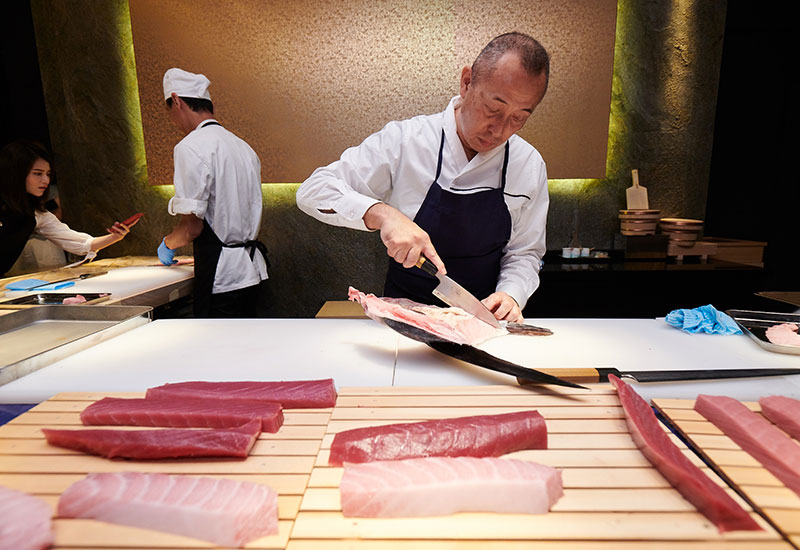 Chef Kiichu Okabe earned his stars at SHOUKOWA in Singapore, on the back of many years training. We watched him effortlessly cut up a large tuna – a skill of admirable approximation and precision in the Maguro Kaitai Show. Though he is currently away, Chefs Jack, Oscar and Khong are holding fort splendidly.
Tokyo-inspired cocktail bar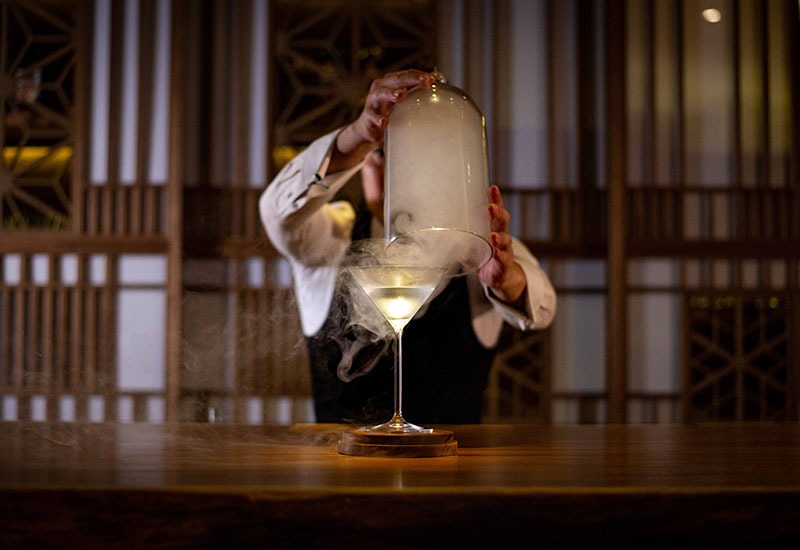 Adjacent to Sushi Ryu is the elegant nook that is Bar Shake. Named after the Hard Shake technique popular in the Land of the Rising Sun, the cocktails here carry the special touch of Osamu Kinugawa (Sam). Sam comes from his own Bar Kinugawa in Empire Damansara.
Bar Shake is a long lounge with a private room at the end, and a large, wooden six-seater by one side. Plush, burgundy banquettes like the other side. The cocktail version of omakase – SHAKE-makase – is the focal service here, allowing customers to create cocktails based on their favourite base spirits and flavour profiles.
Respectable sake offering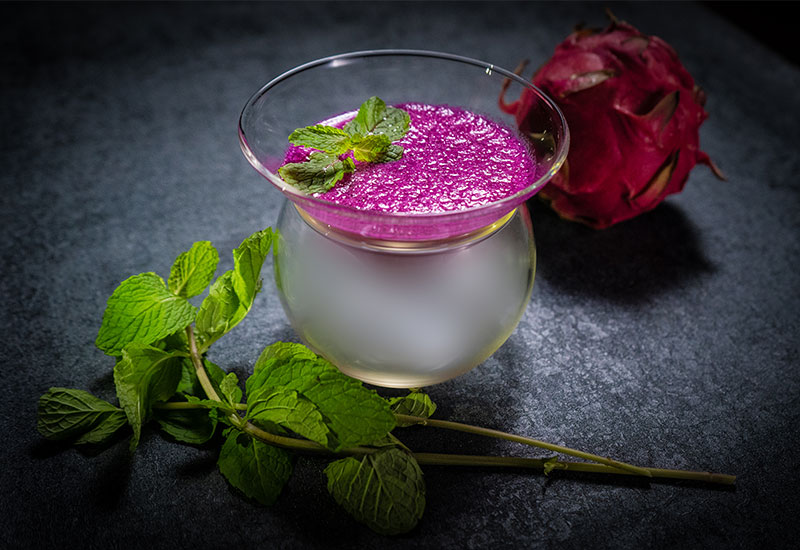 It's not a Japanese hideout without sake – and this, Bar Shake provides aplenty. Its respectable range is hand-picked from boutique breweries like Nabeshima, Kokuryu and Kid, consisting of all four different polish levels that satisfy various tastes and budgets.
There may well be something for everyone at Sushi Ryu and Bar Shake, tied to a single simplicity in service, yet such complexity in offering.
For more information, visit the official website for Sushi Ryu and Bar Shake.
Images: Sushi Ryu & Bar Shake