When there was a gap in the local market for halal makeup, Amira Geneid stepped in with Zahara, an online-based beauty brand offering high-quality halal cosmetic products.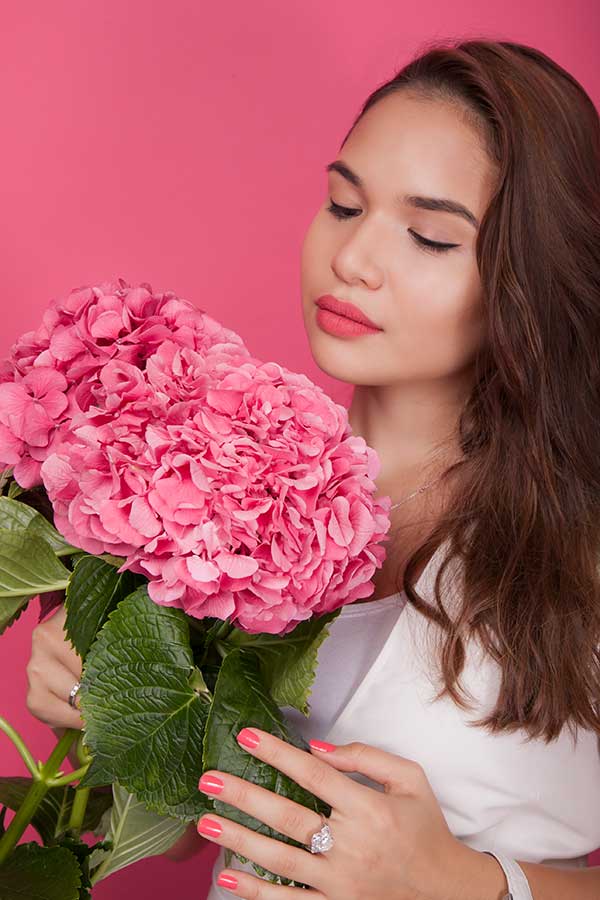 With the rise of halal-friendly beauty brands in the market today, Muslims can now access a larger range of beauty products with peace of mind. However, the options weren't as varied and readily accessible back in Amira Geneid's day.
"Growing up, my sister and I really struggled with finding halal makeup we wanted," the Australian-bred Malaysian-Lebanese says. "It was difficult to find trustworthy, good quality halal beauty products so we decided to take matters into our own hands."
In 2015, she founded Zahara – an online-based halal makeup brand, after spending two years in research and development. The brand's first product, a breakthrough water-permeable nail polish, immediately became a hit with the Muslim community.
Dubbed the Zahara Oxygen Nail Polish, the unique formula allows oxygen and water to pass through its surface. This lets Muslim women perform wudhu – a cleansing ritual that involves the washing of hands, mouth, nostrils, arms, head and feet with water – before their prayers, without having to remove their nail polish.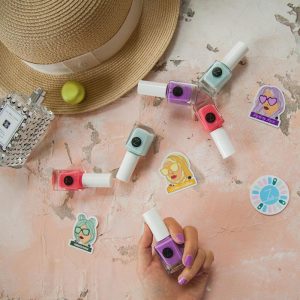 On top of that, users can benefit from its vegan and 5-free formula that is free of the five common harmful chemicals found in nail polishes (Toluene, Dibutyl Phthalate, Formaldehyde, Formaldehyde resin and Camphor) – ensuring attractive, healthy nails minus the unsightly yellow tint after.
So game-changing was this product that it put the 25-year-old and her brand on the map in Forbes 30 Under 30 Asia list, announced last March.
"I felt very honoured to be selected, especially after seeing some of the other amazing individuals on the list. I only hope that I can keep learning and growing to be a better entrepreneur and role model for young women who also want to start their own ventures," she beams.
Keeping an eye on the standards
The best-selling nail polish line isn't the only thing worth nothing from Zahara. Since its inception, the brand has extended its collection to include other halal beauty products, including eyeshadow palettes, eyeliner, mascara, nail polish remover and matte liquid lipsticks.
What's more impressive is the effort behind the development of each product.
"We try to get as much feedback as possible from our customers when making these key decisions (because) at the end of the day we are building these products for them, so we want to make sure we are addressing their desires," Amira says.
In order to create market-driven products, the brand uses Instagram and email surveys to engage directly with their customers.
"Just last month we put out a survey to get feedback from our customers for new nail polish shades," she elaborates, "This has probably been one of the best things that we have done because we really got to know first-hand what our consumers want and it's really helped us with the development of our latest collection."
While understanding what customers want gives the brand opportunity to meet a demand, helping customers understand what they want establishes its integrity and transparency. The latter is achieved by educating consumers on the ingredients used in each product.
Take for example, the fact that its signature nail polishes contain alcohol. A common misunderstanding is that anything made with alcohol is non-halal; but the brand prudently explains this false correlation on its website.
It is Amira's hope that consumers will be more careful and aware about the products they use, especially in this billion-dollar trade.
"In the past year alone, there has definitely been a rise in the local beauty industry – a bunch of small hyper local brands keep popping up. It's great that customers are getting more choices; I just also believe that customers need to be conscientious and keep an eye on ingredients and manufacturing standards," she reminds.
A bit of confidence goes a long way
Now close to three years in the beauty startup game, Amira hopes to continually empower women through her love for makeup.
"What I've learned is that beauty is universal. In every culture and language, I've found makeup to be such a great way to connect with other women and this is something I hold near and dear to my heart as I share my love of cosmetics with my customers," she divulges.
Her brand is the manifestation of this collective appreciation of beauty, shipping to five countries worldwide including Singapore (where she is currently based), Malaysia, Indonesia, Brunei and Australia.
"There's a quote that goes along the lines of 'give a woman the right shade of lipstick and watch her conquer the world,'" she adds. "We want to give women products that they love and make them feel like a million bucks. I feel like every bit of confidence can help empower women to realise their true potential."
But as with every entrepreneurship journey, there's going to some discrepancies when it comes to expectations versus reality. On this, she shares a few things she has picked up so far: "Things rarely go according to plan, so make sure you are always ready to adapt because entrepreneurship is one big roller coaster ride. And don't forget to ask for advice or help, everyone you meet will probably have a pearl of wisdom they can share."
That roller coaster ride won't be slowing down anytime soon either, as she hints at something to keep an eye out for in the near future.
"We are going through a massive re-branding at the moment, so stay tuned because we've got big plans coming up for the end of the year!"
Recommended for you: 9 Women of the Future reshaping their fields in SEA
For more information or to purchase Zahara products, log on to their official website at zahara.com. Follow @amira_geneid and @lovefromzahara on Instagram to see more news and updates.
Images: Courtesy of Amira Geneid and Zahara