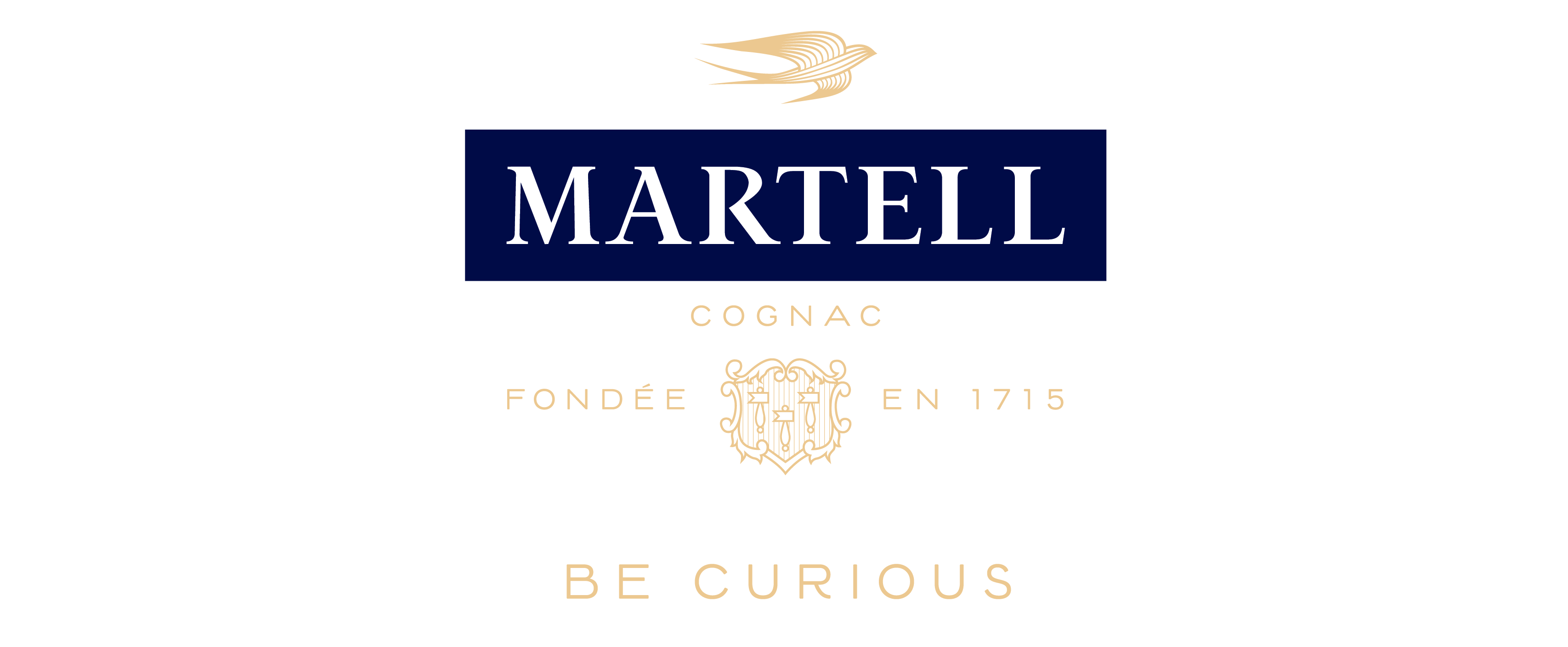 Think exciting Malaysian cuisine with global touches, embodying a warm, authentic richness – that's what you're in for at this nostalgic restaurant.
Check out what went down when Roen Cian and Chefs Johnson Ebenezer and Sri Charan reviewed Antara.
Chef Isadora Chai turns up to meet us at clutching a marketing basket. This basket is filled every morning during her visits to the fresh market, where she procures ingredients for Bistro à Table and Antara.
The basket is also a preliminary visual testament to the chef's increasingly popular brand of modern Malaysian cuisine. Chef Isadora is personally invested in what goes into her food – down to the tiniest, MSG-free detail.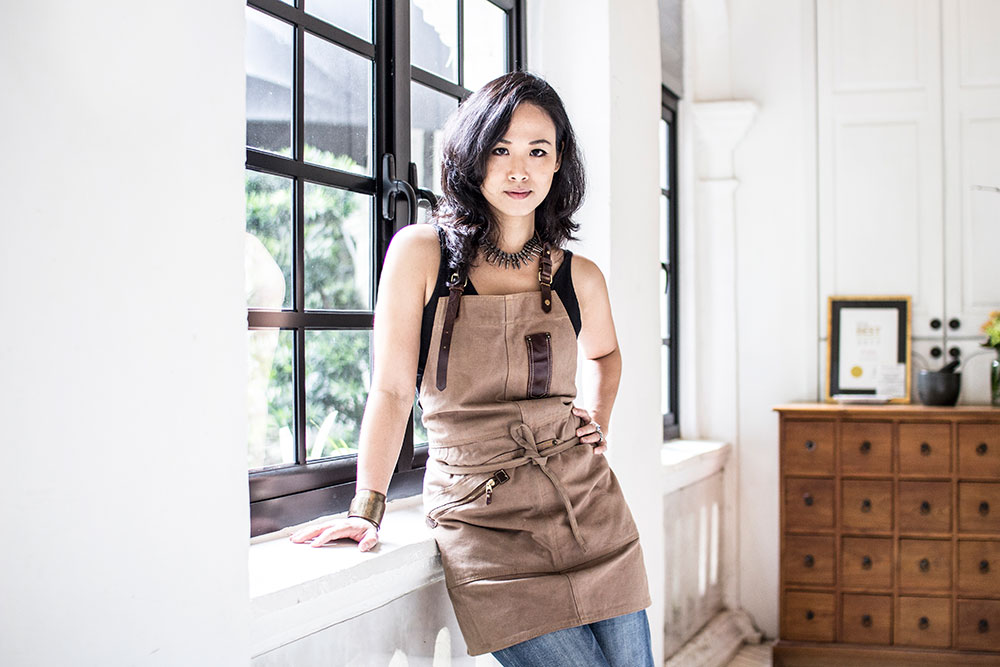 Polar opposites of each other, her two restaurants represent the fearlessly intelligent spirit of this pint-sized head chef. You'd never guess – from her funky apron and chunky jewellery – that Chef Isadora was once in pharmaceutical research.
Her love story with fine cuisine began at 19, when she started working kitchens while securing a double degree in Australia. She continued spending weekends in a restaurant while holding down that pharmaceutical research job, until a fateful holiday in Milan made it clear that cooking was her true calling.
"I quit my job over the phone from Milan and gave myself a year to try cooking full-time. Within six months, I had climbed the ranks to junior sous chef," she tells.
In between elements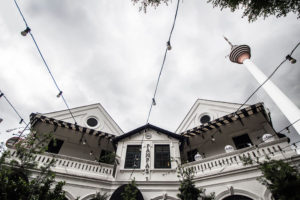 Antara takes the best of classic local favourites, and elevates them with farm-fresh ingredients and careful preparation.
Chef Isadora describes Antara as the antithesis of her first restaurant, Bistro à Table – 80% Malaysian, 20% French. Located at Old Malaya, the restaurant comprises three spaces: modern second-floor fine dining spot decorated with pop art portraits of Malaysia's Father of Independence, a colonial cafe serving interpretations of Hainanese cuisine under British rule, and an intimate glasshouse lounge for cocktails under KL skylights.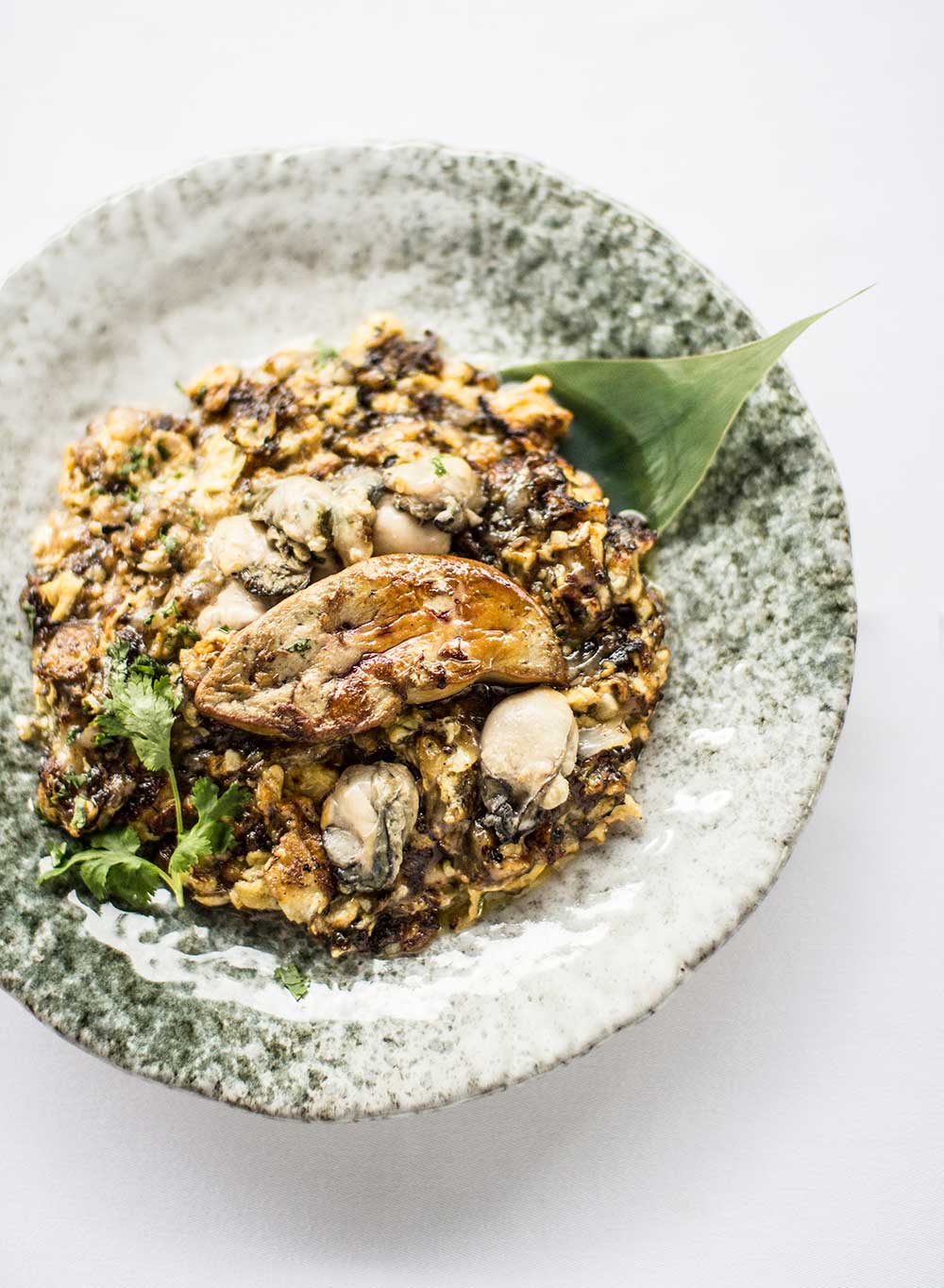 Right off the bat, we're given a taste of Antara's tour de force with an atypical orchien rendition – a wet omelette entrée spruced up with creamy, large, market-fresh oysters and lightly pan-seared foie gras.
While crispy on the outside, the omelette is rightfully soft throughout, with the fattiness of foie gras completing the medley of plated components instead of overwhelming. Richer than your average starchy Penang version, but with an unabashed authenticity that's key to its appeal.
Malaysian identity, international influences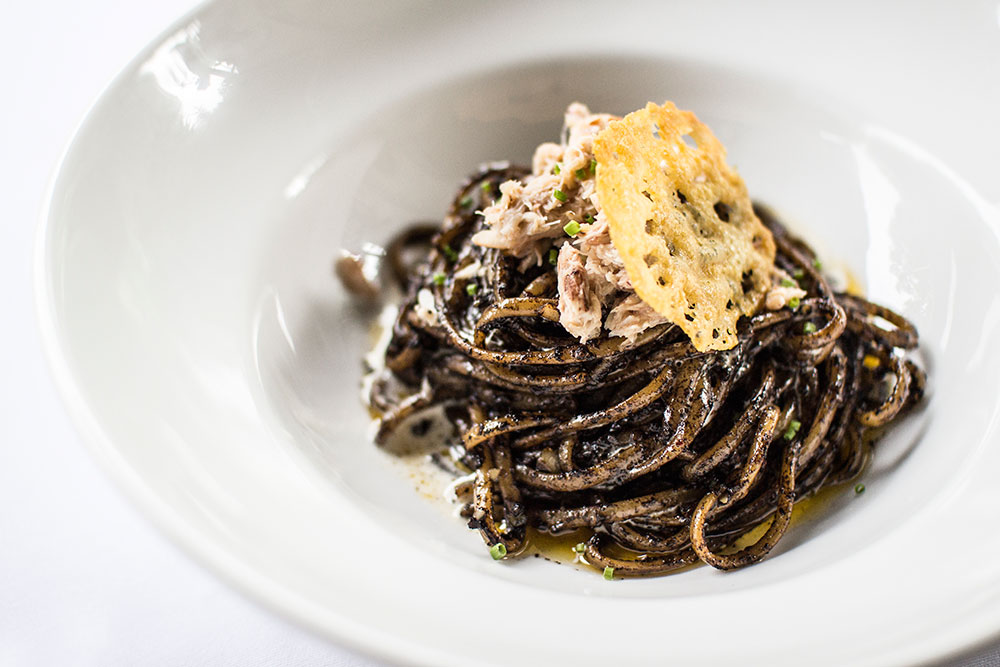 Living up to the restaurant's Malaysian identity sees the fiercely dedicated chef highlighting lesser-known ingredients in her cooking, like black nut in signature crab meat linguine. Don't confuse the dark pesto-like sauce for squid ink – its rich, earthy body is owed to buah keluak, known as 'black gold' for its culinary value in Peranakan and Baba-Nyonya communities.
"The black colour comes from them being covered in volcanic ash, with a slight cyanide content that is denatured when cooked over long periods," Chef Isadora explains, fondly referring to it as the 'Asian truffle'. The result of over four hours of labour is a creamy, nutty and slightly bitter base sauce, sure to find a place in the hearts of adventurous fusion lovers.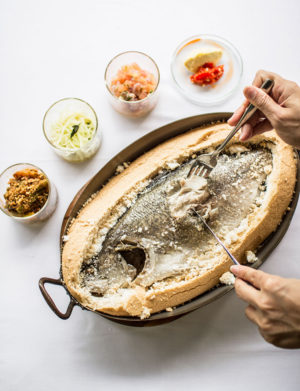 To call Antara's fare fusion, though, would be dismissive of the thought put into each element on your plate. Take, for example, the seabass en croûte de sel (in a salt crust). French technique meets Asian flavours, with tart, fruity cencalok salsa (instead of sambal) and sun-dried Nyonya-style acar, both of which pay homage to classic condiments in an East-meets-West manner.
"There are updated international influences going into Malaysian food here. I'm also allergic to MSG and can't go out to eat anywhere, but being Asian, still crave soy sauce. The only way I could have that was to cook at home," Chef Isadora explains.
This soon branched out into catering, and with the influx of orders, the birth of Antara last July. Step into this space with an open mind and experience your expectations of local cuisine evolving.
Story of generations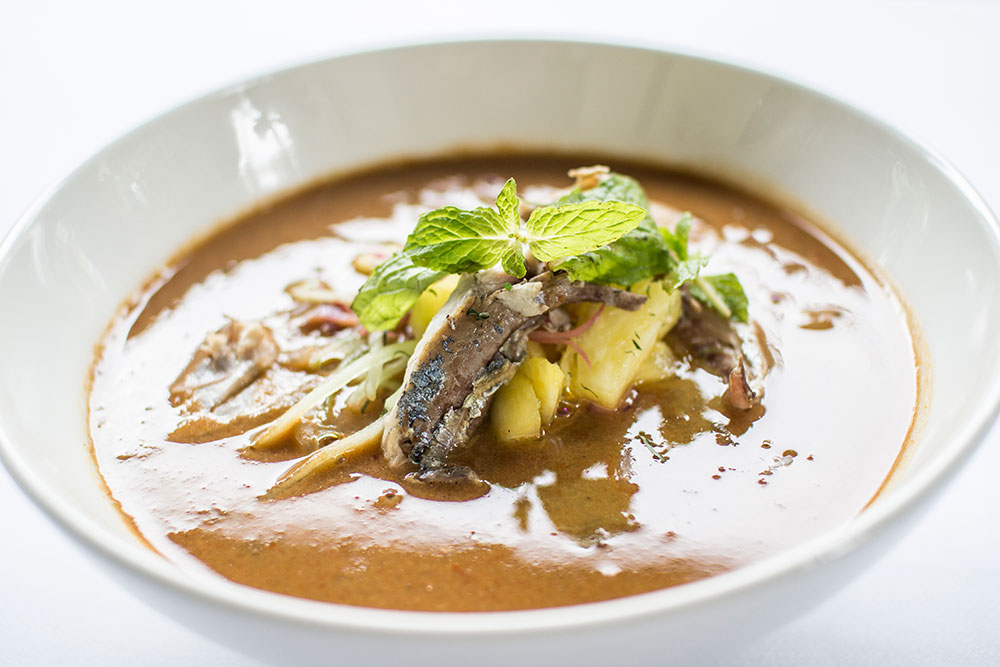 Growing up with her parents largely preparing English food and her aunts specialising in Nyonya fare, Chef Isadora was exposed to the best of both worlds from a young age.
"I grew up with aunts who were strict about their Nyonya, Hakka, and Hainanese cooking. My mother's generation knew what good food tastes like – older customers who love the food here remember the taste and can tell the effort that went into preparing it," she says.
Antara is her attempt at recapturing the gastronomic glory of yesteryear – which can admittedly be challenging in a generation whose standard of good food is informed by fast food chains and hawker stalls.
Her cuisine being MSG-free, Chef Isadora goes the extra mile to regain natural flavour. This means boiling 30 kg chicken carcass for 25 bowls of soup, which understandably increases cost.
But try her latest assam laksa gravy, and you'll understand clean cooking doesn't compromise quality or taste – playing with natural flavour profiles affords the chef greater creativity and agency over what goes into her cuisine. Boiled tenggiri, kembong, and belanak fish stock lend a punch of flavour to the Penang classic, blossoming into a lingering spiciness from cili padi right out of Chef Isadora's garden.
It's a slow burn that ignites the senses and satisfies the soul, which also accurately describes the Antara experience in taking local cuisine to new heights.
Visit Antara's official website for more details and reservation enquiries.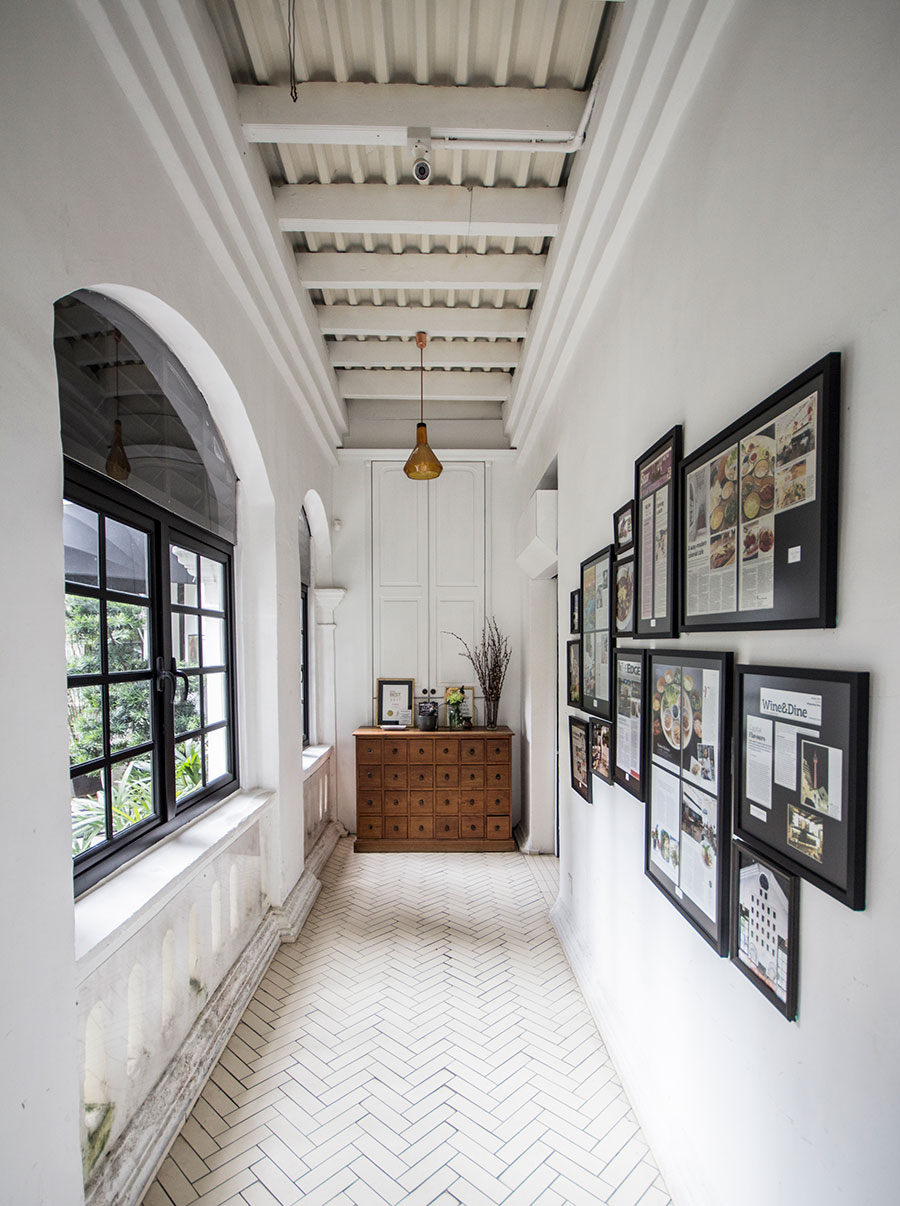 Photography: Gan Yew Chin