It doesn't take a skincare maven to know that exfoliation is an important part of an effective skincare routine – that is, if done right. Not only is it essential in keeping the skin bright, clear and healthy, it's also one of the small efforts you can make to slow down the sands of time.
With the wealth of information on the internet and improved accessibility to skincare advice by experts, we have also evolved from using harsh, abrasive scrubs on our delicate faces that can irritate and cause micro-tears in the skin – we're looking at you: walnut, apricot seed, and coffee grounds. Instead, exfoliating acids a.k.a chemical exfoliants have become the product of choice when it comes to controlling breakouts, reducing the depth of wrinkles, and balancing the skin.
While the word 'acids' in your skincare may sound unforgiving and dangerous, they're actually far from it – as long as you're mindful of the type of exfoliant you use, its concentration, and how often you use it. These leave-on options are far more superior to physical scrubs since they're non-abrasive, and even come with a myriad of other added benefits to help you achieve your best skin ever.
So if you're looking to level up your skincare routine or simply nail that "my skin but better look", read on to find out how to get started on chemical exfoliation, and how to pick the best exfoliating acid for your skin type.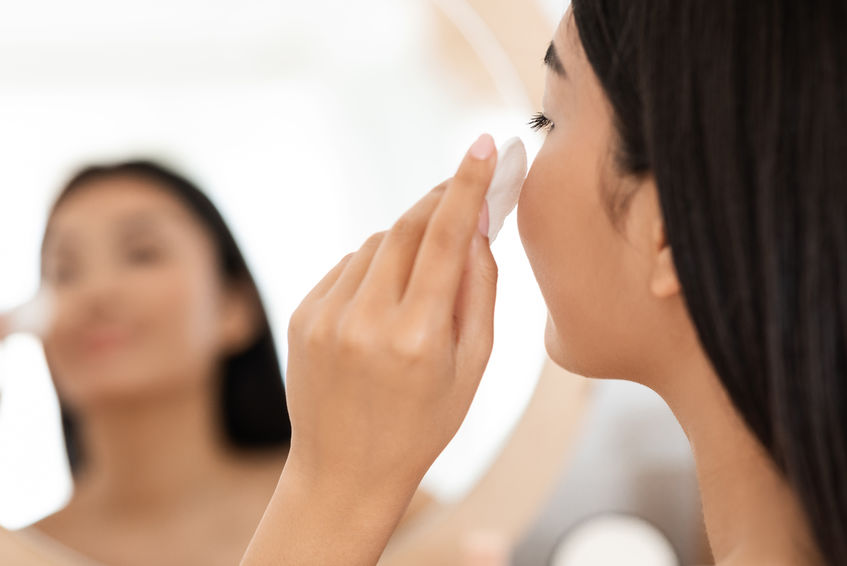 Like any other new skincare product, it's strongly advised for you to perform a patch test before committing to the exfoliating acid you are incorporating into your routine. Apply a small amount of the exfoliant to a part of your skin behind your ear and leave it on for 24 hours. Keep in mind that a mild, stinging sensation that doesn't persist is normal, while itchiness, intense and prolonged pain, and swelling isn't. If you're able to wash it off without any side effects, you're good to go.
If you're new to chemical exfoliants, you always want to start off with the lowest concentration possible, and use it once a week first to gently introduce the acid to your skin. This is to ensure that your skin slowly adapts to the new active ingredient, instead of overwhelming it which could irritate, dry out, or even permanently damage your skin. From there, you can work your way up until you find the best exfoliant that works best for you and your skin concerns. Even at lower concentrations, try not to exceed exfoliating more than 3 times a week, and use them only at night since chemical exfoliants can make your skin more sensitive to the sun – or wear copious amounts of sunscreen.
Now that we've gotten the beginner's safety guide out of the way, here's a breakdown of the most popular exfoliating acids you can use in your skincare routine.
For premature ageing and overall brighter, smoother skin: Glycolic Acid
View this post on Instagram
From smoothing away fine lines and flakiness, to reducing the appearance of hyperpigmentation spots and post-blemish marks, glycolic acid is your best bet. Derived from sugarcane, it helps to break down the bonds that hold dead skin cells together, sweeping them away to reveal new, healthier skin underneath. After exfoliation, the skin is also able to better absorb hydrating or moisturising products after. Out of all the AHAs, glycolic acid is the most potent and penetrates the skin best due to it having the smallest molecular structure than any other AHA.
For dry, sensitive skin types: Lactic Acid
View this post on Instagram
If you want all the properties of glycolic acid but feel like it's too harsh for you even at its lowest concentration, try lactic acid. It also features similar benefits such as improving the skin texture and tone, but has a larger molecular structure so it doesn't penetrate the skin as deeply as glycolic acid. It also has a more moisturising effect to the skin, making it more tolerable for those with drier, sensitive skin types.
For blemishes, excess oiliness, and acne-related inflammation: Salicylic Acid
View this post on Instagram
If you're prone to acne breakouts and excess greasiness, you'll know salicylic acid well as it's often found in anti-acne products. This beta hydroxy acid (BHA) derived from willow bark also works by softening and sloughing away dead skin cells on the surface, which helps prevent buildup that could lead to breakouts. Unlike the water soluble glycolic acid, salicylic acid is oil soluble, which allows it to slowly penetrate clogged pores and dissolve sebum to help clear the skin and control oiliness. To top it all off, salicylic acid has anti-inflammatory properties, which is highly beneficial in helping to reduce the redness and swelling of blemishes. So if you suffer from frequent blemishes, try using gentler cleansers and moisturisers, and use a 2% BHA toner in-between.
You may also like: This is why azelaic acid is the unsung hero in your quest for clear skin.
For dry, acne-prone, and sensitive skin: Mandelic Acid
View this post on Instagram
Another AHA, mandelic acid is also another effective yet gentle chemical exfoliator to help shed away dry flakes and improve skin cell turnover – resulting in a brighter, smoother complexion. The molecular size of mandelic acid is also larger than glycolic acid and lactic acid, making it even gentler for sensitive skin types. If you find yourself experiencing both dry flakes and blemishes, mandelic acid also has antibacterial properties, which may help in reducing the severity of your breakouts.
For very sensitive skin: Polyhydroxy Acid
View this post on Instagram
Also known as PHA, this second-generation form of AHAs boasts the largest molecular size compared to glycolic acid and lactic acid – making it the gentlest exfoliating acid that can be used on sensitive skin types. Examples of PHAs include gluconolactone, lactobionic acid, and galactose. While they provide the same glow-inducing benefits as AHAs, PHAs take longer to work as they don't penetrate the skin as well as the former. So if you have very delicate skin or have rosacea, you could give PHA a try.
For skin brightening and blemishes: Azelaic Acid
View this post on Instagram
Azelaic acid is an overachieving ingredient that gained greater popularity this year, revered not just for its exfoliating benefits, but also its acne-fighting abilities. It's a dicarboxylic acid that can help pave the way for smoother and more evenly-toned skin, while its potent antibacterial properties is particularly effective against acne bacteria. If you suffer from inflammation from acne or rosacea, azelaic acid could also help by calming them down as it's one of the lesser irritating exfoliants on the market.
Photos: 123rf