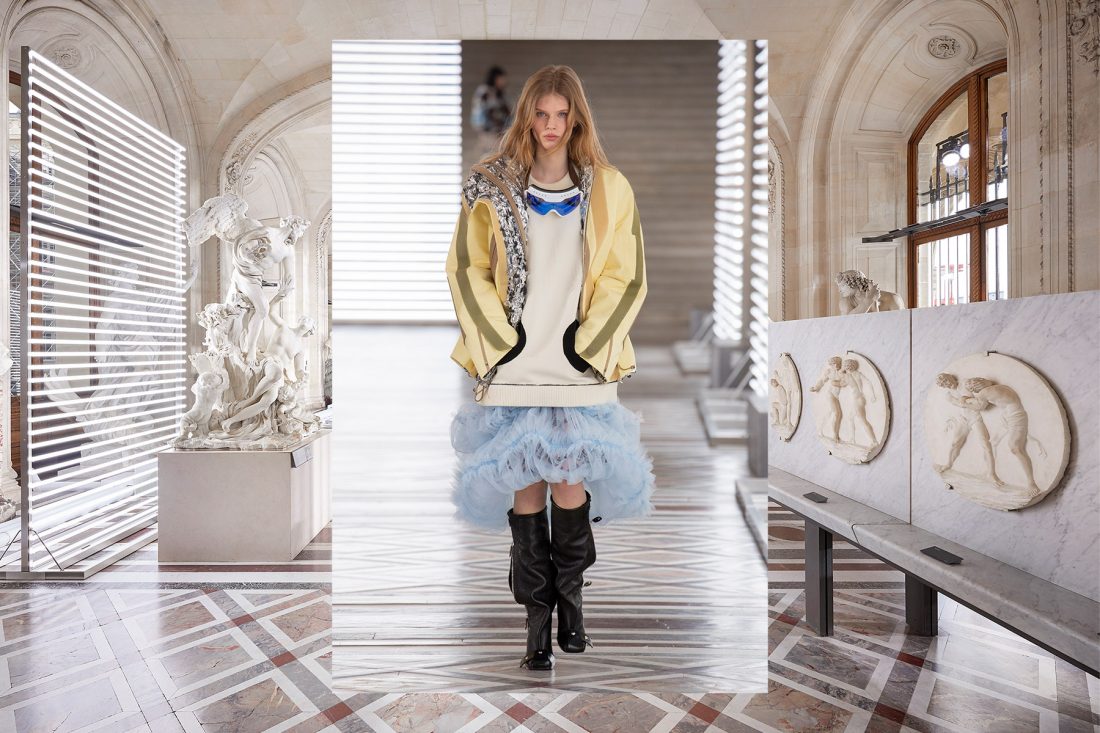 Another Paris Fashion Week has come and gone, sharing dates with the anniversary of the Covid-19 pandemic. The difference this year is that we're coming out of a dark period, as opposed to stepping into murky waters that would later rage tsunamis on the industry and almost everywhere else.
While it's still unclear if we will indeed be heading out as freely as the good ol' days this coming Fall/Winter season, designers are offering a variety of options for every situation. Whether we'll be braving the colder weather indoors with a hot cuppa or taking it out on the ski slopes once snow falls, these brands make us look forward to dressing up either way. Catch up on the highlights of the Paris roster below.
Chanel
Au revoir to the larger-than-life spectacles at the Grand Palais in Karl Lagerfeld's day; Virginie Viard prefers intimate previews with a handful of close friends. A girl's night out (or in), if you will, set the tone for her FW21 presentation, centred around Castel – a Parisian nightclub – with plenty of fun, party-appropriate outfits to boot. Viard married two influences the house is known for: apres ski styles and the cool Parisian chic spirit that has endured since the 1970s, to showcase a collection designed to bring back joy and excitement to future plans, no matter big or small. There are Fair Isle sweaters, quilted salopettes and ski suits, and then there are fake fur coats, tweed jackets and co-ords, "dancing" booties and sequinned pieces to play dress up for them all.
Chloé 
When it first came to light that Gabriela Hearst would replace Natacha Ramsay-Levi as creative director of Chloe, the majority thought it was a perfect match. Besides, Hearst shares the French house's bohemian chic design style. The proof is in the pudding, as they say, and her debut collection for the Maison affirmed popular opinion with no lack of quilting, fringing and leather tones in sight. Named Aphrodite for Chloé, the collection saw an array of knitted ponchos, pleated skirts and dresses, patchwork coats, as well as leather bags, shoes and accessories.
Christian Dior
In an age obsessed with mirrors and vanity, Maria Grazia Chiuri poses a thought-provoking sentiment to our generation's perception of self-image through a revision of the princesses and fairytales we grew up with. Titled Disturbing Beauty, the presentation took place in the Palace of Versailles's famed Hall of Mirrors, in which the gilded mirrors built by Louis XIV were replaced by wax and protruding thorns created by Italian artist Silvia Giambrone as a reflection of our love-hate relationship with mirrors. Similarly, Chiuri parallels the alluring danger of fairytales through a collection speckled with references to Angela Carter's Little Red Riding Hood and the like. Hooded cloaks, schoolgirl dresses (Alice in Wonderland), rose motifs (Beauty and the Beast) and royal guard coats (Steadfast Tin Soldier) continued her narrative with haunting undertones – simultaneously celebrating and challenging the implications of our childhood fantasies. To close, the evening gowns were certainly fit for princesses – but notably ones that don't succumb to the orthodox picture of happily ever after.
Louis Vuitton
"There's no need to venture far to create the impression of traveling" reads the first line of the press notes of the Louis Vuitton FW21 show. Instead of looking beyond borders, Nicolas Ghesquire looks back in time to the Golden Age of Greco-Roman civilization, with a show set in the Michelangelo sculpture galleries at the Louvre. The collection borrowed cues from Ancient Greece and the works of Italian interior house Fornasetti, featuring graphic bomber jackets, tulle skirts and gladiator outfits adorned with either fanciful engravings of the era or drawings by the design atelier. "I wanted something impactful, something that conveys hope and joy for what's coming next, and for people to have a good time watching," Ghesquière said. "A moment of fashion."
Loewe
Following his innovative show-in-a-box concept last season, Jonathan Anderson continues to push the boundaries of the fashion show with Loewe's "A Show in the News". Headlined "The Loewe Show Has Been Cancelled," the show did in fact go on, making the news and claiming it as its own via selected newspaper outlets across the globe, including The New York Times, Le Monde and Le Figaro. Its own published newspaper was sent out to the press along with an excerpt of The Affair by Danielle Steel, whom Anderson credits as a prolific writer that encourages people to read. As for the collection, his vision of the new reality was brought to life in technicolour – where gargantuan jackets, fringe dresses and balloon pants clash with graphic prints, oversized embellishments and bold cut-outs.
Hermès
Hermès has never been one to stray from its roots. Under the helm of French designer Nadège Vanhee-Cybulski, the Maison couldn't care less about trends, focusing instead on how to adapt its leather expertise and craftmanship to contemporary interests. For the Fall/Winter 2021 season, she revisits house codes with an air of confidence and resilience – as one should having survived a pandemic – with a collection highlighting leather, quilting and denim. Strong, understated and timeless, the series of tailored outerwear, midi dresses and blanket coats served to show that good things are built to last – or outlast, even the toughest times. Likewise, her chosen format of presentation reinforced that notion, bringing viewers on a virtual tour through physical performances livestreamed straight from New York and Shanghai, sandwiching the traditional runway show in Paris.