Farzan Iqbal knows very well what it's like to be pushed to the limits. He knows it well and he enjoys it.
After all, the doctor at University Malaya Medical Centre made it to become a doctor on those exact principles. Now that he is soon to be completing his housemanship, he's getting those limits tested again, especially in delving into medicine at the time of a global pandemic.
"It's a very interesting time to be in medicine because you see how a huge pandemic can affect the entire medical system," he shares. "Work took a very different turn. You had to learn all these new things. Suddenly you had to be wearing masks and PPEs 24/7."
Having said that, he is quick to acknowledge that there are others working harder and doing a lot more than him.
"Personally, I wasn't in charge of Covid patients. I have so much respect for the doctors who were working the frontlines in Covid centres," he adds. "I was in the normal wards but if there were Covid patients in the normal wards, then I would have to take care of them. You had to be cautious all the time, even though I was taking care of the non-Covid wards. You have to assume that everyone has Covid."
Long hours and gruelling work are nothing new to Farzan. Six years of medical school entailing nothing but that have taught him as much. As he waters the seeds of his career while he steps into a new role as a husband, he has found saneness, stability and sense through the simplest of life's principles – balance.

Balancing work
Becoming a doctor was not something that's always been in the books. Farzan actually grew up creative, enjoying the arts and music while showing a particular interest in architecture.
Call it fate or fortune, but a calling to do something that can contribute back to society spoke to him upon graduation from secondary school and he found himself in medicine.
"I didn't have a problem with the tough schedule and long hours," he opens up. "I liked it, actually. I've always had an interest in biology."
The journey to being a doctor is often arduous enough to intimidate anyone: one year of pre-university followed by another five years of intense studying that brought forth 12-hour readings a day.
"Medical students aren't like other students with long semester breaks. Our semester breaks are a week at most. We don't do things other students do, we don't get to go out and have fun as much. For me, as someone who grew up with friends and used to do whatever I want and having fun, that was a big change to my social life."
He endured and prevailed by finding his own form of balance amidst the hecticness.
"The best way for me to get through that was to maintain what I was used to have – my social life. I tried to have a balance. I would say I was the medical student who knew how to have fun," he lets on. "It was my way of coping with the stress. At the end of the day, being able to go out and talk with your friends about something that wasn't medicine was such a good release."

Balancing marriage
Now that he's out of med school and is a doctor, Farzan is glad he got that practice in, as much as it was difficult to find the time back then. Now there is even more to juggle with his marriage to local model, actress and TV personality Alicia Amin.
Meeting Alicia was also seeming a play of hand by fate. Despite going to the same school and living on the same street, they had never once met until they matched on a dating app. Even then, their first date didn't bring the cliched story of fireworks.
A chance dinner of a second date when the both of them had time to kill was when it all changed.
"She lived nearby, so it was convenient. She said yes when I asked her if she wanted to grab dinner. That second date changed everything," Farzan regales. "We were more ourselves, we more comfortable just talking and opening up from the get go. Things just clicked into place. We talked about everything, about work and aspirations. I never knew Alicia was who she is – a model."
Farzan credits balance to having their relationship work out.
Alicia Amin was a model on the rise, walking catwalks and scoring magazine covers while the local press hounded her for what she would say next given her brutal honesty and fearless outspokenness. She courted controversy with her tattoos but remains unfazzled because she stood her ground.
Farzan's zero knowledge of how high her profile was refreshing to Alicia, his regular guy down-to-earthness balancing out the high octave publicity she's used to.
"Prior to Alicia, I was not really into the local scene," Farzan admits. "I didn't the know local artists, singers, actors, whatever. When I asked her what she did for a living, she was a bit apprehensive. She told me later that she's apprehensive because most people go out with her knowing who she is, and it's difficult for her to gauge someone's true intention. When she showed me what she did, I was impressed!"
Since then, things took a natural turn for them before it culminated in a surprise wedding on Valentine's Day 2021.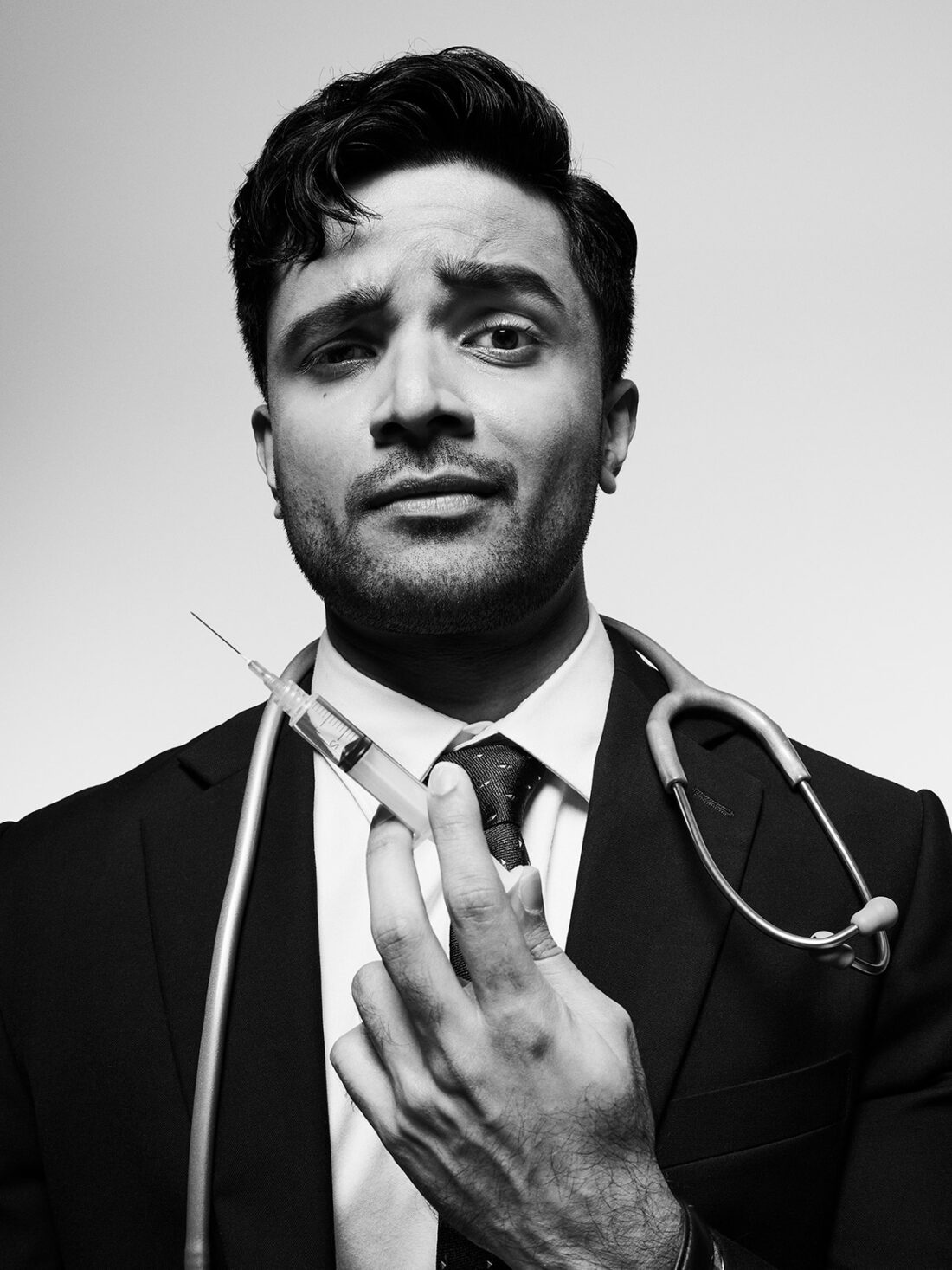 Marriage has been one of the Farzan's favourite things since, one of the most natural and most certainly one of the most fulfilling.
"Marriage has its own challenges but. Alicia, as a partner, makes things easy," he says earnestly. "Her dad is a doctor so she understands everything that the job entails, from the hours to the challenges. She doesn't give me shit for it when I come home late. Sometimes when I extend my hours, she brings me food. She really helps take my edge off at work so when I come home, things are so much easier."
For all she does for him, he tries to meet her halfway, and he does so by returning to balance. He is very conscientious about work-life balance and tries to separate the two whenever he can.
"I have this mantra. I don't bring my work home," he tells. "Sometimes when you hang out with colleagues, after hours all everyone talks about is work. I don't like to do that. I like to leave everything at work and when I come home, I can focus on everything else – home, friends, family."
"Following that mantra has helped me balance my life so much more. Being able to see everything outside of work makes a difference. I'm not going to lie: the long hours and the gruelling nature of the job, sometimes you bring it home, but you just have to be very aware. You have to make a conscious effort and identify what you're feeling. If I'm tired, angry or defeated, I have to not let that overtake things at home. I can't let that overtake my emotions and allow myself to project it."
Balancing masculinity
Beyond his career and marriage life, Farzan also sees the importance of balance on an intrinsic level to being a modern man. Being raised as a new generation who sees, acknowledges and values equality and equity among gender, he has found himself more empowered to live life the way he wants.
"Empowered women only empower men," he says. "Everyone is recognizing equality and the importance of women's contribution to society. That takes a bit of the edge off the classic way of thinking that men should be in charge of everything."
There's nothing wrong with a more traditional home setting of the wife choosing to take care of the household awhile the husband brings home the bacon, if that is something agreed upon by both. For him and Alicia, they are happier both pursuing their own wants and contributing equally to the table.
"It provides a more holistic home," he opines. "Both of us are contributing equally to our home, I like it that way. Some men need that responsibility of being the main provider to feel validated to empowered, but if your partner is an equal, it's a more steady foothold."
Removing the male ego to acknowledge that is the new form of masculinity, he thinks.
"Being a modern man in this current times is so much than just brawns, strength and ego. Men are vulnerable too and they should be able to embrace that," Farzan elaborates. "It's okay to be vulnerable and not be the strongest, loudest, funniest in the room. It's also okay to seek help, it doesn't make you weak or any less strong. In fact, recognising your weaknesses and seeking help is the greatest display of strength, that you are able to acknowledge your vulnerability."
In a nutshell, he reckons that's what the new definition of chivalry is in modern times. It's not so much about saving the damsel in distress, but saving oneself so you can help others save themselves.
"Modern masculinity – in my context – is confidence and chivalry, but not in the old school sense. Chivalry now extends to so much more," he says. "Chivalry is recognising women's roles. It's not just doing nice things for women, but also respecting them and being responsible and recognizing that women now are powerful. You also have to pave the way for them when you can especially if you have the authority and opportunity to do so."
Art direction: Anson Siau
Styling: Anson Siau
Photography: Tommy Ooi from Blink Studio
Grooming and hair: Jacquelyn Tan