Chef Masashi's kitchen curates a harmonious culinary journey that proves sustainable eating can be fun and delicious – but the appeal doesn't end there.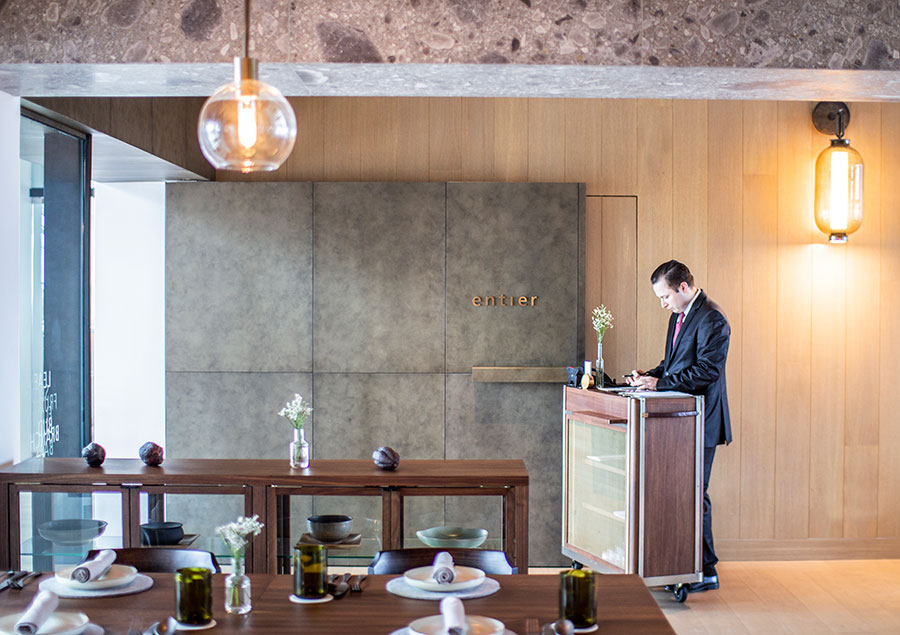 Entier's 41st-floor location complements contemporary-chic spaces with warm hues of sunlight. By night, a soft yellow glow sets the scene for intimate dates or a relaxed group dinner.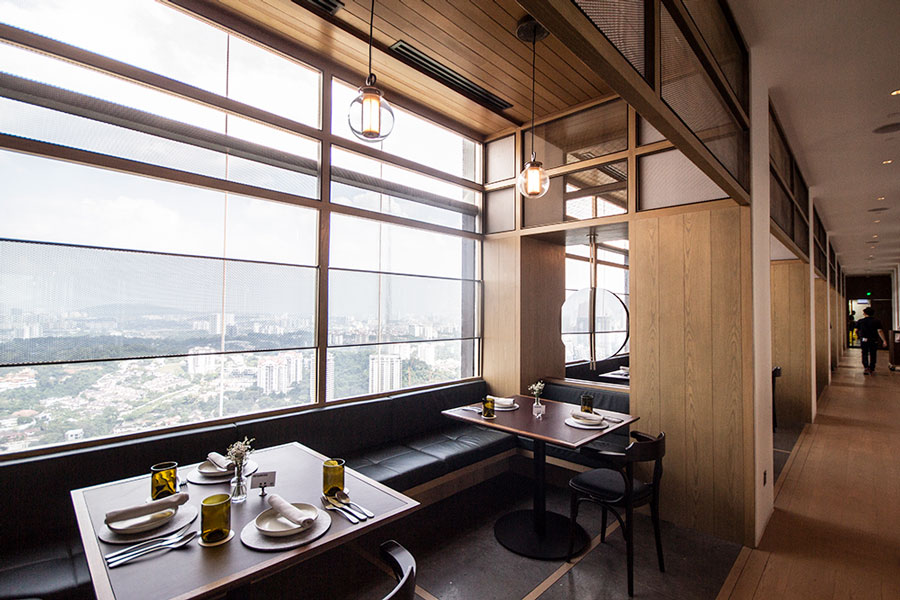 Design firm Neri & Hu interpreted the lofty, private space through earthy colours and wood, punctuated by accents of bronze and brass.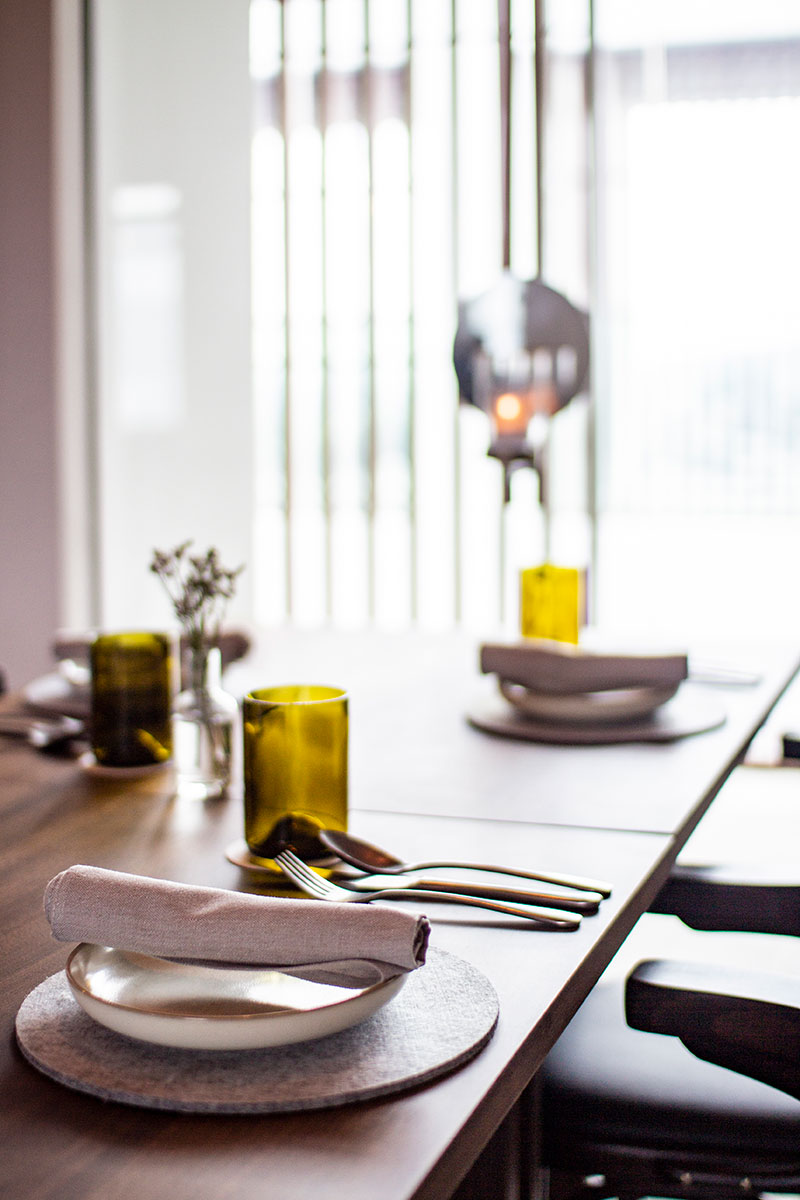 (swipe left for more)
To non-hotel guests, much of the buzz surrounding Alila Bangsar is centred on its dining and wining spots. Hot on our list is Entier French Dining, the nose-to-tail restaurant offering a unique experience of entirety.
Entier's simple, circular logo – representative of its identity – reappears throughout our visit: in the bulbous lights hanging from the ceiling, warm-toned plates on matching place-mats, round mirrors, and wine bottles repurposed into glasses.
Think of this as a visual prelude to your feast. In fact, the very first food served is warm sourdough bread, simply irresistible with kombu (kelp) truffle butter.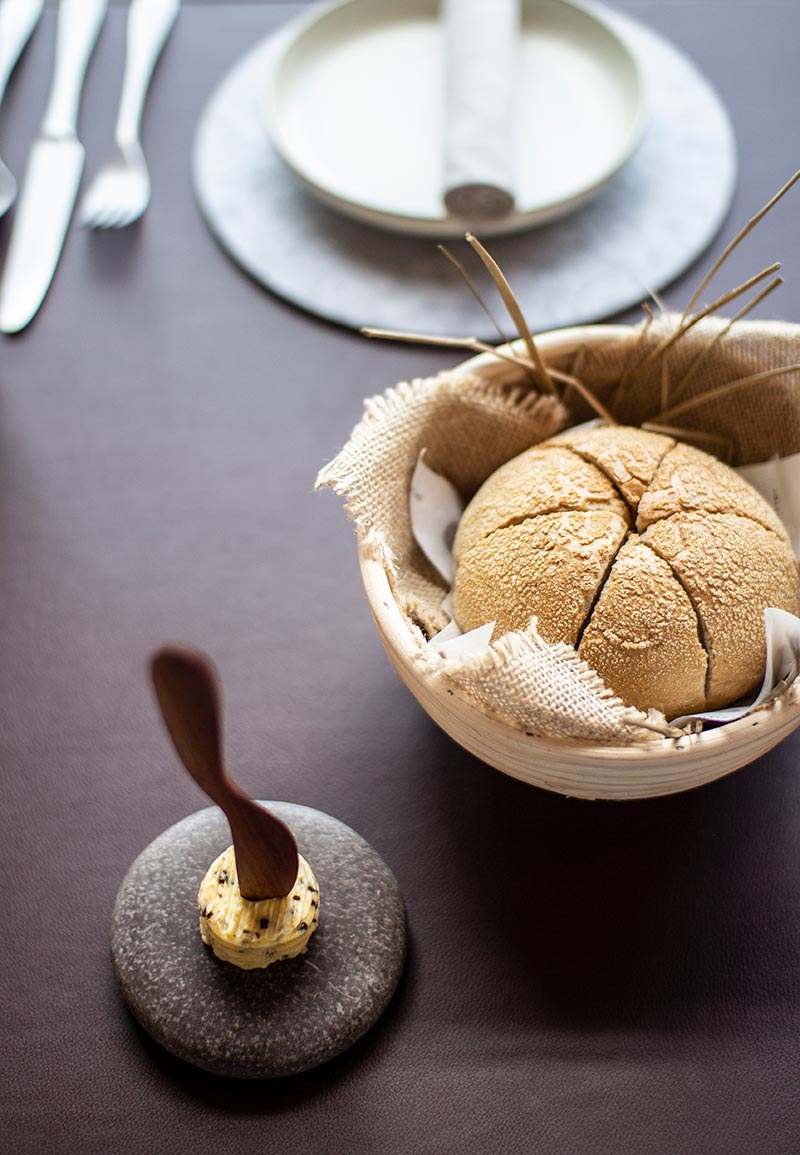 At the heart of this meticulous effort is Chef Masashi Horiuchi, who brings two decades of experience in European and British kitchens to the table. The former sous-chef at London's L'Atelier de Joël Robuchon is French in skill, but Japanese in precision.
Adapting these to a wholesome dining vision sees Chef Masashi maximising the use of fresh, seasonal produce in dishes that celebrate the richness of simplicity – from top to bottom. If you catch him peeking from the kitchen, it's only to see the expressions on your face.
Crispy & braised honeycomb tripe with cherry tomato, wild pepper leaf, and honeycomb tripe jus (RM 28)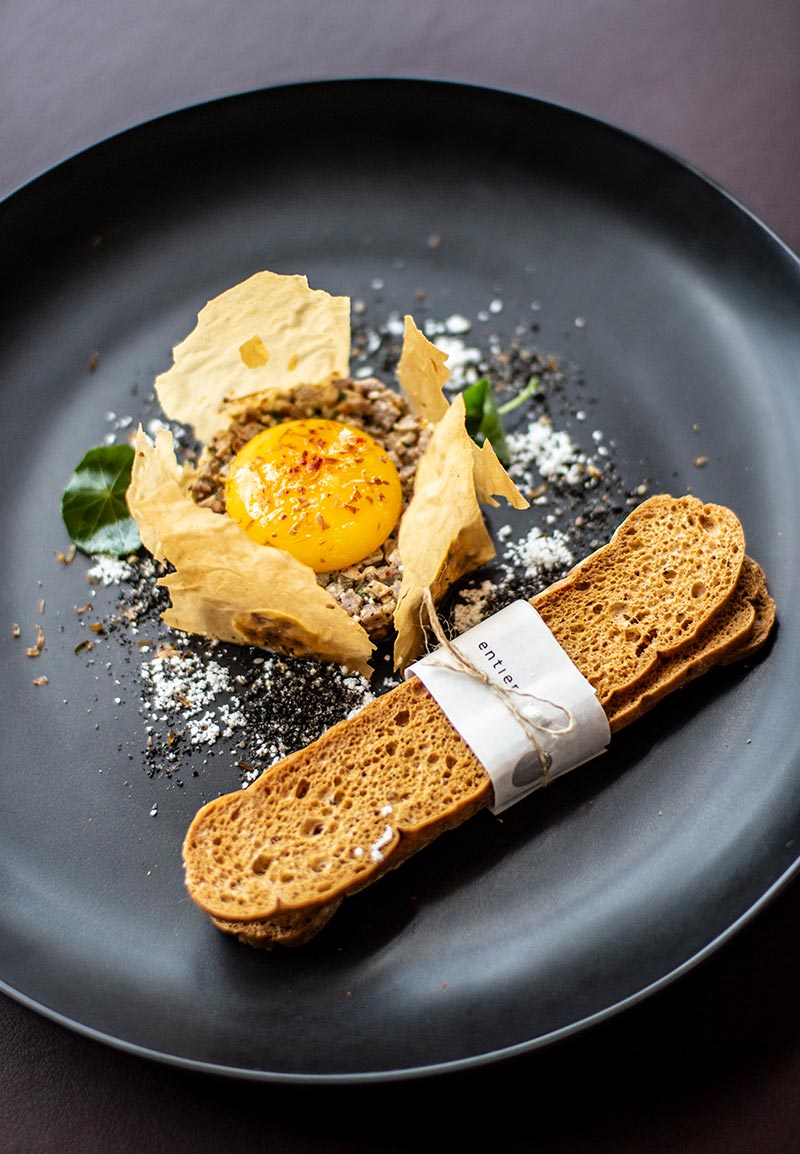 Ox tongue confit with coffee beans, egg mimosa, capers, gherkins, and calamansi vinaigrette (RM 31)
(swipe left)
Chef Masashi treats each part of animals and plants as a delicacy, which results in great intrigue. Even as a meat-lover averse to offal, any reservations this writer had about the nose-to-tail concept disappeared as the feast materialised. Small, medium, or large (entire) servings call for sharing, which casualises the experience and encourages the less-adventurous to step outside their comfort zones.
Consider, for example, how the ox tongue confit cleverly disguises punchy meat with bitter, salty, and sour notes from coffee beans, capers, gherkins, and an egg mimosa topping. Side-served biscotti further proved to be a suitable equaliser (and vehicle) of bold flavours.
Still, we'd say the two-way honeycomb tripe proves the best introduction to Entier's speciality. It's a chef and crowd favourite for the accessibility of its salty-crunchy fried tripe, as much as the layered tastes and textures of the braised counterpart it sits upon.
Before Entier, this muscular stomach lining was uncharted territory for most at the table. It's worth noting that by the end of the meal, six of us were sufficiently – and rather heartily – fed with all featured dishes, plus a salad.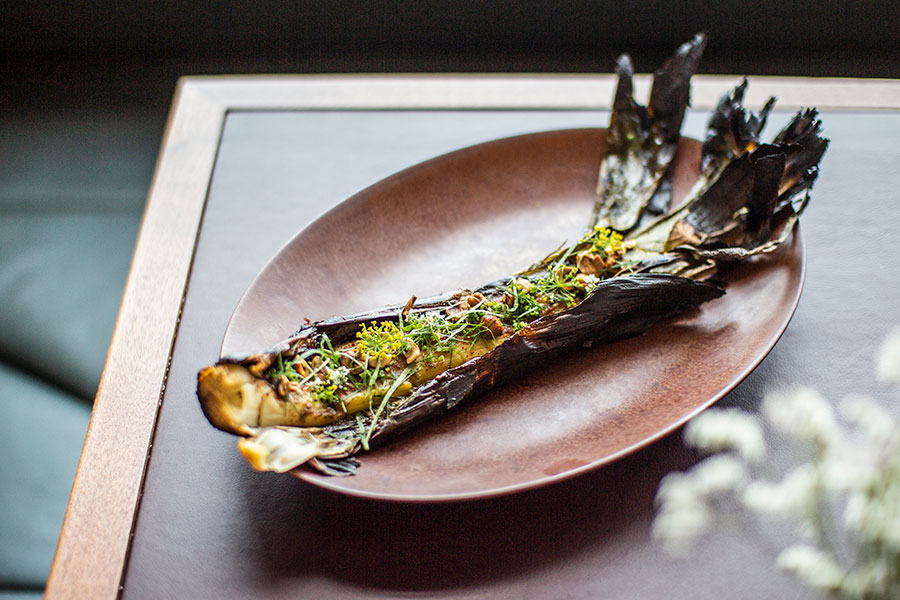 Vegetables are given an equally focused treatment. Time in the Spanish Josper (both grill and oven) reveals the sweetness of this leek while turning it equal parts soft and springy – generously dressed in butter and hazelnut, it makes for a friendly starter.
Here, you need not fear the char – it brings a certain rustic character to Entier's brand of harmony.
Entier French Dining comes full circle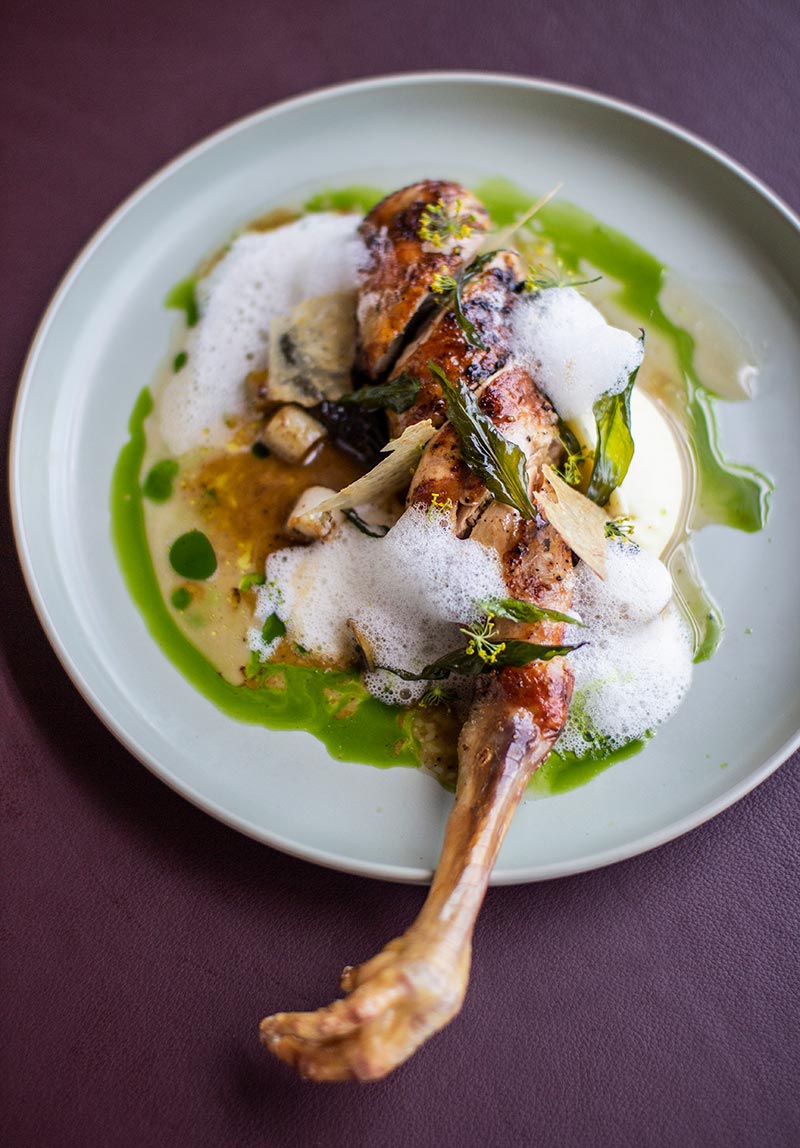 Oven-baked chicken leg with morel sauce, mashed potato, kesum leaf, and leek (RM 91)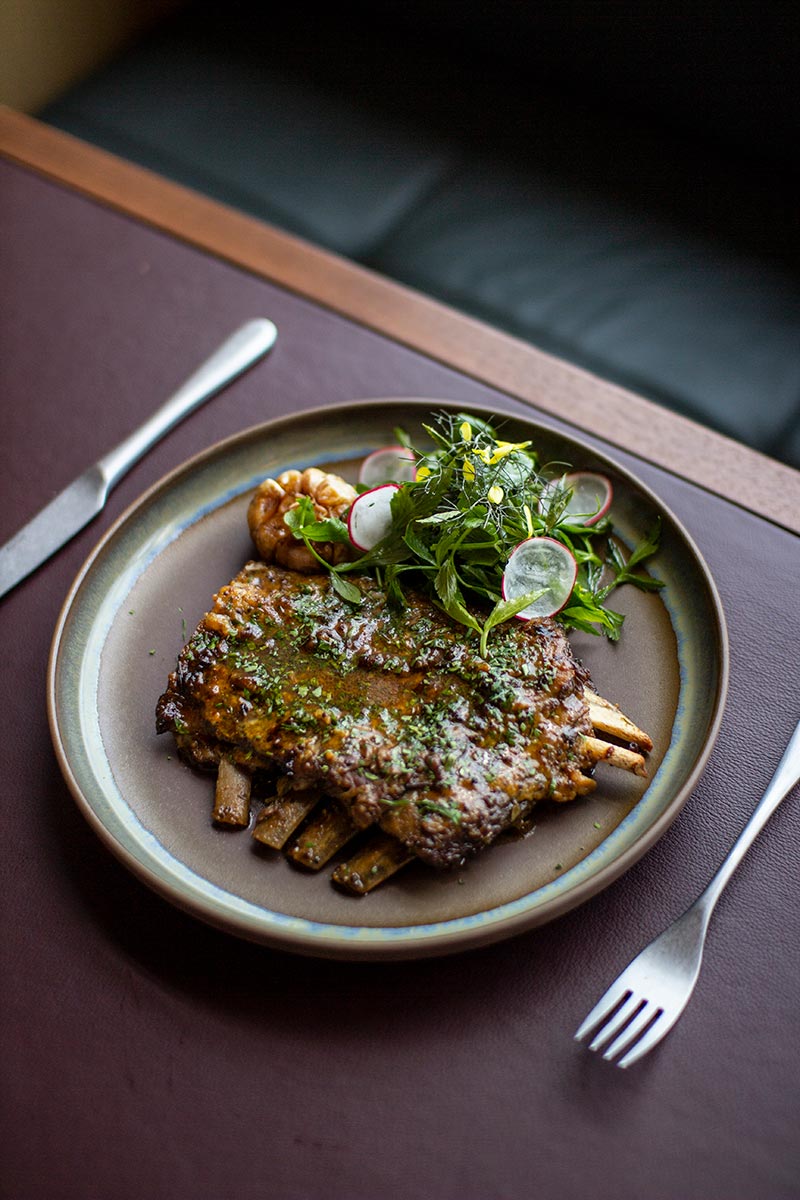 Australian lamb belly with miso
(swipe left)
A whole chicken leg (yes, foot included) draws us in with curiosity but closes the deal with finesse. Morel sauce complements the meat with a downplayed nuttiness, while kesum leaf, leek, and mashed potato play supporting roles to the succulent oven-baked chicken.
If it's lamb you prefer, take a chance on the belly – while it may be too fatty for many, miso dressing does turn this meat's intensity down on unfamiliar palates.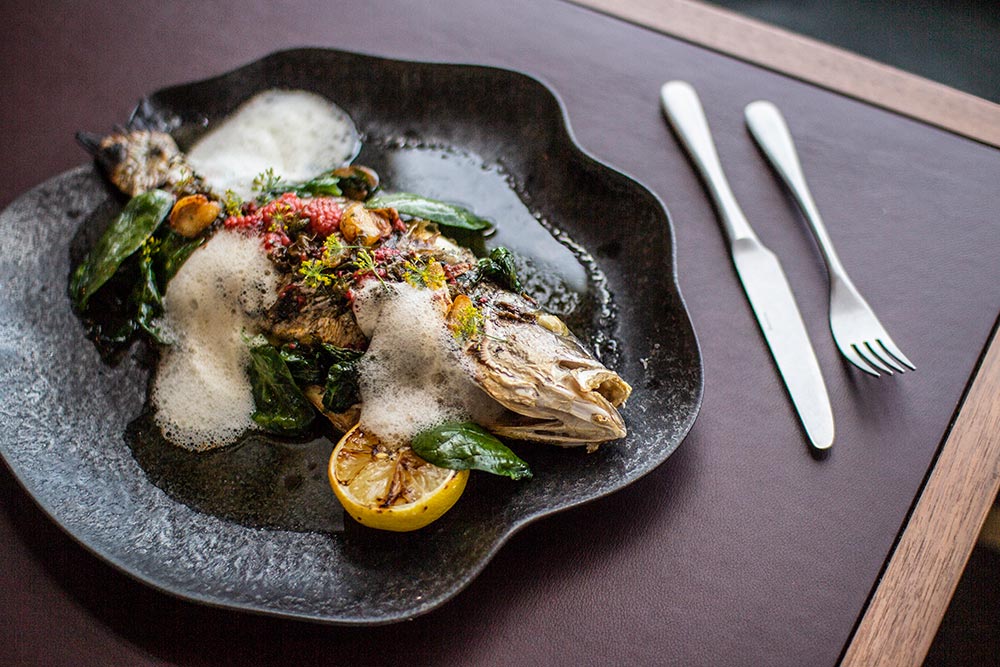 To complete the experience, order at least one item off the Entier menu. This is where you'll find chicken, duck, fish, or even cauliflower in their unabashed entirety (sans chicken or duck heads, for aesthetic purpose, of course).
We sampled the snapper, which saw our re-acquaintance with the Josper grill. Silky with just the right bit of flakiness, the fish's fresh flavour is hardly briny. Instead, raspberry herbed butter lends surprising a saccharine dimension. With a little help from lemon dashi and and spinach, this dish will win you over with its well-rounded simplicity.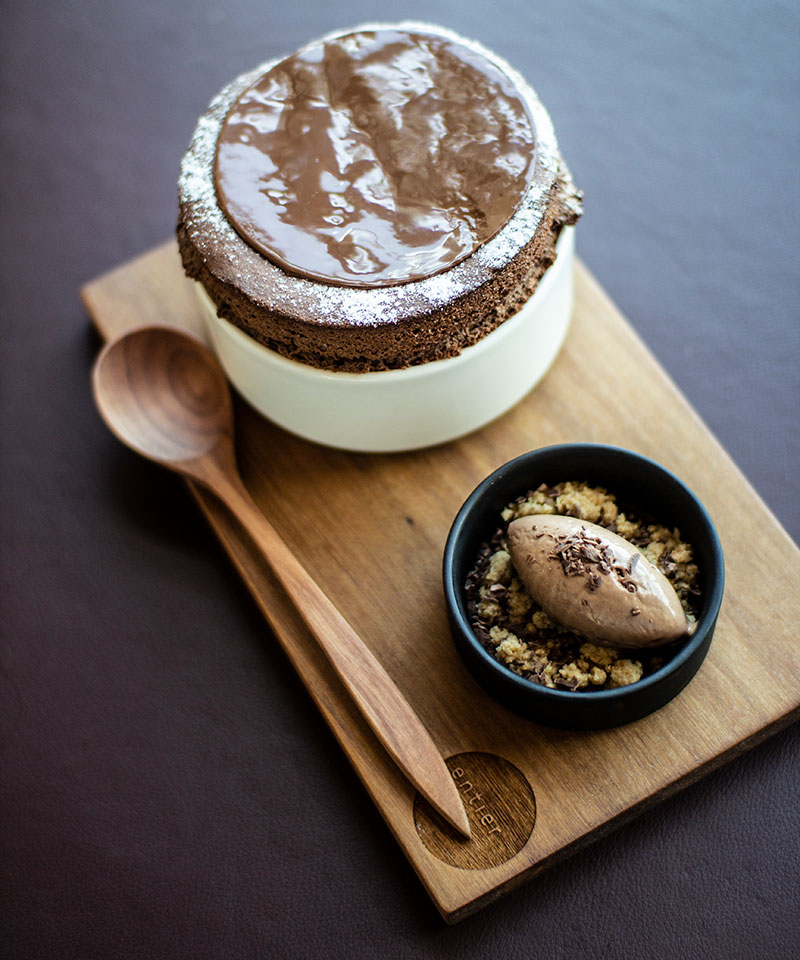 Dark chocolate soufflé with chocolate-cardamom ice-cream (RM 37)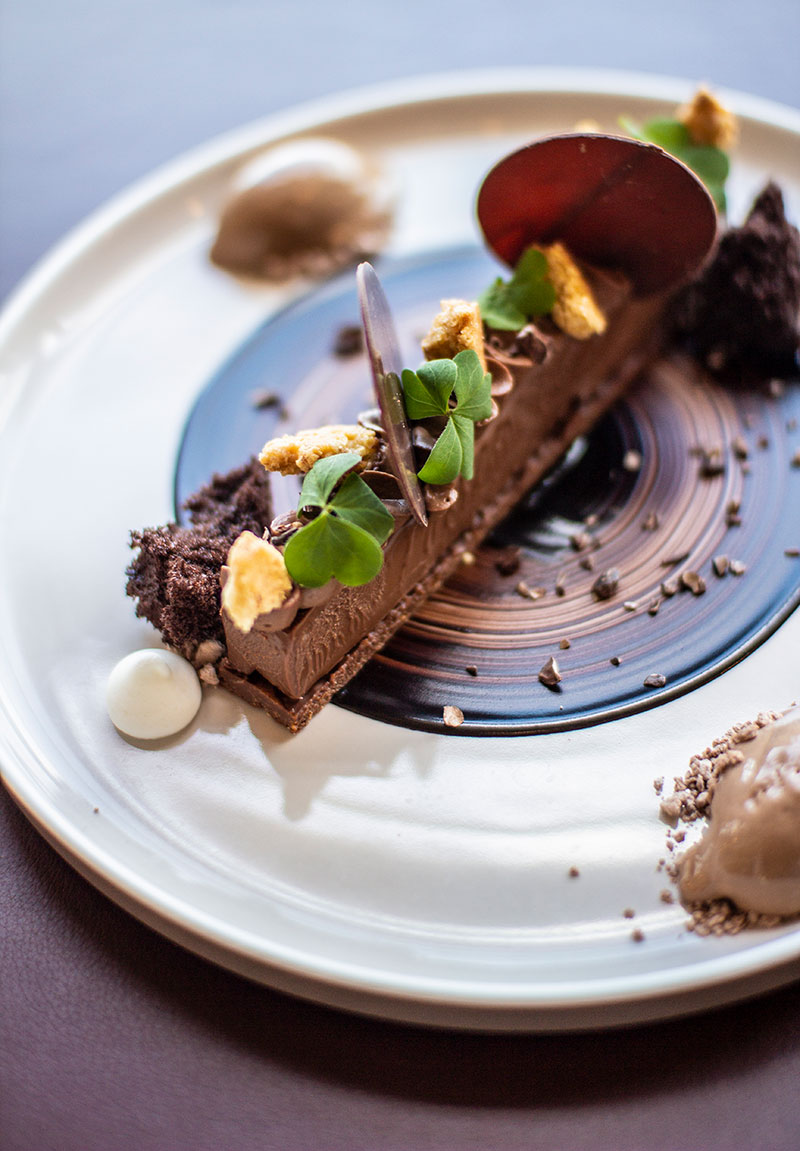 Chocolate ganache with chocolate-cardamom ice cream and hazelnut feuilletine (RM 38)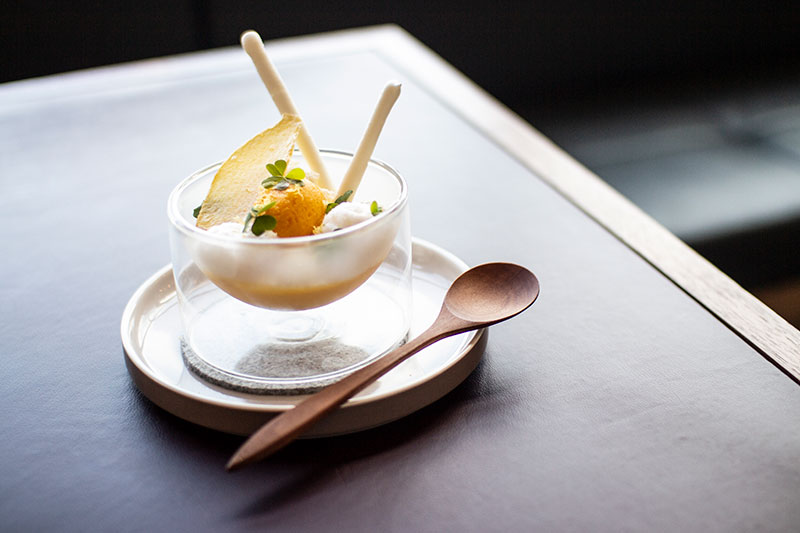 Mango pudding with sorbet, mochi, sago, and white sponge (RM 34)
(swipe left)
We were also pleasantly surprised to find Chocolate Concierge's 70% single-origin Pahang chocolate being put to brilliant use in two popular desserts – soufflé and ganache. While the soufflé delights in its airy decadence, the cardamom-tinged ganache offers a cold taste of spice that's proven to be a hit.
Each showcase just how well Chef Masashi's mastery of ingredients fares in the dessert space. If you can't pick between them, have both – you'll leave so full of good chocolate, that there'll be no space left for regret.
The good people at Platform Hospitality Group have successfully curated a testament to fun, sustainable dining, with attentive service and a cool yet cosy environment. Like its French name suggests, Entier offers a complete satisfaction you won't find in white-clothed, fine-dining establishments – and we mean that in the best possible way.
Call 03 22683819 for reservations or follow Entier French Dining on Facebook and Instagram for more.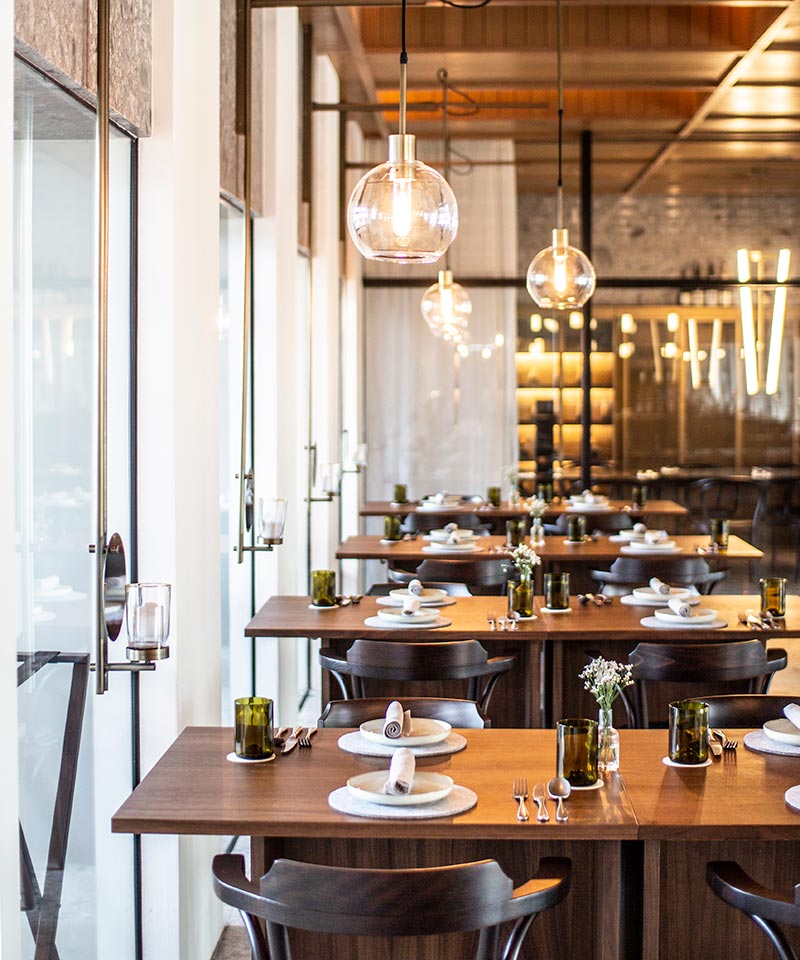 Address: Level 41 at Alila Bangsar, No 58 Jalan Ang Seng, Brickfields, Kuala Lumpur
Opening hours: 6.30-10.30 pm (Monday), 12-3 pm and 6-10.30 pm (Tuesday-Thursday), 12-4 pm and 6 pm-12 am (Friday & Saturday), 12-4 pm and 6 pm-10.30 pm (Sunday)
*This menu is only available for dinner.
Photography: Gan Yew Chin