Meet the chocolatier with a vision to elevate Malaysian cocoa to international standards – starting from farms run by indigenous communities.
For a nation that loves chocolate, Ong Ning Geng (Ning) of Chocolate Concierge found it odd that our best morsels of delight were imported. After all, Malaysia's location just south of the equator grants it the perfect climate and soil to plant cacao – the fruit processed into cocoa.
"It's all here, but we pay a round trip (both in terms of money and carbon footprint) to send cacao to Europe, then fly it back," he muses on our way to one of his cacao farms. It's a patient drive to the fringes of Selangor, where Chocolate Concierge owns and operates its own Orang Asli-run cacao farms.
While Vietnam is the region's top cacao producer, Malaysian indigenous farmers have been planting it for generations. In fact, we have our own Malaysian Cacao Board protecting best practices and genetics – but production of cacao has dropped severely since its 80s heyday.
That's how the idea for a 100% Malaysian chocolate fell into place for this intrepid scientist-at-heart. Packing up his life in the US, Ning returned to his homeland to become a professional chocolatier.
High returns for low-hanging fruit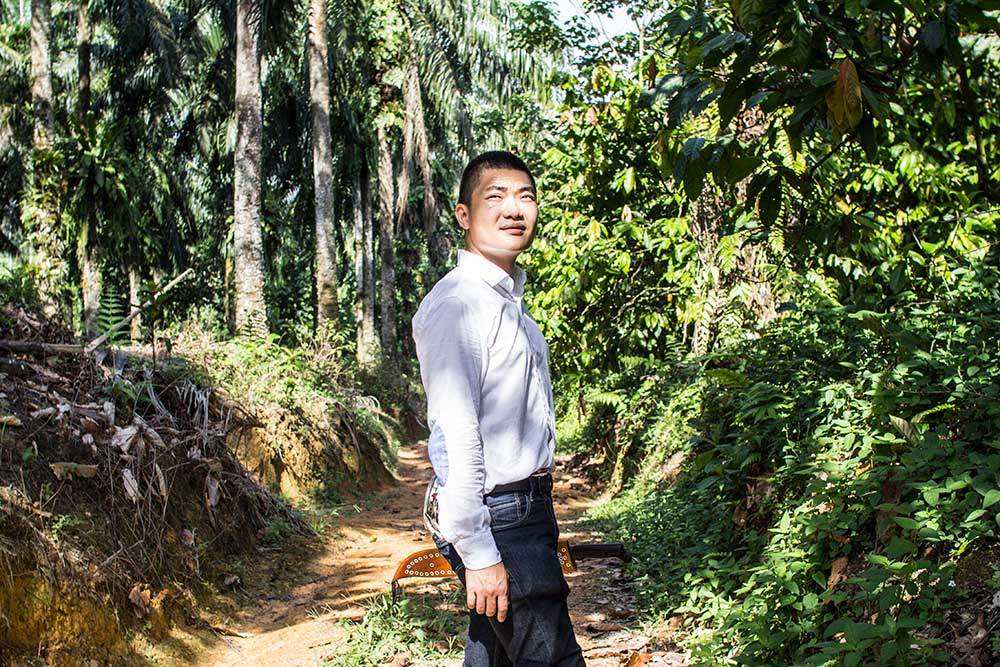 Ning dove into chocolate-making using purchased beans. Of course, things are never as easy as they seem.
"To make great chocolate that competes with European products, you need to start with good cacao. The fruits need to be harvested at the right time and fermented to the tone of your desired flavour profile," Ning explains. While chocolate-makers need the beans to be evenly fermented, farmers only leave it in a sack to dry. He had to convince them to ferment for six days – twice as long as the farmer's standard three days.
That's when Ning knew he had his work cut out for him. He actively researched, networked, and assimilated knowledge, while buying farms to gain operational control.
Today, Chocolate Concierge co-owns 16 farms tended by the Semai and Temuan communities. Ning personally collects fresh beans from farmers, then processes them back at his Kepong facility.
If we can't do better than imported crate chocolate, there's no reason to do it.
As Malaysia's true natives, Orang Asli tribes are at danger of cultural erasure. Ning is ever-mindful of the part he plays in preserving their identity, naming chocolate bars after the tribe that foraged their cacao. Each bar is a representation of the village's distinct terroir.
"We want to be a support platform – helping them increase plant quality, elevate pay-out, and set an example for the industry that quality chocolate must come from quality beans," he explains.
By cutting out the middle-men, Ning is able to pay the farmers three times more than they ordinarily earn from cacao beans. His interest is not only vested in their profit, but the well-being of their families and communities.
To call Ning a chocolate-maker would surely be an understatement. He has a broader vision – discovering the true potential of Malaysian cocoa – and is amassing the resources, practices, and sales to prove it.
"I'm convinced now more than ever that the best cocoa in Malaysia will rival the best cocoa in the world. The challenge now is to perform a proof of concept to the point that other markets search for our product."
From bark to bar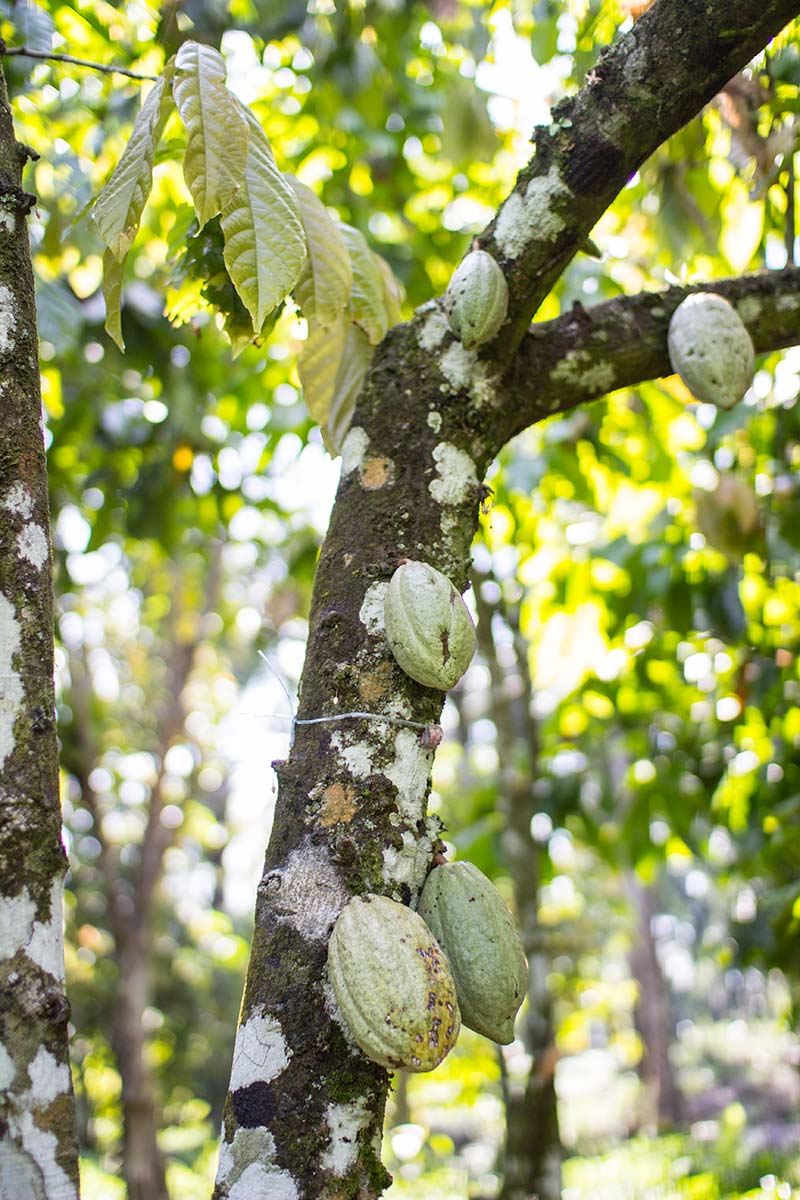 Bark beginnings
Bark beginnings
At the Batang Kali farm, cacao grows among 8,000 trees spanning 20 acres. It is common to find grafts like these sprouting new fruit at any point of the trunk. Cacao trees typically take 5 years from seed planting to harvest, but grafting shortens it to 3 years.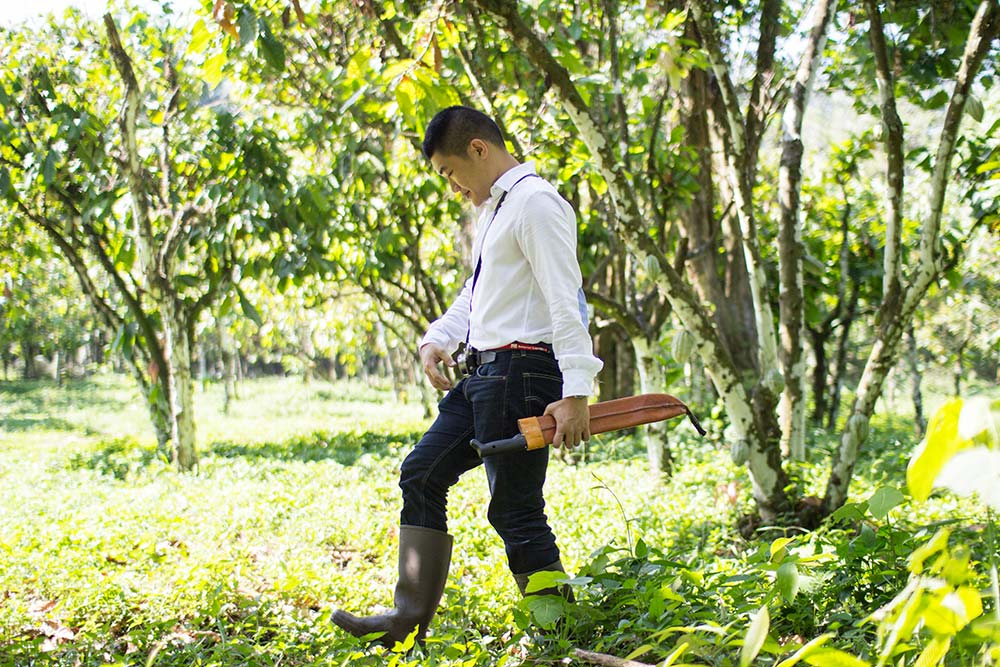 The chocolate expert
The chocolate expert
"Sometimes you look at a tree and go 'I can work with it', but it's all quite experimental," Ning comments. This intense scientific appetite proves beneficial on the farm. Ning monitors the growth and quality of the fruits, their cross-breeding, and even pest control (which he believes should remain non-chemical).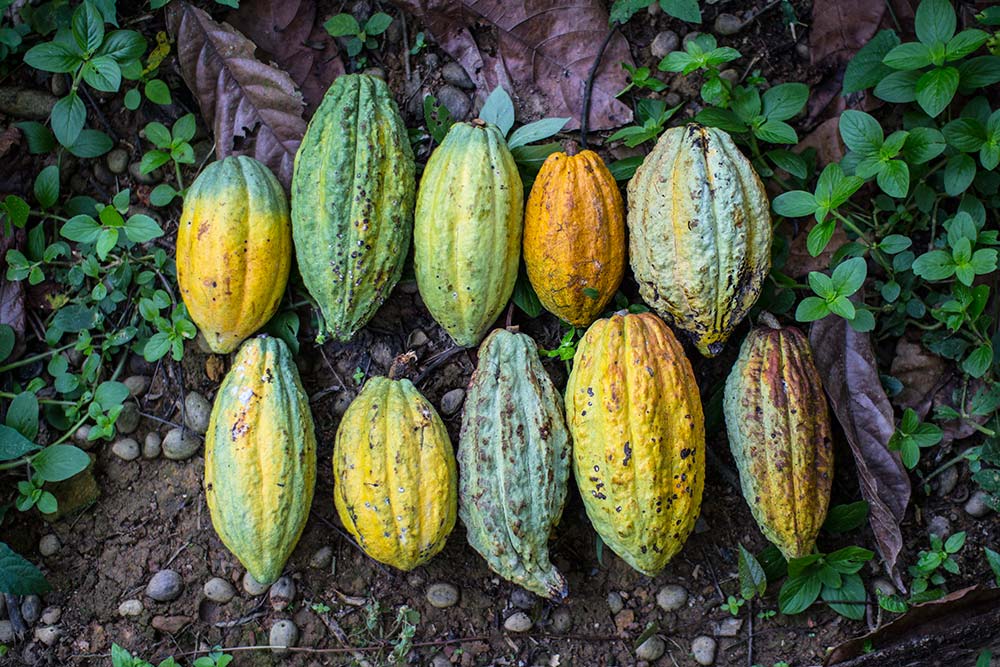 Harvesting
Harvesting
Across his 16 farms, cacao grows in various sizes and colours that indicate minor flavour differences.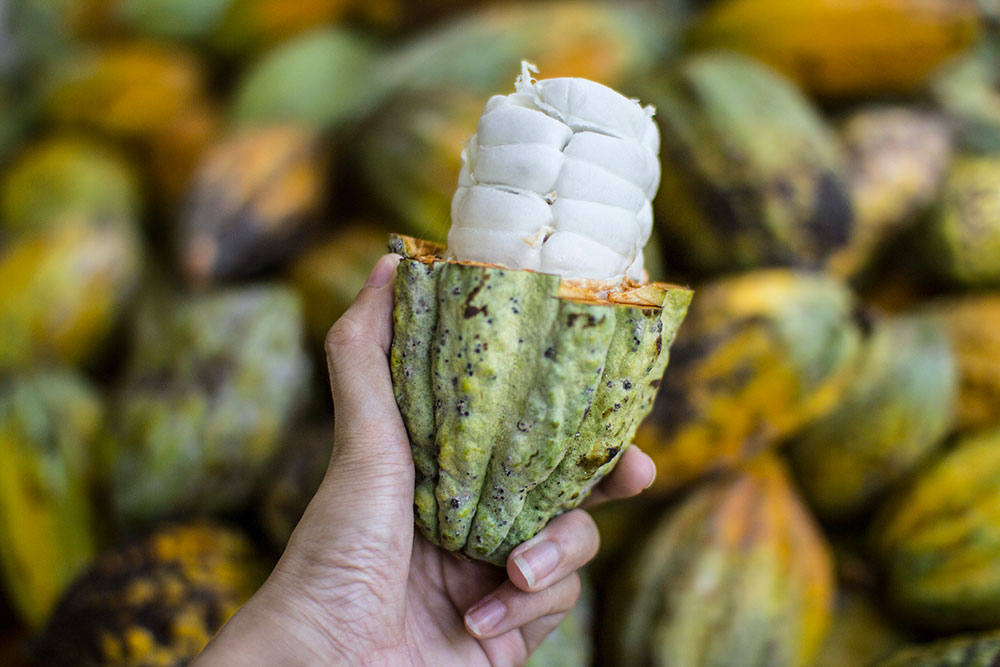 Cracking pods
Cracking pods
Once collected, pods are cracked open to reveal fleshy, white fruits with large seeds. This is the cacao seed that will be processed into cocoa.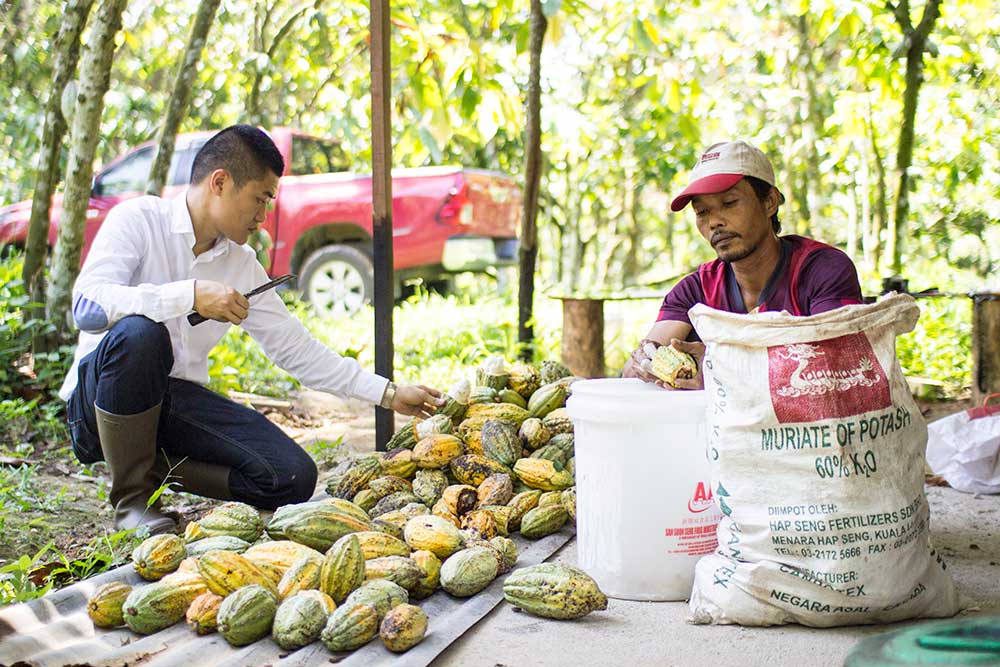 Collecting beans
Collecting beans
Ning helps the Orang Asli farmhands collect these white fruits in buckets, to take back to the factory. Having established a channel to turn this cacao into chocolate, he is able to work closely with farmhands and absorb any beans they produce.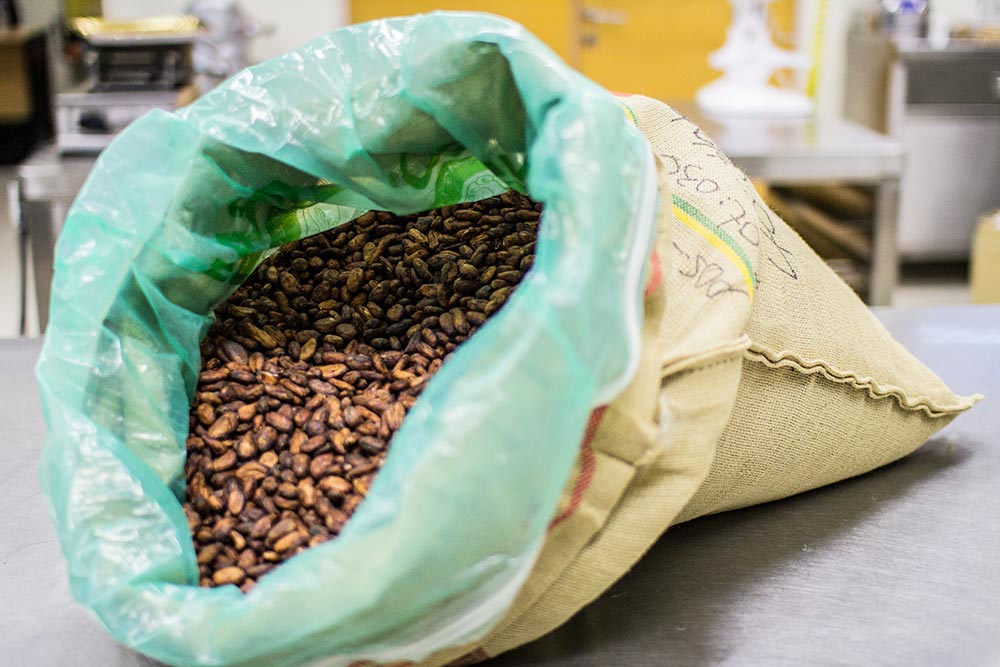 At the factory
At the factory
That's why you'll find 3 tonnes of cacao beans at his Kepong factory. Fresh beans are fermented (which dries them out), then roasted and cracked (a process called winnowing that separates husks from nibs).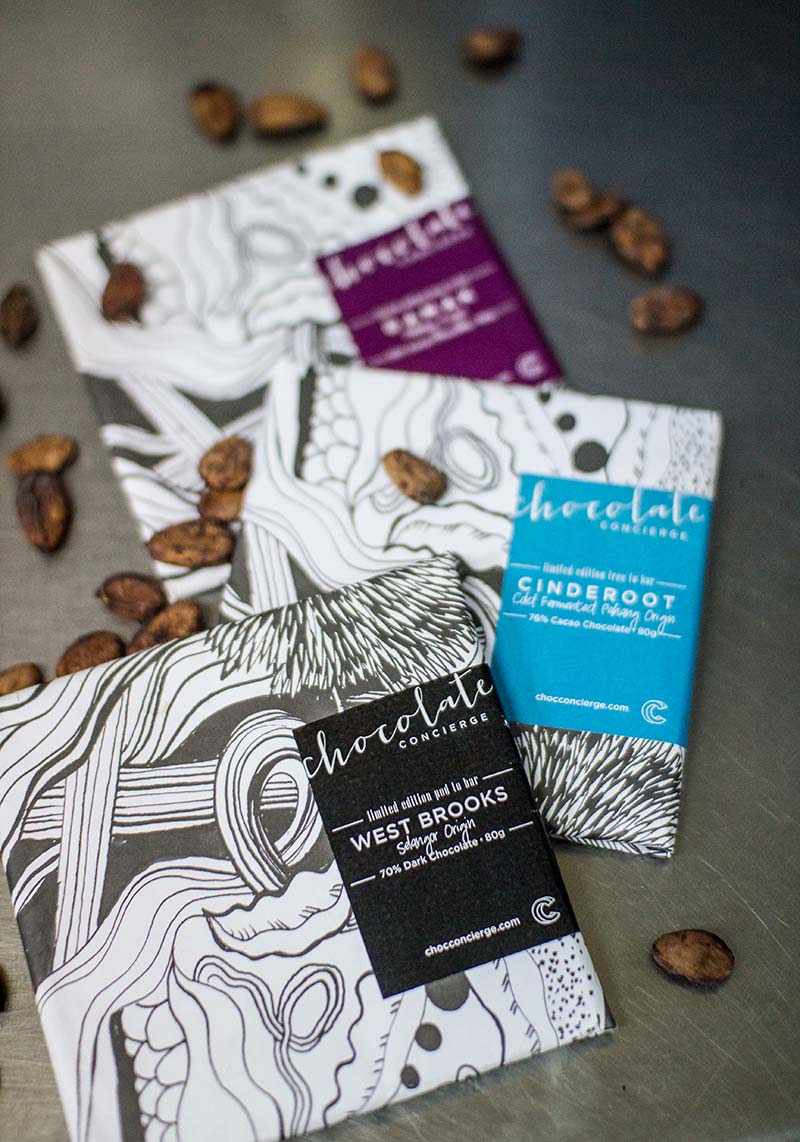 100% homegrown product
100% homegrown product
Roasted beans are then milled and tempered to produce silky chocolate. The Chocolate Concierge team moulds it into these 18g bars, among other delectable products. "Our chocolate shouldn't just be taken on merit that it's local. but that it has better flavours and quality," Ning asserts.
(swipe left for more)
If every step runs seamlessly, it takes 23 days for chocolate to be produced from cacao.
As a result, Chocolate Concierge has a respectable library of beans of various origins to choose from. These are made into bonbons, truffles, bars, brittles and barks for every occasion and purpose. Ning has developed more than 100 recipes with over 50 flavours to date.
It's not just about this lifetime anymore, but wanting to leave a better situation for the next generation.
While Malaysians can't resist chocolate, we're only beginning to show interest in its origin – much like we did in coffee or whisky. Ning points out many Malaysians claim to prefer dark chocolate, but sales data proves milk, white, and caramel chocolate to be crowd favourites. Regardless, single-origin chocolate is gaining the recognition it deserves locally.
You can find this chocolate in established restaurants like Dewakan, which shares Chocolate Concierge's fiercely-home-grown identity.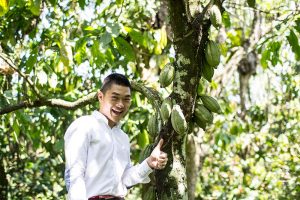 "From the very beginning, we operated with this mind-set: If we can't do better than imported crate chocolate, there's no reason to do it," Ning says simply.
Besides scouting for a new retail outlet, Ning is also focusing on building a more comprehensive online shopping presence. The company is in its maiden years of full operation, so there's a long way to go before Chocolate Concierge is recognised a widely as imported brands.
"I've always wanted to do right by the community I operate in," says the father-of-two. "Becoming a parent changes one's perspective about the world. It's not just about this lifetime anymore, but wanting to leave a better situation for the next generation."
Visit the retail outlet at Jason's Food Hall, Bangsar Shopping Centre, or head on over to the official Chocolate Concierge website to order your own.
Photography & videography: Gan Yew Chin