Dato' Nik Ezar and Nik Michael Imran's story is one of a father who gave up everything for his son, and a boy, who learnt everything from his old man.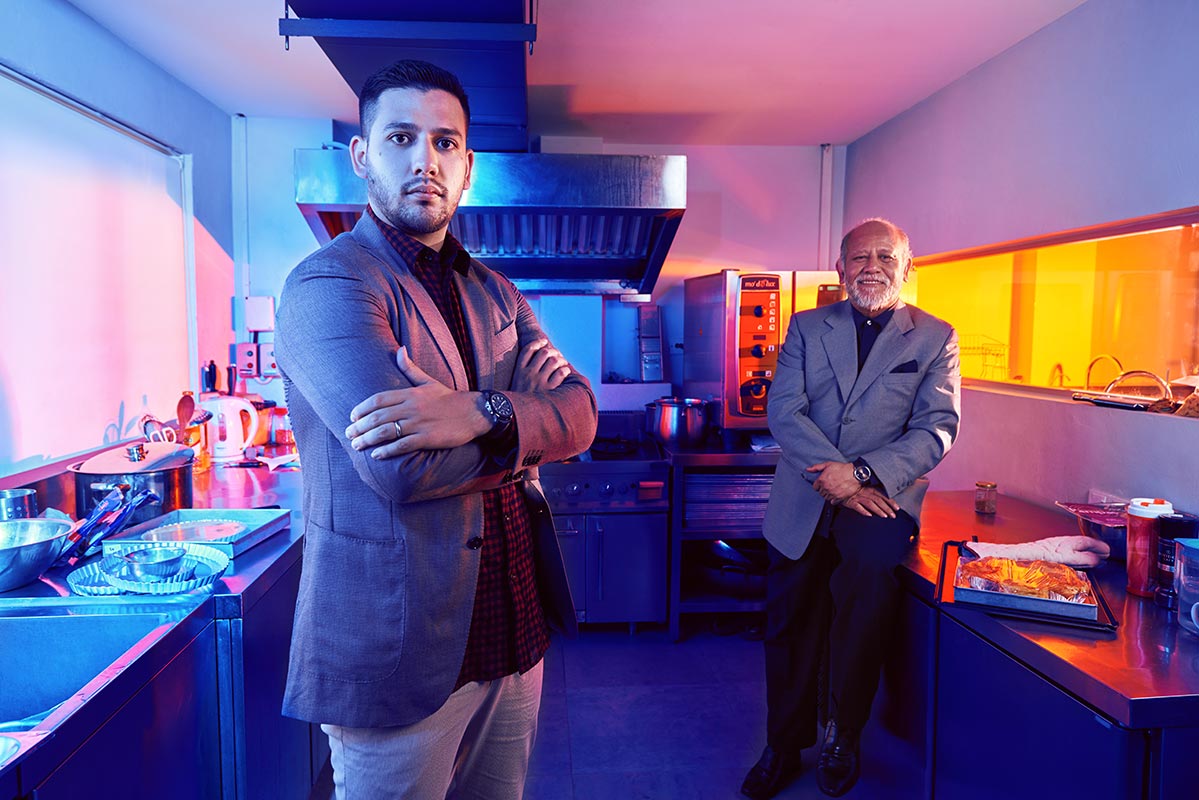 Like father, like son, so the saying goes and there lies not a truer personification than in celebrity chef Nik Michael Imran and dad Dato' Nik Ezar Nik Bolia.
Their startling similarities in mannerism, style of speaking and sense of humour don't even begin to scratch the surface.
"We're almost carbon copies – the way we laugh, the way we talk, the way we think," tells Dato' Ezar, the easy-to-smile and even readier-to-laugh former CEO of RHB Group's Unit Trust Management. He says this with his signature playful chuckle, that youthful mischief overshadowed only by the glint of pride in his eyes as he looks over at his son.
"I think that's a question for my wife," Nik Michael interjects. "I don't think I'm anything like him!"
Quick-witted, well-built and topped off with that famed good looks that made him a fast favourite on television, we can see more than a few resemblances.
The physical attributes aside, there's no missing that the two are father and son if only for the culinary flair they both share.
Behind the high-ranking and well-respected banking job of Dato' Ezar, before the dizzying MasterChef Asia days and frequent television appearances of Nik Michael, lies the heartfelt story of a father who gave up everything for his first-born, and a boy, who in return, learnt everything he has today from his old man.
Giving up everything for his son
Fearless and ambitious, Dato' Nik Ezar left his sleepy hometown of Ipoh, his parents and 15 siblings for Australia for his tertiary studies in the 80s. In between his double degree in commerce and economics, he also picked up a part-time job as a dishwasher in a local restaurant to earn extra pocket money.
"Cooking was accidental," he recalls fondly. "I apprenticed on the weekend at the restaurant, starting off as a dishwasher, before becoming a larder chef and then a chef."
"The money was good," he adds. "What I made in one weekend was more than what most scholarship students were getting."
He returned to Malaysia upon completing his studies, where he found a job at Deloitte Kasim Chan & Co as an accountant but Australia beckoned again when he needed to complete his Honours thesis. His second visit would see him fall in love with Nik Michael's mother, marry her and start a family. But that particular chapter in the fairytale didn't come with a happy ending.
"What you save will save you."
"When the marriage broke down with Michael being only a year and a half old, I returned to Malaysia with only AUS$1,000 in my pocket. That's how I restarted my life in 1991," he shares. "In Australia, if you're divorced, your wife automatically gets the kid and you will have to pay the monthly alimony. It will be very hard for me to restart my life. I chose to leave my two cars, my house, everything, behind, so I can have him with me."
Looking back, there isn't a single thing he regrets of his decision because it meant he got to be with Nik Michael.
"What you save will save you," he says. " I saved him and he saved me. I was so distraught when the marriage failed – I cried all the way home. I didn't see it coming; it shook my world and I was lost. The only link to my ex-wife is my son. It helped that she wrote me a letter later, explaining how she thinks I would make a better father than she would, a mother, to him. With that, it finalised the decision to bring him home. I was ready to start a new life with him, so long as I had him with me."
Daddy's boy
Being almost single-handedly raised by his "Daddy" is something Nik Michael is very proud of. Their time together, to this day, is largely spent in the kitchen, thanks to the importance of the role of food in the family. Food is the family's glue, the cement in the father and son's relationship and the very substance that feeds their love and respect for each other.
Dato' Ezar also loved having people over for dinner and Nik Michael was his unwitting helper.
"He was the CEO who cooked," tells Nik Michael. "I was the little helper who showed them around the house in my tuxedo. I will take them for a rehearsed tour around the house and I remember always needing to show them the grand piano – Daddy's very proud of his piano."
"After a while, he wanted to be the one entertaining at the dining table so I took over in the kitchen," he adds.
"I can't say I missed out on mum's cooking because I have dad's cooking."
The kitchen wasn't the only place they spent time together: "I used to go into his office a lot, to this day people know me around the RHB office," Nik Michael shares. "The CEO's son is here, he has a free pass to walk around the office. Everyone tries to get on my good side."
So strong is their bond and so close their relationship that Nik Michael has never once felt he's missing a mother's touch. In fact, in place of a mother, he has a more than capable father and 8 aunts who took turns mothering him.
"I have 8 aunties – if one was fed up of me, I always had another," he jokes. "We have so many names for mum – we have ummi, mummy, ibu, bonda, all of them are taken."
Not even on the food front is he lacking. "I can't say I missed out on mum's cooking because I have dad's cooking," he tells with the same glint in his eyes so similar to that of his father's.
"That's not bad for someone who doesn't have a mum."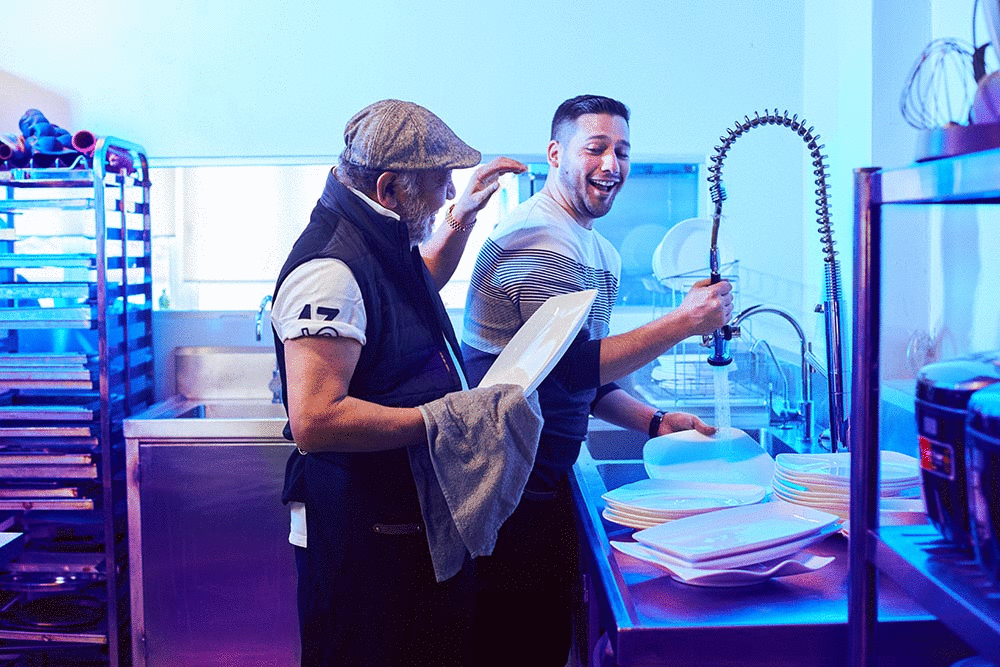 MasterChef and beyond
Food would play an even bigger role in both men's lives. Being an avid fan of the reality cooking show MasterChef, something compelled Nik Michael to join when they brought the franchise to Malaysia.
"My friend told me that I should join but I didn't think my dad would agree," Nik Michael admits.
"I laughed," Dato' Ezar quips. "I asked, what do you know about cooking? But I told him to go for it!"
An intensive father-son cooking lesson ensued for the next two months in preparation for the show where Dato' Ezar covered all bases from soup to sauces.
"I guess I had the advantage of my dad being classically trained," Nik Michael reflects. "I had a life long head chef-apprentice relationship with him, and he's very strict."
"I'm very proud that at the end of the series, he's the only MasterChef contestant who has become a celebrity."
Many a heart was crushed when Nik Michael was kicked off the show for mistaking duku for langsat but bigger things were in store. Astro called him up soon after for a cooking show they had planned called 'Hello, Bro, Tolong Masak'. Thirty episodes of that was filmed over 2 short weeks and Nik Michael was promised a second season if they could hit 150,000 viewers. He managed 450,000.
"Everything catapulted from there," Nik Michael says. "The first time I was called a celebrity chef was on the Bella Show on NTV7 in 2012. That was to me the moment that I realised, wow this is serious now. It wasn't something I was pushing for. It just happened."
Dato' Ezar echoes his sentiments, "I'm very proud that at the end of the series, he's the only MasterChef contestant who has become a celebrity."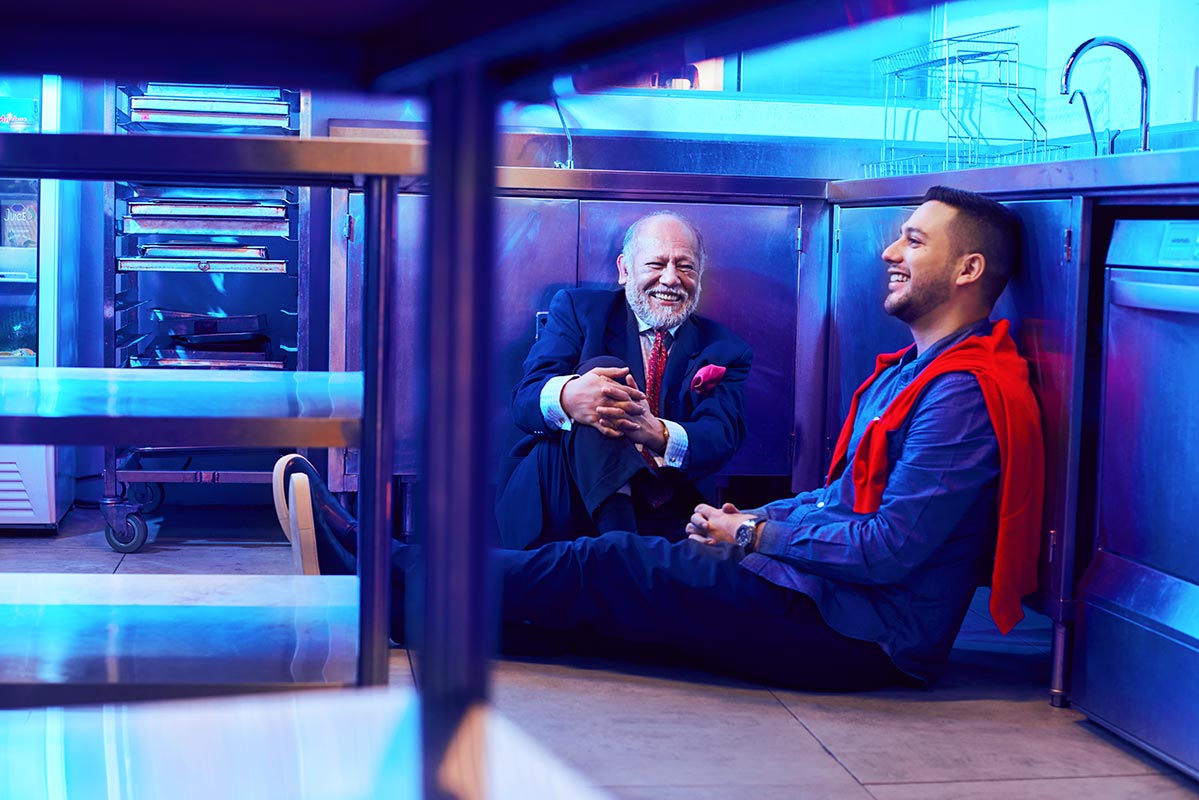 "My life is worth living because we restarted our life together"
Following the show, father and son started up PickNik, a catering service that continues to let them do what they enjoy most – cooking – and more importantly, cooking together.
In recent months, that has taken a backseat however, due to Nik Michael's latest project, ButterKicap.
"ButterKicap is an initiative I started with a few mutual friends, spurred by my dream to make a definitive guide to Malaysian food. I want to take out the 'agak-agak' from our food," tells Nik Michael. "We strive for standardised Malaysian food so we can share it with the world."
He isn't afraid to aim high because it's what his dad has always taught him to do.
"I raised him – I am the father and I am the mother."
"My dad has taught me to be extremely resilient and independent," Nik Michael shares. "Without sounding like I'm showing off, if you throw me anywhere, I will be able to survive. I find solutions, I don't talk about problems. I don't depend on anyone, I do it myself."
Dato' Ezar agrees. "If you want to be good, you work hard and go after what you want. You don't rubbish other people and try and pull those around you down."
It's easy to see why Nik Michael takes so much after his father.
"I raised him – I am the father and I am the mother," Dato' Ezar tells. "I remember when he was a baby, I had to wake up every night to prepare his milk. I changed his nappies, I was his mum for a year."
Five more half siblings make their family but Nik Michael has remained the closest to his dad.
"I'm the only child who lived with him throughout my life," he reasons. "The rest had some time with their mums."
"He's my first born," Dato' Ezar adds. "He saved me – my life is worth living because we restarted our life together."
Photography: Ian Wong of The Home Studio
Art direction and styling: Yew Chin Gan
Video: Zac Lam
Grooming: Gavin Soh
Shot on location at The Cooking House, Bangsar
In the Featured Image: Nik Michael wears shirt and coat by Burberry and a Jaeger-LeCoultre White Gold Master Ultra Thin Moon watch; Dato' Nik Ezar wears coat by Gucci and a Jaeger-LeCoultre Stainless Steel Master Ultra Thin Small Second watch.