As a region, we can't get enough of spices. As a nation, we definitely can't live without our chilli.
If you're looking for something bougier than good ol' Tabasco to bring on the heat, look no further than Chilli No.5, the gourmet hot sauce that seeks to be as iconic in cooking just as another No.5 has made its mark as one of the most iconic in perfumery.
A brainchild of superyacht chef Colin Ross and entrepreneur Rumble Romagnoli, Chilli No.5 came about when they found themselves craving some quality spice during lockdown in the face of Covid-19.
"I founded Chilli No. 5 because it was impossible to find high-quality, healthy hot sauces at the supermarket or even at restaurants," tells Chef Ross. "During the lockdown, people were cooking more at home and were discovering the challenge of recreating their favorite bold flavours. We created our sauces to elevate your plate.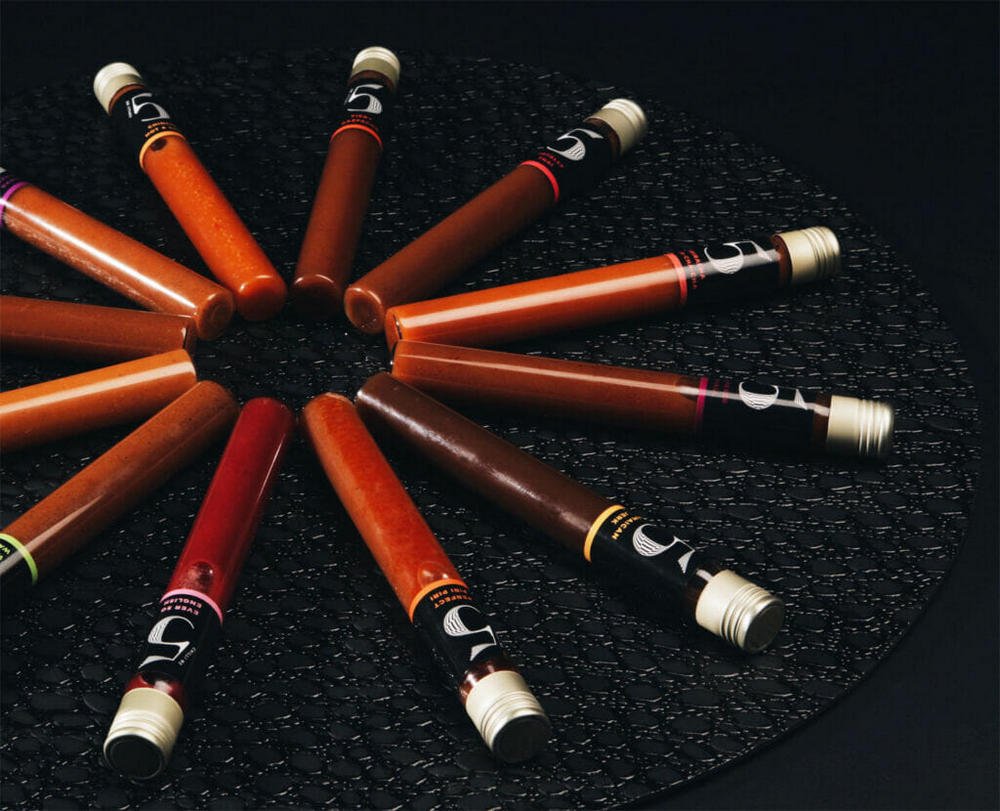 It's not just your run-of-the-mill hot sauce, being priced at  £20 (approx. MYR115) for a pack of five tubes. They are made with the healthiest, most natural ingredients, packed with superfoods, antioxidants and supplements so it's as good for the body as it is for the palate. This includes blueberries, raspberries, ginger, basil, mint, turmeric, and apple cider, as well as Chill No. 5's exclusive five chili blend.
They come in varying degrees of spice, in measurements of one chilli in the case of the Chilli Oil to three chillis for the Sriracha and Mexican. In between, there is the Harissa, Chinese, BBQ and Piri Piri.
The bougiest of all is one concoction it is calling Champagne Gold, a hot sauce infused with champagne and 24-karat gold that it is aptly touting as the world's most luxurious hot sauce.

Delicious and sustainable
On its website, it claims to have sustainability at its core. Its chilli comes in glass vials in cardboard boxes that are all recyclable. Consumers may also buy in volume in glass bottles that are refillable from a pouch.
To encourage reuse of its vials, the company also offers money-back on new orders when consumers send the packaging back to the HQ in Monaco. Additionally, it offers a subscription model that enables gourmet fans to get regular deliveries on their hot sauces, discover new flavours, be more sustainable and save money.
Learn more at the official Chilli No.5 website here.