The celebrity chef shares what went into curating a four-season canapés menu that highlights distinct flavours of Martell cognac and Chivas whisky.
Curiosity always played a part in Chef Sherson Lian's culinary journey. Starting out in his mother's restaurant, this celebrity chef learnt early on to rely on his intuition when it came to Asian cooking.
"I didn't go to culinary school till my 30s, so a lot of it was self-taught," Chef Sherson reveals. "What they teach you in culinary school is very western-based, but what you learn from heritage cuisine breaks all those laws." This no-rules, Asian-inclined style has opened several atypical avenues for the head chef of Makhan by Kitchen Mafia at Gasket Alley.
Chef Sherson's claim to fame came through eight years on network cooking shows, leading to a spot on Great Dinners of the World in 2011. Now, he's back in collaboration with Pernod Ricard Malaysia for the sophomore installation of Reward the Curious Dinner Series. Chef Sherson highlights Asian ingredients and techniques through eight unique canapés, in a liquour pairing experience that traverses four seasons.
What does it take to Reward the Curious?

The Reward the Curious Dinner Series is presented by House of Martell and Chivas Regal. All year long, restaurants nationwide will curate immersive epicurean experiences inspired by the changing of the seasons. Think warm Gold Coast summers, sakura blooms in Tokyo spring, wintry vistas in Beijing and crisp neon autumn in Hong Kong – each sensorially recreated to pair with Martell cognac and Chivas whisky.
While Malaysians may have warmed up to wine pairings, cognac and whisky provide relatively unique playgrounds for chefs and diners alike. Chef Sherson shares that matching canapes to 85 whisky flavour notes was a feat that called for experimentation – recalling his adventure on Great Dinners of the World.
"When I was filming in Scotland, I had to develop a menu to pair with Chivas Regal. I did an almost-all-Asian menu because that's my strength – I even brought belacan over! The guests were pleasantly surprised, and that's when I knew that European liquor like Martell and Chivas could be paired with Asian food."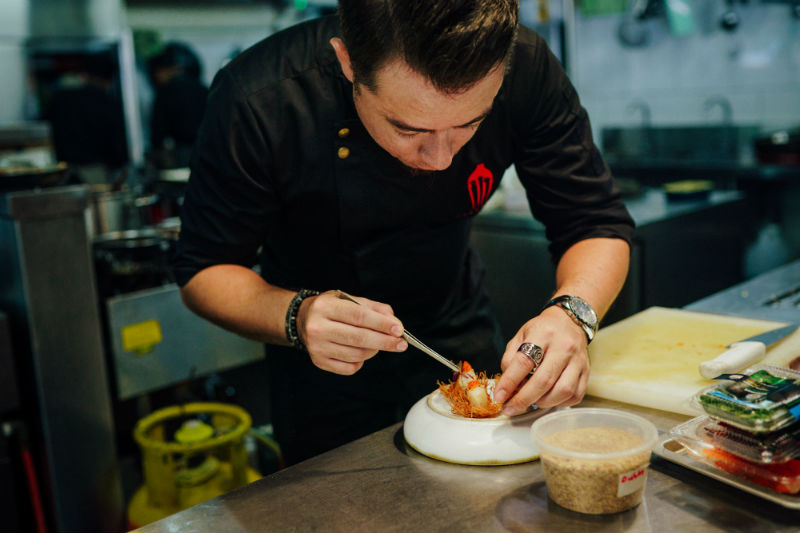 One dish that's particularly close to his heart is the Oriental spicy soup that emerges for winter. He reminisces on another shooting experience in Paris, where a group of Asians were yearning for a warm reminder of home during winter.
"We found a Chinese restaurant in Paris and that soup was the first thing we saw on the menu. We ordered it, of course, and it made us feel all warm and fuzzy inside," he laughs. "In my recreation, I've added a splash of Martell VSOP Red Barrels – it would pair interestingly with the Martell Cordon Bleu," Chef Sherson says, reminding us that the latter is made for seafood.
Related: What's so extra about Martell Cordon Bleu Extra?
Diners can also expect rare offerings like keluak rice alongside smoked duck and bonito, representing an earthy, savoury autumn: "The duck and bonito are both savoury but have a umami sweetness, and a certain smokiness that allows the VSOP to be taken together with keluak rice," Chef Sherson explains.
For the chef, this return to home turf with old friend Martell reignites the same curiosity that compelled him to first pair belacan with whisky in Scotland. "The ideas is to dare to put stuff together, and whatever flavour emerges will teach you what works and what doesn't.  It all starts from curiosity."
---
Reward the Curious Dinner Series will be accompanied by the Seasonal Rewards contest, where top spenders will stand a chance to go on all-expense paid trips to destinations featured in the themes. For more information on the "Reward the Curious" dinner packages and Seasonal Rewards contest, reach out to +6-010-226-3227 or laurent@sumoeleven.com.
Keep up to date with Martell on Facebook.
Images: Pernod Ricard Malaysia