Its reputation is enough to warrant many a visit; but for the hesitant, here are three reasons to plan your next hangout at this new spot in town.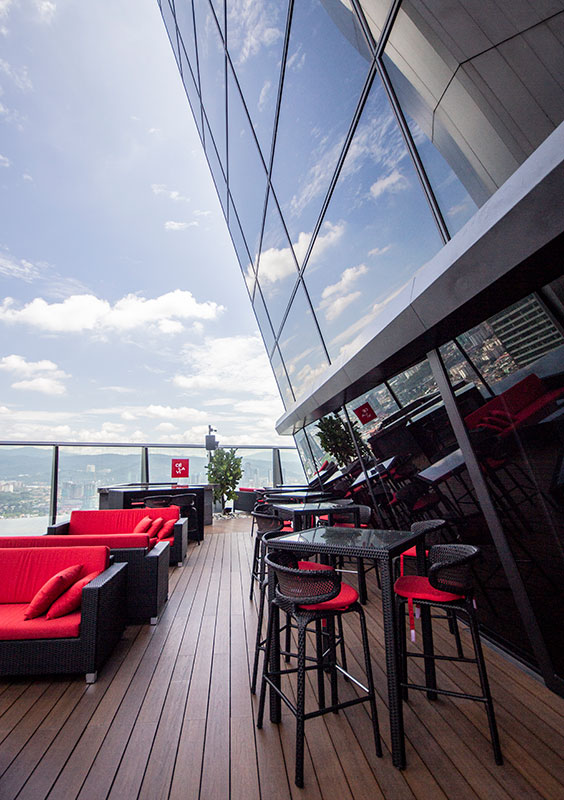 In a year whereby new hotels and skyscrapers are adding to KL's cityscape, it's no surprise that the number of rooftop bars and restaurants in the area is rising too. Internationally renowned CÉ LA VI recently joined the list, offering guests a taste of its Singapore, Hong Kong and Colombo fame.
Inspired by the French phrase 'C'est la vie' which means 'such is life' – usually used to express resignation in an unpleasant situation – the name is deliberately respelled to give it a more positive implication: This is the life. In other words, this is where to get your dose of good food, entertainment and social fun.
Like its global counterparts, CÉ LA VI KL carries the brand's signature threefold concept of a restaurant, bar/lounge and club in one. It is owned by The Marinis Group, which also operates Marini's on 57, Marble 8 and M Marini Grand Caffe.
Its reputation is enough to warrant many a visit; but for the hesitant, here are three reasons to plan your next hangout this new spot in town.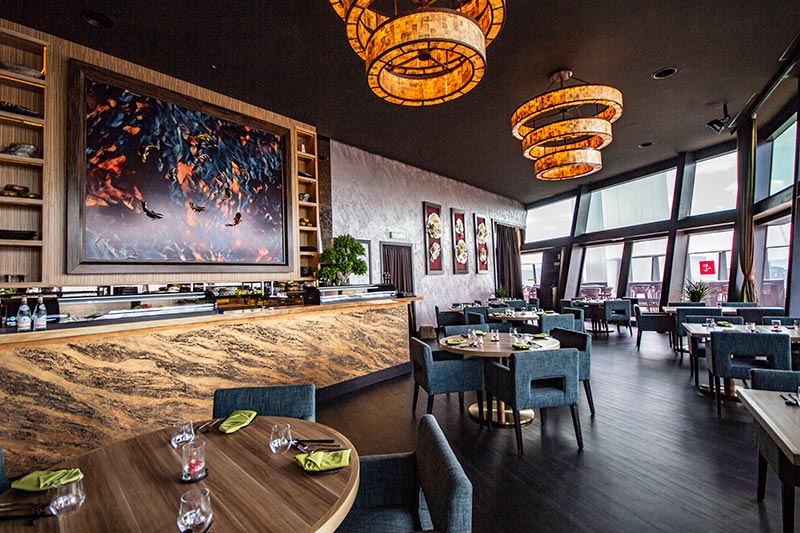 360-degree surroundings
Located on the 37th floor of the Ilham Tower along Jalan Binjai, CÉ LA VI KL proudly offers stunning vistas of the city skyline. Not just the usual perspective of the Petronas Twin Towers (though only one tower is visible from here), but a 360-degree panorama of the bustling metropolitan.
The interiors are largely reflective of the brand's colour scheme – red and black – with gold accents and emerald green furniture sprucing up the space. Further highlighting the Asian element are portraits of tattooed geishas and oriental frameworks decorating the walls and doors.
Both the lounge and restaurant sections have their own indoor and outdoor seating areas. This allows guests to enjoy their meal and drinks at the comfort of an air-conditioned space before adjourning outdoors for a serving of uninterrupted views. Might we add how Instagram-able the al fresco setting is with the flamboyant red sofas and water feature mirroring the clouds in the sky?
Comprehensive modern Asian menu
Besides pleasing the eyes, the sense of taste is not overlooked either. Fans of modern Asian cuisine will find all-time favourite Japanese (including sushi and sashimi), Thai, Balinese and Malaysian dishes on the menu, each with a special CÉ LA VI twist.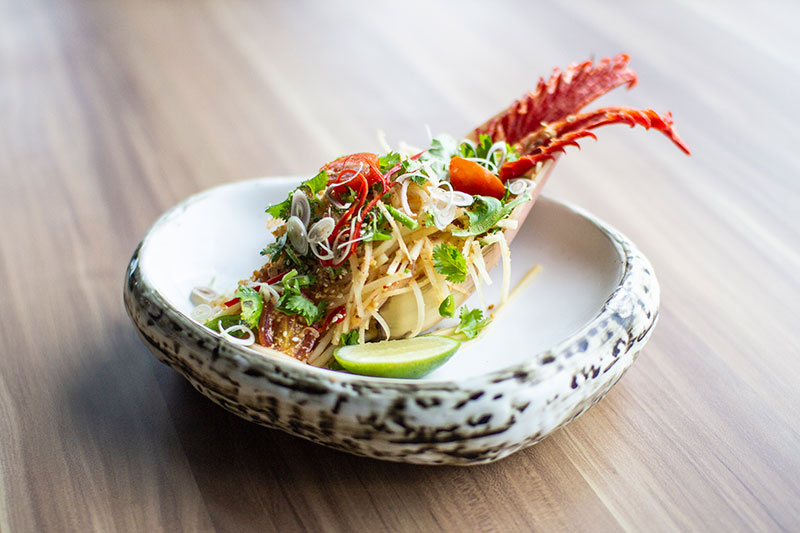 Papaya Som Tam Salad
Papaya Som Tam Salad
Our Thai-based starter does not disappoint with a refreshing burst of tanginess from the papaya and lime, a light crunch from the nuts and just the right hint of spice.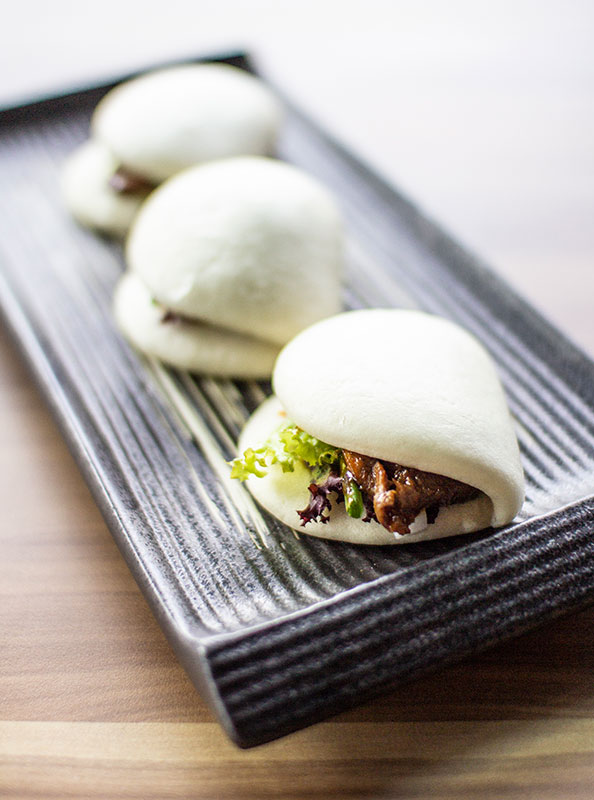 Koah Pau
Koah Pau
We try their reinterpretation of the classic Beijing-style duck next. Instead of a thin wrap, it is served a la Taiwanese burger-style (hence the name), providing a soft, fluffy base with which to enjoy the crisp roast duck. Points for the play on textures.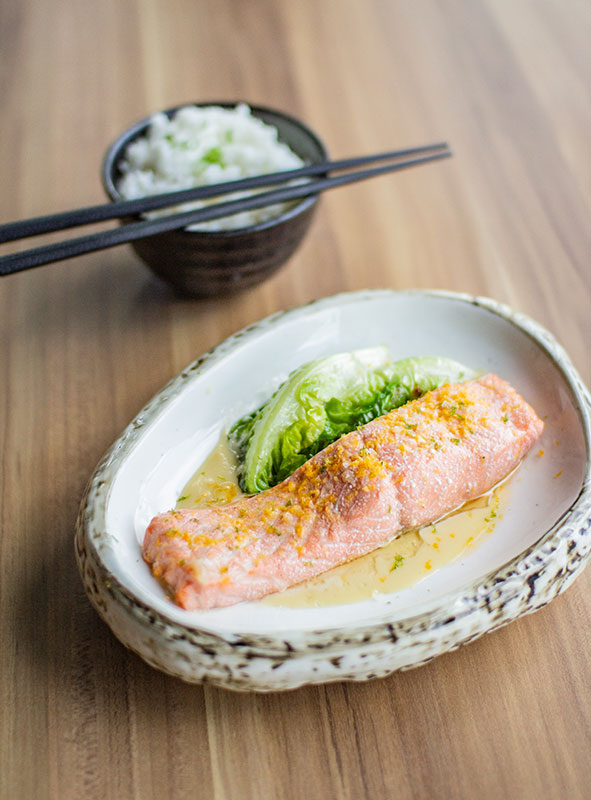 Slow Cooked Salmon
Slow Cooked Salmon
The melange of Asian references is clearly highlighted in the following seafood dish. Its salted egg and coconut cream sauce suggests Chinese and Southeast Asian influences, and everyone knows a bowl of rice is our staple diet. The result is a dish tinged with familiarity and novelty, though we find the coconut cream to be slightly overpowering the salted egg flavours.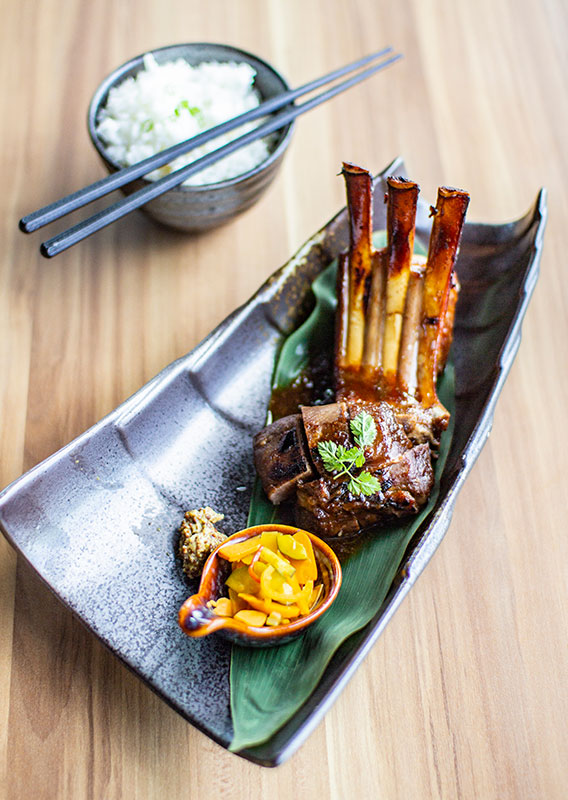 Slow Roasted Lamb Rack
Slow Roasted Lamb Rack
This is the most intriguing of all the dishes we try, given the unusual combination of lamb with shogayaki sauce, achar and whole grain mustard. The achar falls a little short, but we thoroughly enjoy the tender lamb with a dollop of the mustard.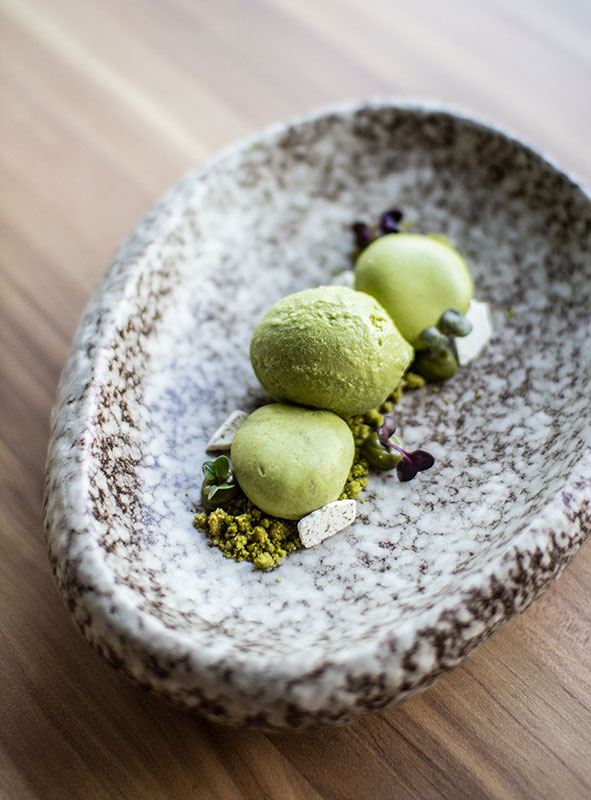 Trio of Matcha
Trio of Matcha
For dessert, we are served with matcha in three different forms: ice cream, mousse and sauce. As someone who's not the biggest fan of matcha, we're pleasantly surprised that it leans on the milder and less astringent side, which is our preference. The nuts forming its bed also add a nice crunch to balance the lighter textures.
(swipe left to read our food review)
Originally crafted cocktails
Come for the food, stay for the drinks, they say, and CÉ LA VI has plenty to offer for the latter too. Whether you're a wine, whisky, vodka or gin drinker, you're spoilt for choice at the beverage menu. One category you shouldn't miss out on, in particular, is cocktails. With an array of reimagined classics and original concoctions curated by the in-house mixologists, you're sure to find a pretty poison to go with those views.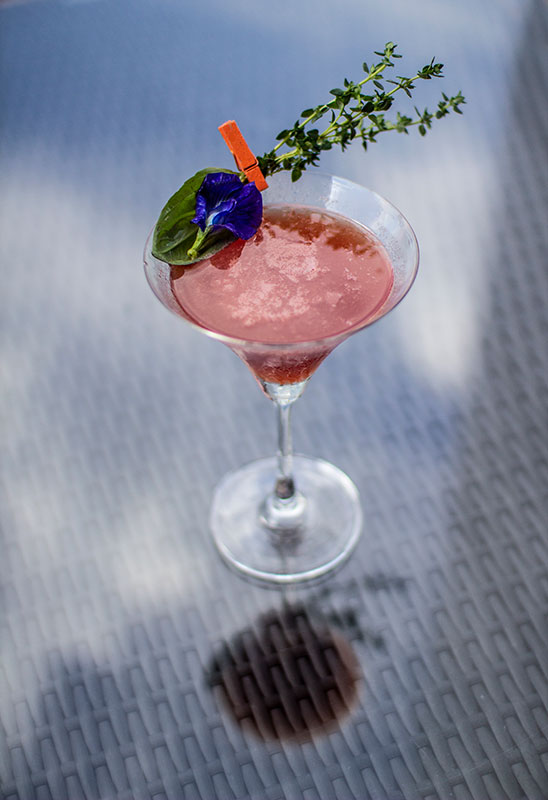 The Passionista
The Passionista
One of the signatures to try is The Passionista – a blend of tequila, passionfruit and strawberry juice, basil and watermelon. It's a sweet and sour pick that packs a punch, just enough to perk you up on a dull day.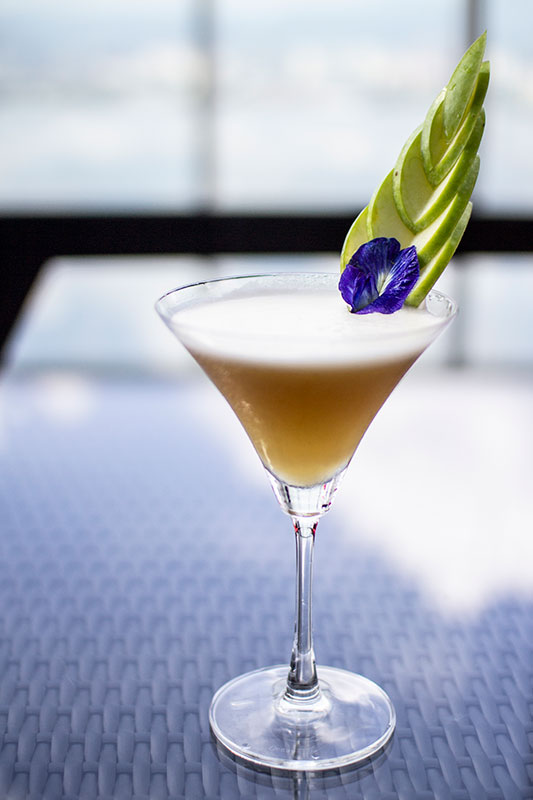 Timang Burung
Timang Burung
Those looking for something refreshing will enjoy Timang Burung, which combines dark rum, Sarawak pineapple, apple and passion fruit. The pineapple gives it a nice acidity and the apple (forming the bird-like garnish that gives the drink its name) makes for a light, healthy snack on the side.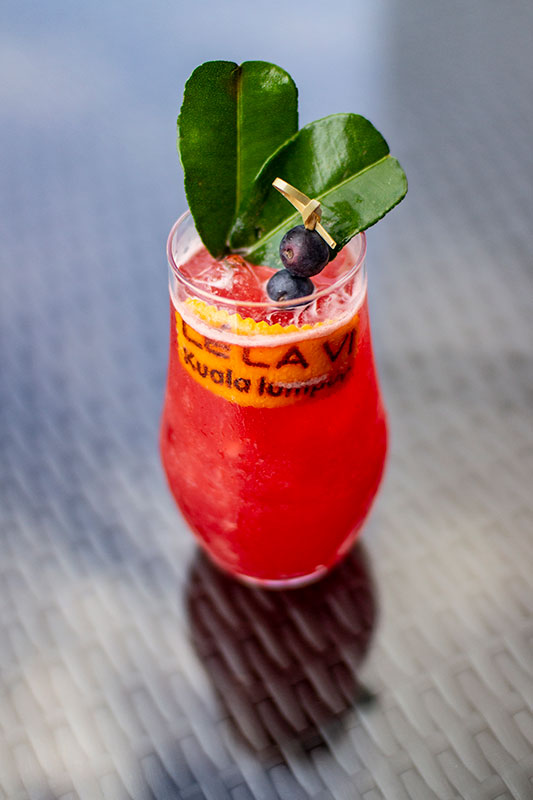 Fly Tai
Fly Tai
A mix of dark and white rum, Cointreau, kaffir leaves and blueberries, Fly Tai hits us with an interesting balance of sweet, woody and tart flavours. It's a worthy option for the adventurous and looks great for Instagram too!
(swipe left to see our cocktail review)
Watch the making of the Fly Tai cocktail below.
Bonus: World-class music and entertainment
Since we dropped by during lunch hour, we've yet to experience the clubbing and DJ scene here. But if the glimpses we saw during opening night is anything to go by, guests can expect dance-worthy music and frequent guest DJs spinning at the club. After all, the brand is synonymous with nightlife. For more excitement, visit during Sunset Sessions (every evening) and Diamond Life ladies' night (every Wednesday).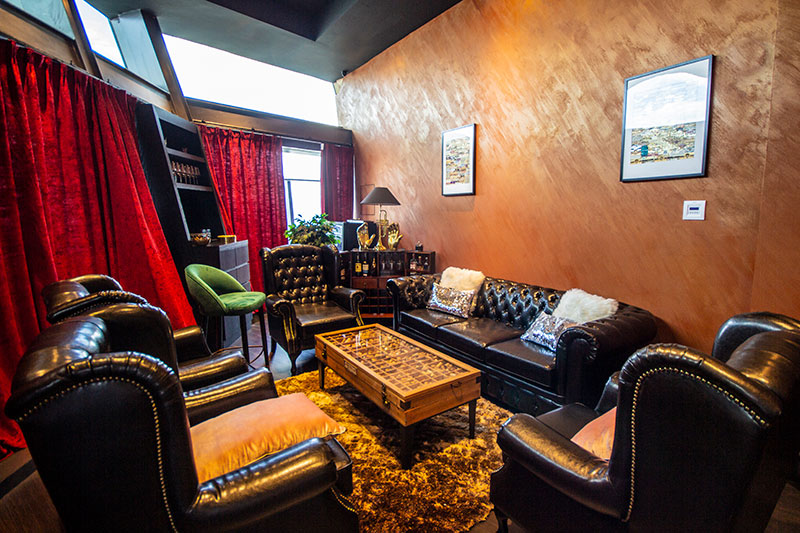 For more information, log on to the official website at celavi.com. For reservations and enquiries, 03 2733 3163/2166 or email reservation-kl@celavi.com.
Location: CÉ LA VI Kuala Lumpur, Level 37, Sky Dining, Ilham Tower, No 8, Jalan Binjai 50450 Kuala Lumpur
Photography: Gan Yew Chin