You may recognise Thanuja Ananthan as one-half of the gorgeous identical twin sisters power pair Thanuja and Anuja. But yet, even on her own, Thanuja is hard to miss in a crowd. When I met her at the airport early one morning to catch our flight to Langkawi, it turns out I wasn't the only one who immediately recognised the familiar big curly locks and the warm smile. 
Even at that ungodly hour in the morning, Ananthan, dressed in denim dungarees over an oversized white shirt with a pair of Beats headphones around her neck, is as bubbly and cheerful as her public persona. 
It's also no coincidence she was picked to star in our special travel issue. As a matter of fact, Ananthan's foray into her TV career was as a travel show host. Over the past years, she's hosted numerous programs such as Unsung Places and Mesmerising Malaysia. "I've been very blessed to be able to do that," she says. "I've met the kings of kings and had conversations with the paupers whom I've sat with on the streets. I learned so much, it opens up your mind and humbles you." 
Another reason why the 37-year-old was perfect for this special occasion is her ability to transform in front of the camera. Our photoshoot location today is none other than the much sought-after private beachfront Villa Kenari at The Ritz-Carlton Langkawi. As if the location wasn't perfect enough, two dolphins appeared on the horizon of the pristine turquoise waters to greet us midway through our shoot. 
The assignment today: a Slim Aarons-inspired holiday photoshoot on the shores of Langkawi, embodying the hedonistic allure of the golden era of travel, but one that doesn't require jetting off to the French Riviera. With Villa Kenari's sweeping views of the Andaman Sea and its private stretch of sandy white beach, Ananthan, a nature lover and environmentalist, was definitely in her element, perfectly embodying the image of the bronzed-bodied beauty of the glamorous jet set.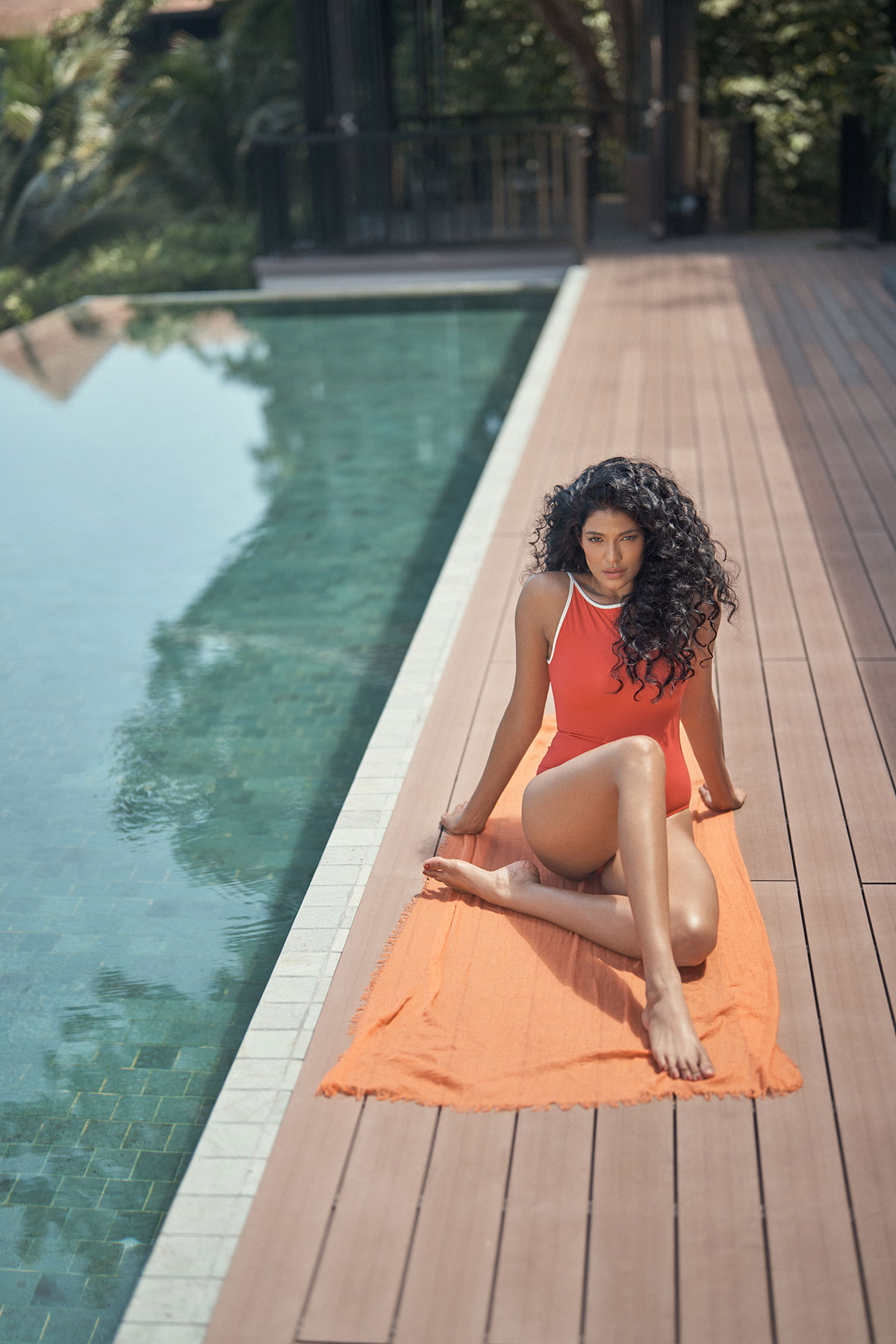 But despite Ananthan's cheerfulness and warmth in real life, there is also a fierceness behind her eyes as she poses for the camera. You may argue it's because she is a trained model, but it is this intensity in her craft that makes her so good at her job. 
Ananthan has been in the media industry for over 15 years. "I hope it doesn't show," she jokes. "I hope people don't feel like I've been around for too long." Giggles aside, it is undeniable that her unique appeal has somehow charmed the Malaysian public, which is no easy feat, considering the urban media industry in Malaysia caters mainly to the Malay market. 
Although the former Miss World started with modelling, Ananthan has always dreamt of pursuing an acting career. Her role in the 2017 mini-drama series Anak Merdeka, where she played a national athlete, earned her gravitas as an actor. She has been vocal in the past about playing stereotypical characters often passed to her due to her background as a model and her ethnicity.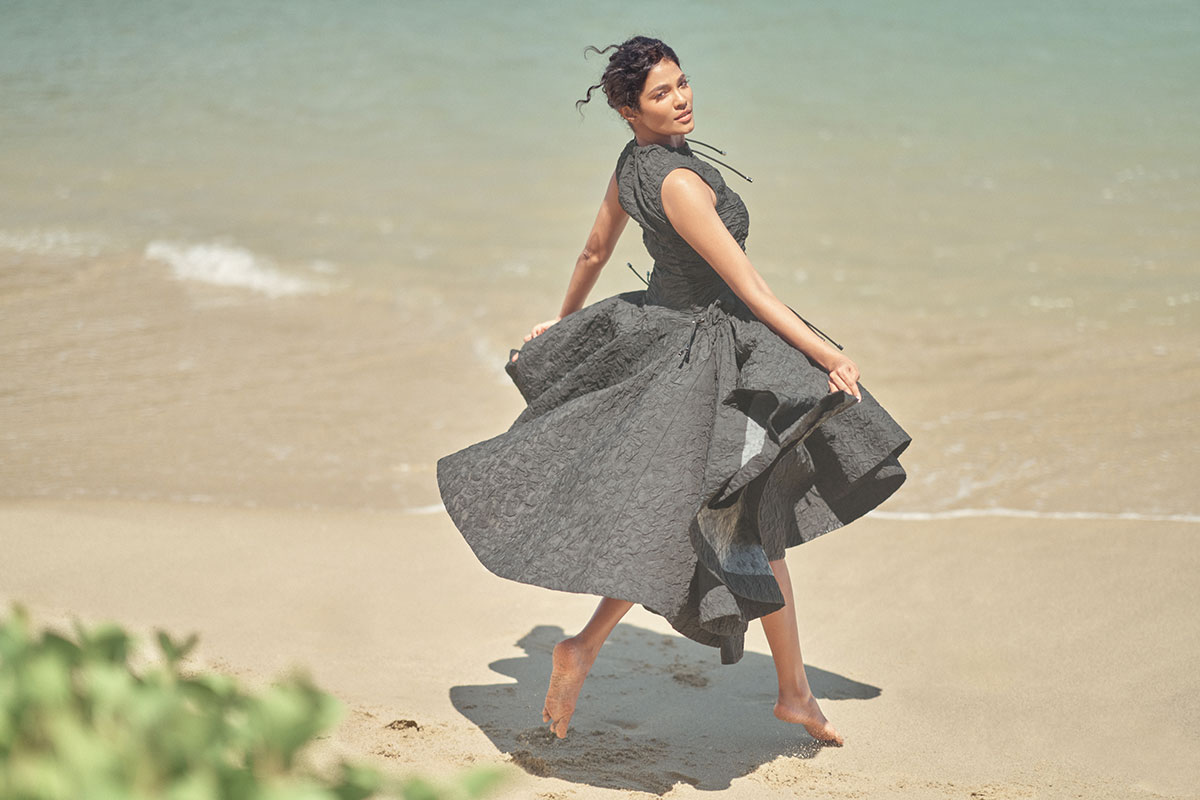 "There aren't that many brown girls around in the mainstream industry and you must also remember, I work in the urban as well as in the Malay industry," she says. "So, it's been a blessing. I'm glad I've gotten all the love and support that I've had all these years and continue having." 
"As much as inclusivity is prevalent in society all over the world today, we still have an extended journey towards it here in the Malaysian media."
She's sincerely grateful for the opportunity to take on projects she's truly passionate about and to be given the chance to take on more serious roles. "I have a passion for my work and that keeps me going regardless of all the challenges that come my way," she says. "As much as inclusivity is prevalent in society all over the world today, we still have an extended journey towards it here in the Malaysian media," she says. 
While she has been handed stereotypical antagonist roles in the past, it seems that more fitting scripts have started landing on her lap. She tells me she has just wrapped up four months of filming Padu, a movie based on real-life events of the Malaysian Women's Basketball team which she will star alongside Melissa Campbell, Jojo Goh, Umie Aida and Susan Lankester.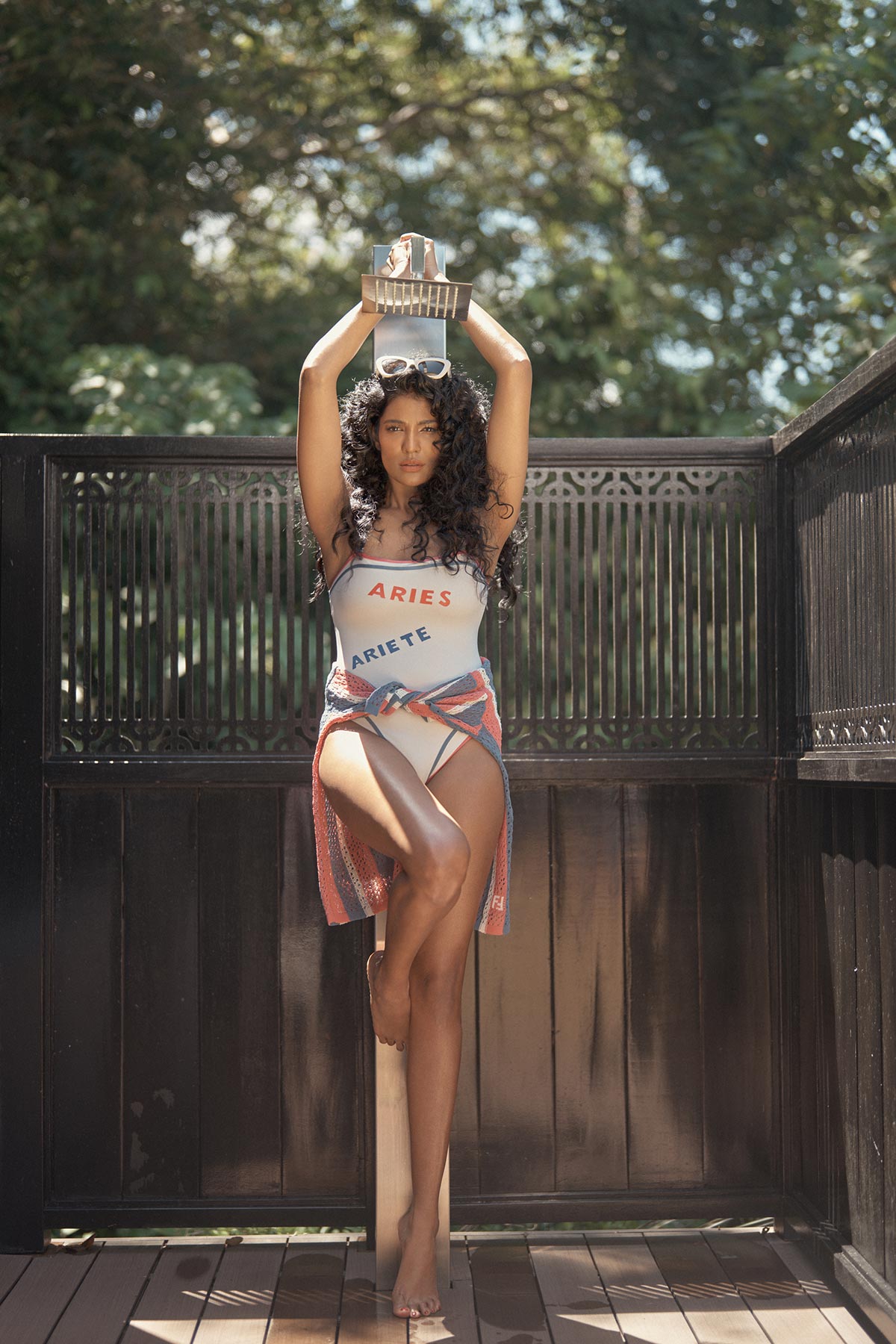 "I trained and broke my pinky finger in the process," she laughs, adding she had to film with a cast on her hand. "It was a very conscientious decision to continue filming rather than to stop for three weeks to go for surgery," she says, showing a slightly arching pinky finger on her right hand. "I was just so pumped up with adrenaline to get the project done." 
With this much time in the spotlight, Ananthan is no stranger to exposure and specifically details of her love life have attracted public attention. Especially now that her twin, Anuja, has settled down with a family.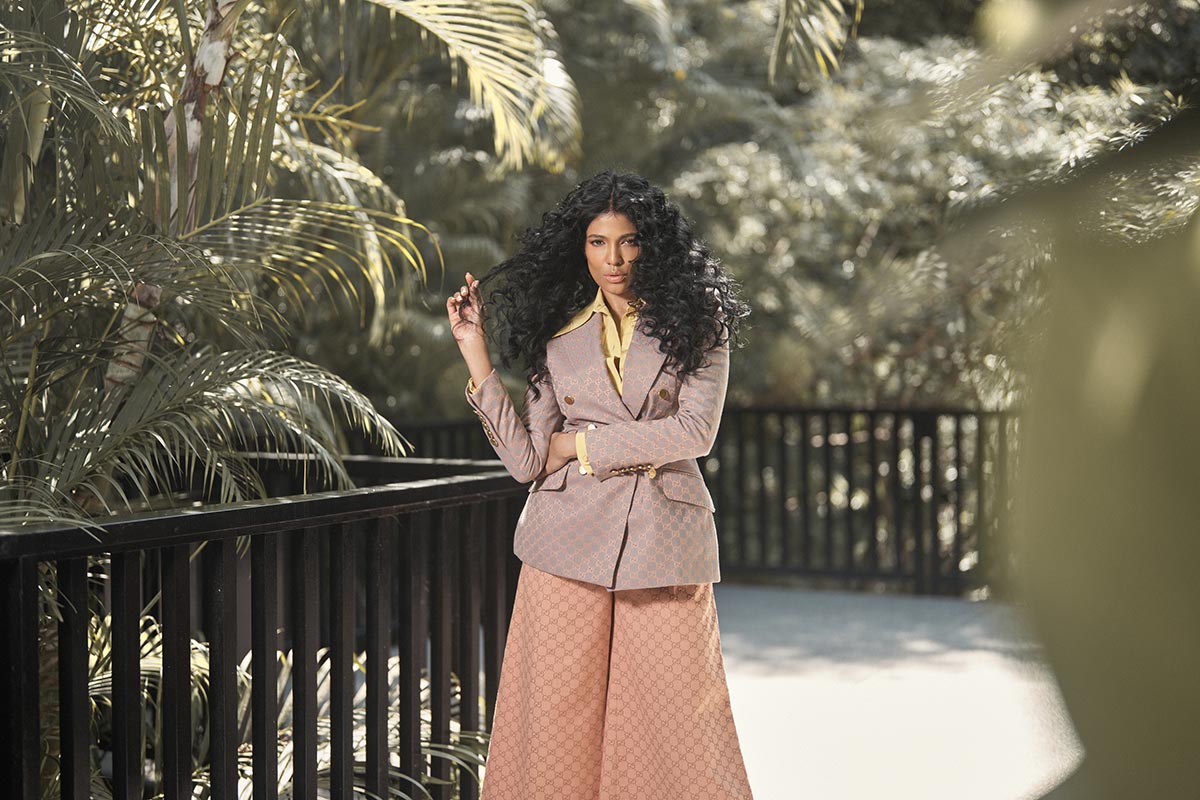 Ananthan tells me the decision to keep these details separate from her public life was a decision she made from day one. "That part of me is something I need to keep for myself," she stresses. "What people share on social media, is what people want to share on social media. Never take social media seriously,  that's the worst thing you can do for yourself." 
"When you are a highly independent woman who's very opinionated, there will be shit that comes your way."
She makes it clear she has never been fazed by any negativity that sometimes comes with being in the spotlight. "I think when you are a highly independent woman who's very opinionated, there will be shit that comes your way," she remarks. 
"Every woman needs to have thick skin, because regardless of whatever you do or say, everybody's gonna talk about you," she says. I ask if this is one of the reasons why she has persevered for so long in the cutthroat media industry. "I think that's one thing about me and how I've survived. I've never been fazed by what people say about me."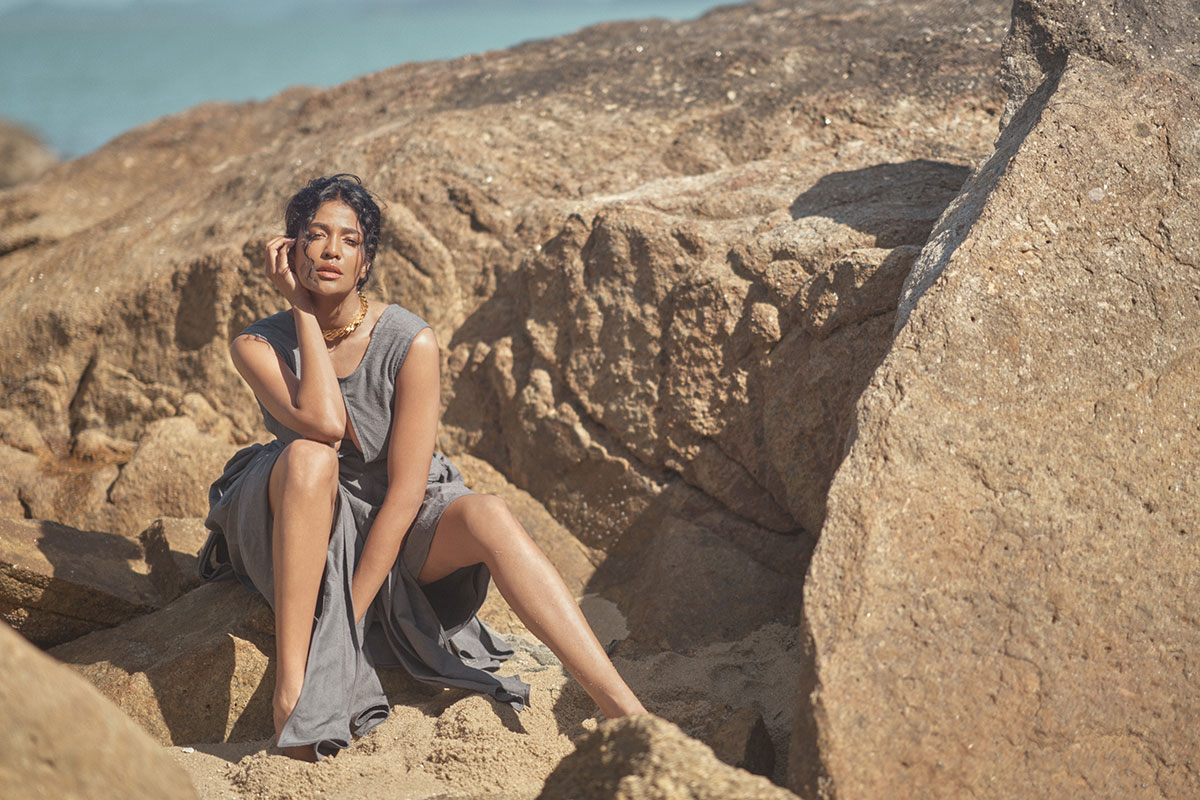 Ananthan has no time to sweat the small stuff, she is also focused on a big passion right now, her brand of ayurvedic health and beauty products, By Thanuja. The recipes were passed down by her grandfather who was a healer in Kerala in India.  "Babe, I'm going to give you some to try tonight," she tells me, passing me a packet of her brand's best-selling Living Herbs food supplement. "It'll make you feel healthier, lighter and trust me, your hair and skin will glow!" she says.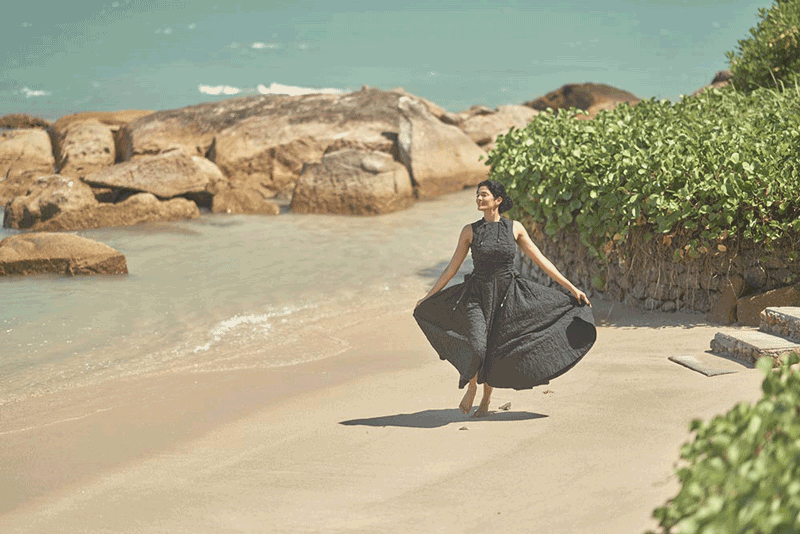 Her looks, popularity and immense talent aside – Ananathan's appealing nature it seems, lies in the sheer joy she finds in doing what she wants to do, a kind of genuineness that people find in her honesty, strength and daring in pursuing the things she loves.
Those traits are probably why she's captured the hearts of the nation. 
Featured image: Thanuja wears outfit by Valentino. 
Photography: Steve Koh 
Photographer's assistant: Dave 
Styling: Mughni Che Din 
Art Direction: Anson Siau 
Makeup and hair: Asaki 
Location: The Ritz-Carlton Langkawi